Raul Padilla-Ortiz, left, operations chief for the Uruapan Michoacan Volunteer Fire Department, sits in the 1994 Spartan Gladiator aerial ladder truck while talking to North Las Vegas Fire Captain Sergio Reynoso on Wednesday, June 20, 2018. The City of North Las Vegas and the North Las Vegas Fire Department dedicated the decommissioned fire truck to the Uruapan Michoacan Volunteer Fire Department. (Jeff Scheid/The Nevada Independent)
After firefighters strike up cross-border friendship, retired North Las Vegas rig heads for new chapter in Mexico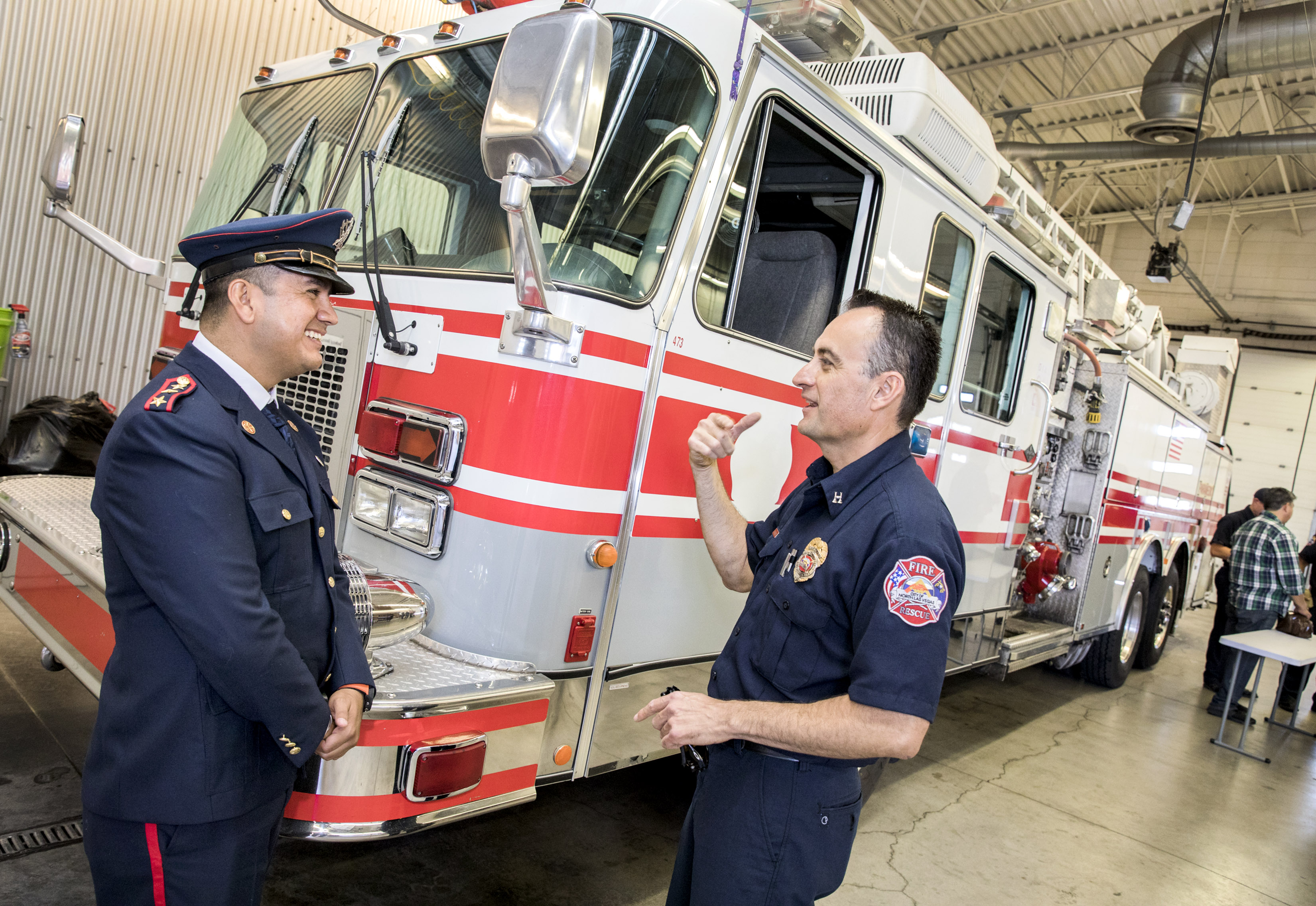 This story has been translated and edited for clarity from its original Spanish version.
What began as a friendship between two firefighters from different countries led to the donation of a fire truck from North Las Vegas to a city in the central Mexican state of Michoacan, where a group of volunteer firefighters battle not only fires but lack resources to carry out their duty.
At a ceremony June 20 at Station 52 on Losee Road, officials from the city of North Las Vegas and their fire department formally handed over a truck that was used by the agency for 24 years and that will now continue its work for the people of Uruapan, Mexico.
A dream come true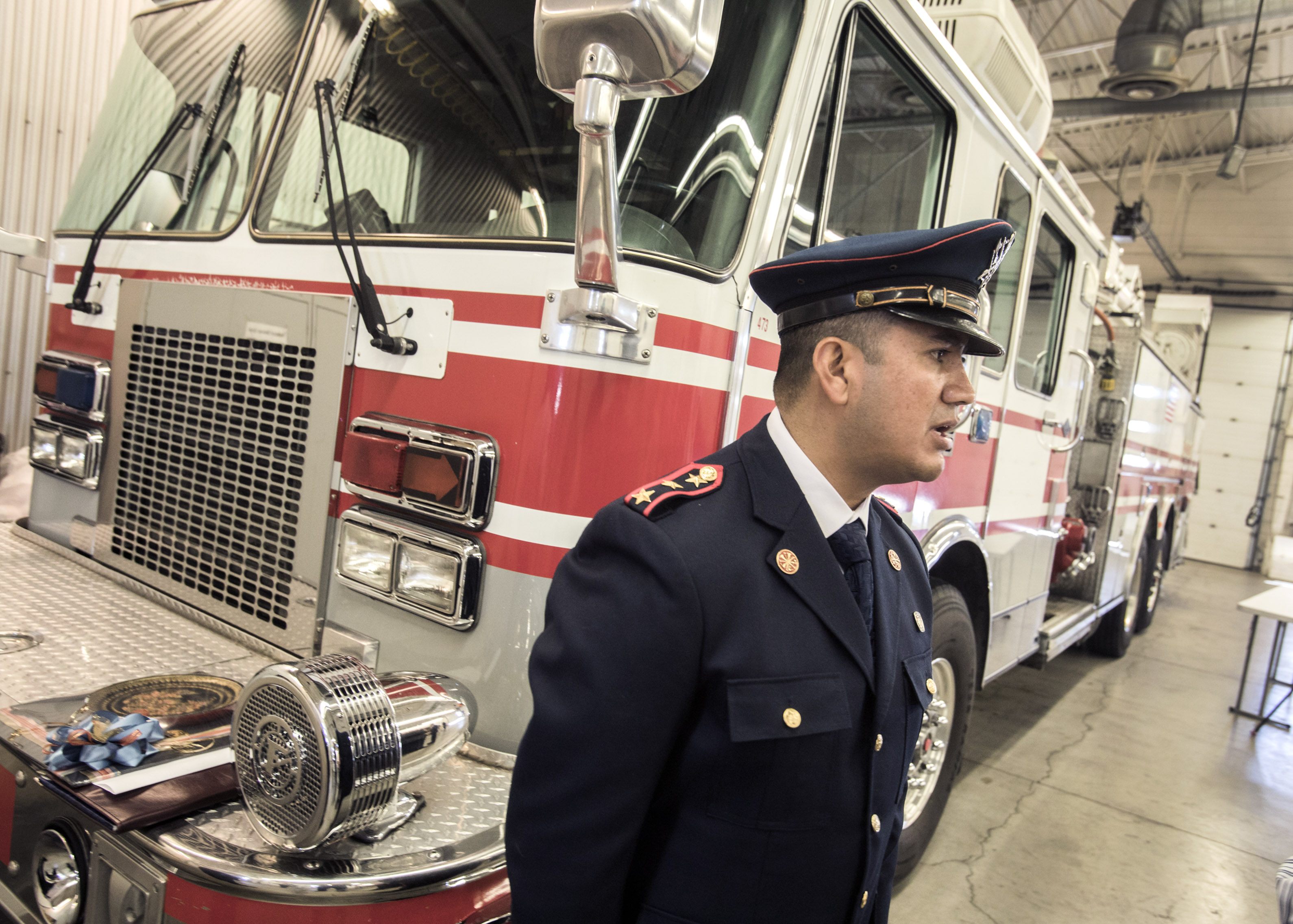 Raul Padilla Ortiz always dreamed of bringing his community a fire truck like the ones he saw in American movies. After all, the world of firefighting wasn't new to him — his grandfather was one of the founders of the fire department in his native Uruapan.
Since he was a child he chose to follow in his grandfather's footsteps, climbing the ladder until he became the current operations chief of the Honorable Volunteer Fire Department in Uruapan. Padilla said the department has existed for almost 85 years.
Five years ago, during a visit with relatives in Las Vegas, Padilla and his brother-in-law decided to visit a fire station in North Las Vegas. Captain Sergio Reynoso met with them.
Even though Padilla said he doesn't speak "fluent" English, the two firefighters struck up a lasting friendship that holds today and helped to make Padilla's dream a reality.
"I told Sergio [Reynoso] what my dream has been since I was a boy. I used to tell my family: 'Someday I will bring a truck over from the United States,'" Padilla said. "And sometimes they say you are naive, but I think that when you have people of good will like Captain Reynoso and firefighters from North Las Vegas, everything is possible in this life."
The vehicle also has a special meaning for Reynoso, because the same year he graduated from the Fire Academy, the truck also started serving at that station in North Las Vegas.
"To the people of Uruapan, I tell them to take good care of the truck, because it will take care of them too," Reynoso said.
A need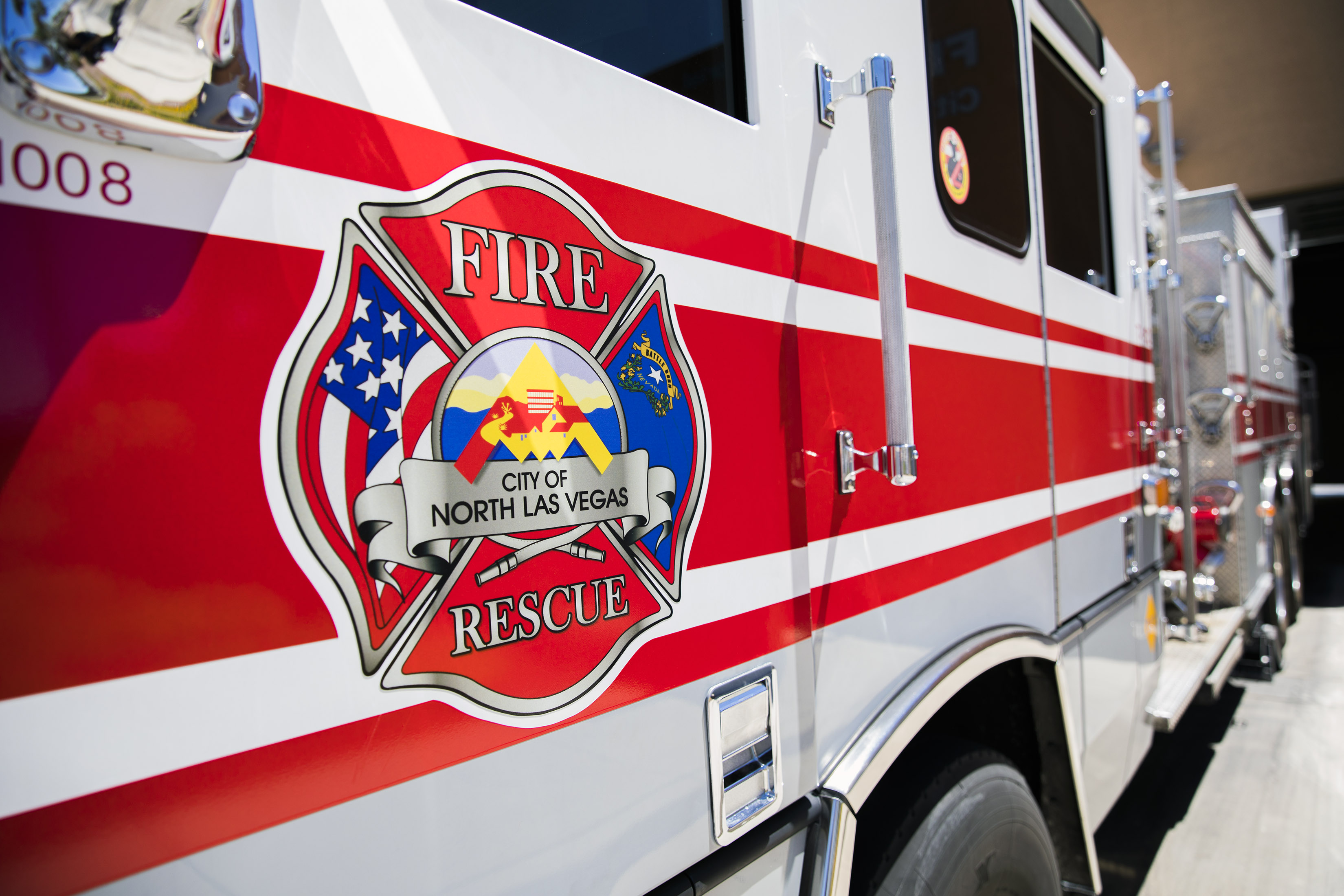 The truck is not the first donation firefighters in Uruapan have received. In 2015, their counterparts in North Las Vegas gave them a piece of hydraulic equipment called the Jaws of Life, which is used to cut metal in case of an accident where people get stuck between thick pieces of iron.
According to Reynoso, both the vehicle and the tools that were donated have helped them to continue operating, and they were given to them because they were replacing old materials with newer models.
"Everything is still working. After 10 years the truck was replaced, because when you call 911, the trucks that respond are from the first line, they are the newest ones," Reynoso said. "When the first line finishes the shift, they are held in reserve."
In addition to the 24 years of service in North Las Vegas, the truck has attachments that the fire units in Uruapan don't have, like a ladder on top with an integrated hose.
"We have two scale-type trucks," Padilla said. "We have units that are the first responder. We will have this truck as an option for tall buildings, or a larger structure."
Padilla, who has spent two years as operations chief of the volunteer fire department, said that although the team he leads aims to save lives and serve their community, their passion for the job is not enough.
According to Padilla, the government has given support to firefighters in Mexico City, but in other states there is a sharp contrast in support.
"Here the government does take care of firefighters, the government makes them their own," Padilla said. "They have an infrastructure that I haven't seen in Mexico."
Padilla added that when political leaders have visited his station, firefighters haven't asked them for a better salary, but instead have requested emergency equipment that can protect the 65 volunteers that work in both stations.
"Nothing. We haven't received anything. We need to ask for donations every year at street corners and highway intersections and visit entrepreneurs, because we have to cover the expenses of both volunteer stations," he said. "Imagine the money we need from the government. Millions of pesos, but we are working. We know that things can be done."
Bertha Alicia Garcia, who attended the donation ceremony, said she was moved by the act of brotherhood between firefighters from different countries.
Although she's lived in Las Vegas for three years, Garcia said she travels frequently to her native state of Jalisco, Mexico, where she also sees the scarcity of resources for firefighters.
"I think that my community also needs more equipment, like during the rainy season," she told The Nevada Independent. "Yes, there is support for firefighters and the Civil Protection Agency, but they don't have this equipment."
According to a report published last month by the Secretary of Social Development of Mexico, Uruapan's population was projected to be 344,131 in 2017.
Even though the secretary anticipated an improvement in most indicators of poverty for the city, the report also identified the need to use resources to fight backlogs both in poverty-reduction programs and in affordable housing.
"The Butterfly Express"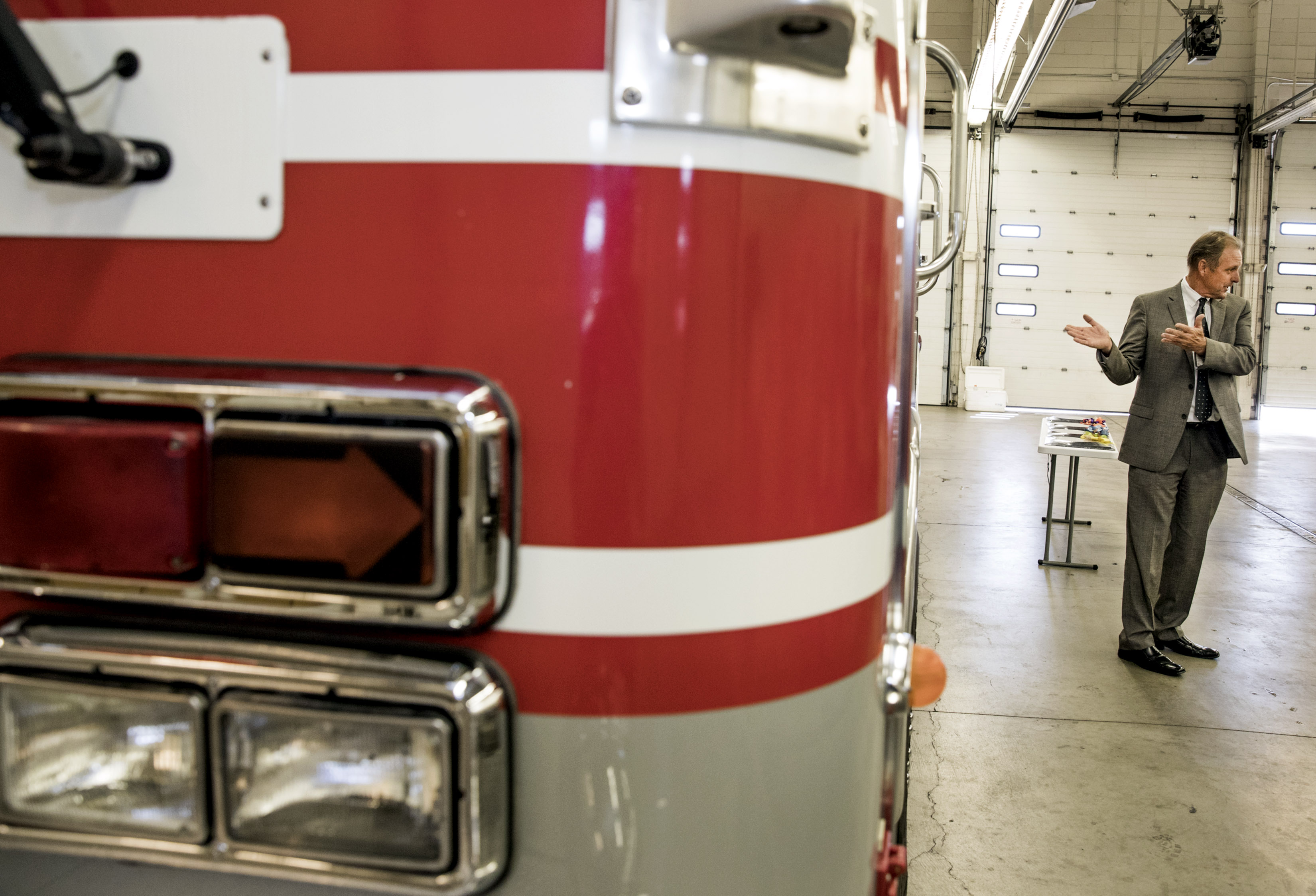 The transfer of the truck took place without a hitch both in Las Vegas and in Mexico. Four days after the ceremony, Padilla sat behind the wheel ready to begin the journey to Tijuana, where other firefighters were expecting him in order for the truck to continue traveling to Uruapan.
North Las Vegas City Councilman Isaac Barron, who attended Wednesday's ceremony along with the mayor and representatives of the Consulate of Mexico, said in an interview that the vehicle donation was historic because it represents the spirit of brotherhood between two countries.
"It's the Butterfly Express," Barron said, who explained that the nickname came to mind because the vehicle is headed to Michoacan, a state that has forests that form part of the so-called Sanctuary of the Monarch Butterfly. The species travels anywhere between 1,200 and 2,800 miles from the forests of Canada and the United States and then goes back to Mexico, in search of more pleasant temperatures.
Beyond the borders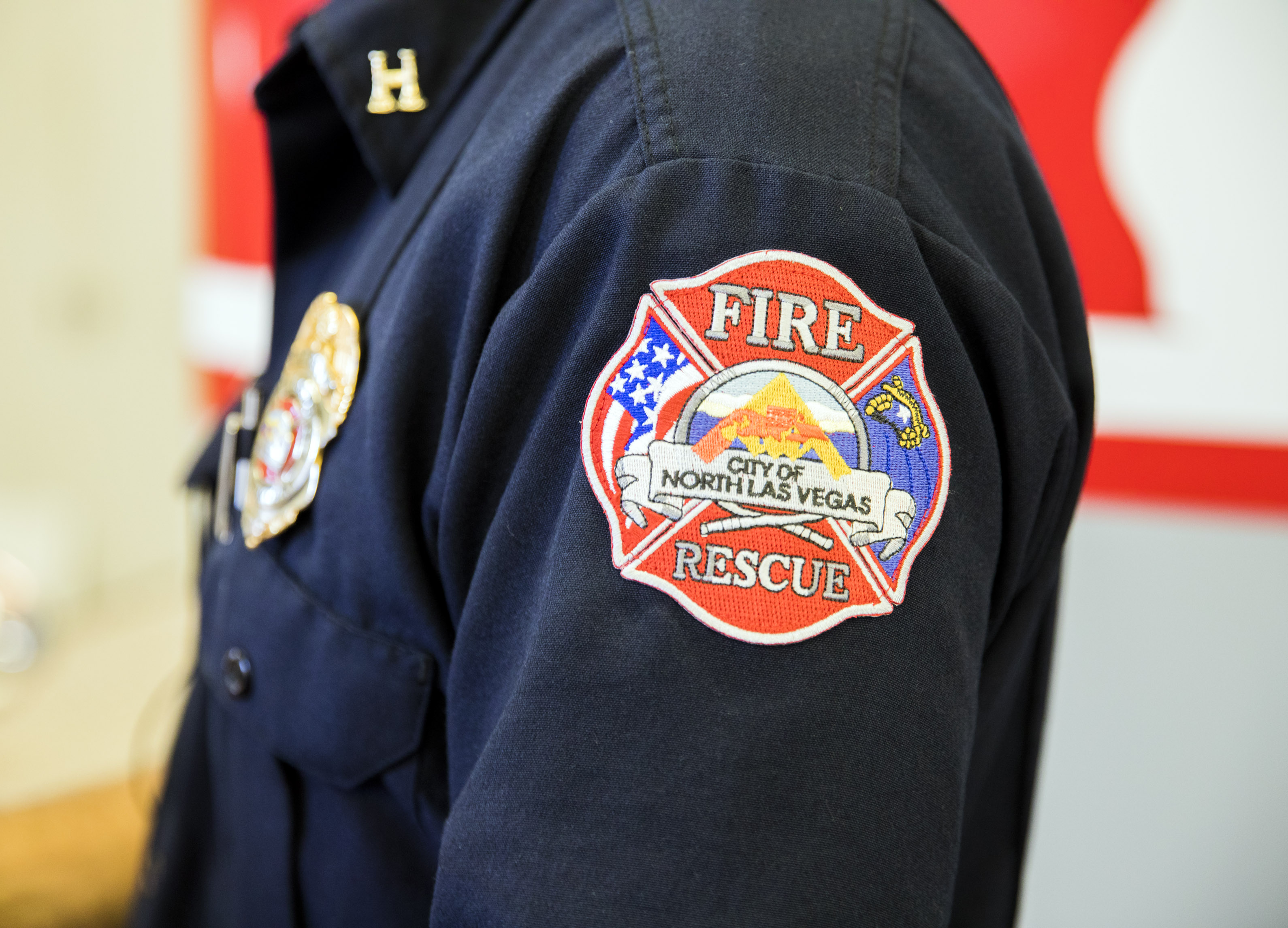 The symbolic meeting between agencies comes amid border tensions fostered by changes in current immigration policies.
Eddie Ramos, president of the Immigrants Club from Michoacan (Club Migrantes de Michoacán), one of those attending the event, told The Nevada Independent en Español that the truck donation has been the result of hard work and represents a breakthrough between the two communities.
"Regardless of everything that is happening in the country, we need to help each other. No matter where you are from, you have come together with people to move forward as a group and as a community."
Firefighters from both countries agreed that the spirit of service is the same worldwide.
For Reynoso, there's now a connection between the two departments that has nothing to do with the federal government.
"This is a group of people helping each other," he said.
Padilla said it was sad to see the situation immigrants are going through while seeking the American dream, but he noted that not all of them intend to do harm.
"I am just an example; I come here to do good for my city. I also see this in my country, if you do something bad you must be punished, but don't be so negative with immigrants or with children, because they're not to blame," Padilla said. "A fireman puts out the flames here and in China. It's the same fire wherever you are."
Comment Policy: We welcome reader comments on our stories. However, in keeping with our general policy of transparency, accuracy and accountability, we do not accept comments from anonymous accounts/persons. Anonymous commenters will be blocked.
get our morning newsletter,
The Daily Indy
@TheNVIndy ON TWITTER