After spending $47 million in three months, Steyer rebuffs criticism he bought his way onto presidential debate stage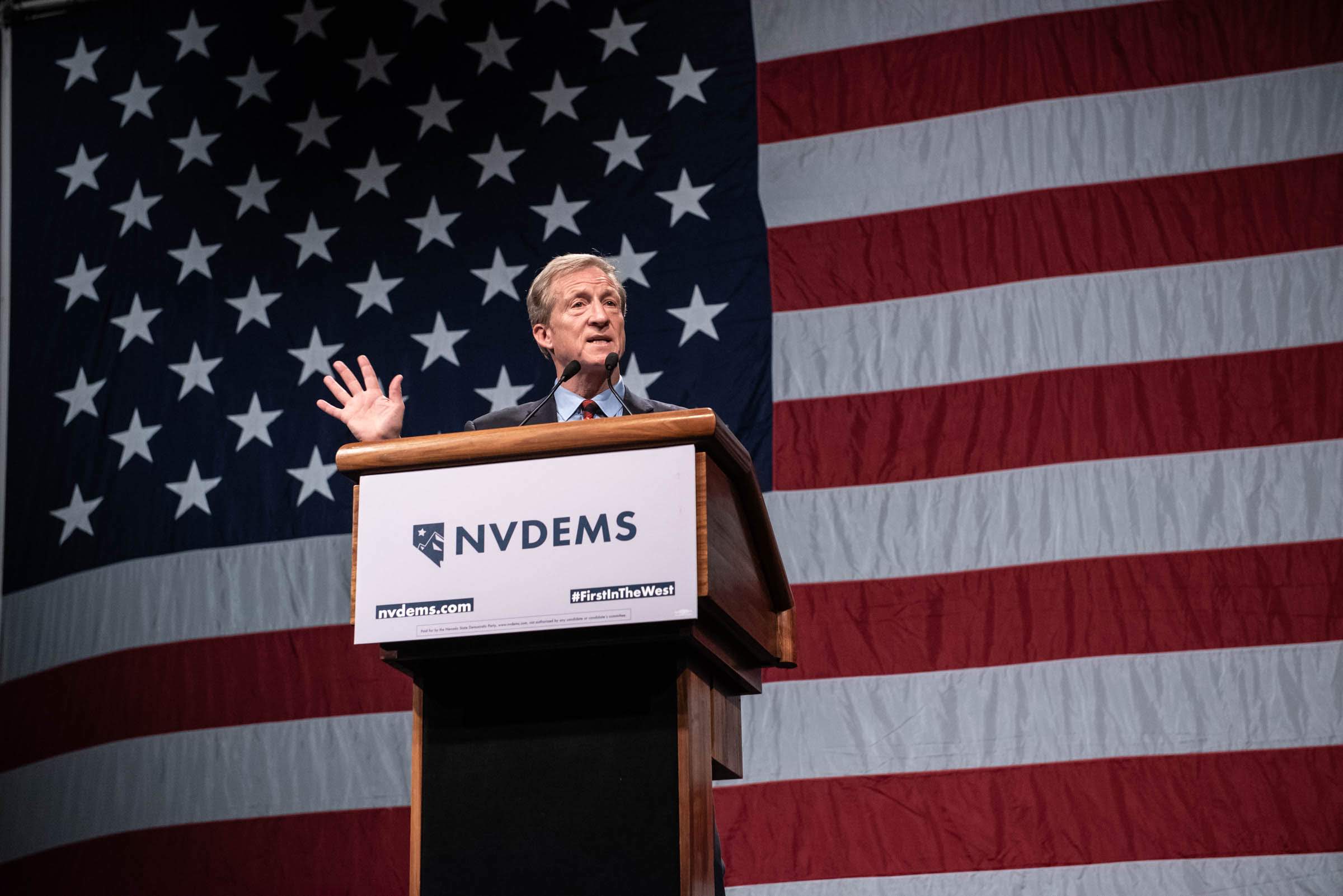 Billionaire Tom Steyer is bucking criticism that he bought his way onto the stage of Tuesday night's Democratic presidential debate by framing his candidacy as a continuance of his yearslong advocacy on progressive issues.
The former hedge fund manager drew some fire during Tuesday night's debate for decrying how "corporations have bought this government" without acknowledging the millions he has spent on television ads to boost his name recognition and encourage small dollar donors to contribute to his campaign in an effort to meet the Democratic National Committee's requirements to qualify for the presidential debate stage. Steyer has spent $47 million in the last three months on his presidential campaign, nearly half of the $100 million sum he promised to devote to the cause.
"Tom Steyer says corporations have bought government for 40 years, but he's bought his way on to the stage tonight," former Labor Secretary Robert Reich tweeted.
Steyer, in a phone interview with The Nevada Independent on Wednesday, pointed to the progressive advocacy group NextGen, which he formed in 2013, and, recently, the impeachment-focused Need to Impeach effort as the fruits of his labor in the advocacy sphere. The former hedge fund manager sold his stake in a major investment firm in 2012 and has since devoted his time and money to push for progressive policies on climate change, immigration, health care, and education.
"If the worst thing that anybody ever says about me is I see a huge problem for Americans and I really go after it and I organize around it and spend all my time and money going after it, that's not the worst thing anyone's ever said about me," Steyer said.
Steyer, who has not held elected office before, also pitched himself as an outsider candidate.
"I have a history for 10 years of organizing coalitions of ordinary American citizens to take on unchecked corporate power," Steyer said. "I think as an outsider, I succeeded in that."
Some Democrats, now accustomed to Steyer's monetary contributions to their causes, have also criticized the billionaire for spending significant sums on his presidential campaign instead of other efforts, such as Need to Impeach — which is being outspent several times over by President Donald Trump and his allies. The group's $3.1 million investment into ads attacking Republican senators was dwarfed by a $10 million commitment from Trump and his allies to run digital and television ads of their own.
Asked about those criticisms, Steyer said that he is still financially supporting both Need to Impeach and NextGen.
"I'm taking on a bunch of different things and I have taken on a bunch of different things," Steye said. "I'm not going to be able to do absolutely everything in the United States."
He also dismissed the Trump ad buys as no more than a sign that the president is "panicking."
"This is a desperate and guilty man," said Steyer, who founded Need to Impeach two years ago, long before his fellow Democratic presidential hopefuls would go near the issue. "There's no question."
Steyer also criticized moderators of the debate for not asking a climate change-related question. The issue, which made international headlines during the last month's climate strike, was only mentioned a couple of times by candidates during the debate.
"I think it was a glaring, huge omission," Steyer said. "I felt like I was back in 2016. This is an issue that is an overwhelming issue for Americans, for our health and safety, and to leave it out of the conversation virtually entirely was a gigantic mistake."
Steyer has said that he would declare a climate emergency on day one of his presidency and use the president's executive authority to take action on the issue.
One environmental issue Steyer has taken a keen interest in here in the Silver State is raising the state's Renewable Portfolio Standard to 50 percent by 2030. A Steyer-backed ballot measure to insert that requirement into the state's constitution passed with 59 percent support in 2018 but needs to pass once more in 2020. However, there may be less steam behind the effort this time around after Gov. Steve Sisolak signed that same proposal into law earlier this year.
Still, the ballot measure would place the RPS in the state's constitution, making it impossible for a future Legislature to come in and change it without the support of the state's residents. Steyer said he doesn't foresee much difficulty in getting it passed a second time.
"I mean, who's going to be against Question 6? Everybody's for Question 6 at this point," Steyer said.
Steyer has visited Nevada nine times since 2017, though only three of those visits to the state were this year, putting him well behind some of his competitors. He also only recently started ramping up his operations in the state, announcing his state director at the end of August. But he said that he's still taking the Silver State "incredibly seriously," noting that only he and South Bend Mayor Pete Buttigieg turned up to the Nevada State Democratic Party's Keep Nevada Blue dinner last month in Reno.
"If everybody's so serious about Nevada, I didn't see them in Nevada," Steyer said.
Steyer also clarified his position on whether he opposes the construction of a long-term, high-level nuclear waste repository Yucca Mountain after telling the Las Vegas Sun this summer that he didn't have a "detailed answer."
"I think that that's something that is that [former Senate Democratic Leader] Harry Reid personally stopped. I'm not for doing that either," Steyer said. "If you look at the toxicity and half life of that waste material, it's unnerving ... That's something which of course Nevadans are worried about. It makes sense to be worried about it."
He said he doesn't have a position on online gaming — including the Department of Justice's interpretation of the Wire Act earlier this year that put it in legal limbo — but that he understands that web-based betting is different than traditional brick-and-mortar gaming.
"I think once you start getting into online activities, obviously it becomes a very different situation from a regulatory standpoint, and figuring that out is something that's going to be complicated," Steyer said.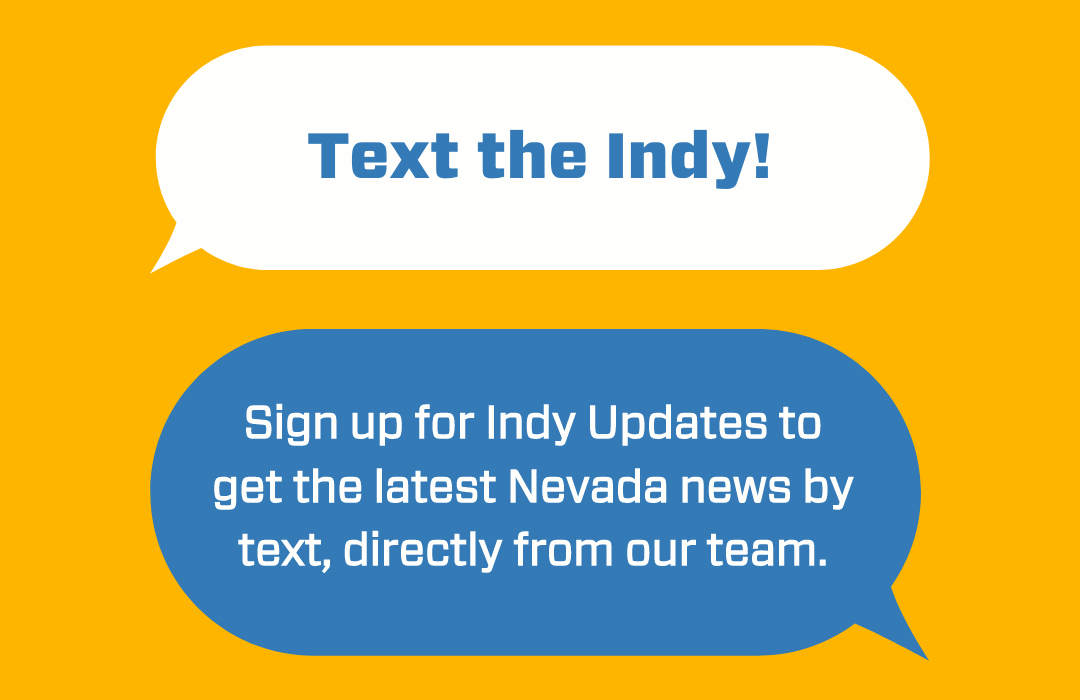 Featured Videos
Comment Policy (updated 4/20/2021): Please keep your comments civil. We reserve the right to delete comments or ban users who engage in personal attacks, use an excess of profanity, make verifiably false statements or are otherwise nasty. Comments that contain links must be approved by admin.