Women gather around a memorial cross for a Las Vegas shooting victim on Sunday, Oct. 8, 2017, at the welcome sign. (Jeff Scheid/The Nevada Independent)
After tragedy comes recovery: How Las Vegas is mobilizing to heal a wounded community
October 15th, 2017 - 2:10am
Confusion, fear and grief gripped UNLV's Thomas & Mack Center in the hours following the deadliest mass shooting in modern American history.
Hundreds of concertgoers who fled the unrelenting gunfire, often separated from their loved ones and belongings, sought refuge inside the arena. Mental health professionals met them there and shared information, offered blankets, charged their phones, held their hands and simply listened to those needing to talk.
They were delivering what's called psychological first aid – the first step in helping people recover emotionally from the traumatic experience.
"It's all about ensuring safety and comfort," said Dr. Michelle Paul, director of The PRACTICE, a mental health training clinic at UNLV. "It's attending to those basic needs."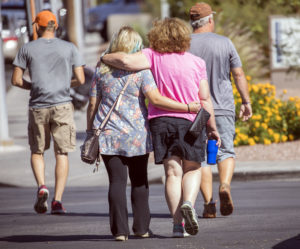 As the magnitude of the tragedy became clearer, psychiatrists, psychologists, counselors and social workers were coming to the same conclusion: This was only the beginning.
Emotional recovery from the rampage, which killed 58 people at a country music festival and injured 546 others, will be a lengthy journey for many — the people who lost loved ones, the injured, the first responders, the medical professionals, the good Samaritans and even community members struggling to grasp why this happened in Las Vegas and why they were spared.
"There's going to be a definite ripple effect," Paul said.
The state already has one of the more acute shortages of mental health professionals in the country. So will the Las Vegas community, which banded together in the hours and days after the massacre to care for the physical needs of the victims, be able to meet an expected surge in psychological demands from those left behind?
"You're working from an already overloaded and stressed system and have to surge beyond that," David Schonfeld, director of the National Center for School Crisis and Bereavement, cautioned school-based mental health professionals who are trying to plot out a long-term response. "I understand you want to care for visitors. But you don't really have enough for your own people … The rest of the world will have to deal with that but I think you might want to focus on the people who live here."
Healing those in need
Nevada has 791 licensed marriage and family therapists, 320 active licensed psychiatrists and 468 licensed psychologists, said Amy Roukie, administrator for the Division of Public and Behavioral Health. Those numbers are bolstered by several hundred interns learning the professions.
The Southern Nevada providers sprang to action after the shooting, responding to casinos, hospitals and the family assistance center. It got to the point where too many mental health professionals were flooding various places.
"Really, we've had to ask them to go back and do what they were doing because we have enough resources available," Roukie said.
The response belied the state's characterization as a mental health desert with too much need and too few resources. A 2017 report by Mental Health America ranked Nevada at the very bottom — No. 51 — among states and Washington D.C., indicating its residents have a higher prevalence of mental illness and more difficulty accessing care. Nevada still lingers at or near the bottom in state rankings for the number of psychologists, psychiatrists, counselors and social workers per 100,000 residents.
State officials dispute any notion of the system being incapable of handling the influx of people who may need services because of the shooting. They pointed out that the majority of concertgoers likely were visiting from elsewhere, meaning they'll access services in their hometowns and states.
"Our system of mental health services is adequate," Roukie said. "The long wait times are no longer problematic. I think the biggest hurdle that we face now is more about utilizing the resources available through the managed care organizations with our expanded Medicaid population, and their being willing to work to care-manage those who are enrolled in their programs."
Capacity is growing; the state has started offering behavioral health services at federally qualified health centers (FQHCs), which creates more resources regardless of patients' ability to pay, she said.
Plus, there's also no telling how many people will seek professional help. Some people will notice less anxiety and avoidance and better sleep patterns after four to six weeks, with help from their own support systems and adaptive coping, Paul said. Others may have more difficulty shaking the symptoms, especially if they've already experienced traumatic situations.
Paul likened the latter scenario to having a pre-existing condition: If you hurt your neck in a car accident, any future trauma will only exacerbate the pain.
"People are vulnerable if they've had previous trauma," she said.
Delayed onset
Still, mental health providers say they're expecting to see more people reaching out for help in the coming days and weeks now that the initial shock has worn off. When the national news crews leave and life gradually returns to some sense of normalcy for many people, reality sets in for those affected by the tragedy. They can no longer just run on adrenaline.
"There's a bit of a honeymoon phase following the event because there's so much support and so much goodwill," Paul said. "When things quiet down, things like fatigue, stress and nightmares start a little later."
And that worries some providers, such as Paul, who were feeling stretched thin before a gunman decided to unleash terror on the Las Vegas Strip.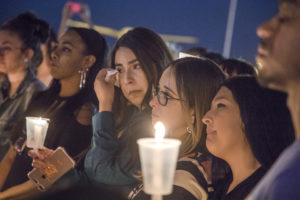 "I think all of us are feeling daunted," she said. "We were feeling that way before. I have many colleagues who just feel terrible that they cannot answer every call and get every client in that calls in a timely fashion."
Even so, Dr. Norton Roitman, a Las Vegas-based psychiatrist, said he's hopeful the mental health community can accommodate everyone who needs help — in part by being more creative and proactive. Organizing support groups, for instance, could help a larger number of people in a single hour than one-on-one therapy, he said.
Group therapy has another added benefit: It helps people understand they're not alone in their feelings and emotions.
"It's what people do naturally," he said. "They come together with family in people's houses."
As providers help people navigate their emotions, state health officials are pursuing another key resource — money.
They're working with Justice Department consultants to apply for federal grant funding that can be put toward helping victims, said Kelly Wooldridge, administrator for the Division and Child and Family Services. Florida received about $8.5 million for those efforts after the Pulse nightclub shooting, which left 49 people dead, 53 wounded and the Orlando community rattled.
The process isn't quick, though. It can take three months just to finish the application, which includes a needs assessment, Wooldridge said.
Starting at the schools
For children and many adults, the Clark County School District is going to be the first place to turn to for emotional support. That's why roughly two dozen school nurses, psychologists and social workers gathered with experts in a small room near downtown Friday and started plotting a course for the next few months.
Some had already been through a lifetime of grief in the week and a half since the shooting. In the wee hours of the morning on Oct. 2, more than 100 social workers who are usually stationed at schools rushed to the Mandalay Bay Resort and Casino and other Strip properties for 12-hour shifts counseling victims' distraught families, according to Brian Adams, who oversees the district's social workers.
The social workers are a new fixture in Nevada schools — in response to a fatal shooting at Sparks Middle School, lawmakers approved funding in 2015 to place the mental health workers at each campus. They do everything from handling bullying cases to helping students return to class after a suicide attempt, and aim to fill in a niche not covered by teachers, school nurses or academics-focused counselors.
"Before, we just targeted academics but now we're more focused on social-emotional health, thanks to the state," said Bob Weires, the district's director for psychological services. But, "We're still in the process of building that infrastructure."
Sandoval said the 2013 school shooting in Sparks was a wake-up call that there weren't enough mental health staff on the state's campuses. He defended the $16 million the state initially budgeted for the social worker initiative and the tax package that backed up that and other programs.
"I think it's very important that we continue to have behavioral health specialist in all the schools, so the kids are getting whatever they need in that regard," Sandoval said in an interview on Friday. "I mean, for here in Clark County, for all these kids that have seen this happened here, they've been traumatized. I know that all the kids — I have a 13-year-old daughter. She's scared now. She doesn't know what to think. So I want to make sure they have those resources."
In a relatively small community like Las Vegas, many people were personally affected by the tragedy or knew someone that was. But experts who have responded to the aftermath of school shootings and other mass casualty situations pointed out that even those who don't have any specific connection to the incident may need help and shouldn't feel guilty for tapping into it.
"What I did hear consistently is, 'I need help but I feel guilty because there are people who are worse off,'" Schonfeld said. "You don't need to be the worst off to be able to accept support and assistance …. the vast majority will benefit from support."
Helping children cope
Experts who have helped schools work through tragedies including the Oklahoma City bombing, Hurricane Katrina and the Sept. 11 attacks advised that the emotional effects of the shooting aren't going away after two weeks.
In New York City public schools, 87 percent of students reported at least one sign of post-traumatic stress disorder six months after the terrorist attacks, according to data from the National Center for School Crisis and Bereavement. In Oklahoma City, the number of suspensions and expulsions quadrupled six months after the federal building was bombed. And in New Orleans, some children simply didn't report to the new schools where they were reassigned for months after the flooding.
Side effects of the trauma can include sleep problems — both the inability to fall asleep and difficulty getting out of bed — and loss of appetite. There can be a desire to avoid school altogether, more irritability and inflexibility among teachers and students and separation anxiety among parents and their children.
The tumult of the incident can also dredge up other emotional issues beneath the surface.
"The shooting was horrific and of mammoth proportions," Schonfeld said. "That's not all you're dealing with … it can be overwhelming."
Experts recommended that all school employees, from the administrators down to the bus drivers and cafeteria workers, be trained in psychological first aid or even given a "script" to work from so students aren't retraumatized by a response that's seen as cold or insensitive. That script could mean a teacher tells students that while the class won't talk about the Vegas shooting every day, adults are available to students every day if they need to talk about it.
Sometimes, support staff such as custodians can have a better vantage point for signs of emotional distress — such as acting out — than a principal or teacher might have.
"If people are seen as insensitive or unprepared, they can do further damage," said Schonfeld, noting that even the ticket takers were trained on how to respond to guests compassionately when the 9/11 memorial opened. "People often don't know what to say so they say nothing, but nothing is the worst thing."
And schools should brace for the possibility that academic performance will take a dip because of the emotional hit of the massacre. Schonfield suggested that schools might need to write recommendation letters to colleges, explaining that the shooting might have affected particular applicants' grades or test scores and asking for leniency on admission standards.
Teachers also might need to slow down the pace of their lessons and accept that some teaching time was lost. But he pointed out that the process of working through the emotions of the tragedy and emerging more resilient is a life skill that's arguably more useful than some academic concepts.
"Kids learn empathy. That's more important than learning how to use a slide rule," he said.
Helping the helpers
One school nurse at the workshop said she'd been in an incident command center the night of the shooting, knowing when the media had only confirmed two casualties that dozens of people had died at the concert venue. She recalled receiving faxes from the hospital and trying not to look at them for fear she'd recognize the names of the dead on the printout.
In another instance, a teacher had a traumatic flashback after seeing red paint on paper, recalling the blood she saw at the scene.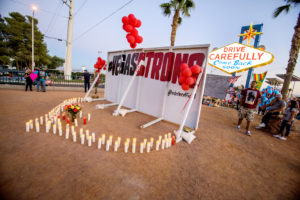 And the many social workers who spent a week counseling survivors in the immediate aftermath of the shooting have been asking for time off and for counseling for themselves, according to Joe Roberts of the district's Department of Student Threat Evaluation and Crisis Response. Not all had experience working in trauma, much less to the level seen in the Vegas shooting.
"I'm worried about things bubbling up to the surface," he said. "We're going to need a considerable amount of care."
To respond, some agencies are offering therapy for therapists. It can help — if mental health professionals take the sometimes difficult step of acknowledging that they too need help sometimes.
The long term
As freeway billboards and casino marquees flash the hopeful slogan #VegasStrong and crowds gather for candlelight vigils and blood drives, experts say the community is in the middle of a fleeting window of opportunity.
"These are life-changing experiences. You can take advantage of that opportunity to put into place not only the services, but improve the climate and culture and emerge as a changed community able to provide more to students and to each other," Schonfeld said.
On a personal level, a crisis like the Las Vegas shooting can prompt people to make changes and evolve as human beings, becoming more resilient and reaching greater heights emotionally and spiritually, he said.
On an institutional level, the crisis can better prepare people for future challenges.
"There's lots of opportunity to heighten the skills at the school level," Weires said.
But the trying circumstances, if not correctly addressed, can also be a stressor that breaks relationships. Organizational fights, battles over how to divide donations and the financial toll of the incident itself can push people apart.
"You had no choice about whether or not the disaster happened," Schonfeld said. "You do have a choice about whether you'll recover. You have a choice now on whether you'll keep that togetherness long-term."
Riley Snyder contributed to this report.
Stories
Candidate Trackers
Endorsements, Ads, Policies, Visits
& More
visit now
Comment Policy (updated 10/4/19): Please keep your comments civil. We reserve the right to delete comments or ban users who engage in personal attacks, use an excess of profanity, make verifiably false statements or are otherwise nasty.