Party goers smoke marijuana in a limo on the first day of recreational sales in Nevada on Saturday, July 1, 2017. (Jeff Scheid/The Nevada Independent)
AG's office declines to weigh in on question of whether pot lounges are legal
October 26th, 2017 - 12:51pm
Attorney General Adam Laxalt's office has declined to issue a legal opinion to its client, marijuana regulators at the Nevada Department of Taxation, on whether state law allows pot consumption lounges, saying the issue is not under the purview of the tax agency.
The matter of using marijuana in the open has been a gray area since the state first legalized recreational pot at the ballot in 2016. The law prohibits public consumption, but there's some confusion about what private and controlled access settings — such as an age-restricted lounge —  might be legal should local governments approve them.
"With one possible exception, as suggested in your letter, the Department does not regulate the time, place or manner of consumption of marijuana," wrote Gregory Zunino of the AG's office in a letter dated Oct. 12, responding to a detailed inquiry from the taxation department. "In the context of your request, the Office of the Attorney General office has no authority to issue an opinion addressing general questions about the lawful time, place and manner of consumption of marijuana."
The letter comes after the Legislative Counsel Bureau, which advises Nevada lawmakers, issued an opinion that concluded nothing in state law would prevent a local government from regulating recreational marijuana consumption lounges. Gov. Brian Sandoval said he disagreed with the opinion and indicated at the time that the taxation agency was seeking more clarity from the attorney general.
Armed with the LCB's positive opinion, Clark County Commissioner Chris Giunchigliani requested the commission consider the possibility of regulating lounges in the state's largest county. She's concerned that consumers in state's fast-growing recreational market can buy the substance but have nowhere except a private residence to consume it; that generally excludes the 43 million tourists who come to Las Vegas each year from legal consumption.
But members of the commission seemed wary of the idea when it came up last month, saying the state needed to take it slow and deal with public consumption properly. They tabled the topic, but it could come up again.
At the time, Giunchigliani brushed aside the idea of seeking an opinion from the office of Laxalt, who opposed the ballot measure legalizing recreational marijuana. She said that might yield a "twisted, in my opinion, opinion." (The two are both expected to run for governor — Giunchigliani as a Democrat and Laxalt as a Republican.)
Democratic state Sen. Tick Segerblom, a proponent of the marijuana industry and consumption lounges, said he thinks the response from the attorney general's office is a positive sign in the effort to clear the way for public consumption. He said it reaffirms that the public consumption policy is in the hands of local government and the state doesn't need to be involved.
Nevada would be part of the vanguard if it moves forward on the issue. Denver, Colorado voters last year approved a first-in-the-nation law allowing people to use cannabis at bars and other public spaces, but requires approval from neighbors and prohibits smoking. City officials began accepting applications for "social consumption areas" in August.
Nevada's market is quickly growing. Recreational marijuana sales in August, the second month of legal sales, totaled $34 million, blowing past the $21 million state projection for that month.
Nevada Department of Taxation - Request for Marijuana Lounge Opinion by Michelle Rindels on Scribd
Attorney General Adam Laxalt's Office - No Opinion on Marijuana Lounges by Michelle Rindels on Scribd
INDY FAST FACTS
Chris Giunchigliani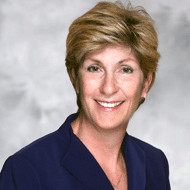 Job
: Clark County Commissioner
Party
: Democrat
In current office
: 2007-present
Birthdate
: November 27, 1954
Education
: Avila College (B.A.) University of Nevada, Las Vegas (M.A.)
Other public offices held
: State Assemblywoman, District 9 (1991-2006)
Total donations
: $2,895,819 (5/08/13-6/7/18)
Top donors
: Giunchigliani (Chris, Jeanne, JM, Larry, Myrna, Ellen): $65,000 MGM Resorts International $43,165 Caesars Entertainment $35,000 Buck and Aurora Wong $30,000 South Point Hotel & Casino/F&M Advertising $30,000
INDY FAST FACTS
Adam Laxalt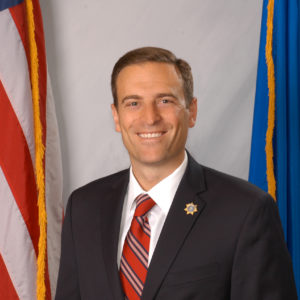 Job:
 Nevada State Attorney General
Party:
Republican
In current office:
2015-present
Birthdate:
August 31, 1978
Education:
Georgetown University (B.A.) Georgetown University Law Center (J.D.)
Other public offices held:
None
Total donations:
$8,262,050 (1/08/14 - 6/07/18)
Top donors:
Station Casinos/Zuffa/Fertitta $208,500 Las Vegas Sands $75,000 Marnell Properties LLC $42,500 Starpoint Resort Group/Partners $40,000 MGM Resorts $35,000
INDY FAST FACTS
Brian Sandoval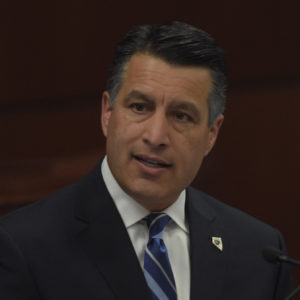 Job:
 Nevada Governor
Party:
Republican
In current office:
2011-present
Birthdate:
August 5, 1963
Education:
University of Nevada, Reno (B.A.) Ohio State University (J.D.)
Other public offices held:
U.S. District Court Judge (2005-2009) Nevada State Attorney General (2003-2005) Nevada Gaming Commission Chair (1999-2001) Nevada Gaming Commission Member (1998-2001) State Assemblyman, District 25 (1994-1998)
Total donations:
$5,035,808 (1/7/11 - 7/5/17)
Top donors:
Caesars Entertainment $245,000 Station Casinos $158,072 MGM Resorts International $160,000 Wynn Resorts $80,000 Marnell Properties LLC $70,000
From the Editor
The Nevada Independent
is a 501(c)3 nonprofit. We need help to attain the elusive goal of sustainability. We depend on recurring donations from you, the readers who believe in our mission of nonpartisan, transparent journalism. I know you are busy. I know you have many commitments. But if you would take a moment to
support our work
or bump up your current donation, I would be forever grateful.
Thanks for all of your support.
Best,
Jon Ralston
get our morning newsletter,
The Daily Indy
Stars & Struggles
Take a peek into today's education world through the lens of Sunrise Acres Elementary School in Las Vegas.
@TheNVIndy ON TWITTER