Almost two weeks after recommendation, no action from governor to move toward early inmate release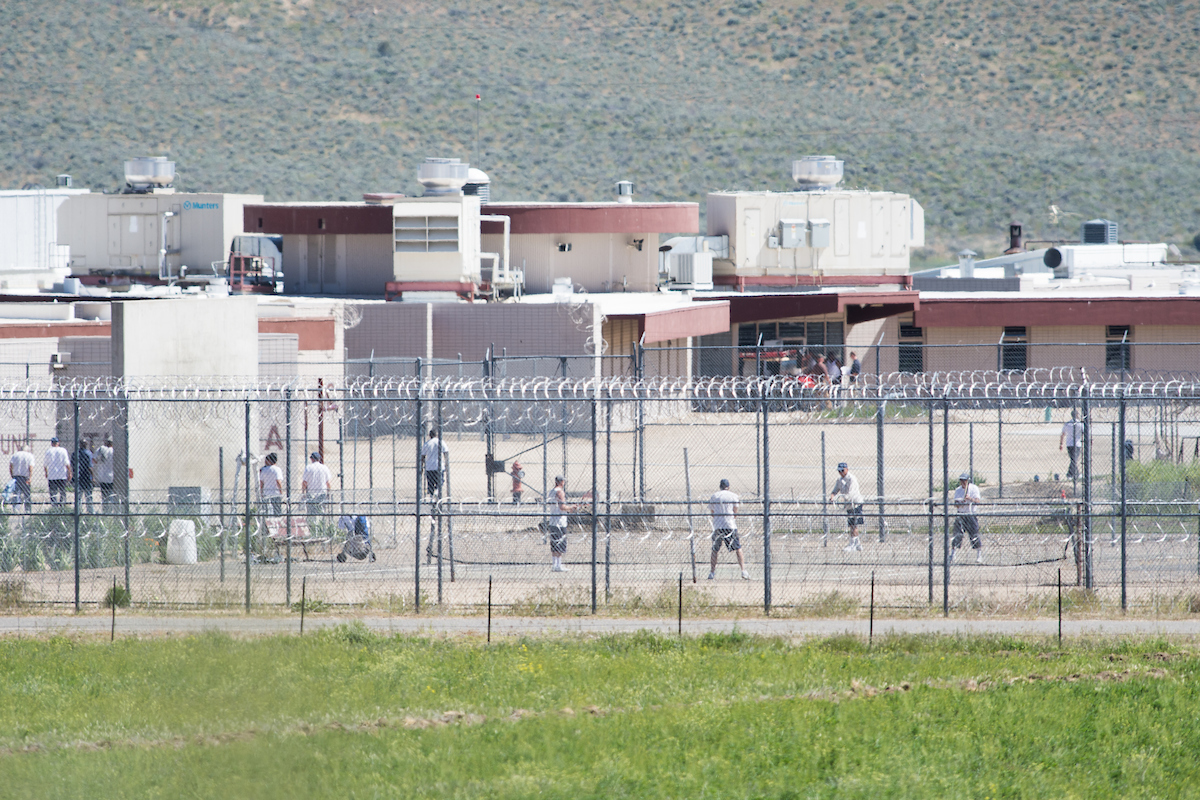 In spite of fears expressed by inmates, their families and lawyers that prisons loom as a potential cauldron of disease during the COVID-19 pandemic, Gov. Steve Sisolak has yet to take a recommended step that might lead to a large-scale release.

Sisolak's office hasn't answered requests this week about whether he plans to convene the Board of Pardons Commissioners — a panel that he chairs and on which he holds the deciding vote on sentence commutations. The Nevada Sentencing Commission narrowly voted April 13 to recommend Sisolak convene the more powerful pardons board to continue discussing the possibility of early releases, and chairman Justice James Hardesty said he met April 16 with Sisolak's staff to discuss the recommendation.

But the delay has drawn vocal critics, including criminal defense attorney Dayvid Figler.

"Other states have figured this out, and the fact that we haven't shows that there's no particular interest in solving this issue that virtually every expert believes needs to be dealt with," he said.

So far, the Nevada Department of Corrections is reporting seven cases of COVID-19 in the agency, all among staff and none among inmates. On April 13, the director said no inmates had been tested. Asked for an update, a spokesman said Thursday that the agency is not releasing information about how many inmates have been tested because that number is in constant flux.

"Our medical staff are highly-trained professionals who have the tools and experience to handle COVID-19 and treatment at all of our facilities," spokesman Scott Kelley said in an email. "NDOC has a sufficient amount of test kits at the moment to properly protect our NDOC community."

Filings in an ongoing court case seeking the release of 74-year-old state prisoner Gregory Kerkorian on the basis that he might die from COVID-19 show the executive branch is ardently defending health precautions taken so far and suggest fears are overblown. The state's filing includes a long list of all the cleaning products available at prisons, from liquid hand soap to Lime A Way, and cites email correspondence among prison staff showing pandemic preparations beginning as early as late February.

"The progressive steps NDOC has taken to protect employees, vendors and inmates from the spread of COVID-19, coupled with the ever-evolving nature of the recommendations provided by governmental entities and medical experts establish why Petitioner Greg Kerkorian's (and Amicus') request for release for himself and other inmates is not required, justified, warranted or prudent," an April 17 Nevada Supreme Court filing said.

The state also is arguing that Kerkorian is in a cell alone and has a toilet there, allowing him to keep social distance from other prisoners.

More globally, the state is insistent that the governor, and not the courts, retain the broad powers to decide whether any pandemic-related releases are appropriate.

"Kerkorian's attempt to have this Court usurp the Governor's broad discretionary powers — without any evidence establishing an individualized danger to him or arbitrary and capricious decision by the governor — is not proper," wrote Randall Gilmer, a deputy in Democratic Attorney General Aaron Ford's office.

The lack of action so far has frustrated defense attorneys, who say they hear from their clients that the prisons are not as prepared as authorities make them out to be. They also question the statistics that are publicly presented.

"The only agency not acknowledging this is a real threat is the prisons," said attorney Kristina Wildeveld. "The defense community would like those things that the director said to be verified because it's different than what we're hearing."

Democratic Assemblywoman Rochelle Nguyen, a member of the Sentencing Commission who voted in favor of further review, said she was disappointed that fellow members of the board opposed investigating the situation and working more on a plan to reduce the prison population. Multiple other states have released inmates in response to the pandemic.

But she said she understands the dynamics at play.

"I think we're seeing government and agencies tend to move slow in general," she said, adding that it was "difficult for a lot of elected officials — you don't want to be on the wrong side of making a decision, and they don't want to make any decision."

In the meantime, Wildeveld said she and other attorneys are in constant communication through an email chain about what can be done about the situation. She has repeatedly sent emails to key decision-makers in the state with a list of state prisoners she thinks would be prime candidates for early release because of their age, health condition or the limited time left on their sentences.

So far, she's seen little action in response. She said it was upsetting to hear discussion during the Sentencing Commission meeting asserting that people would be released and become homeless — an argument that Sisolak has made and that was laid out in the filing in Kerkorian's case.

Arguing that Sisolak enacted an eviction moratorium because "the lack of shelter will increase individuals 'vulnerability to transmission of COVID-19, which in turn increased the general public health risk resulting from the spread of COVID-19,'" the state's court filing asserts that "NDOC's protective protocols do not place Kerkorian in a situation of irreparable harm; arguably, they are keeping him safer than non-institutionalized individuals."

Wildeveld, however, says that many of the people defense attorneys are proposing as candidates for release have family members who are willing and able to take them in.

"None of these people are going to do anything that is going to create a menace of society," she said. "We're all ethically identifying people who would not be a menace to society."

In the absence of any action by the broadly powerful, governor-led pardons board, Hardesty said the Sentencing Commission — whose authority on the topic is limited to recommending policy — still plans to meet on April 29 to further discuss a framework to improve safety in prisons during the pandemic. The directors of Nevada's prison and parole agencies are expected to provide an update on their operations and "clarify some of the information they provided at the last meeting," Hardesty said.

Another point of discussion will be about the categories of inmates who might be considered for early release by the pardons board. And the Crime and Justice Institute, which helped research and make recommendations for criminal justice reform ahead of the 2019 session, will offer a presentation on what other states have done on the matter of depopulation and why.

Figler says the Sentencing Commission is the wrong body to rely on. The 23-person panel is made up of representatives from people in various spheres of the criminal justice system, but he said their "chaotic" discussion and divided vote fell along predictable lines, and did not advance any technical conversation about the medical conditions in the prisons.

"The fact that the governor is continuing to rely on the Sentencing Commission as a body to solve an issue they are not equipped or funded to do is an outrageous abdication of responsibility," Figler said.

In the meantime, Hardesty is encouraging defense attorneys to start preparing plans for their clients for housing, employment and other services should they be released to the community.

"I think the most challenging, in addition to deciding who might be considered for release is ... what support systems are needed," Hardesty said.

If the state does move toward allowing some inmates out early in the interest of public health, it won't be the first Nevada entity to do so. A week ago, Clark County Sheriff Joe Lombardo implemented a plan to release up to 10 percent of the inmates in the Clark County Detention Center to make it easier to socially distance.

The decision came after four inmates tested positive for COVID-19, and was a shift from the department's previous public response on the issue of emphasizing how many precautions it was taking. Hardesty cautioned against seeing that decision as precedent-setting.

"I think each of the jails and detention facilities need to be examined separately," he said. "What is appropriate for one detention facility may not be appropriate for the other. These issues need to be assessed thoughtfully."
Disclosure: Dayvid Figler is an occasional opinion columnist for The Nevada Independent.

The Nevada Independent is raising $200,000 by Dec. 31 to support coverage of the 2024 election.
Tax-deductible donations from readers like you fund this critical work.
If you give today,your donation will be matched dollar-for-dollar.
Give + Get Matched
Featured Videos