Sentencing commission asks pardons board to discuss early inmate releases, other responses to COVID-19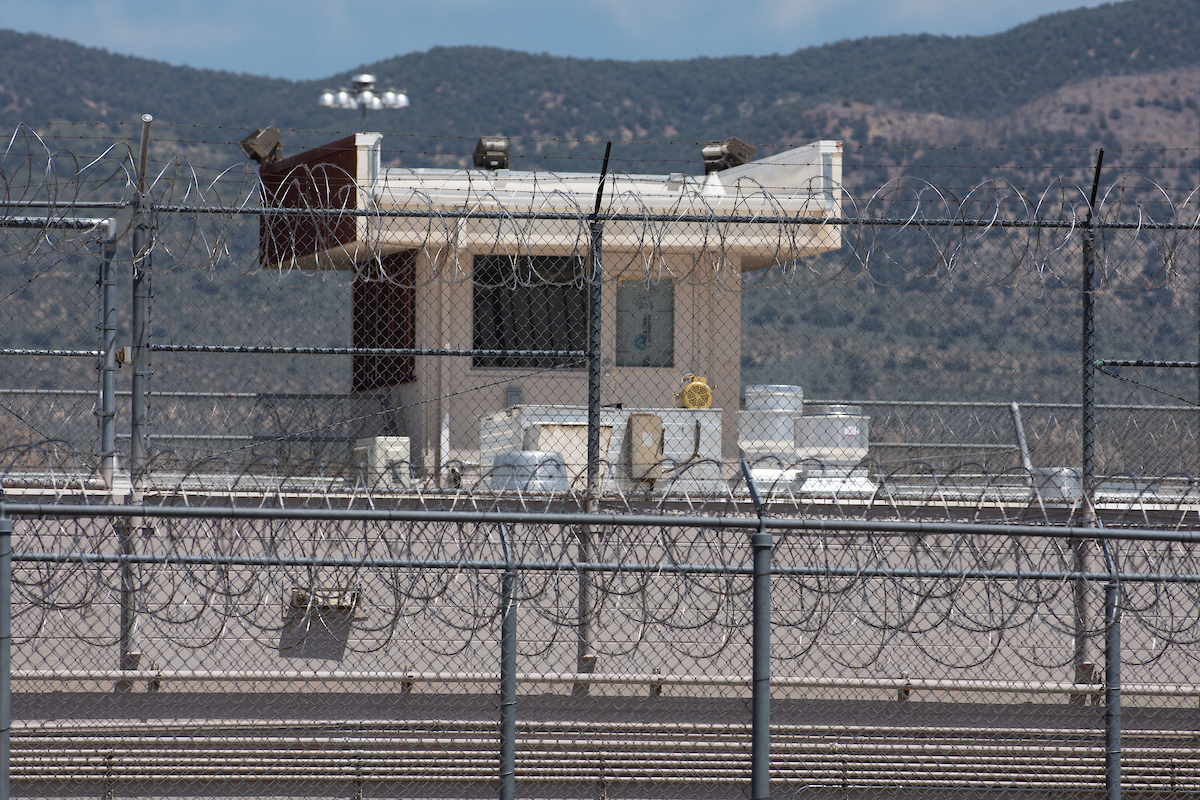 Members of the Nevada Sentencing Commission voted narrowly to ask the state's pardons board to continue a policy discussion on releasing prisoners early — an action some states are taking to reduce crowding and lower the risk of COVID-19 transmission.

The 10-8 vote on Monday capped off a meeting that lasted about six hours and came after the sentencing commission heard presentations about how state agencies were preparing for a possible outbreak of coronavirus. Inmate advocates say they fear that could be catastrophic in the close quarters of a prison.

But prison Director Charles Daniels argued the situation could be worse if inmates were let out of prison into the pandemic-rattled economy than if they stayed in place.

"Where exactly would they go? There is no place to live, there is no food, there are no jobs," he said. "At some point in time, you're going to kick into survival mode … There's not just a possibility of recidivism, there's a probability in this current environment."

No inmates in the Nevada Department of Corrections had tested positive for COVID-19, Daniels said, although he noted that none had been tested yet because none had been deemed to need any of the 15 test kits the agency has. He described a "very significant, robust screening" of inmates when they come to prisons, often from county jails, and noted they are isolated for 20-30 days when they arrive.

He said five staff members had tested positive — a figure that differs from the six reported on a new state dashboard unveiled Monday. In High Desert State Prison, where the prison system saw its first case, units that were thought to have had contact with the staff member were put on lockdown and inmates kept in their cells up to 23 hours a day, with the exception of showers, phone and recreation time.

"There is programming," Daniels said, noting that the prisons are trying to continue virtual learning. "It's not as robust as what it would normally be because we stopped many of our contractors from coming into the facility."

Daniels described how inmates have been part of sanitation teams that help disinfect prisons, how prison executives have been holding town halls with inmates to keep them informed, and how they have been producing masks, gowns and up to 20,000 bottles of hand sanitizer a day that can be distributed outside the prison walls.

"As of right now, we are good," he said. "And we're going to help everyone else out."

A premature move?

The 23-member Nevada Sentencing Commission includes legislators, law enforcement representatives, lawyers, professors and others. But it does not have much statutory authority on questions of commuting sentences or early release.

Chairman James Hardesty, a Supreme Court justice, said a body that could take action, such as commuting sentences, is the Nevada Board of Pardons Commissioners. That board consists of the governor, the attorney general and the justices of the Nevada Supreme Court.

The prisons chief was among the opponents in the vote to ask the pardons board to continue exploring options such as early release of inmates. Those who voted no generally said they didn't think the sentencing commission was giving the pardons board clear enough recommendations on the matter and that it could be detrimental to allow prisoners out into an environment with few job opportunities and a housing shortage.

"To release a bunch of people to the streets with no resources, I think there would be some societal harm," Daniels said. "There are some other people doing it. Great for them. But our situation may be somewhat different ... I don't see the urgency as of right now, although it may arrive."

Washoe County District Attorney Chris Hicks said his county jail has not had any positive tests and said decisionmakers shouldn't "lose sight of a lot of the proactive measures that have already happened." He noted that the Washoe jail has a population of 700 — well below the 1,200 it had this time a year ago.

"When we start getting to talking about releasing people when there aren't even positive cases yet, that's where I start feeling a little uncomfortable about public safety and victims' rights," he said.

Chuck Callaway, lobbyist for the Las Vegas Metropolitan Police Department, said he had concerns about letting people out on misdemeanors because they could be violent ones, or based on age and vulnerability because "the Unabomber would be eligible for release if we were strictly looking at the vulnerable population." He said his agency had taken "a very proactive and aggressive" stance on the pandemic, noting the population at the Clark County Detention Center was significantly down to 2,900 even though it can hold 4,000.

Although it was not mentioned in the meeting, Las Vegas police put out a press release shortly after adjournment that an inmate had been admitted to University Medical Center on Sunday and had tested positive for COVID-19 — the first reported incident of an inmate in Nevada having the virus.

Mechanics of release

Anne Carpenter, head of the Division of Parole and Probation, said one option for reducing the prison population would be letting out some of the more than 200 inmates who are already eligible for parole but remain behind bars. Often, they cannot be released because the division has not approved their plans for housing — sometimes they need an inpatient bed or a motel that would accept someone who's just out of prison or perhaps a sex offender.

"We don't have enough housing at all. And so I'm hoping that in the future, our state will look into that and explore some options," Carpenter said. "We would love to have more housing. That would be very, very helpful."

Another option could be putting more people on residential confinement with GPS monitoring.

"The only caveat is that it may overwhelm the house arrest system with our availability of equipment and the ability for that population to pay," Carpenter said. "But we could work around those, I'm sure."

Proponents of early releases have argued that reducing the prison population could help prevent spread within the prisons, where Daniels has acknowledged it's "impossible" to maintain social distance.

"I'm personally of the opinion that it would be safer for staff and for inmates [for inmates] to be released, even if they don't have a place necessarily to go, because it gives people more autonomy and freedom of choice," said criminal justice professor Emily Salisbury.

Proponents also brought up the fear among inmates who feel they would end up in the intensive care unit or worse because of their underlying medical conditions.

"I've been dealing for the last month-plus with clients who are sitting in prison who are terrified," said Russell Marsh, a criminal defense attorney on the commission. "To them … it's a matter of life or death."

Daniels pushed back on that.

"Where was that fear that's being expressed when they were in a commission of the crime? And where was that fear in reference to their victims of those crimes?" he said. "Both sides need to be weighed."

Hardesty indicated a review of who might be appropriate to let out early could be a lengthy and case-by-case process. The pardons board was not scheduled to meet until mid-June, but the sentencing commission's vote is asking for an emergency meeting sooner.

A spokeswoman for Gov. Steve Sisolak did not answer a request Monday on whether Sisolak would take up the board's recommendation and convene the pardons board.
Updated at 9:30 p.m. on April 13, 2020 to add additional comments from meeting.

The Nevada Independent is raising $200,000 by Dec. 31 to support coverage of the 2024 election.
Tax-deductible donations from readers like you fund this critical work.
If you give today,your donation will be matched dollar-for-dollar.
Give + Get Matched
Featured Videos