Amid a housing crisis, mayoral hopefuls cast visions for redevelopment in North Las Vegas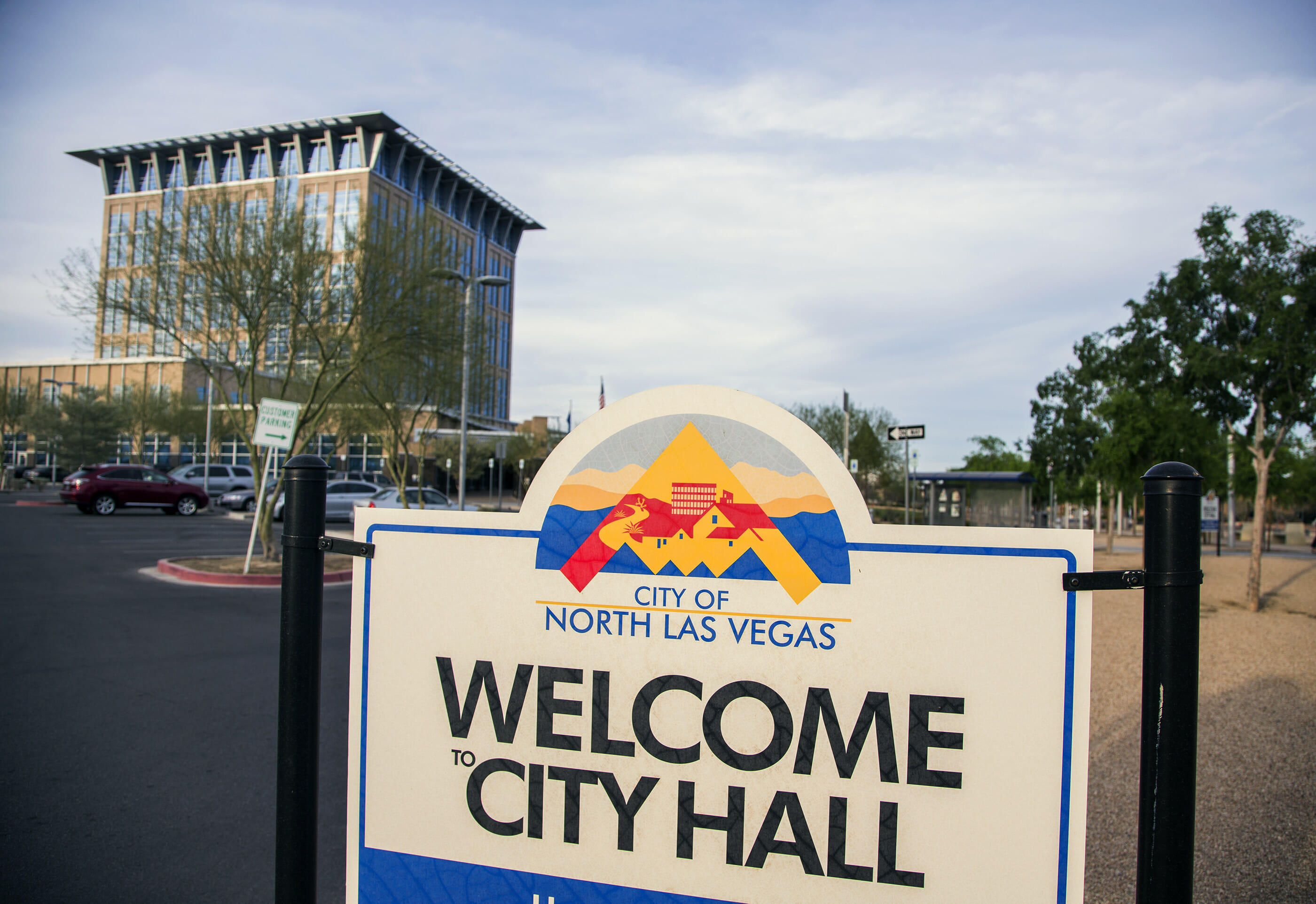 Election night will give North Las Vegas its first Black mayor — and the only Black mayor statewide — as Councilwoman Pamela Goynes-Brown and Democratic state Sen. Pat Spearman duke it out to lead Nevada's fourth-largest and most diverse city.
The two veteran politicians are competing for a job that includes managing an estimated $641 million budget to serve roughly 262,000 North Las Vegas residents. The seat is open after Mayor John Lee did not seek re-election and unsuccessfully ran for governor as a Republican (after switching parties) during the primaries.
The race pits Spearman, a former military police officer, against Goynes-Brown, a former educator, as they pursue the highest North Las Vegas city government seat. Goynes-Brown, who serves as the city's mayor pro tempore, won the most votes during the crowded June primary with 37 percent, while Spearman, the runner-up, snagged 17 percent.
The North Las Vegas mayor is a nonpartisan position and serves a four-year term, limited to a total of three terms. The mayor serves as a member of the five-person city council and presides over council meetings and represents the city on state, national and international levels.
The winner will step into a role leading the A-level credit-rated city, which came back after plummeting to junk bond status in 2013 because of an estimated $18 million budget gap, or a 15 percent deficit.
On top of the past budget crisis, North Las Vegas for years was viewed as an area occupied by gangs or youth violence and food and home insecurity. However, the city became one of the fastest-growing cities in America and remains on that list as residents have increased by nearly 10,000 people between 2020 and 2021.
Last December, North Las Vegas city leadership came under fire for violating the city charter when they appointed Chris Lee to a six-year term as judge for the newly created Community Approach to Rehabilitation and Engagement (CARE) Court, according to the Las Vegas Review-Journal. This came after Lee lost his re-election for ​​North Las Vegas justice of the peace to Belinda T. Harris in 2020.
The American Civil Liberties Union of Nevada sued the city and won, because a section of the charter says that when the first election occurs following the appointment of a judge, a vote must take place. Following the lawsuit, Lee ran and won the election for the municipal court department 1 where the CARE Court, a social justice-oriented court that was created through a city ordinance to reduce recidivism, is facilitated.
A battle seemingly won by city leaders, however, involved the Culinary Union's attempt to place a rent control measure on the North Las Vegas ballot. The city clerk determined the ballot initiative did not qualify, in part because of disagreements over how many signatures needed to be gathered, and the city council upheld that decision, blocking it from the ballot.
Residents and union members swarmed the city meeting where the city council approved the clerk's rejection concerning rent control with many saying their decision was "political" and that city leadership moved the finish line. In an August statement, Culinary Union said they will not take their concerns through a long court battle but will instead speak with voters about the upcoming election.
"The truth is, we're just not going to get stuck in court. We're not going to play that game," Culinary Union Secretary-Treasurer Ted Pappageorge told The Nevada Independent. "We are going to move, and we're going to talk to a ton of voters, and we think that this is a top issue at the ballot box and it's going to be successful."
Those are some of the issues that will likely face whoever becomes the next mayor of North Las Vegas. In interviews, Goynes-Brown and Spearman said they want to focus on economic development, jobs and making quality-of-life improvements, such as increasing the number of multi-family housing units and restaurants.
On election night, the wants and needs of North Las Vegas voters will be revealed as they choose a leader. You can read a full transcript of the interview with Goynes-Brown here and a full transcript of the interview with Spearman here.
Here's a closer look at the race.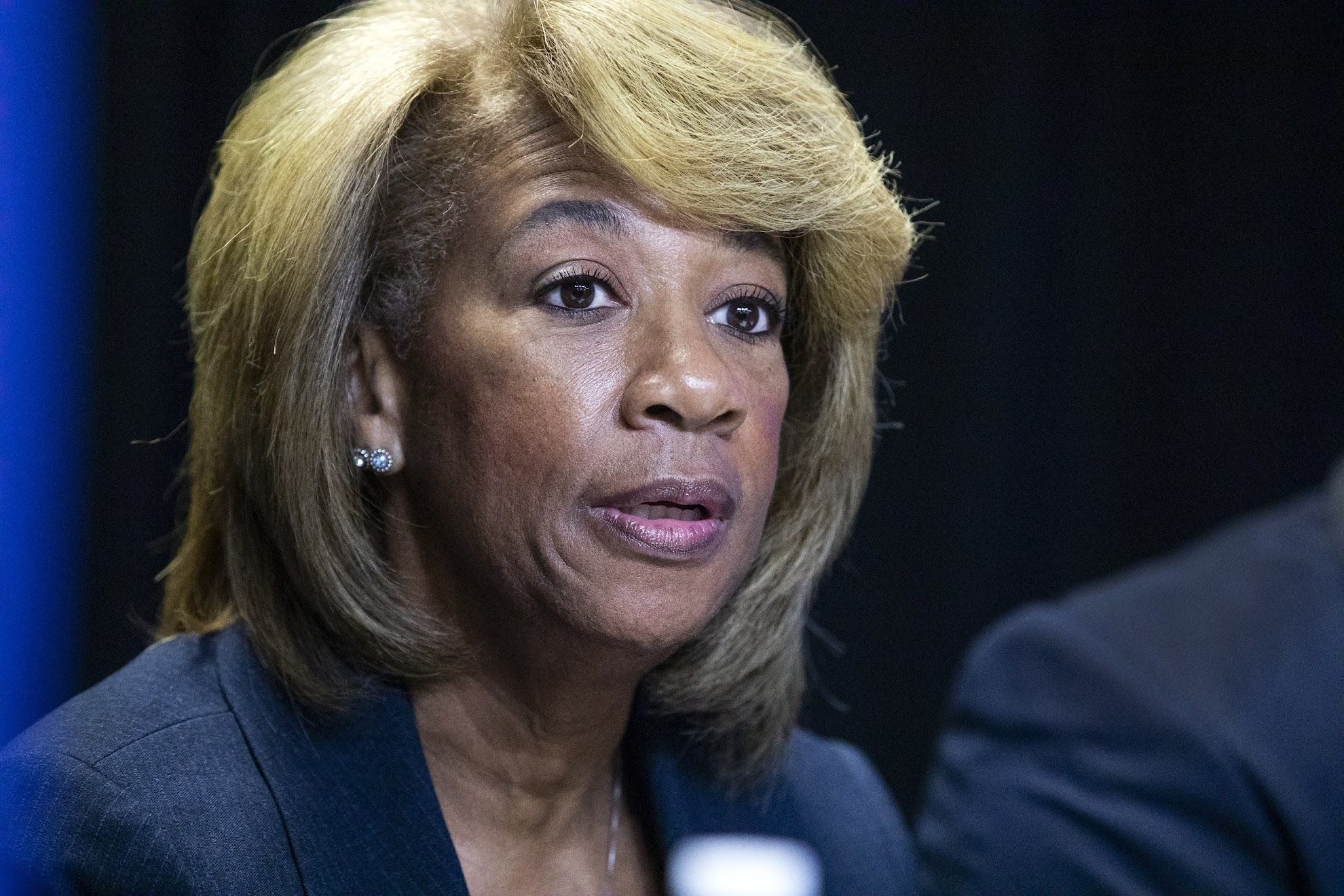 Redevelopment
The mayoral hopefuls cast different visions for the near future of North Las Vegas. One vision focuses on reinvestment in underserved communities and addressing residential concerns, while the other candidate's vision primarily bets on business development to strengthen the community.
After city leadership opened Craig Ranch Regional Park in 2013, it eventually became a premiere attraction for residents across the valley through concerts, food festivals and cultural events. That's the model that Goynes-Brown said city officials want to bring to downtown North Las Vegas, with hopes that situating city hall on East Lake Mead and Las Vegas Boulevard will also bring diverse attractions.
"We are totally revitalizing our downtown area," said Goynes-Brown in an August interview with The Nevada Independent.
Goynes-Brown has represented Ward 2 since 2011 and was the first African-American woman elected to the North Las Vegas City Council. She is a second-generation elected official, following in the footsteps of her father, Theron Goynes, who was formerly North Las Vegas mayor pro tempore after serving as a councilman in the 1980s.
Goynes-Brown is a retired elementary school assistant principal who spent 35 years in Southern Nevada classrooms. She said her top priorities are public safety and economic development, which includes residential and commercial projects.
The North Las Vegas downtown revitalization project, called NLV Gateway, kicked off this June and is expected to eventually create 900 permanent jobs. The 19-acre future commercial and business center is a partnership between the City of North Las Vegas and Agora Realty and Management company.
With ground recently broken for a small medical campus, construction is scheduled to finish in 2024 and will include space for national retailers and entrepreneurs. City council members celebrated the development at the groundbreaking in June and said they have been working on the project for years.
"​​Part of our downtown revitalization will reflect that … we are thinking of our diverse community," Goynes-Brown said. "That we're offering something for every demographic, every ethnicity, and so we're pretty excited."
Besides "updating" downtown North Las Vegas, Goynes-Brown said more development continues with "restaurant row" on Craig Road, where she plans to increase the number and variety of eateries. She also wants to increase commercial spaces or plazas in North Las Vegas.
She envisions the future of the 20,000-acre Apex Industrial Park corridor as a place where large corporations bring in light to heavy industrial, high-paying jobs. Apex sits off Interstate 15 and U.S. Highway 93 in North Las Vegas, minutes away from the Las Vegas Motor Speedway.
"It's going to be a phenomenal place to visit," Goynes-Brown said. "And it seems like it's so far, but once it's all built out, you will be at Apex before you blink an eye. We're really excited about the progress that's going on out there."
During a March forum, Goynes-Brown said if she is elected, voters will choose a mayor who is "totally in touch with the community."
On the other hand, Spearman said city leaders should not overly prioritize developments such as the downtown area, Apex or rezoning residential areas for warehouses before solving the housing crisis.
Spearman is the first Black, openly gay veteran to serve in the state Senate and was first elected in 2012. Her campaign focuses are economic diversification, clean energy and infrastructure, but she said her top issue is housing.
"All of our energies need to be focused on helping people find affordable housing," Spearman said. "If you can't pay your rent, are you ready to travel to a retail store to buy a purse?"
Spearman said development in North Las Vegas should primarily focus on increasing the number of affordable and low-income homes. She said the area is so diverse, but that it is like a "cornucopia" of developments instead of anything resembling a cohesive plan to address residential concerns and, as a result, "people are just hurting."
According to the National Low-Income Housing Coalition, Nevada has an 80,000-rental unit housing deficit for extremely low-income renters, whose income is at or below the poverty line of $26,200 a year. In Clark County, there is an average of 14 available rental homes for every 100 extremely low-income renters.
"You have to tackle the problem," she said. "You can't run away from it."
Spearman said the many calls that she receives about housing concerns make her want to increase mixed-use housing in North Las Vegas and create more senior housing, similar to the Madison Palms Senior Apartments that opened in 2019. She said it would integrate multifamily housing units into established, developing or changing neighborhoods and include affordable and low-income homes.
She said one issue that stunts development is that sometimes when people hear "low-income housing," they associate the properties with "undesirable" residents. When approving new developments in North Las Vegas, Spearman said she will ensure that there are low-income rental options available.
"We have to solve it," Spearman said about the affordable housing crisis. "We need to come up with at least three good ideas that we can pursue."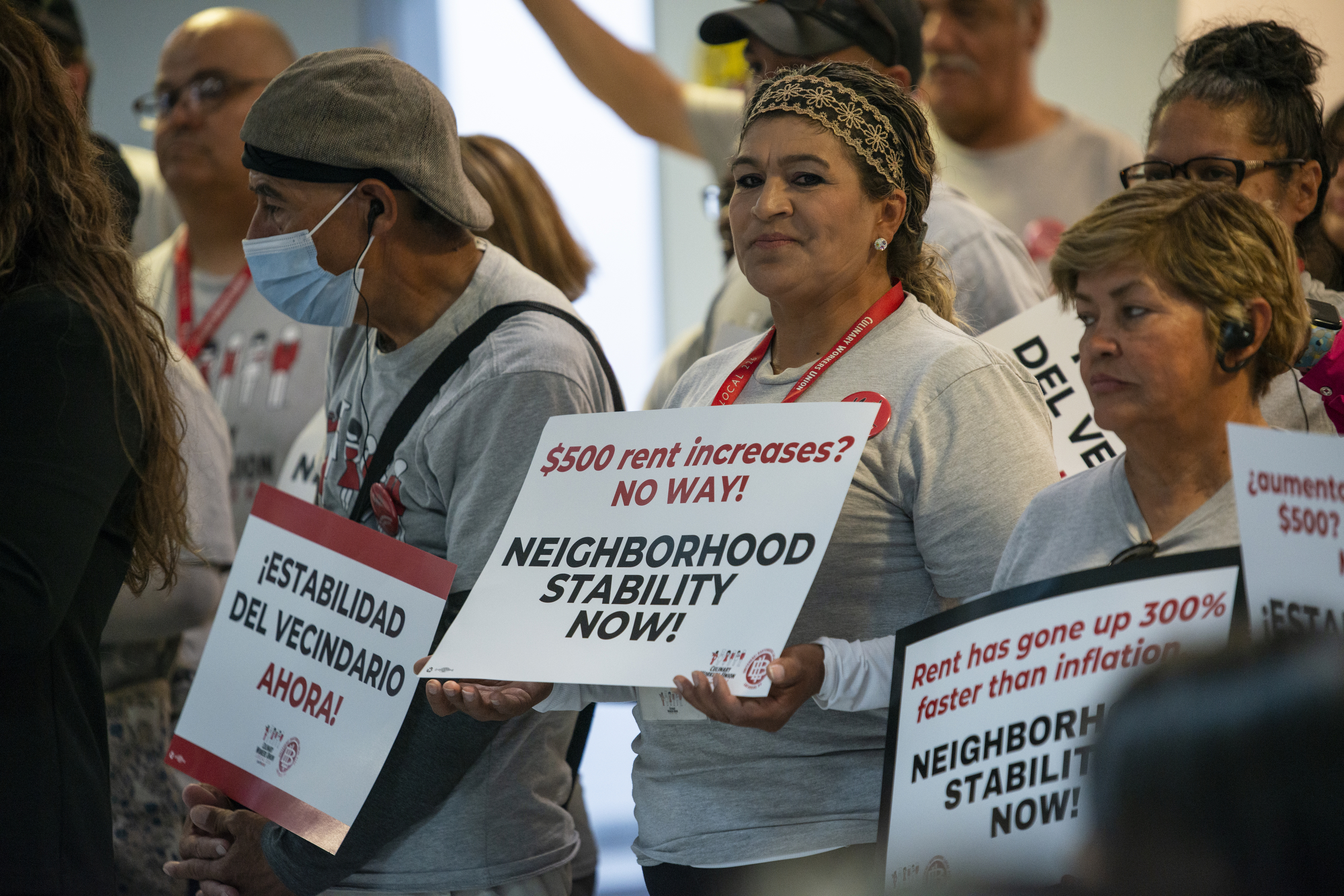 Policing
In the midst of the summer's rent control battle, the city council appointed Jacqueline Gravatt — a 20-year veteran of the North Las Vegas Police Department and former assistant police chief — to be the city's chief of police. She replaces former Police Chief Pamela Ojeda, who retired after 26 years with the department.
Gravatt was the first Black woman to serve as a patrol officer back when she joined the force in 2001. It's a high-profile example of how the police department is attempting to recruit officers who represent the community.
"We're doing a great job at what I call community policing," Goynes-Brown said.
Her appointment came after the nonpartisan Prison Policy Initiative revealed that Windsor Park, a historically Black neighborhood in North Las Vegas, had a noticeably high number of incarcerated residents. The data — available because of a recent law change in how prisoners are counted — found that in North Las Vegas, the imprisonment rate is as high as 3,902 per 100,000 residents in older, predominantly Black and Latino communities.
Researchers said the statistics reflect a history of racialized over-policing, as 45 percent of North Las Vegas' arrests are of Black residents, while the citywide population is 22 percent Black.
"What's important to me is the representation of police officers, so that they look like the communities that they serve," Goynes-Brown said.
While some advocates pushed candidates to defund the police, Goynes-Brown said that wasn't a priority.
"Taking funds from the police department won't help as far as protection and safety goes," said Goynes-Brown. "Those first responders are critical to keeping the neighborhood safe."
Prison Policy researchers found a disparity in the policing of Black Nevadans who were nearly three times as likely to be killed by North Las Vegas police as white people from 2013 - 2021.
Both Spearman and Goynes-Brown said they would not defund the police department and would focus on implementing new training or policies that include cultural competency.
"If you have a problem with immigrants or people from a certain part of the globe, maybe this isn't the job for you," Spearman said.
Spearman served as a military police officer for nearly 30 years and retired as a lieutenant colonel. She said she would introduce a zero-tolerance policy for officers who exhibit discrimination and ensure that fellow officers report instances of discrimination.
Goynes-Brown said when hiring, there should be a process where behaviors are documented to weed out officers in the academy who do not meet the cut.
Updated on 9/26/22 at 8:10 p.m. to include links to the full interview transcripts with Spearman and Goynes-Brown.
Correction (Sept. 27, 2022 at 11:53 a.m.): This story was corrected to reflect the seat that Judge Chris Lee serves on.