As Democrats aim to press advantage on abortion, Laxalt sticks to the economy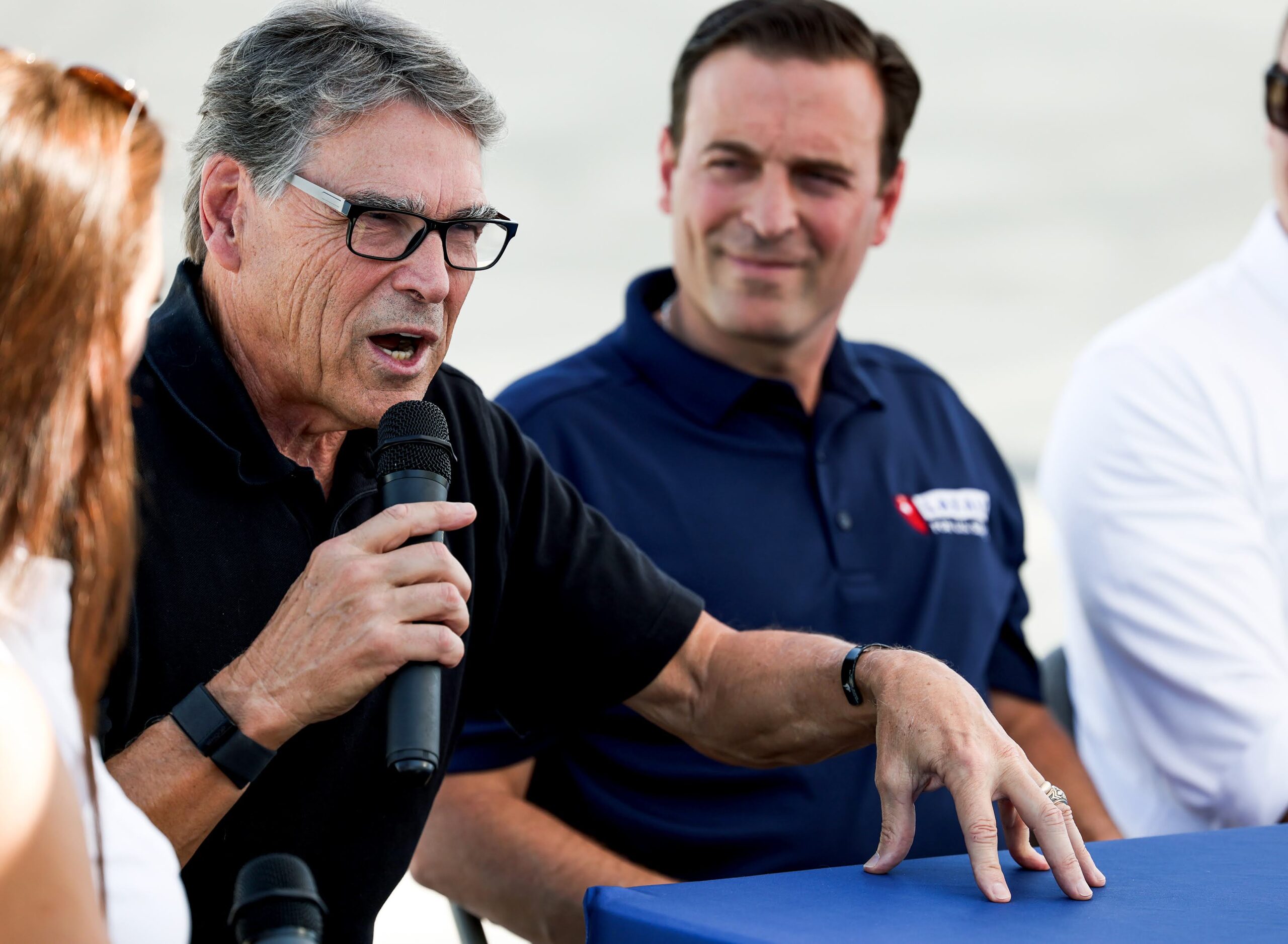 In the sweltering heat of the desert near Nellis Air Force Base, where fighter jets briefly drowned out the speakers, Republican Senate Candidate Adam Laxalt sat beside Rick Perry — a former Texas governor, failed presidential candidate and eventually energy secretary — to talk about oil.
Calling Laxalt a friend to the fossil fuel industry, Perry railed against Democratic rollbacks of Trump-era drilling policies and cast the broader energy ecosystem, in part, as a micro-economic issue.
"It's about your pocketbook," Perry said. "And [Cortez Masto] and her decision to go along with Joe Biden in this woke, leftist policies about energy and our ability to have an economy …. That's all in jeopardy now."
The event, held last Wednesday at a Rebel Oil facility for two dozen employees and campaign guests, was the latest in a series of Laxalt appearances that have sought to hammer Democrats on the economy — and skirt discussions of abortion.
Neither Laxalt nor Perry took any questions from the media, nor did they take any questions from attendees not already written before the event. It continues a long string of appearances from Laxalt in which he has not spoken to local media.
These campaign-sponsored events have nonetheless provided an outlet for Laxalt and his allies to draw attention back to the pre-COVID economy of the Trump White House and cast Democratic policy wins as ultimate failures.
On energy, specifically, that push involved casting blame for Democrat-led states sounding the alarm over potential blackouts amid a crushing heatwave. Republicans have spent the summer campaigning on the potential for such blackouts, though even some red states — including Texas — have warned that any substantial increase in typical power usage could raise the risk of similar outages.
"And California has these rolling blackouts — yes, it's hot and we're in the middle of a drought, but this is going on all over the country," Laxalt said, also referencing requests by NV Energy to raise thermostats last week. "And guess what? The state of Florida doesn't have rolling blackouts. Most states don't have rolling blackouts."
Nevada's Senate race is expected to be among the most competitive in the country. Likewise, incumbent Democratic Sen. Catherine Cortez Masto is frequently listed as among the country's most vulnerable incumbents, alongside Georgia Democrat Sen. Raphael Warnock.
It also comes as Republicans nationwide have leaned their campaigns on any simmering dissatisfaction in the voting public regarding the state of the economy, a message buoyed Tuesday by higher-than-expected inflation that has lingered despite Federal Reserve interest rate hikes.
But what was once an easy sell in July — when inflation was soaring unabated, gas prices surged to record highs and recession seemed inevitable — has become more nuanced, especially as the President's approval rating has steadily climbed through the end of the summer.
The push comes as GOP candidates have been battered in campaign advertisements on the overturning of Roe v. Wade by a conservative majority on the Supreme Court.
When it happened, Republicans hailed the decision as a policy victory decades in the making, and in Nevada, Laxalt himself called the ruling a "historic victory." Throughout his political career, Laxalt has long positioned himself as anti-abortion, and he backed two lawsuits — one in Alabama and another in Texas, both aiming to ban late-term abortions — during his time as Nevada's attorney general.
He has also touted the endorsement of the anti-abortion group National Right to Life, and was among the founding members of the Nevada chapter of the St. Thomas More Society, a Roman Catholic legal group.
A national group with the same name has emerged at the center of anti-abortion legal work, including recently drafted model legislation aimed at making it easier to block or disincentivize traveling across state lines for an abortion through private lawsuits. However, the Nevada organization does not appear to maintain links to that national law firm despite the name.
Democratic groups have poured millions into tying Republicans to the anti-abortion movement. Last week, two major political action committees — Senate Majority PAC and the Democratic Senatorial Campaign Committee — launched abortion-centric ads targeting Laxalt as part of existing ad buys of $27 million and $33 million, respectively.
Those ads have put pressure on Republican Senate campaigns especially, and some, such as Arizona Republican Blake Masters, have sought to shift their message on abortion.
Laxalt, meanwhile, has been attempting a tightrope balancing act between lines of messaging. On social media and in conservative media, he has maintained his image as a stalwart conservative, tweeting about the "open border," railing against "wokeness" in the military at an event, and bristling at the suggestion that any anti-media rhetoric from the right fed into the killing of Las Vegas investigative journalist Jeff German, allegedly, by a public official he was investigating.
In campaign-funded television advertisements, however, Laxalt cuts a more neutral tone, making no reference to "leftists" or "wokeism" or Cortez Masto or Biden and generalizing the issues. In his first general election ad, launched last month, he talks to the camera alongside his wife, Jaime, who calls Laxalt a "good man." In another, released last week, Laxalt's wife refers to him as a father and as a "protector."
On abortion, Laxalt's campaign has sought to navigate his messaging in a narrowly tailored fashion, including by attacking Cortez Masto for a bill she co-sponsored that would allow the Federal Trade Commission to regulate information from those centers under deceptive advertising rules.
But so too have Republicans muddied the messaging waters, sometimes apparently by accident. Rick Perry's appearance, for instance, allowed Cortez Masto to assail Laxalt for days on social media over Perry's central role as energy secretary in secretly shipping a half-ton of plutonium for storage in Nevada in 2018 — reviving the decades-old third-rail of Yucca Mountain in the process.
Both Cortez Masto and Laxalt were among a bipartisan contingent of Nevada politicians who opposed the move at the time.
Just this week, however, the abortion issue came to the fore again, as Republican Sen. Lindsey Graham (R-SC) announced a bill that would ban abortions after 15 weeks, well within the second trimester.
Cortez Masto's campaign seized on the announcement on Tuesday, and a campaign spokesperson, Josh Marcus-Blank said in a statement that Laxalt would be "an automatic vote for a federal abortion ban."
In an op-ed in the Reno Gazette Journal last month, Laxalt said claims that he would support a national abortion ban were false. When asked specifically about Lindsey Graham's proposal, Laxalt spokesperson Brian Freimuth said: "This proposal has no chance to pass Congress and receive President Biden's signature. The law in Nevada was settled by voters decades ago and isn't going to change."
Editor's Note: This story appears in Indy 2022, The Nevada Independent's newsletter dedicated to comprehensive coverage of the 2022 election. Sign up for the newsletter here.
Correction: 9/14/22 at 10:40 a.m. - This story was updated to clarify the difference between the Nevada chapter of the St. Thomas More Society, an association of Roman Catholic legal professionals, and the national group of the same name, which operates as a law firm.