As Lake Mead water levels drop, so do boating opportunities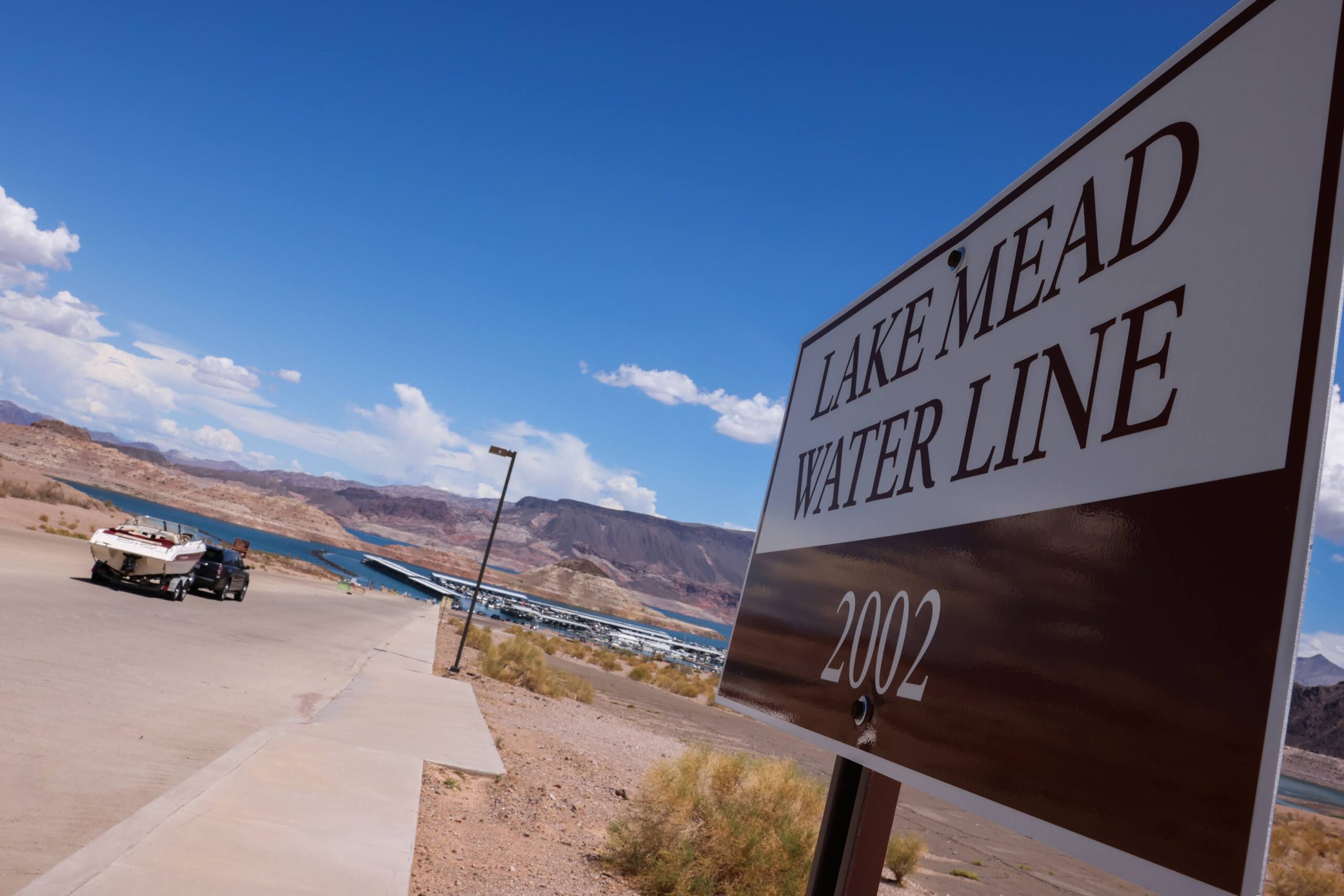 Last month, several cars and boats waited at the Hemenway boat ramp for almost four hours at Lake Mead, the popular reservoir located on the border of Nevada and Arizona.
Out of the lake's six boat ramp areas, the National Park Service closed all but Hemenway Harbor this past May because of low water levels, forcing tourists renting jet skis and boats to spend significantly more time on the boat ramps than actually on the water.
To avoid wait times, visitors are now moving downstream toward Laughlin or Bullhead City in Arizona, leaving Lake Mead with notably fewer numbers of tourists and raising concerns among business owners and their representatives.
"I request that you provide me with information about the actions you are taking to re-open launch ramps; and if there are no plans to re-open the launch ramps, please share NPS' reasoning and justification for the continued closures," Sen. Jacky Rosen (D-NV) wrote in a letter earlier this month to the ​​National Park Service Director Charles Sams.
Although Rosen said she understands mitigating the effects of the drought is the first priority, she urged park officials to find a "speedy resolution" and "restore equitable access" to the lake. Sunken boats, muddy soil and a decrease in fish has caused a worry for many rental businesses and for visitors as well.
Even as conditions have been declining, almost 7.6 million people visited Lake Mead last year, making it the fifth most-visited place within the National Park Service system, which includes hundreds of destinations including 18 national recreation areas and 63 national parks.
After more than two decades of drought, factors such as climate change and population growth have caused Lake Mead's water levels to drop to 1,042 feet compared to its record high of 1,225 feet in 1983, almost a 15 percent decrease. An agreement to keep more water in Lake Powell to sustain hydroelectric plants in that area could mean corresponding drops in water level at Lake Mead. Lake Mead is at 27 percent of its full capacity, according to NASA.
"Water levels at Lake Mead NRA have receded approximately 160 feet in the past 20 years of unprecedented drought in the Southwest United States," a Lake Mead spokesperson told The Nevada Independent. "Within this timeframe, the NPS has invested approximately $50M to provide ongoing water-based public recreational access to the lake."
But because these "investments no longer function as initially anticipated," the NPS is trying to accommodate recreational activities while also keeping safety as a top priority. Boat ramps have been extended with a pipe mat, an extended concrete substitute to accommodate the receding water levels, but will not reopen until the lake reaches ​​a predicted minimum of 1,050 feet.
Lake Mead tourism levels within the past two decades
Small Business
Kim Kelch has been working at Above All Las Vegas ATV Tours and Watercraft Rentals since 2007, and in September she will be celebrating her 10-year anniversary as the company's owner. But the milestone is coinciding with one of the worst summers for her business, with only a few boat and jet ski rentals.
"My customers would have to come in, go through the hassle of going through the paperwork and going over the skis, which is like at least a 30-minute process. Then they have to take the jet skis and put them in the water themselves," Kelch told The Nevada Independent.
Her business closes at 5 p.m., leaving customers little time to enjoy the boats or jet skis given the long wait times at the launch ramps.
Hemenway Harbor remains the only launch ramp open after it underwent construction work in recent months, but even with its two lanes, many visitors do not want to go through the hassle of waiting for four hours "bumper to bumper," as Kelch describes it.
Customers also need to fill their own jet ski gas tank. With the long wait times, this extra step can be frustrating for some customers as well as for the business.
Kelch has regulars who come every summer and rent the jet skis or boats for a week at a time at Callville Bay, and this year only one of her regular customers did not show up. The boat launch is closed at Callville Bay so to get there, they would have had to ride in a jet ski from Hemenway, which takes about 30 minutes. Then comes the process of setting up the houseboat in that area.
"​​It has affected us that way. So even though I have sent them out on those few weekly rentals, I really lost a lot financially this summer. And who do you blame?" Kelch said.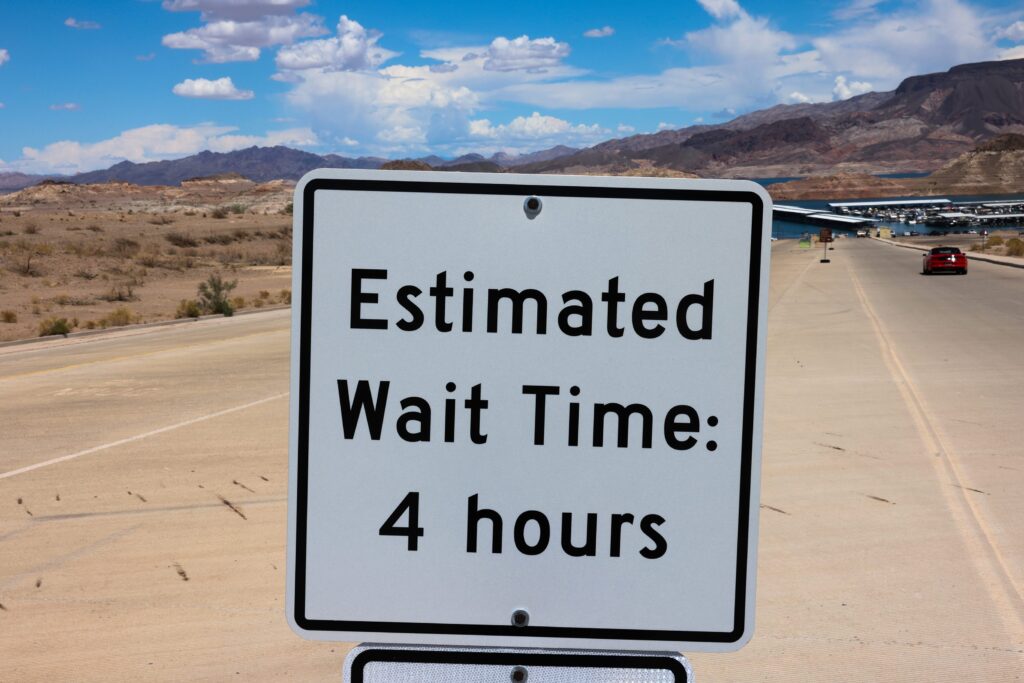 On the other hand, the family-owned business of Lake Mead Boat Storage, located in Las Vegas, has seen an increase in storage periods and a drop in customers from what has been typical even through last summer.
"I would say we saw on average about … five to eight people come in per day, either come into our office or come in, grab their boat to go out to the lake," owner Laird Sanders said. "And really it's just been quiet. I would say we're averaging maybe one or two people that come in every two days".
In fact, Sanders said he has heard about more people selling their boats rather than having to worry about the unpredictability. When he went to the lake during the Fourth of July weekend, a typical hotspot was almost empty. He and his girlfriend enjoyed the lake all to themselves.
"We took a kayak down there and there was like no boats. You would never take a kayak across the middle of Lake Mead. That's just crazy … but especially Fourth of July weekend," he said.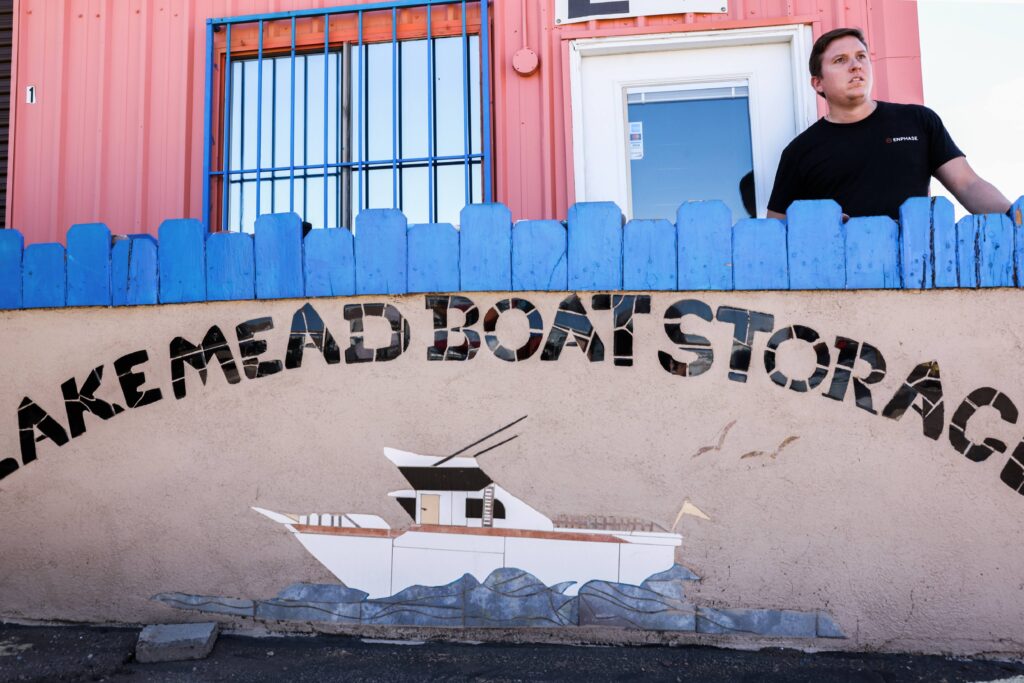 Dangerously low water levels
Las Vegas native and casino employee Don Beale, 59, goes to Lake Mead a minimum of two days per week to stay at his permanently moored houseboat on the Lake Mead Boat Harbor located near the Hemenway ramp.
"We used to ride our bicycles all the way to the lake. Now with the water level so low … where we used to cliff jump and [where] I used to fish as a kid, it's miles away from the water now," Beale said.
Throughout the years, he has seen the water gradually recede, moving away from the boat ramps. In July, it only took him just 15 minutes to launch his jet ski compared to four hours after the boat ramp closures.
"This Father's Day at 10:30 in the morning on a Sunday, there was nobody in line because everybody's going down river, so I love it," Beale said.
The Colorado River supplies water to almost 40 million people in seven states such as Arizona, Utah, California, New Mexico and more. Of those states, Nevada has less than 2 percent of legal water rights to the river. Even then, 90 percent of Nevada's drinking water comes from the river. Beginning in 2023, 8 percent of Nevada's water allotment will be cut, according to an announcement on Tuesday.
Lake Powell, a reservoir on the border of Utah and Arizona, is also at critically low levels that could hinder the Glen Canyon Dam from generating hydroelectric power — electricity created from the flow of water. If the water level falls too low, water cannot be supplied to areas such as Page, Arizona, and the lands of the LeChee Chapter of the Navajo Nation.
Last year, the Southern Nevada Water Authority board and state officials discussed a 500+ Plan that will help reduce drought levels in states such as Nevada, Arizona and California. The plan consists of keeping at least 500,000 acre-feet of water in Lake Mead from Intentionally Created Surplus (ICS) accounts — banked unused water. While also compensating large water users to use less water or to halt their water activity, the 500+ Plan could be a temporary solution to the declared drought.
Other strategic measures to help the region deal with low water levels at Lake Mead are being set in motion, such as water companies investing in a water recycling plant in Southern California as well as activating new infrastructure to pump water into the lower levels of the reservoir.
But this is not stopping tourists from visiting the lake. Karen Gretedge and her family live in Darby, England, but have a family member in Henderson whom they recently visited.
"I just thought it would be all glitz and glamor and dare I say a bit tacky. But it isn't like that at all," said Gretedge, referring to the Las Vegas area.
After spending time at other popular nature spots, such as Red Rock Canyon and the Hoover Dam, the family knew they had to make a stop at Lake Mead on Wednesday, especially after hearing news about the drought.
"It's just a different experience, to me, the nature of, well, just everything around the mountains and the plain lands. And that to me is sort of spiritual. For me, I find that really incredible," said Gretedge.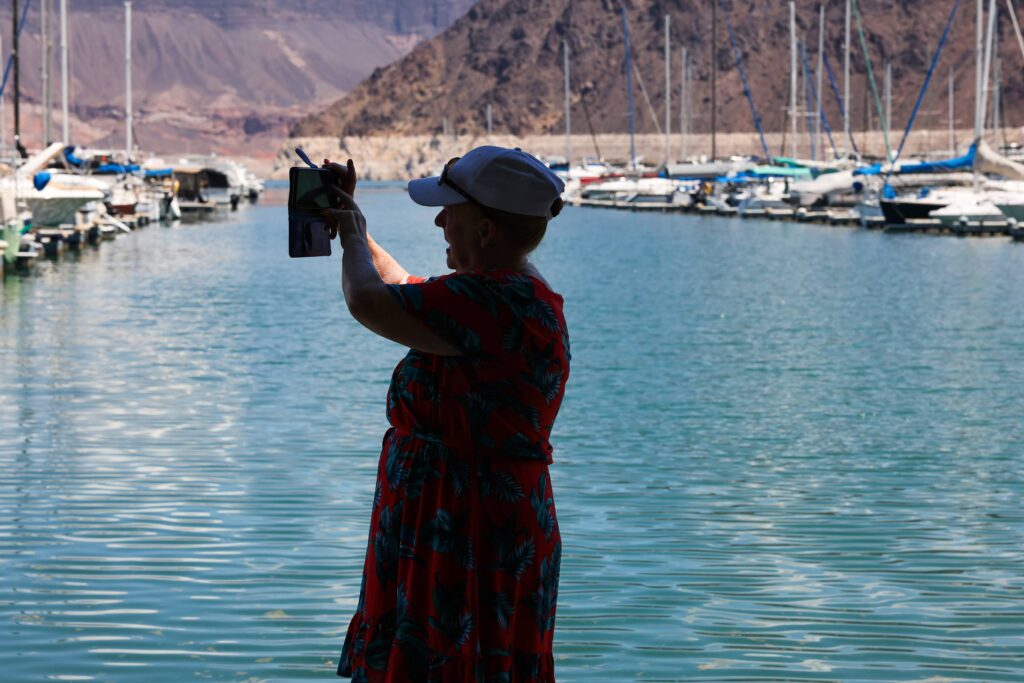 Sunken items in the reservoir
As the water has receded, the dried lake bed and shallow depths have revealed a smorgasbord of relics that, until recently, had been under water. As an avid jet skier, Beale is constantly exploring the lake, finding sunken boats, stranded jet skis and even mysterious barrels — including one that has gained national attention and happened to be located right across from his boat.
"We would ride our jet skis and look down and see [it] in 20 feet of water … and we're all joking, like, 'oh, there's probably a body in there,'" said Beale.
And just as they had suspected, there was. Because of the receding water, the barrel ended up on the new shoreline, where it stayed for weeks until the waves eventually broke it open – revealing human remains. It's not the only such discovery this past year, and some are suspected to have ties to the Las Vegas mafia in the 60s and 70s.
This hasn't necessarily deterred people from visiting. According to a Lake Mead spokesperson, a sunken boat facing upright has been at the lake for "several years'' but has recently become a famous attraction as water levels reveal additional portions of the boat.
"We would use that as a water level indicator. In fact, that was my whole thing on Instagram … It was our unofficial Lake Mead water level indicator," said Beale.
The decreasing water levels have affected other aspects of the lake, including the sand on its beaches that have now turned into mud that can trap vehicles. This has occurred in previous years, but has become an even bigger issue now.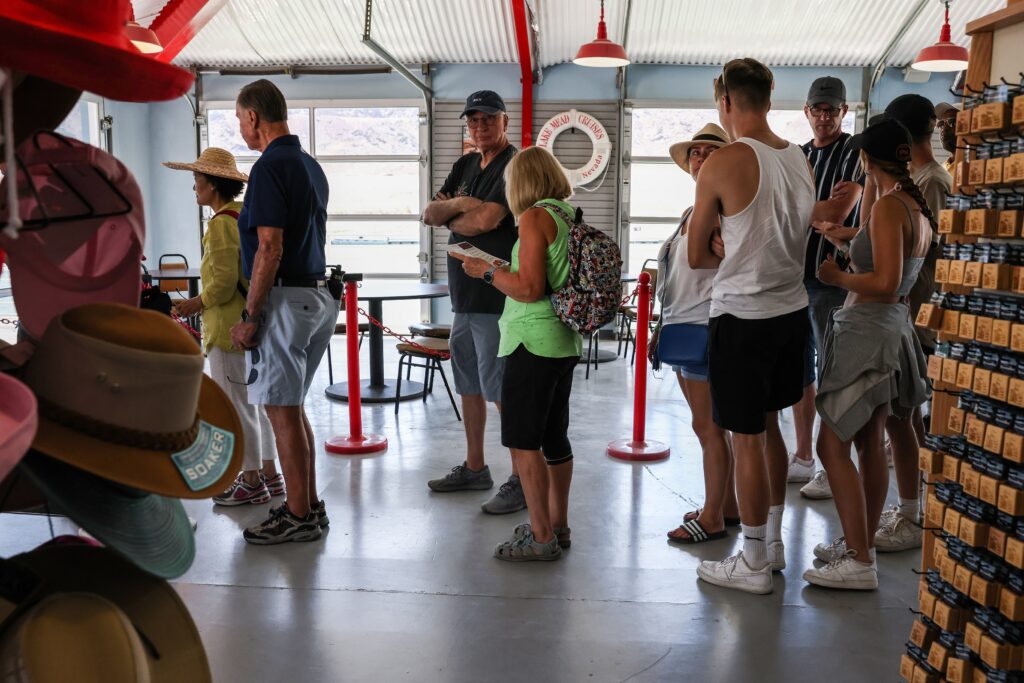 Southern Nevada Off Road Recovery, a nonprofit organization, partnered with the National Parks Service in 2020 and helped with 339 vehicle recoveries in 2021. Just this year, the calls for assistance either to a park ranger or to the organization has increased greatly, according to a spokesperson from Lake Mead.
"We need our beaches back, not the quicksand that it's become," Kelch said. "You see vehicles, you see dogs, you see their owners buried up to their knees. It's so dangerous."
Until water levels reach at least 1,050 feet, the five boat ramps will remain closed. For some local residents, the closures aren't driving them away but instead allowing them to have the lake to themselves.
"I bring my jet skis down and we have kayaks and we have paddle boards so we're not going anywhere," Beale said. "We're not going to go to a different body of water."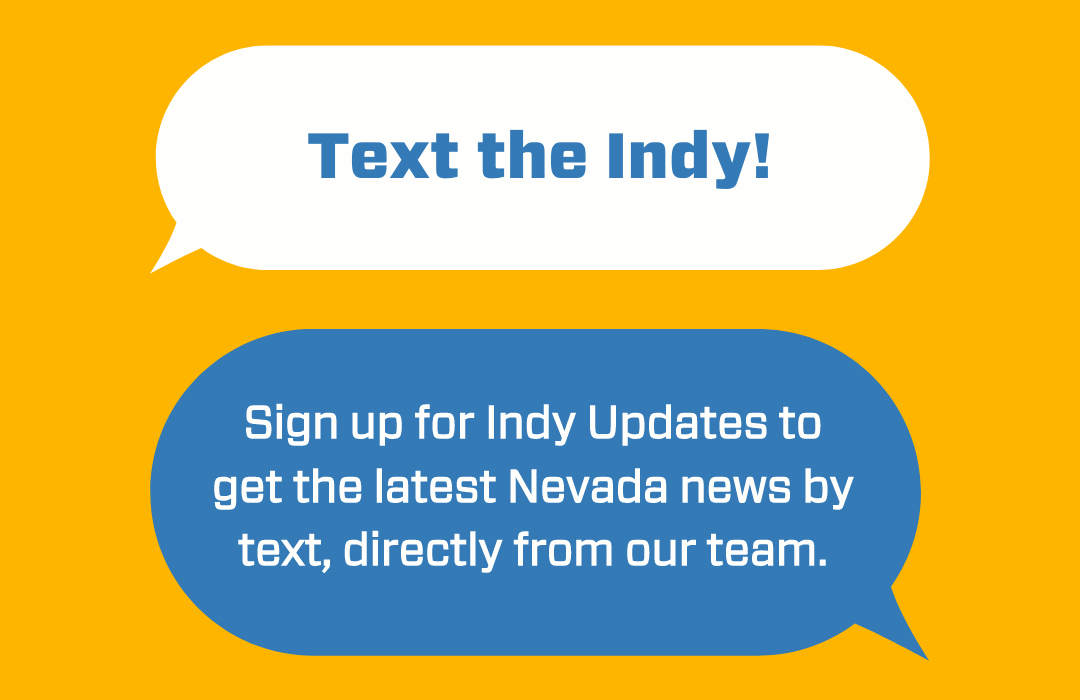 Featured Videos
Comment Policy (updated 4/20/2021): Please keep your comments civil. We reserve the right to delete comments or ban users who engage in personal attacks, use an excess of profanity, make verifiably false statements or are otherwise nasty. Comments that contain links must be approved by admin.