As more jobs are automated, Las Vegas set to be center stage for economic shifts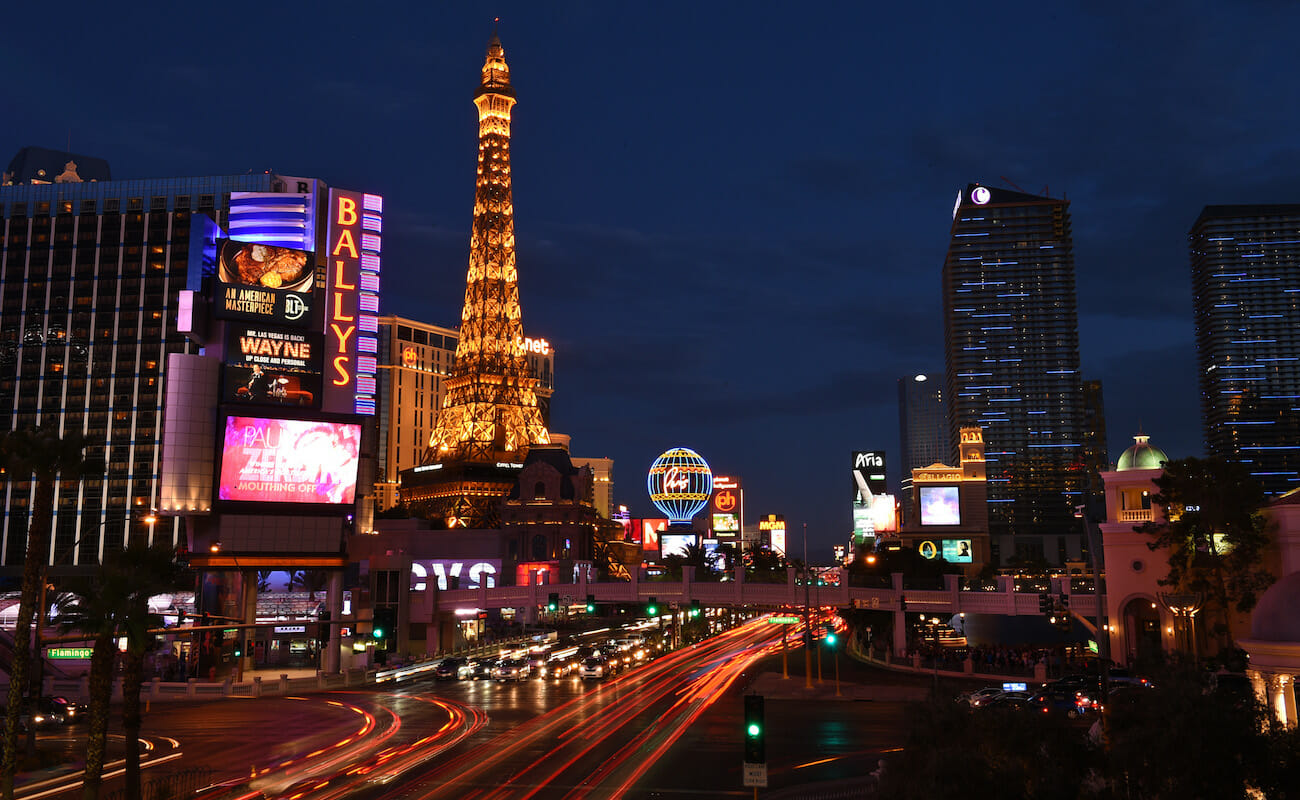 Where once there were humans, now there are kiosks.
Blocky heralds of an automated future, kiosks have become ubiquitous across Las Vegas' tourist corridor, cropping up everywhere from the hotel lobbies of the Strip to the vast check-in counters of McCarran International Airport.
According to a widening body of economic research, the kiosks are just the beginning — the most visible portion of an iceberg dubbed the Fourth Industrial Revolution, a proliferation of robotics, artificial intelligence and other new technologies at the core of the evolving workplace.
It's a revolution that may strike at the heart of Nevada's vast, service-driven economy.
"By 2030, 2035, you're going to see some — potentially — pretty dramatic changes in the composition of the economy and of the job market," said John Restrepo, principal of Las Vegas-based economic consulting firm RCG Economics. "The question is: how are we preparing for that in terms of re-positioning the economy to address the widespread adaptation of automation?"
A question of economics
Predictions on the number of jobs susceptible to automation differ. Between 38 percent and 65 percent of jobs in Southern Nevada are at risk of being automated — either in part or in full — during the next 10 to 15 years. That means somewhere between 500,000 and 860,000 of the 1.3 million jobs in Las Vegas, as of 2018, could be substantially changed or displaced by automation by 2035.
That makes the city one of the most vulnerable to automation in the entire country.
It's no secret among the city's movers and shakers; automation proved a key sticking point in negotiations between the city's powerful Culinary Union and the Strip's major gaming companies last year. But amid these predictions also come several caveats. Chief among them: Economists say not all jobs will —- or can — be automated completely. An analysis by the consulting firm McKinsey and Company found that just 5 percent of existing jobs can be entirely displaced by robots, artificial intelligence or both.
More common are jobs with sizable chunks of the work that could be simplified or replaced. McKinsey's report found that roughly 60 percent of all U.S. occupations could have about a third of the work being done by humans transferred to a digital workforce — one dedicated as much to easing the amount of white-collar grunt work as it is to speeding up the check-out line.
"These occupations will actually be restructured, so that there's a new division of tasks between human workers and digital algorithms," said Frank Fossen, an economist at the University of Nevada, Reno studying automation and A.I. "This can actually make workers more productive, because as they use these new technologies to become more productive, they could see higher wages and less unemployment. So some occupations are impacted a lot by A.I., but that doesn't mean the workers will lose their jobs."
In a paper Fossen published with co-author Alina Sorgner earlier this year, the pair outline two kinds of impacts from automation: destructive, or those jobs replaced entirely by automation, and transformative.
Those transformative jobs are ones, Fossen said, where the tasks being automated are not only trivial efforts like data entry, but complex mental calculations such as real time translations.
"Some occupations have a very high impact of A.I., but a very low automation risk," Fossen said. "For example, physicians and surgeons — the impact of A.I. is very high as they use new technologies for diagnosis. It's also a challenge for them. They have to keep up, but at the end of the day they're not at risk of losing their jobs."
Fossen compared automation to its now-controversial economic cousin: Globalization. He said that even as the process creates some "losers" — i.e., disrupted workers who are forced to seek new skills, training and jobs — the implementation of new technology presents new opportunities for efficiency, and the potential to create many more economic "winners."
Those efficiencies would be widespread, and much of the predicted productivity increases would appear among jobs once thought untouchable by the steady mechanization and digitalization of the economy — accountants, lawyers and doctors. Among those jobs, simple, time-consuming tasks such as data entry or recovery are already being automated by algorithms with increasing frequency.
But even as automation spreads across all occupations — from manufacturing and services to medicine and law firms — Fossen said the data show higher skilled, more well-educated groups will skirt the unemployment triggered by new automation.
"A lot of people need a lot of training, and that goes across all circles," Fossen said. "It especially applies to higher skilled workers, but they have the means to do so. They may have to adapt a lot, but it's easier for them. Unfortunately, in some other occupations, it means some will become unemployed because it's hard to find a new job if the occupation has been completely automated."
But regardless of the characterization of automation and the proliferation of A.I., Fossen said the shift isn't 10 to 15 years away; trends show it has already arrived.
The robots who would mix drinks
On the vaunted Las Vegas Strip, the transition to a more automated service industry is already well underway.
Though human bartenders still cater to customers in the myriad front-facing bars spread across casino floors the Strip, inside all but two of MGM Resorts International's 14 Las Vegas casinos, the dry martinis whisked to waiting guests are no longer shaken nor stirred by human hands. Instead, it's the work of an automated beverage machine, coldly relying on the precision of ones and zeros to mix drinks.
MGM has not publicly disclosed exactly what kind or how many devices toil in the back of the house, but demonstrations of similar machines reveal something not far off from the hulking, self-serve soda machines of modern-day movie theaters: Simply choose a drink, and watch it be dispensed.
In a statement to The Nevada Independent, MGM Resorts spokesperson Callie Driehorst said the intent was, in part, to "deliver a superior guest experience."
"We are always working to drive innovation in smart and effective ways that enhance customer satisfaction and support our employees' personalized service," Driehorst said.
It's a move that made headlines this summer as MGM Resorts imported the idea for automated drink machines from a pilot program at its Springfield, Massachusetts casino.
The shift coincided with a wider business strategy labeled MGM 2020, wherein the company will seek to cut costs by $300 million in part through slashing labor costs. Most of the jobs cut — more than 1,000 by the time the layoffs ended — were managerial, but that didn't stop the spotlight from shining on lost bartenders.
The optics were not lost on the gaming giant, especially as it worked to hammer out a new, multi-year deal with Las Vegas unions in 2018.
"We worked closely with the union to make preparing for technology initiatives like these a key aspect of our 2018 agreement and proceeded hand-in-hand to ensure compliance with the contract," Driehorst said in a statement. "We are focused on making transitions as smooth as possible for our employees."
That contract, negotiated between the Culinary Union and Strip casinos last year, marked the first time such an agreement ever made mention of automation — let alone the enshrinement of certain concessions and protections in anticipation of such change.
"For us, we know it's a challenge," said Geoconda Arguello-Kline, secretary-treasurer of the Culinary Union. "We're learning more and more about the situation, and right now we have language to protect us, but we know we have to continue to figure out how to protect jobs. If they do slash jobs all over, what is it going to mean for us? What is it going to mean for the entire community, for the entire country?"
The Culinary Union ultimately secured a number of guarantees, including, among other protections, six-months advance notice of the implementation of new technology and free re-trainings for employees should automation or technology changes create new job — ensuring employees don't see increased workloads should more technology enter the workplace.
"We have to ensure that one job is going to be enough for one person," Arguello-Kline said. "It's not going to be that, because you have new technology or eliminate a bunch of workers, that you have that person working two people's jobs."
An issue of training
Much like the economists, those on the business side of the equation see the coming wave of automation with little gloom or doom. Bryan Wachter, Director of Public and Governmental Affairs for the Retail Association of Nevada, said that just as economies have adjusted in the past, they will adjust again.
What's needed in the meantime, he said, are new training programs meant to catch people caught in the transition.
"The state needs to do a better job at more workforce training, and especially on education," Wachter said. "We're continuing to graduate kids, if they're proficient, for jobs that may not be there anymore. So we have to look at where we want our workforce to be, and that includes maybe looking at some retraining options, as a way to figure that out."
Wachter added that he sees the addition of technology and automation, especially to the service and retail industries, as yet another evolution in a long line of re-inventions.
"I think that it's an opportunity for some of those employees to re-calibrate skills to be able to go forward," Wachter said. "It's certainly a hard choice, and it's not something anyone hopes to face, but I think ultimately we will end up with better, more productive jobs that will be able to intertwine with technology and with the automation."
Still, Restrepo said the steady march toward automation has remained largely invisible, floating at the edges of the wider public's concern about the economy.
"It's insidious, in a way, because it starts kind of benignly," Restrepo said. "But what you do know is from a profit maximization standpoint, from an HR standpoint and all these other reasons why businesses operate, they're moving toward this. It's not going to stop."
Though research into the coming changes of automation is not new, only recently has the issue slipped into the mainstream discussions of the economy. That increase comes — in part — on the back of the presidential campaign of entrepreneur-turned Democratic-contender Andrew Yang, who has sounded an alarm bell on automation since the first days of his presidential bid.
"This is going to be an economic natural disaster," Yang told a crowd in Las Vegas during a speech to the service employee's union in April. "We need to wake up and think much bigger about what that means, and what the best path forward would be in an economy that is so hugely dependent on these types of jobs."
But Yang's message has yet to catch on among the political mainstream, and as of this spring, public support for universal basic income (UBI) — billed by Yang as a necessary response to automation — remains mixed at best.
Few polls have tracked public opinion on UBI, but those that have show a majority of Americans oppose the idea. A 2018 survey from Gallup found 52 percent of those surveyed opposed UBI, with 48 percent in favor, while a poll in March from The Hill and HarrisX found 57 percent of registered voters opposed implementing the idea.
And though recent data remains sparse, a pair of 2017 polls from Gallup found that just 26 percent of those surveyed said technology would eliminate their job within the next 20 years, and just 13 percent said they worry about technology making their work obsolete.
Irrespective of public opinion, the ever-growing number of kiosks dotting the Las Vegas tourist corridor will continue whirring, churning and slowly changing the face of the labor force.
Disclosure: John Restrepo, principal of RCG Economics, is the copublisher of the Stat Pack and Fact Pack. Both are media clients of The Nevada Independent Managing Editor Elizabeth Thompson's consulting firm, E Thompson Media.
The Nevada Independent is raising $200,000 by Dec. 31 to support coverage of the 2024 election.
Tax-deductible donations from readers like you fund this critical work.
If you give today,your donation will be matched dollar-for-dollar.
Give + Get Matched
Featured Videos