Valley High School seniors talk about issues during the Mental Health First Aid Training program on Wednesday, April 23, 2019. (Jeff Scheid-Nevada Independent)
As teens struggle with depression and anxiety, new program teaches 'first aid' for mental health
April 25th, 2019 - 2:05am
Their only homework assignment could be done in a matter of seconds.
Andrew Magness, a teacher at Valley High School, asked students gathered in his classroom Wednesday to look into a mirror and practice asking the following questions:
"Are you thinking about killing yourself?"
"Are you thinking of suicide?"
The questions — constituting 11 words — might be difficult to utter, he warned, but they could be the difference in saving a friend or loved one's life. What may seem like an unusual assignment is actually one that school officials hope resonates with students long after they leave the red locker-lined hallways of this central valley high school. Educators know teens battling mental health issues often confide in each other before turning to a trusted adult or medical professional.
"It's a hard sentence to say," Magness told them. "I just want you to think. This is a rhetorical question. I want you to just be in thought. I'm not going to call on anybody. I just want you to think to yourself: 'Why is it so hard to say that sentence?'"
After students quietly pondered his question, Magness returned to his mission — equipping teens with mental health "first aid" skills so they know what to do when confronted with peers struggling or experiencing a crisis. He spoke from the heart. When he was 24, his close friend killed himself.
"That was the moment I realized I do have to ask that question," Magness said. "There was something up with him. But I never, ever had the courage to say, like, are you suicidal?"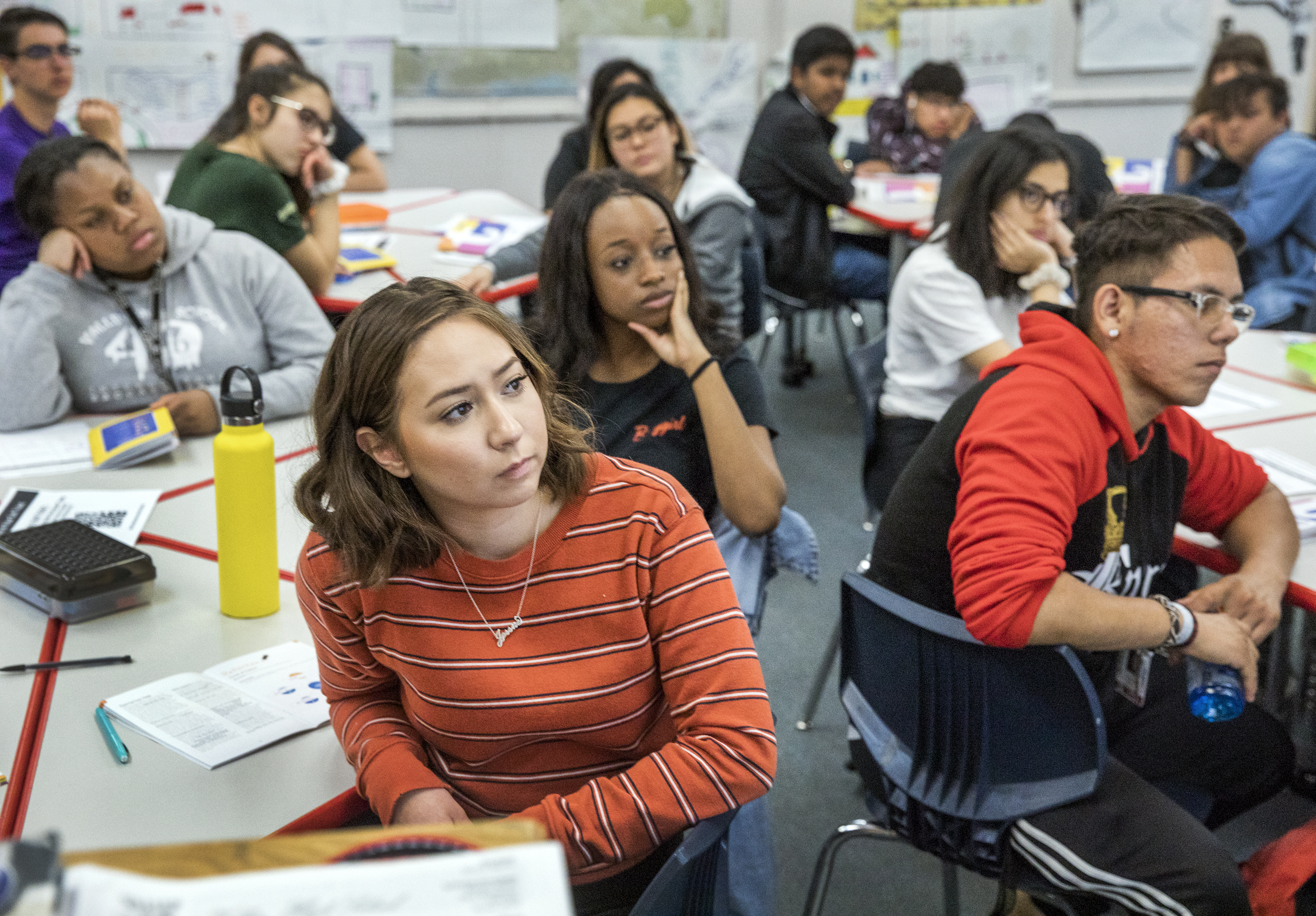 The somber admission served as a cautionary tale for the teens, who, like their teacher, may think it's an inappropriate question or be afraid to ask. But the point of this lesson wasn't to turn students into mental health professionals. Quite the opposite, actually. Educators want students to know the warning signs and ask the right questions so they can connect their friends with an adult or licensed professional who can help them.
Consider it the mental health version of CPR training.
And it's all affiliated with a pop music star who performs regularly on the Las Vegas Strip. Lady Gaga's Born This Way Foundation chose eight schools nationwide, including Valley High School, to participate in a pilot program that provides students with mental health training. The foundation and the Well Being Trust funded the development of the Mental Health First Aid Training, which the National Council for Behavioral Health adapted from a similar program in Australia.
Valley High School received $5,000 to train teachers who, in turn, could train the students — in this case, about 650 seniors. Researchers at John Hopkins University will study the program's effectiveness based on data collected from student surveys.
Principal Ramona Esparza said results from the training in Australia indicated students were better prepared to help peers and less likely to self harm or kill themselves. She's hopeful the program yields similar benefits at Valley High School, where mental health is already a key priority. The school has an on-campus "Wellness Center" and a full-time therapist.
But Esparza said the need extends beyond what the school can provide. There's a waitlist for the therapist, and students even visited the "Wellness Center" during their spring break, she said.
"We need to give them the tools to get to the right person (for help)," she said.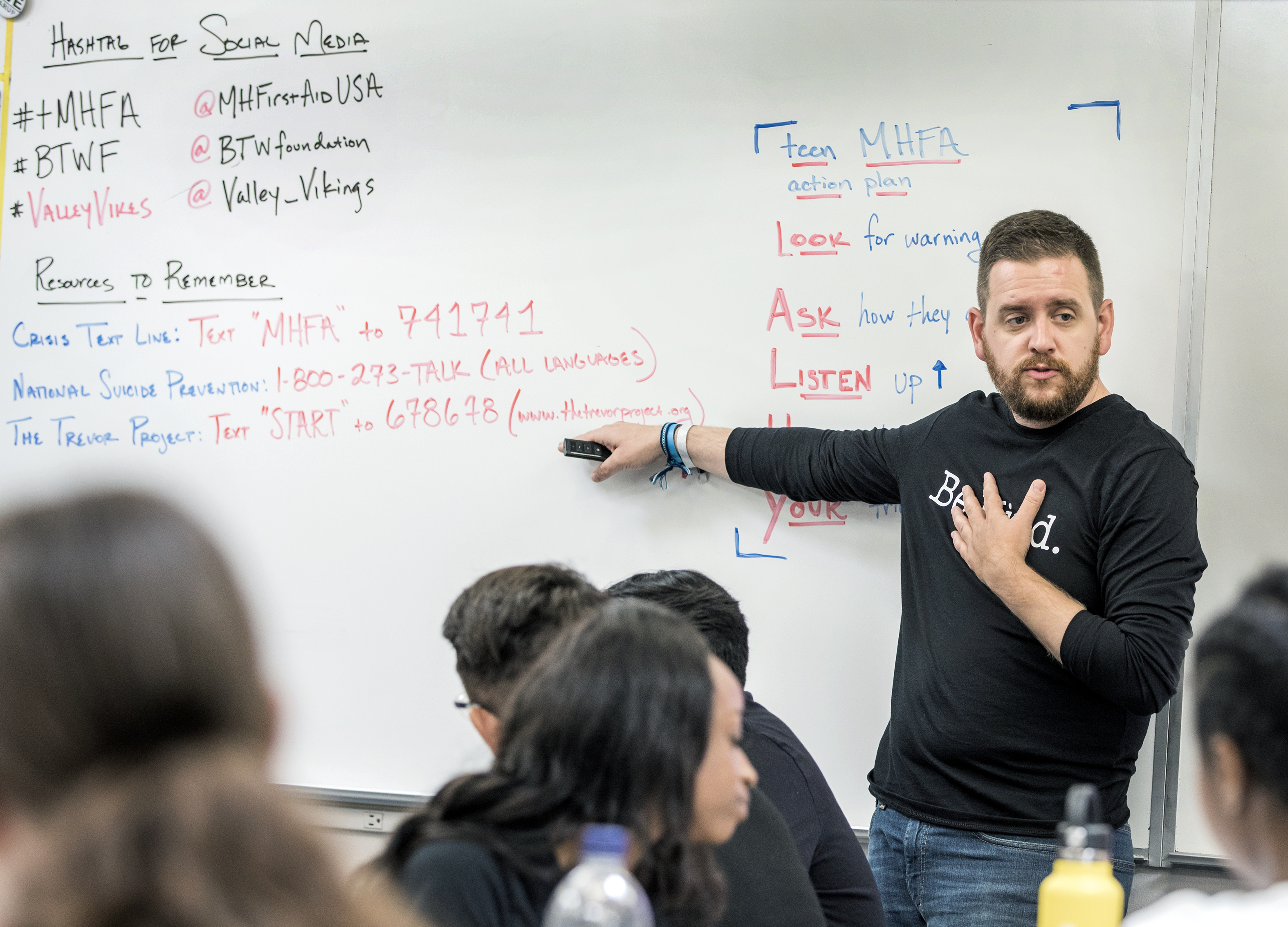 A Pew Research Center survey conducted in November found that 7 in 10 teens see anxiety and depression as a major problem among their peers. Bullying, drug addiction and alcohol use, in that order, were the next biggest concerns.
The problem, students say, is they're not always sure how to handle addressing these concerns with friends or loved ones who are struggling.
"I've literally had zero clue on what to say," said Sasha Mosquera, 18, who attends Valley High School.
And that's coming from someone who has immersed herself in mental health studies this year. Mosquera created a series of portraits depicting people battling various mental illnesses for her Advanced Placement Studio Art course.
Still, the senior said she wishes this information came sooner in her high school career. The grant directed Valley High School to provide training for 12th-graders only, but Esparza said she hopes to expand its reach in future years.
In the meantime, a whiteboard in Magness' classroom featured a five-step action plan for mental health first aid along with phone numbers to crisis lines. This is the training ground for a new generation of mental health advocates — teens, who are often the first line of defense helping each other anyway.
"I can't change the stigma of older generations," Magness said. "It's just too hard. But what we can do is start with you guys."
Stories
Candidate Trackers
Endorsements, Ads, Policies, Visits
& More
visit now
Comment Policy (updated 10/4/19): Please keep your comments civil. We reserve the right to delete comments or ban users who engage in personal attacks, use an excess of profanity, make verifiably false statements or are otherwise nasty.