As Vegas F1 race approaches, questions loom over lofty economic projections
While F1 has been heralded as a billion-dollar event, prices for tickets and hotel rooms during race weekend have fallen sharply in recent weeks.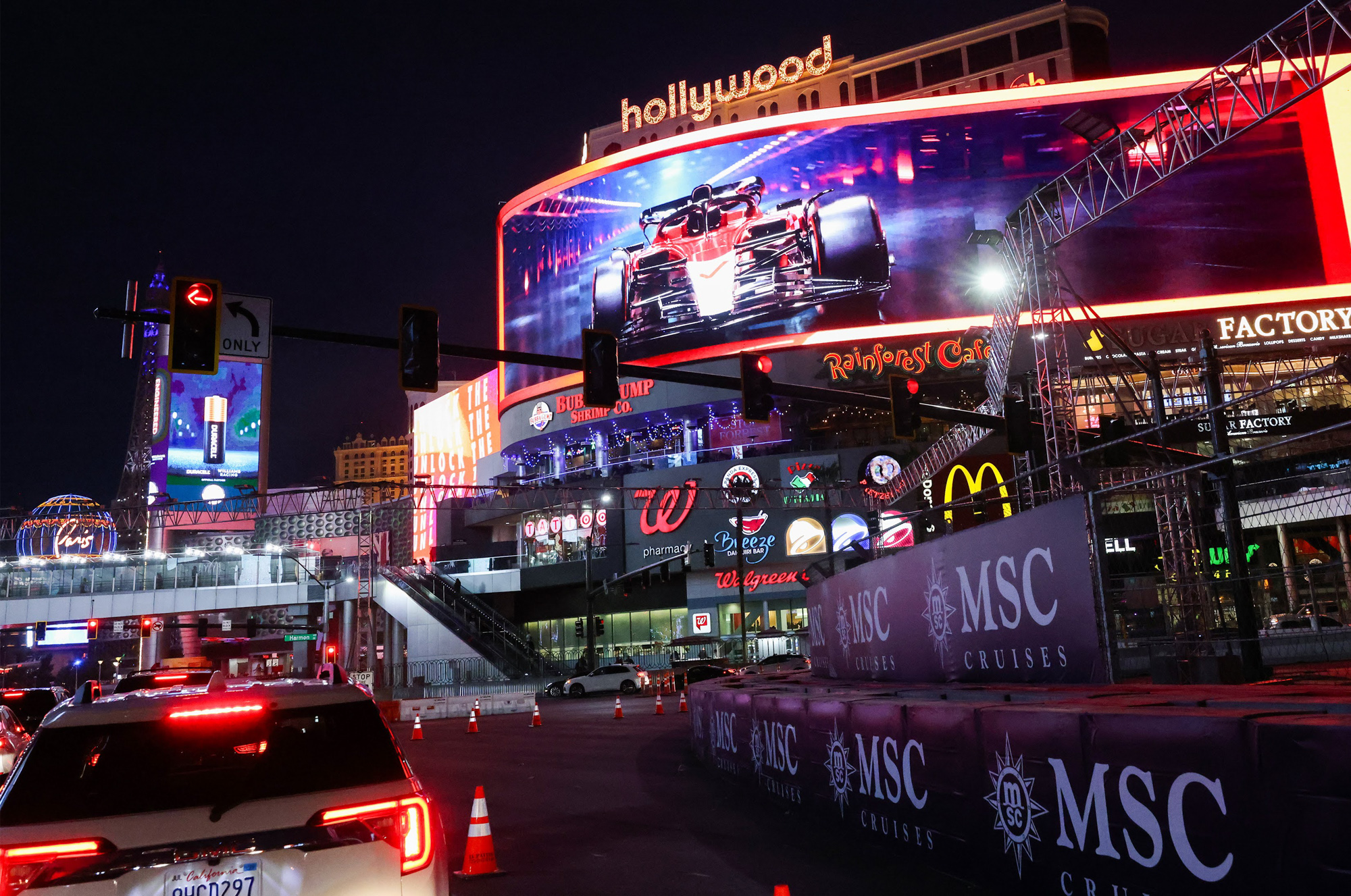 Last Friday, Greg Maffei — CEO of Liberty Media, the U.S.-based company that owns Formula One — did something unusual.
He apologized to Las Vegas residents.
"We appreciate that they have their forbearance and their willingness to tolerate us," Maffei told KVVU Fox 5. "We're going to bring something like $1.7 billion of revenue to the area. So it's not just for the benefit of fans who want to view [the race]. We hope this is a great economic benefit in Las Vegas."
It was a mea culpa that came after the city's most important economic corridor had been gridlocked by F1-related construction for months, obscuring views of the iconic Las Vegas Strip for visitors and trapping tens of thousands of Strip employees in bumper-to-bumper traffic for the better part of 2023.
As the grand prix kicks off Saturday after several days of practice sessions, qualifying and other F1 events, the question will remain the same — is closing the most iconic street in the world for half a week worth it?
Initial economic impact projections from almost a year ago painted a rosy picture — Las Vegas-based economic analysis firm Applied Analysis projected the event would net $1.3 billion in economic impact, including $966 million in expected visitor spending.
With proceeds from gaming, live entertainment, lodging and sales taxes plus added property tax valuation, the firm suggested the event would produce $87 million in tax revenue shared by the state, Clark County and various Southern Nevada jurisdictions.
But with ticket prices and room rates dropping ahead of the official race kickoff Wednesday, Southern Nevada will soon find out if those lofty projections align with reality.
The Las Vegas Grand Prix was by far the single most expensive race ticket on the F1 calendar this year. A basic seat in the grandstands for the three-day weekend started at $2,000, with limited access to a single standing-room-only zone near the Sphere priced at $500. Ritzier box seats started at $4,000 to $5,000 and went up from there.
But much has changed since ticket sales were announced.
Some locals balked at a limited-time deal for Nevada residents last month, one billed by the sport as "starting at $200." Those tickets were limited to the Thursday practice sessions. Single-day qualifying tickets cost $500, and race-day tickets $1,300.
According to TickPick, a secondary market resale provider, costs for a Las Vegas Grand Prix ticket have declined steadily over the year. A ticket to Saturday's race now costs $771, a 53 percent decline from the original price.
Tickets for the qualifying action now cost $221, an 80 percent drop from the original price. Admission to Thursday's practice session is just $128, down 87 percent from when the tickets first went on sale.
Still, the drop in ticket prices won't affect the estimated $37.6 million in Live Entertainment Tax collected from the race, Applied Analysis principal Brian Gordon said on Tuesday. The tax was paid when the original buyer purchased tickets at their original price, so a lower resale value won't affect tax collections.
Those trends mirror a similar decline over the last few months for Strip hotel room prices, especially those along the race track.
Weekend room rates once soared above $2,000 a night for properties such as Aria, Bellagio and Caesars Palace immediately after the race was announced. Since that time, they have dropped to the point where a guest is paying roughly the same figure for a three-night stay.
Race organizers have sought to downplay demand issues. On an earnings call on Nov. 3, Las Vegas Grand Prix CEO Renee Wilm promised investors a sellout by the time the starting lights go out, and said there were only a "handful of tickets left."
Maffei, also on that same earnings call, added: "Lots of people from Los Angeles book for Las Vegas relatively late, which is part of our strategy."
Despite the decline in ticket prices and massive one-time costs associated with building out the 3.9-mile circuit and a $500 million garage and luxury suites building known as a paddock, Maffei said F1 expects to profit from the race.
"I think those revenue numbers approaching that (are) still a reasonable estimate on profitability," Maffei said during Liberty's quarterly earnings conference call last month. "We've seen some one-time and start-up costs that may have been larger than anticipated. But remembering how this is impactful to us, not only directly, but indirectly — this is a very profitable race for us."
Economic prognosticators say lower room prices are still substantially higher than expected room rates without the grand prix, and tickets for race day are still roughly 38 percent higher than the average ticket to a Raiders home game ($508, according to data from SeatGeek).
Last month, Applied Analysis principal analyst Jeremy Aguero told The Nevada Independent that his firm's analysis last year initially estimated average spending on rooms near $400 per night, which he said "is a substantial increase over where it would be without Formula One, but it's nowhere near some of the very high numbers that have been reported by the media."
But dwindling prices may not be an isolated incident.
Andrew Balfour, a writer who runs the website F1 Destinations and who has tracked F1 ticket prices for years, told The Nevada Independent earlier this year that in-person ticket costs have increased across the board at Formula One races in 2022, amid a surge of fan interest for grandstands that had been limited or closed entirely during pandemic-affected seasons in 2020 and 2021.
But in 2023, Balfour said fans have soured on rising costs. That was particularly acute in Miami and Austin — two of the most expensive races on the calendar, alongside Las Vegas, Monaco and Mexico City — where tickets were ultimately discounted amid lower-than-expected demand.
"These races haven't sold out this year, and I think people are more price sensitive," he said.
In the time since Balfour spoke to The Nevada Independent, final attendance figures in Austin showed a slight dip compared with record attendance for the circuit in 2022.
Outside ticket demand and economic projections, some critics have raised concerns that few analyses include the opportunity cost of construction on and around the Strip — especially for smaller ancillary businesses that have seen the number of customers reduced to a trickle amid a sea of orange cones.
Those critics include former Gov. Steve Sisolak, who was involved with discussions to bring Formula One to Las Vegas dating back to his time as Clark County Commission chair, and who helped announce the race back in 2022.
Now, Sisolak — though "hopeful" about the race's economic impact — is "not confident at all" that the early estimates will pan out.
"Those businesses are impacted for months with this construction, with the repaving, with the bridges, with traffic flows," Sisolak said in an interview for the IndyMatters podcast. "And you're not going to make that back in three, four days. It just can't be done."
He also raised concerns about the potential impacts of closing the Strip for such an extended period of time — "I can't imagine the nightmare is going to be for the actual two, three days prior and after the race" — and said he was "shocked" when he first learned how expensive tickets would be.
"[People] are not gonna be able to afford what these prices are going to be, so that's going to leave a bad taste in some people's mouth," Sisolak said. "No one puts on a party like Las Vegas does, but I don't think any other race course has faced the same challenges that we're facing on this one."
The Nevada Independent is raising $200,000 by Dec. 31 to support coverage of the 2024 election.
Tax-deductible donations from readers like you fund this critical work.
If you give today,your donation will be matched dollar-for-dollar.
Give + Get Matched
Featured Videos