As Vegas race nears, will locals embrace F1?
Area government officials say the situation has improved, but traffic has been a constant headache for those working at or visiting the Strip.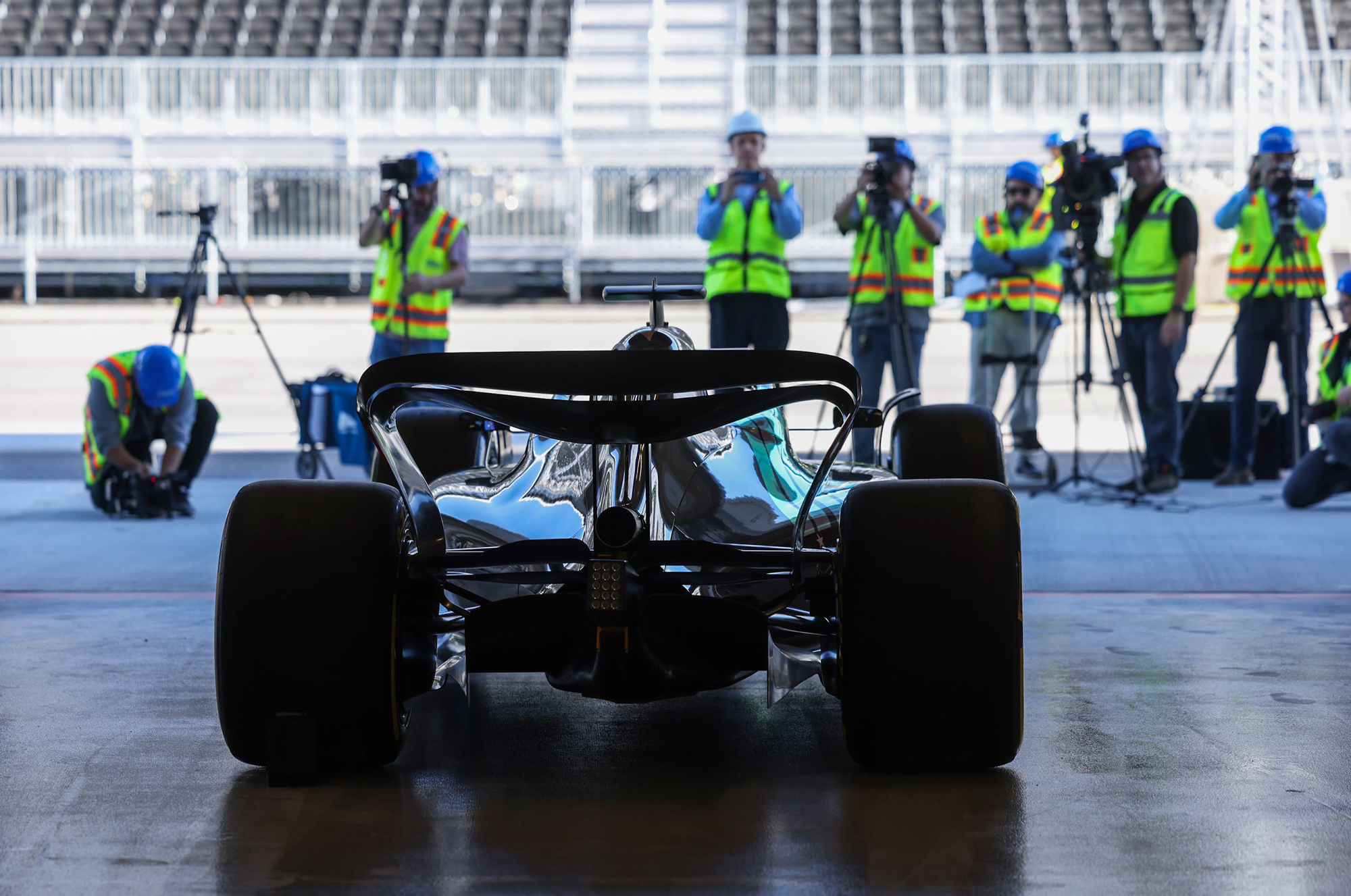 In a matter of weeks and months, the Las Vegas Strip has been transformed.
What began with new pavement and a sea of traffic cones has snowballed into towering metal grandstands up and down Las Vegas Boulevard, fencing, lighting rigs and concrete barriers installed with three weeks remaining before the lights go out at the first Formula One race in Las Vegas in decades.
But despite months of preparation, F1 officials are still running into obstacles associated with holding a grand prix in one of the world's most iconic tourist destinations — from busing in casino workers, dealing with unexpected (and costly) infrastructure demands and permanent changes to the face of the Strip.
As the days left have dwindled, race organizers have continually sought to spin up interest in the Las Vegas Grand Prix. On Tuesday, organizers announced a partial concert lineup for the race's opening night, the day before practice begins, an eclectic bill that includes J. Balvin, Thirty Seconds to Mars, Journey and Steve Aoki. The week before, Netflix announced a live golf tourney, complete with F1 driver participants, at the Wynn ahead of the race.
F1 teams and advertisers have gotten in on the game, too. Cardboard standees of Williams Racing's Logan Sargeant — the grid's lone American driver (and one who has otherwise struggled to make waves on track outside of being the sport's only American) — now peek over beer displays in valley grocery stores.
Earlier this month, local reporters were brought to the nearly complete paddock on Koval Lane, a yearlong project that has transformed a dirt lot behind the Strip into a permanent pit garage complex.
There, in front of a show car — devoid of engine and transmission, but an otherwise faithful F1 car replica complete with glittering Las Vegas livery — senior director of race operations Silvia Bellot talked about the track and the cars and the sport. She detailed how the dozens of buttons on an F1 steering wheel worked, how race organizers would fly in hundreds of on-track marshals to manage the track itself, signaling driver flags and recovering crashed cars.
With more than a month left before the race, grandstands and barriers still need to be constructed, Bellot said at the time. As the F1 calendar winds through Texas, Mexico and Brazil en route to Las Vegas, a looming mountain of freight is coming — flags and uniforms for marshals, sprawling team trailers and hundreds of sets of specialty Pirelli tires.
"There's a lot of work to do in a short period of time, but I think we're ready," Bellot said.

As Formula 1 teams head to Mexico City this week and prepare to head to Brazil next week, construction in Las Vegas is ongoing, and in some respects, still fluid. Race organizers announced last Friday that they would not build a section of grandstands along Harmon Avenue due to an unforeseen "sightline issue."
On the Strip itself, thousands of resort workers, locals and tourists have spent countless hours trapped in traffic, often just outside employee parking lots. Combined with a rolling list of highway projects that have snarled nearby freeways, commutes have stretched from minutes into hours.
Last week, for instance, the busy intersection of Flamingo Road and Koval Lane was in the midst of a dayslong shutdown to allow for the installation of two massive temporary bridges — infrastructure that will allow traffic into and out of the track area before the circuit is closed for race days.
And amid ongoing closures, small businesses ringing the construction zones have watched margins shrivel, according to a report from the Las Vegas Review-Journal.
Calculating the costs of these traffic jams is easier said than done, according to Applied Analysis principal Jeremy Aguero.
"Obviously lost time, congestion, can certainly have an economic impact," Aguero said in an interview. "The hard part is that much of the disruption that occurred would have had to occur anyway because the repaving of Las Vegas Boulevard is something we were planning and programming as a community before Formula One was contemplated."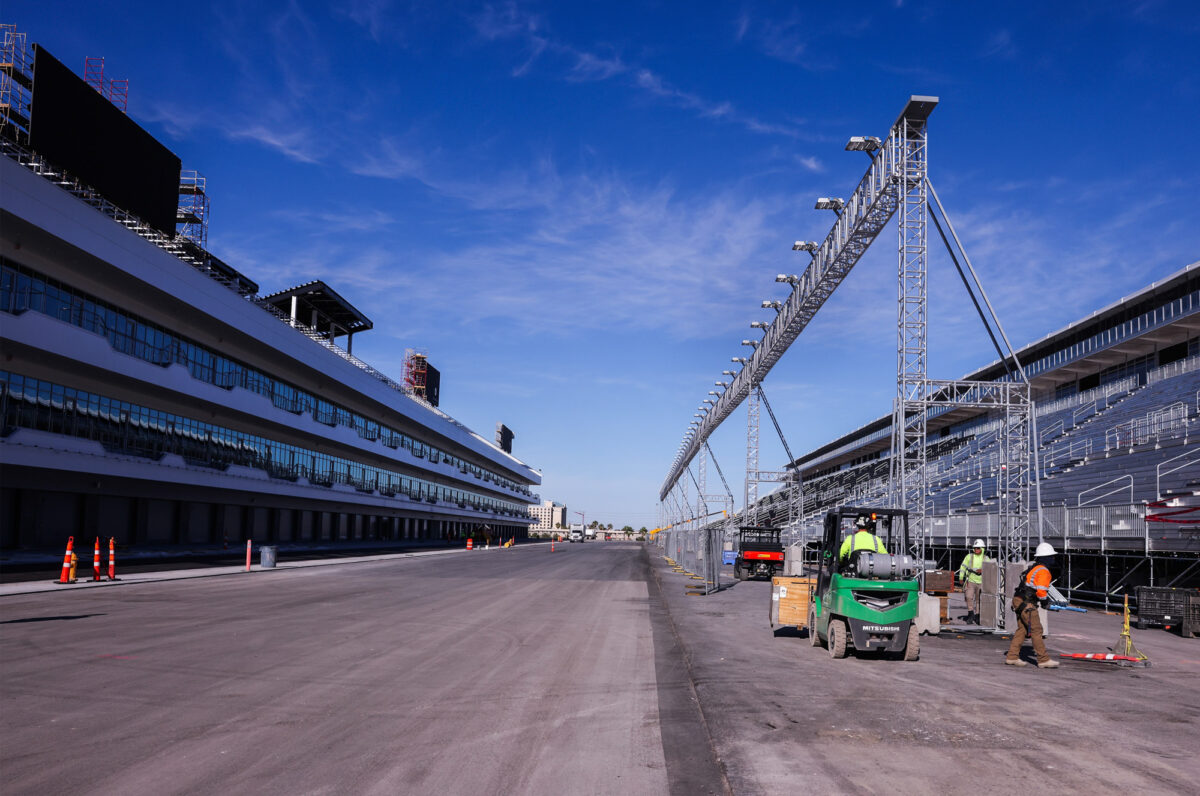 All the while, Aguero said that even as F1-weekend room rates continue to fall from their original highs last year, those rates still remain well above original expectations for that weekend in November. The Review-Journal reported rates at some properties falling between 57 and 65 percent from last year. But at base prices ranging from $800 to $2,400 per night, Aguero said those amounts remain much higher than the forecasted $400 per night rates after the race was announced.
More than that, he said, local governments are still expected to bank a record $87 million in tax revenue on the weekend.
"I have not seen one [event] that is doing half of what Formula One will do for that period," Aguero said.
"The question has to be what would have happened with or without Formula One and that's something that it's pretty difficult to know as we sit here today," Aguero added.
Following the publication of a Nevada Independent story about pricey F1 ticket packages, some readers reached out unprompted with complaints about the race. Ray Saenz said the sport had been "so poorly received by the general public" amid the construction crunch. Theresa Caruso lamented the construction "turning an entire city upside down for a 5 day race" as "just ridiculous."
"Most locals are avoiding the Strip like the plague from now till after the race teardown," Caruso wrote.
Others have panned the removal of trees lining the sidewalks in front of the Bellagio, cut down to make way for the construction of massive metal grandstands that block much of the street-level view of the property's famous fountains.
During an interview at this month's G2E gaming conference, MGM Resorts International President and CEO Bill Hornbuckle doubled down on the potential economic impact of the race, calling it "the single largest event Las Vegas has ever seen" with current projections at least double that of the 2015 Manny Pacquiao-Floyd Mayweather boxing match.
But he also acknowledged that the fight did not require MGM to cut down trees.
"We have additional trees that will go in pots that we are going to bring back," Hornbuckle said. "I promise you, I promise everybody — I have gotten so beat up on this on social media."
Still, the traffic issues remain top of mind for organizers and local governments. Earlier this month, the Las Vegas Convention and Visitors Authority (LVCVA) approved a $300,000 busing agreement aimed at ferrying casino and hotel workers from satellite parking lots to the circuit interior, where traffic will be severely restricted come race day.
County Commissioner Marilyn Kirkpatrick — who has several times publicly chided F1 organizers — told The Nevada Independent that the infrastructure situation has improved substantially compared to June or July.
"We have made huge strides in the last couple of months, collectively working together, all the agencies that are involved, we've cut down on the meetings so we can get questions answered," Kirkpatrick said. "I think it can only get better from here."
As traffic woes persist, organizers have sought to boost visibility for existing traffic plans. Starting last month, they have offered traffic updates through a text message line.
Last week, the county public works department presented Clark County commissioners with new details on the "cold" track limitations before Nov. 14, as well as additional "warm" track restrictions during race week but outside race hours, and "hot" closures that will shut the track during racing.
Race organizers also showed off a calendar of yet more restrictions to come, as construction on barriers, lighting and fencing continues over the next month, and touted a dry-run of the employee transit plan on Nov. 9.
Kirkpatrick added that there will be a post-race "after-action report" designed to prevent organizers from skirting certain requirements for future races.
"We've spent a lot of time moving utilities, putting the infrastructure in, so I don't foresee us having the same problems in the future," Kirkpatrick said. "But at the same time, we can't set a standard where we allow them to circumvent some of the things that we'd like to see happen. I don't want you coming back and saying 'but we did it this way last year.'"
But some questions are still unanswered, especially as major labor powers move to secure concessions for thousands of workers affected by the race.
Culinary Workers Union Local 226 Secretary-Treasurer Ted Pappageorge said in an interview that organizers have "made progress" on traffic and commute issues but that they "not enough." He said he wanted to see on-track properties provide an additional hour of pay for employees stuck with an even longer commute once the track shuts streets down.
"Employers and Formula One are going to have to step up to the plate here, folks are going to have to be compensated," Pappageorge said. "The idea that folks are going to have to leave hours ahead of time or be in just incredible traffic jams when these temporary bridges are in place. It's an engineering marvel, but workers have to be able to get there. Otherwise, this thing doesn't happen."
But the union demands come as the Culinary Union has inched closer to a strike in the coming weeks amid an ongoing contract dispute.
Still, he said he was "optimistic" the issues would be resolved before the race.
"We got behind the eight ball a bit and it's late in the game," he said.
The Nevada Independent is raising $200,000 by Dec. 31 to support coverage of the 2024 election.
Tax-deductible donations from readers like you fund this critical work.
If you give today,your donation will be matched dollar-for-dollar.
Give + Get Matched
Featured Videos