Assemblywoman announces 'unity' bid to lead divided state Democratic Party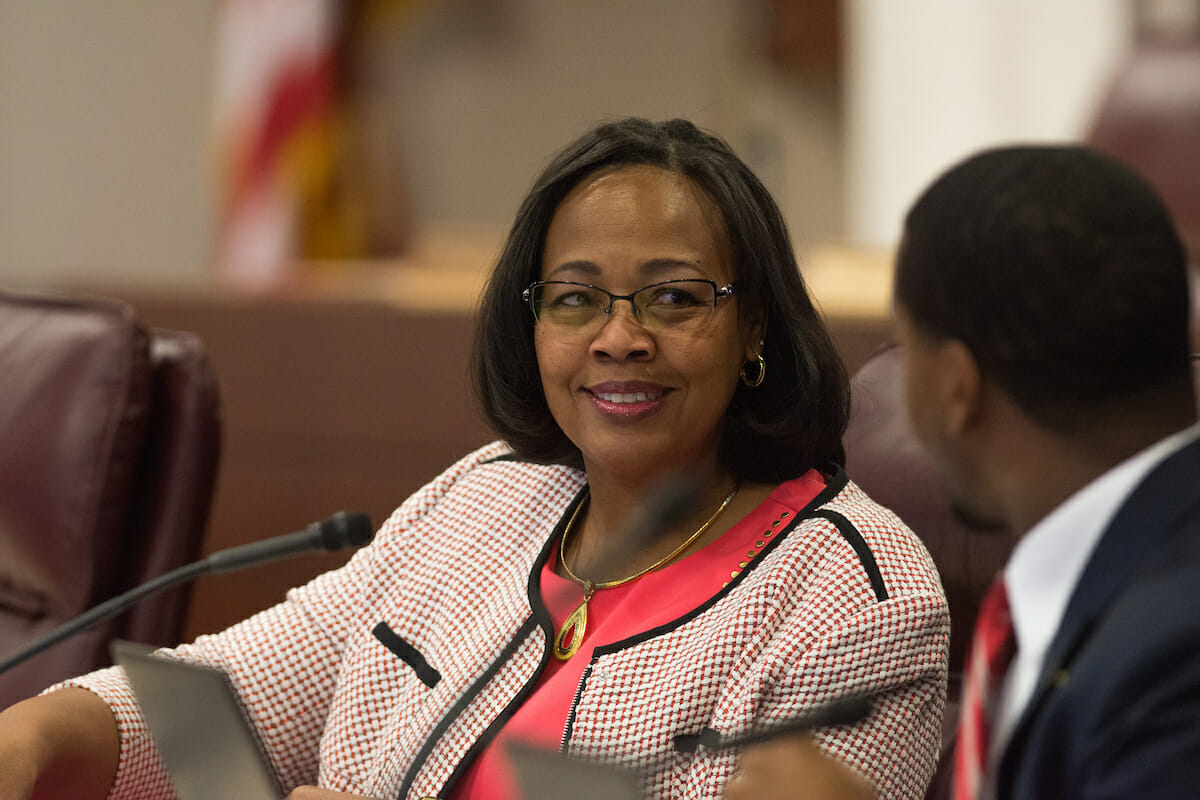 Assemblywoman Daniele Monroe-Moreno (D-North Las Vegas) announced Tuesday that she would head a "unity" slate of candidates to lead the state Democratic Party, setting up a challenge to incumbent party chair Judith Whitmer, a progressive whose election two years ago led to an intra-party split ahead of the 2022 midterms.
Whitmer did not respond to a voicemail seeking comment Tuesday, though a representative for the Nevada Democratic Party confirmed she will be running for reelection as chair.
In a statement, Monroe-Moreno said that "Nevada Democrats deserve new leadership dedicated to unity, transparency, and most importantly, electing Democrats at every level."
"It's time for our State Party to get back to basics and to reunite our Democratic family," Monroe-Moreno said. "That means raising the resources to be successful, restoring trust with our grassroots members and local elected leaders, and serious year-round organizing in every corner of the state."
The language of Monroe-Moreno's statement comes as an oblique reference to a schism within the state party that followed Whitmer's election as chair in 2021, in which she defeated Clark County Commissioner Tick Segerblom.
Whitmer's election came as a major victory for the party's left-most wing, which had been buoyed by the victory of Sen. Bernie Sanders (D-VT) in Nevada's 2020 presidential caucus.
But in a rocky transition, all existing party staffers and contractors resigned, and members of the state's "Reid Machine" — Democratic operatives tied to former Sen. Harry Reid — moved funds away from state party coffers.
By June, those resources had been diverted to a separate organization, Nevada Democratic Victory, a coordinated campaign that worked with the party's national senate and gubernatorial campaign arms to boost Sen. Catherine Cortez Masto and former Gov. Steve Sisolak without the involvement of the state party.
If elected, Monroe-Moreno would be the first Black woman to chair the state party. Her "unity" slate is joined by:
Daniel Corona, the former Democratic mayor of West Wendover, for first vice chair
Francisco Morales, a Las Vegas-based policy advisor, former staffer for Sisolak and Rep. Dina Titus (D-NV) and at-large member of the state party's executive committee, for second vice chair
Leilani Hinyard, chair of the North Las Vegas Democratic Club, for treasurer
Travis Brock, a former state party executive director during the 2008 and 2010 elections — including Reid's 2010 re-election bid — for secretary.
In an emailed response to questions from The Nevada Independent, Monroe-Moreno said the decision to run for party chair was "mine alone."
"This was a big decision for me, and I gave it a lot of thought," Monroe-Moreno wrote. "Ultimately I am running because I know that serving as NSDP Chair is a critical leadership role and there's too much at stake in this next election cycle."
Monroe-Moreno also described the party infrastructure as "fractured" and that incumbent Democrats were "forced to establish a separate organization capable of doing the work to win in a difficult midterm election in a highly competitive battleground state," and that "shouldn't have been the case."
"The reality is that the vast majority of the organizing work on the ground that carried Democrats to victory in key races in 2022 did not come from the State Party," she wrote. "We need a stronger operation for 2024 that is focused on rebuilding our Democratic voter registration advantage, executing a year-round organizing operation across the state, and raising serious money."
Whitmer formally announced her own bid for reelection in a statement released Thursday afternoon.
"When I first became chair, our party had been drained of funds and abandoned by some who didn't want to abide by the outcome of our election," Whitmer said, referring to the movement of party funds by members of the Reid machine. "Despite those obstacles, I knew then — just as I know now — that we couldn't back down from the work ahead of us."
State party elections are set to be held on March 4.
Updated: 2/8/23 at 3:28 p.m. — This story was updated to include emailed comments from Assemblywoman Daniele Monroe-Moreno.
Updated: 2/9/23 at 3:25 p.m. — This story was updated to include a statement from Democratic Party Chair Judith Whitmer about her reelection bid.