At $2.17B, MSG Sphere passes Allegiant Stadium as the costliest Vegas entertainment venue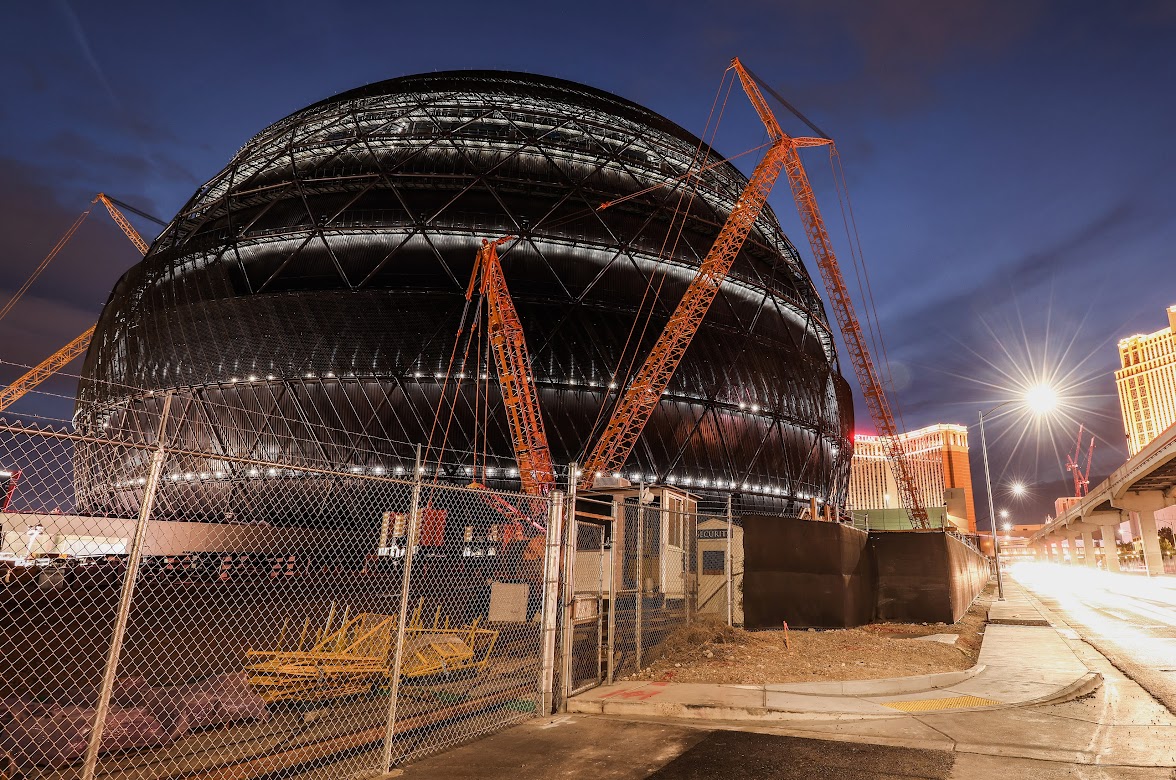 There is a reason Madison Square Garden Chief Financial Officer David Brynes spent a large portion of the company's quarterly conference call last month explaining the advertising, marketing and promotional potential for the off-Strip $2.17 billion MSG Sphere project.
The investment community wants to know how the publicly traded company plans to recoup its expenses to build the entertainment attraction behind The Venetian.
The cost has grown by more than $300 million in the four years since the groundbreaking. The Sphere, which is expected to open in 2023, now has a price tag larger than the $1.9 billion Allegiant Stadium, even though the venue's capacity is one-third the size of the 65,000-seat home of the Las Vegas Raiders.
"We feel very good about the sponsorship opportunities, especially in Vegas," Brynes said in response to a question from J.P. Morgan entertainment industry analyst David Karnovsky. "(Las Vegas) is the No. 1 destination for entertainment and The Sphere will be the No. 1 immersive experience the city offers. Companies and brands are going to want to be associated with this experience."
The Sphere has an outdoor high-resolution LED screen that will encompass 580,000 square feet and surround the circular structure. Brynes said Madison Square Garden is speaking with potential corporate advertisers across major industries. MSG plans to have The Sphere's outdoor LED feature operating in time for Formula One's Las Vegas Grand Prix, in which a portion of the 3.8-mile wraps around the building.
"What's even more encouraging is that several of these Sphere sponsorship conversations are with existing major sponsors at (other) MSG entertainment venues," Brynes said. "Clearly, companies recognize the value of event sponsorship for Sphere."
Madison Square Garden said MSG Sphere's price, which was first revealed in 2021 at more than $1.8 billion, has risen due to inflation, issues with the global supply chain and the project's complexity.
MSG is funding the remaining construction expenses from cash on hand and cash flow from the company's operations, which include the Tao nightclub and restaurant group, New York City's Madison Square Garden and Radio City Music Hall.
Brynes said advertising and ticket sales from concerts, residency performances, sporting events and leasing the building for corporate events will all "generate substantial revenues and annual operating income at attractive margins once we open."
Still, Karnovsky and other analysts are concerned that construction costs will continue to rise.
"The financial outlook for the Sphere project in Las Vegas remains unclear, given a lack of details from the company," Karnovsky wrote in a Nov. 10 research note. "(MSG) expects to have sufficient liquidity to complete the project, and it noted a significant planned cost reduction program across its businesses."
Macquarie Securities entertainment industry analyst Paul Golding said in a Dec. 13 research note it was possible costs for the Sphere will continue to rise for similar reasons as the November increase. He noted a potential spin-off of several of the company's traditional live entertainment businesses into a separate public company could also help fund the Sphere's completion.
Gaming industry advisor Brendan Bussmann said The Sphere will have similarities with Allegiant Stadium in that ticket sales won't be the facility's only revenue generator.
"With ticket sales alone, it is hard to make the math work on this project which would require a high occupancy and a rich volume of events to make it pencil out," said Bussmann, who is managing partner of Las Vegas-based B2 Global.
"Clearly, Madison Square Garden has done the math on this as costs have risen through construction to make sure it still pencils outs," Bussmann added. "But that could be a significant number of events to this work."
In an email, Jefferies gaming analyst David Katz said he suspected Madison Square Garden "underestimated the cost (of the Sphere) from the outset." He also thought the potential business spin-off was to provide cash flow to fund the project.
"We view it as an interesting choice given the potential options of lease funding, for example," Katz said. He also suggested the revenue from ticket sales, advertising agreements and marketing will be valuable revenue sources.
"Having toured the property recently, we believe it could become a must-see asset in Las Vegas," Katz said.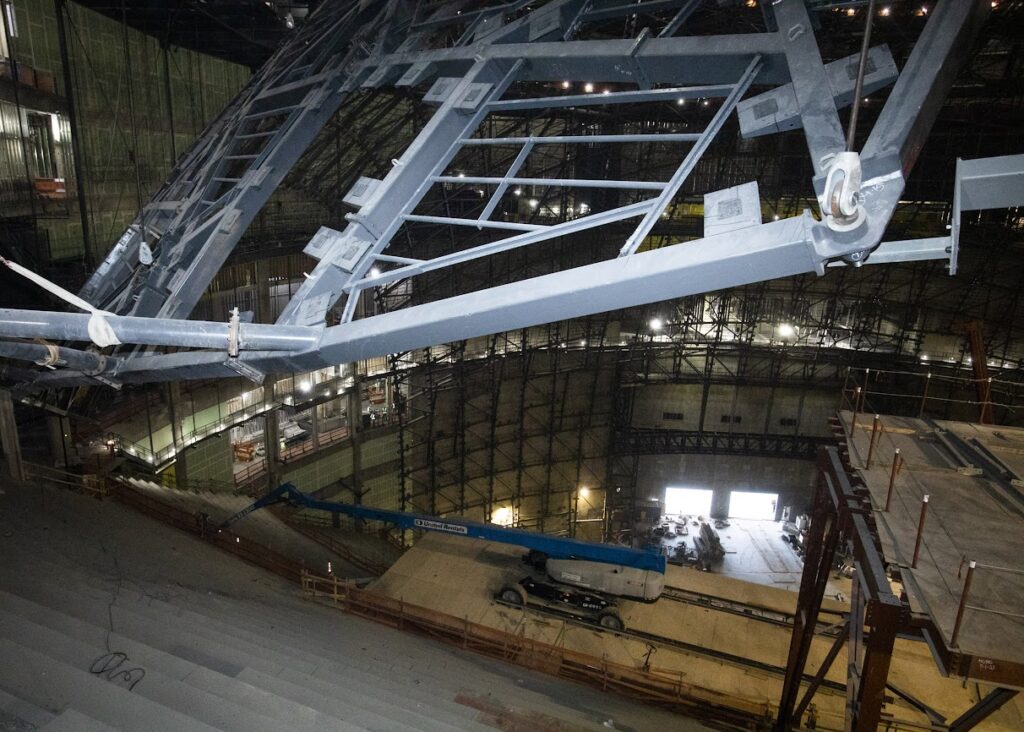 No hint about the content
In addition to the outdoor LED screen, the interior of the 366-foot-tall spherical structure will have a 160,000-foot LED screen that will surround the audience. The screen, which is larger than three football fields, will be enhanced by more than 164,000 individual speakers.
The building will include 17,500 permanent seats rising five levels with a standing-room capacity of 20,000 for entertainment performances, concert residences, and sporting events such as boxing.
MSG Sphere will also include 23 luxury suites and a 5.7 million cubic feet grand entry in the main atrium.
The operators have not said much about potential content.
In July, Billboard Magazine, citing multiple unnamed sources, said Madison Square Garden Entertainment may have a deal in place for The Sphere's opening night with U2 – the legendary Irish rock band that is the second highest-grossing-touring band of all time behind The Rolling Stones.
Billboard opening night would be the first date in a multi-show residency inside The Sphere. MSG spokeswoman Natalie Ravitz declined to comment on the article, saying "we don't have any announcements to share at this time regarding the opening of MSG Sphere."
Madison Square Garden completed a design studio in Burbank, California, where creative production and engineering teams will develop content for The Sphere's exterior and interior LED screens.
In November, MSG announced a company connected to the Voyager space program sent state-of-the-art immersive camera equipment to the International Space Station to capture content over the next 60 days for use in The Sphere programming.
"Our vision with MSG Sphere is to create immersive experiences that transport audiences to new places, and there are few landscapes more awe-inspiring than space," MSG Sphere Studios Senior Vice President Andrew Shulkind said in a statement.
On the conference call, Byrnes said the studio is working with artists and global performers on the "development of what we feel is going to be amazing content for The Sphere in Vegas."
While the facility is being constructed with musical performances in mind, MSG officials said floor seating and stage areas can be reconfigured for boxing, mixed martial arts fights and other athletic events that don't require a large floor associated with a sports arena.
The success of The MSG Sphere may be judged by its comparison to two other venues, Allegiant Stadium – which recently announced plans for $7.5 million in improvements – and the 18,000-seat T-Mobile Arena, which MGM Resorts International built and opened in 2016 in partnership with entertainment giant AEG at a cost of $375 million.
Both facilities were primarily to host major sporting events but they have proven their value to the Las Vegas tourism market as entertainment facilities.
In rankings by Billboard, Allegiant Stadium topped the list of stadium venues that grossed the most money for entertainment events in 2022 with $182.5 million for 24 shows, drawing an attendance of more than 1 million. These figures didn't include sports, such as the Raiders home games, UNLV football, or non-conference college football contests.
Meanwhile, T-Mobile, the home arena for the Vegas Golden Knights, college basketball tournaments, championship boxing and UFC, was fourth among 15,000 seats or more arena venues that hosted entertainment events, earning almost $124.7 million for 58 shows, drawing a total attendance of 731,000.
Bussmann believes The Sphere will find its footing in Las Vegas. In May, Madison Square Garden formed a multi-year partnership between the MSG Sphere and Formula One.
"Las Vegas continues to be one of the only places that you can have venues like The Sphere both in terms of size and quantity," Bussmann said. "You add The Sphere, a new arena down on the south end of the Strip, and a baseball stadium, plus your other existing large venue assets and things start to get tight quickly."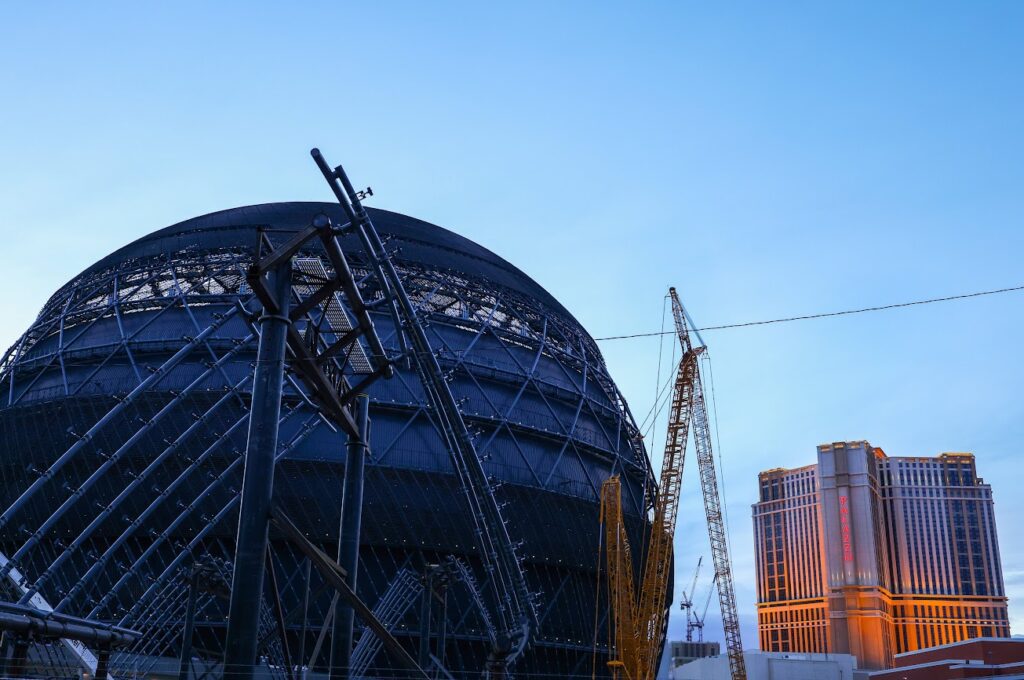 'Next evolution for Vegas'
MSG and Las Vegas Sands, which owned the 19-acre site off Koval Lane, held an elaborate groundbreaking ceremony for The Sphere in September 2018. Then-Gov. Brian Sandoval called development, "the next chapter in the history of the evolution of the entertainment capital of the world."
At the time, MSG officials did not disclose costs for the Sphere, only that it would be completed in 2021.
The pandemic disrupted development during 2020, even after Gov. Steve Sisolak declared construction as an essential business in the state, which allowed work to continue.
In 2021, Las Vegas Sands announced it was selling its Las Vegas holdings in a $6.25 billion deal with real estate investment trust VICI Properties and private equity firm Apollo Global Management. VICI now owns the Sphere site, which is included in its total $25 million annual Venetian lease agreement that is paid by Apollo.
The Venetian will be connected to the Sphere through a covered pedestrian walkway above Koval Lane. In May, after MSG executives provided a media tour of the Sphere to coincide with the placement of the final beam in the building's exterior construction, Venetian officials said the resort would have a close relationship with the Sphere.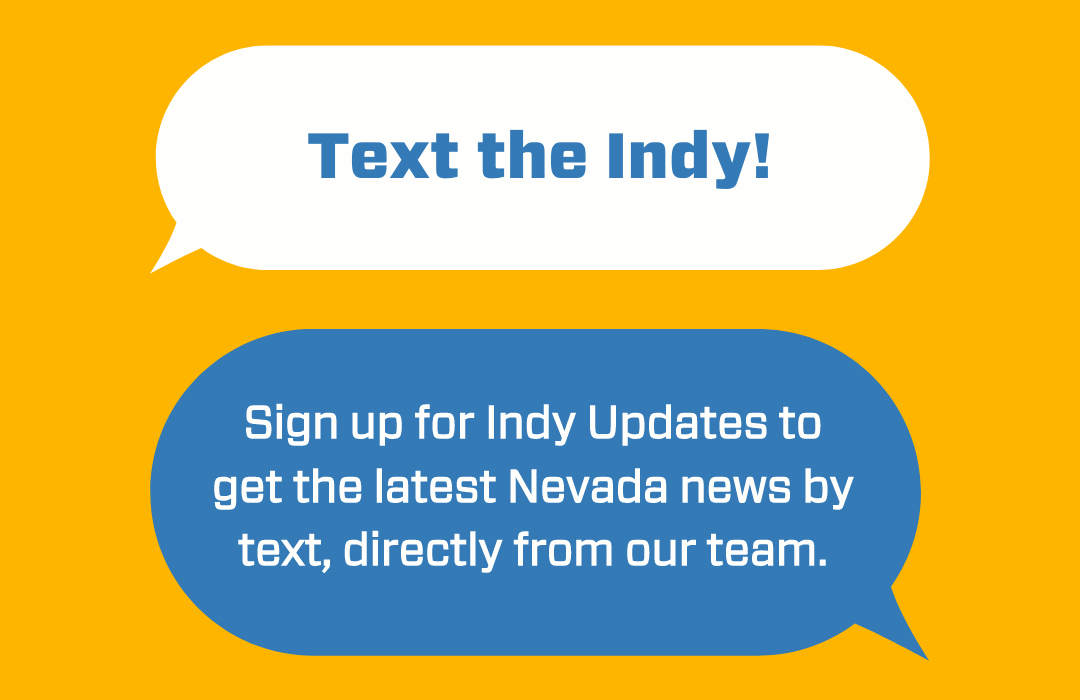 Featured Videos