Indy Gaming: Exterior base for MSG Sphere's 580,000-foot LED screen completed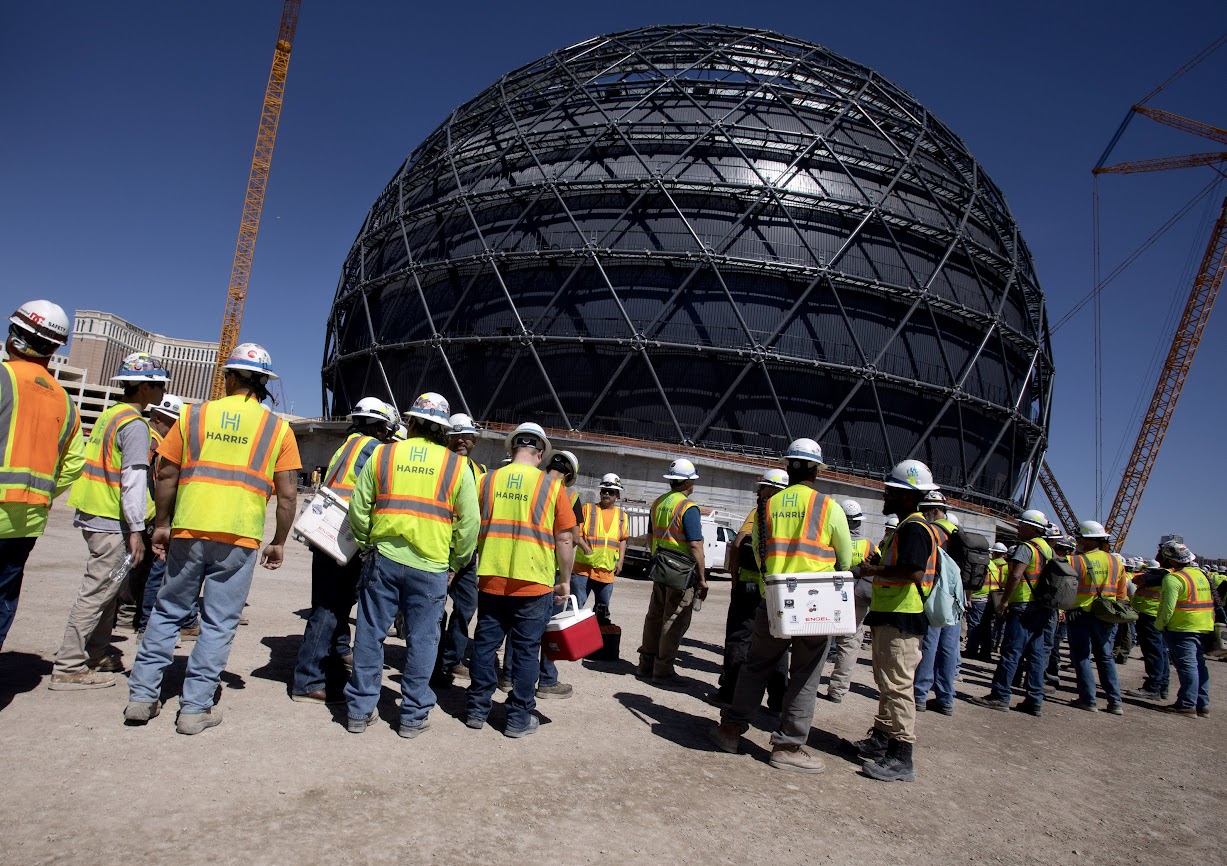 Good morning, and welcome to the Indy Gaming newsletter, a weekly look at gaming matters nationally and internationally and how the events tie back to Nevada.
If a colleague or associate emailed this newsletter to you, please click here to sign up and receive your own copy of Indy Gaming in your inbox. - Howard Stutz
---
The final steel beam was placed atop the $1.9 billion MSG Sphere on Tuesday, but it will be more than a year before the entertainment attraction welcomes guests.
Madison Square Garden executives took Las Vegas media on a tour inside the spherical structure that the New York-based company hopes will attract major headline recording artists and artistic performances to the venue just east of the Strip behind The Venetian.
The multi-level attraction will have seating for up to 17,500 people and a standing-room capacity of 20,000. MSG Sphere will also include 23 luxury suites and a 5.7 million cubic feet grand entry in the main atrium.
MSG Sphere President Lucas Watson said the development is one of – if not the most – complex entertainment projects ever developed in Las Vegas.
The process of building the steel exosphere took more than a year. Last week, construction crews placed an oculus atop the structure, which allowed for the final beam.
Madison Square Garden Senior Vice president of Construction Nick Tomasino said completion of the 366-foot-tall exosphere allows construction crews to begin installing 411, 70-foot-by-60-foot, hexagon-shaped "mega-panels" that will make up the 580,000-square-foot LED screen.
Inside, work crews are installing another 4 acres of steel that will hold a 160,000-foot LED screen that will surround the audience. The screen, which is larger than three football fields, will be enhanced by more than 164,000 individual speakers.
The interior screen will display content to coincide with the performance. Tomasino said it's "to be determined" what will be displayed on the exterior LED screen, but he expects the programming will include live events, snippets from the performances inside The Sphere and one-of-a-kind entertainment.
Madison Square Garden is completing a design studio in Burbank, California, where creative production and engineering teams can develop content for The Sphere's exterior and interior LED screens.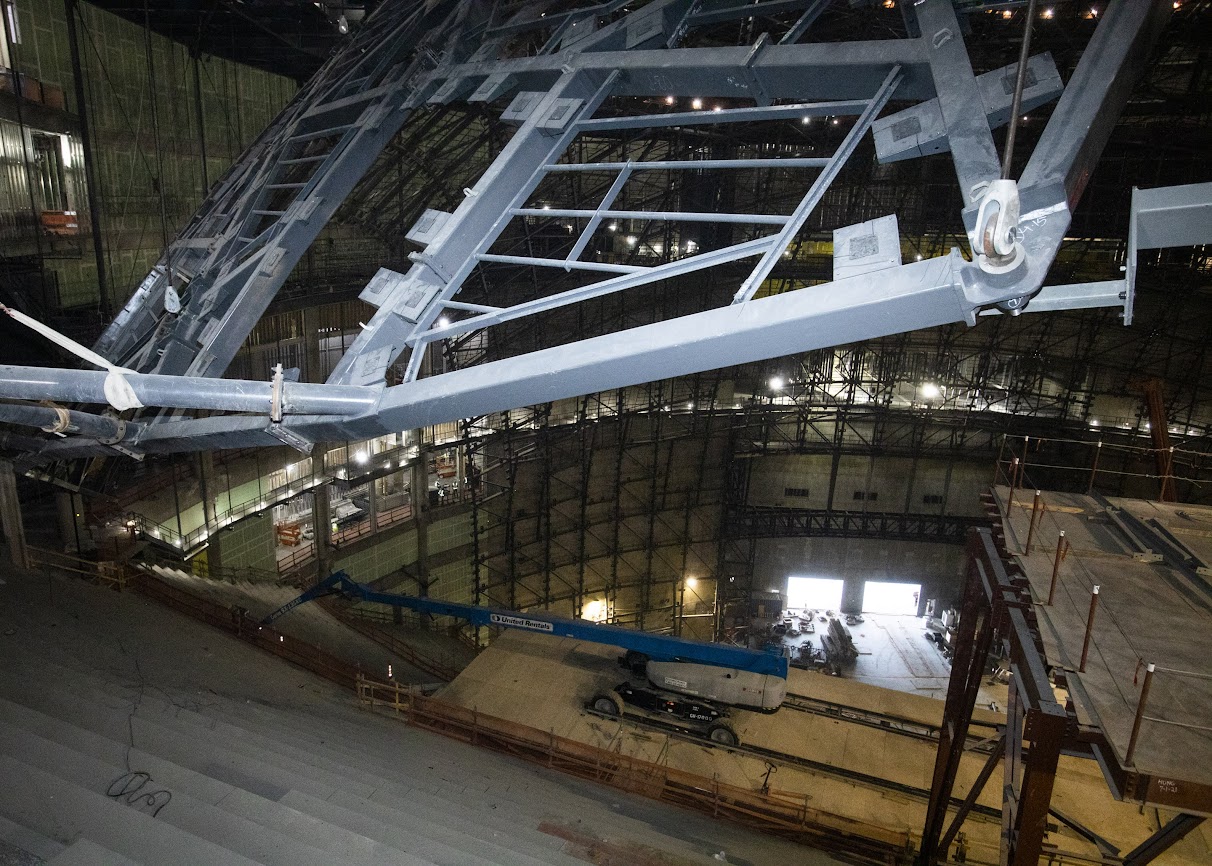 While the facility is being constructed with musical performances in mind, Watson said the floor seating and stage areas can be reconfigured for boxing, mixed martial arts fights and other athletic events that don't require a large floor associated with a sports arena.
Earlier this month, Madison Square Garden CFO David Byrnes said the company forged a multi-year partnership between the MSG Sphere and Formula One, which is planning to have Las Vegas Grand Prix races annually through 2026. A map of the planned 3.8-mile, 14-turn course wraps around The Sphere.
Las Vegas Sands Corp. first partnered on The Sphere project with Madison Square Garden. The complex is using 19 acres across Koval Drive from The Venetian for the development. Las Vegas Sands sold the site to real estate investment trust VICI Properties as part of a $4 billion sale of The Venetian, Palazzo, Venetian Expo and the complex's 63-acre Strip location. Apollo Global Management paid Las Vegas Sands $2.25 billion for the operations and has a lease agreement for casino, resort and convention space with VICI.
Venetian CEO George Markantonis said the resort will have "strong ties" to the programming at MSG Sphere and is building an air-conditioned escalator to connect the properties above Koval.
---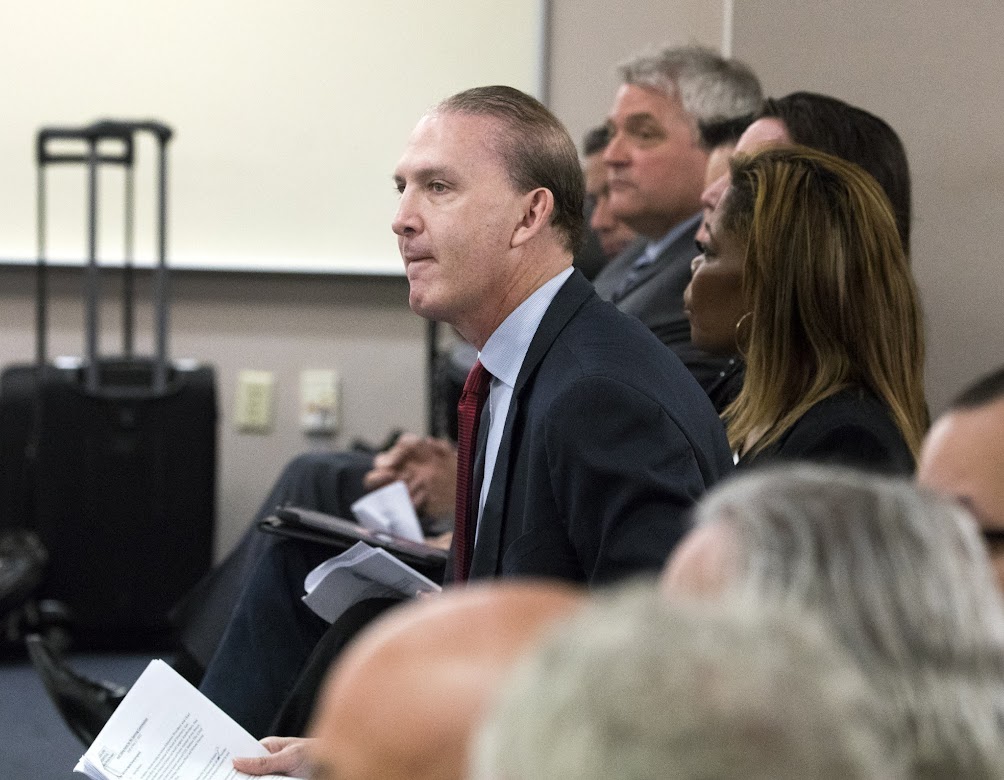 Accel CEO tells regulators Century will expand Nevada presence
Two weeks after a grilling by the Nevada Gaming Control Board, executives from Illinois-based slot machine route operator Accel Entertainment didn't just simply address the issues that caused regulatory concern and threatened the company's $140 million purchase of Las Vegas-based Century Gaming.
They showed up with solutions.
The Nevada Gaming Commission on Thursday unanimously approved the Control Board's recommendation that Accel be granted a two-year limited license with Century as a company subsidiary.
Accel CEO Andy Rubenstein told the Gaming Commission the operations of Century, the state's second-largest slot route operator, won't change. Century's management team led by CEO Steve Arntzen will remain in place.
"We recognize their expertise and strong relationship with the state of Nevada," Rubenstein said. "What will change is the Century's debt load will be reduced substantially, thereby increasing its ability to invest and expand its operations in Nevada."
Accel is Illinois' largest route operator with more than 2,500 locations and 13,600 video gaming terminals. The company will add Century's Nevada business from 2,580 games in 500 locations, and its operations in Montana, where the company has 5,800 games in 475 locations.
Rubenstein said Accel has expanded its national presence to route operations in Georgia, Iowa and Nebraska. The acquisition also includes Century's gaming technology divisions: the Nevada-based Gamblers Bonus player rewards program, which has a database of 127,000 customers, and slot machine developer Grand Vision Gaming, which has almost 9,000 games across five states.
The economics behind the transaction did not concern the Gaming Commission.
Regulators asked company leaders to address a $5 million fine the company is facing in Illinois over an agreement it signed with DraftKings, its handling of sexual harassment charges against a former company official and what Control Board members considered to be Accel's lack of regulatory compliance.
"I and all the senior management of Excel take compliance very seriously," Rubinstein said.
To accentuate that statement, company officials said they were bringing in two former Nevada Gaming Control Board chairpersons, Dennis Neilander and Sandra Douglass Morgan, to help with its compliance efforts.
Neilander, a Northern Nevada-based attorney, will lead Accel's outside compliance committee. Morgan, who is of counsel with Washington, D.C.-based law firm Covington & Burling, will assist Accel along with other firm members in reviewing the company's corporate policies, including compliance and workplace culture.
"It's our responsibility to do our diligence and not rely on our partners to do it for us," Accel General Counsel Derek Harmer told the Gaming Commission. "Since our last hearing, we have accelerated some of the items previously on our to-do list to illustrate that we heard you loud and clear."
Accel Chairman Karl Peterson committed the company would "meet your standards for licensing. We recognize the value that it creates. We also know that commitment requires a mindset of continuous improvement."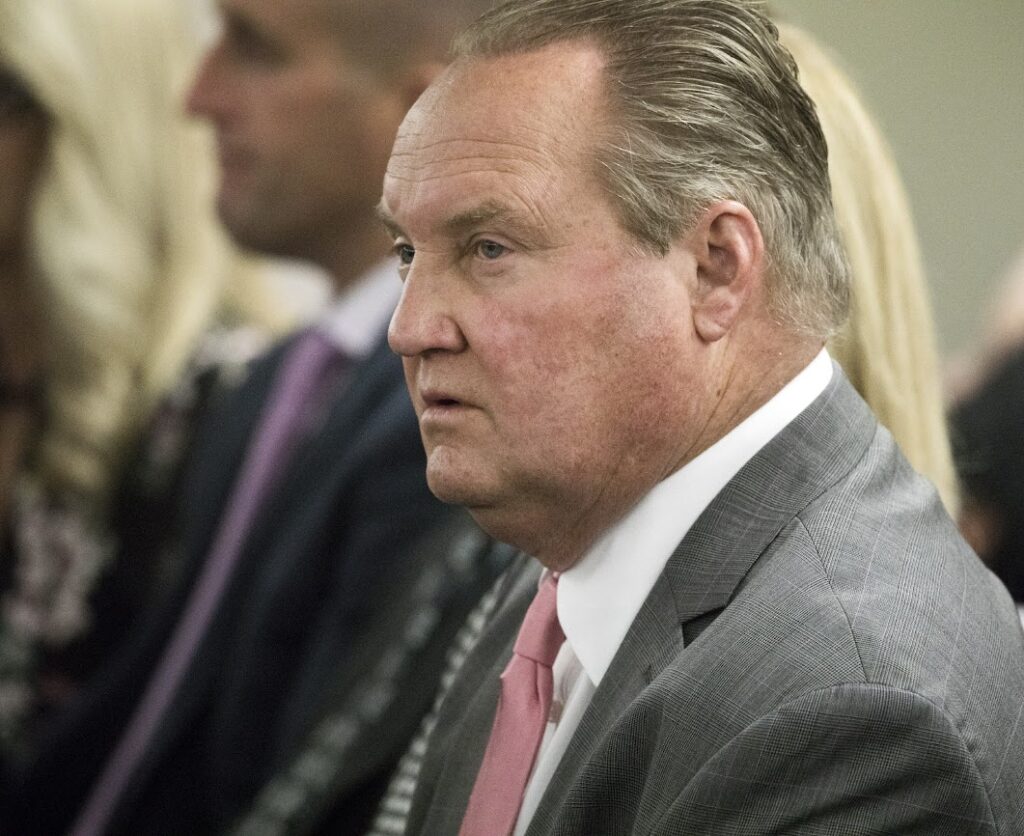 Unlike the two-hour-long Control Board hearing on May 4, when Chairman Brin Gibson said he had concerns about Accel's compliance record and wasn't sure if the company would measure up to the state's standards, gaming commissioners were satisfied by the company's answers and the steps Accel took in the past 14 days.
Also, Arntzen, whose comments two weeks ago gave the board comfort when it recommended the two-year limited license, never had to leave his seat to address the Gaming Commission.
Commissioners praised the company's quick response to concerns raised by the Control Board.
"I would simply note that many of the matters of interest or concern have been addressed," said Gaming Commission Chairwoman Jennifer Togliatti.
Gaming Commissioner Rosa Solis-Rainey said Accel was "bringing good people on board and that helps me get over the reservations I had coming into the meeting."
Slot route operators such as Century manage 15 or fewer slot machines in non-casino locations statewide, such as taverns, bars and restaurants, as well as grocery, drug and convenience stores. Route operators either pay a fee to the location's owner to lease the space for the games or have a revenue-sharing agreement with the business.
As of the end of March, Nevada had 2,034 restricted gaming locations that operated 19,141 games. Revenue from slot routes is categorized as restricted gaming and is not publicly disclosed by the state.
Rubenstein expects the Century transaction to close by the end of the month. With the Nevada and Montana operations and other growth opportunities, he expects the company could operate 23,000 to 25,000 video gaming terminals in multiple states by the end of 2022.
---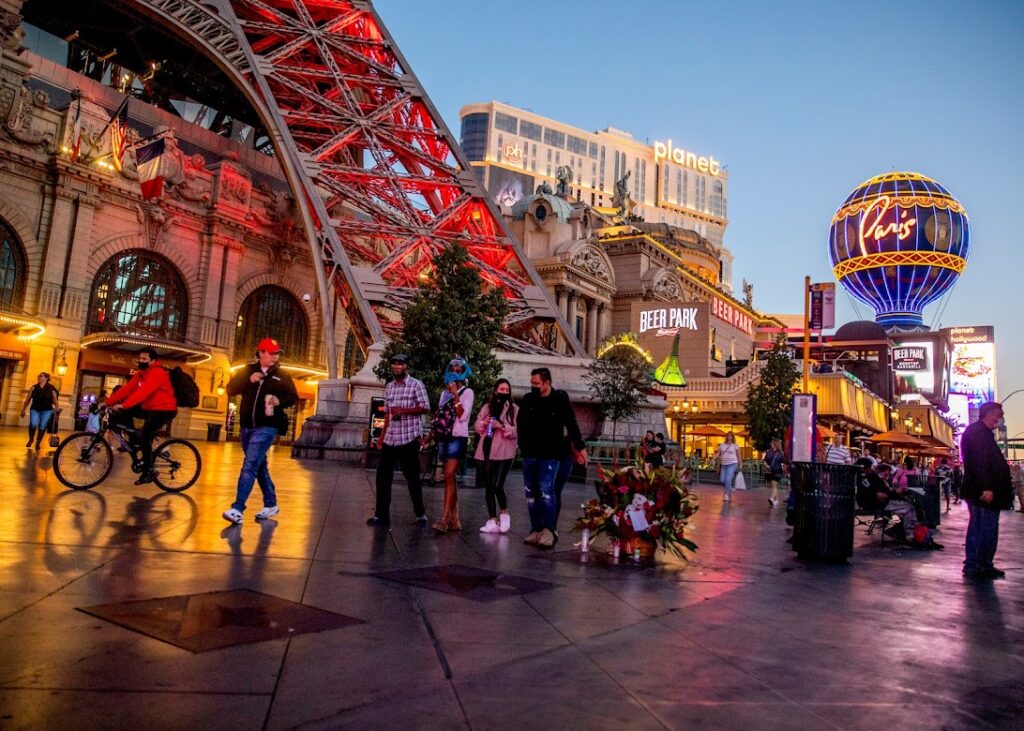 Analyst: 'Zero change' in upbeat Strip visitor spending habits
For a few days in early May, gaming analyst Steven Wieczynski said the Strip was the busiest he had ever experienced during a midweek period.
"You have to remember that convention attendance remains low relative to historical levels," the analyst for Stifel Financial wrote in a research note that outlined his conversations that took place with 11 casino operators and gaming equipment providers during a fact-finding visit.
Gaming analysts are beginning to question whether rising inflation, which has pushed prices higher for gasoline, airfare and other consumer goods, will cause consumers to scale back discretionary spending and slow the casino industry's nearly year-and-a-half recovery.
Wieczynski said he "witnessed zero change" in customer spending in early May and casino operators indicated forward hotel bookings were still on the upswing.
"One of the better indicators of demand comes down to hotel bookings for the next three to six months out and right now those booking volumes remain incredibly strong," Wieczynski wrote. "If the market was going to soften you would also start to see discounted room nights and an uptick in promotional spend, both of which are not currently taking place.
He said resort operators believe they will keep properties fully occupied even in a tough economic environment, "unless people just flat out stop traveling, which seems highly unlikely."
Wieczynski said the two areas that need to be revived are international high-end business, which "remains depressed and is running about half of what it normally would be," and group and convention business.
As for one of the largest Strip operators, Wieczynski said MGM Resorts International executives said the current business mix is healthier and more resilient than it was in 2021, "when stimulus payments and a lack of alternative entertainment options drove gaming volumes artificially higher."
Wynn Resorts leadership told Wieczynski that group bookings for Wynn Las Vegas and Encore are pacing "well ahead" of pre-pandemic 2019 levels. He suggested the increased activity is attributable to 430,000 square feet of new convention space that Wynn opened during the pandemic.
Wieczynski discussed the under-construction $750 million Durango Casino Resort with the leadership of Red Rock Resorts, which is building the hotel-casino in southwest Las Vegas, and executives of Boyd Gaming, the largest competitor to Red Rock in the locals gaming market.
Red Rock executives said Durango, which is expected to open at the end of 2023, won't have any casino competition within a five-mile radius.
Wieczynski said investors in Boyd were concerned a new locals casino property would steal away business. He disagreed.
"[Boyd] management noted from a geographic and demographic perspective, [Durango is] more likely to cannibalize existing Red Rock properties than Boyd's casinos," Wieczynski wrote. "Management also indicated the two companies are targeting different income segments of the locals market, which should prevent meaningful overlap in customer base."
---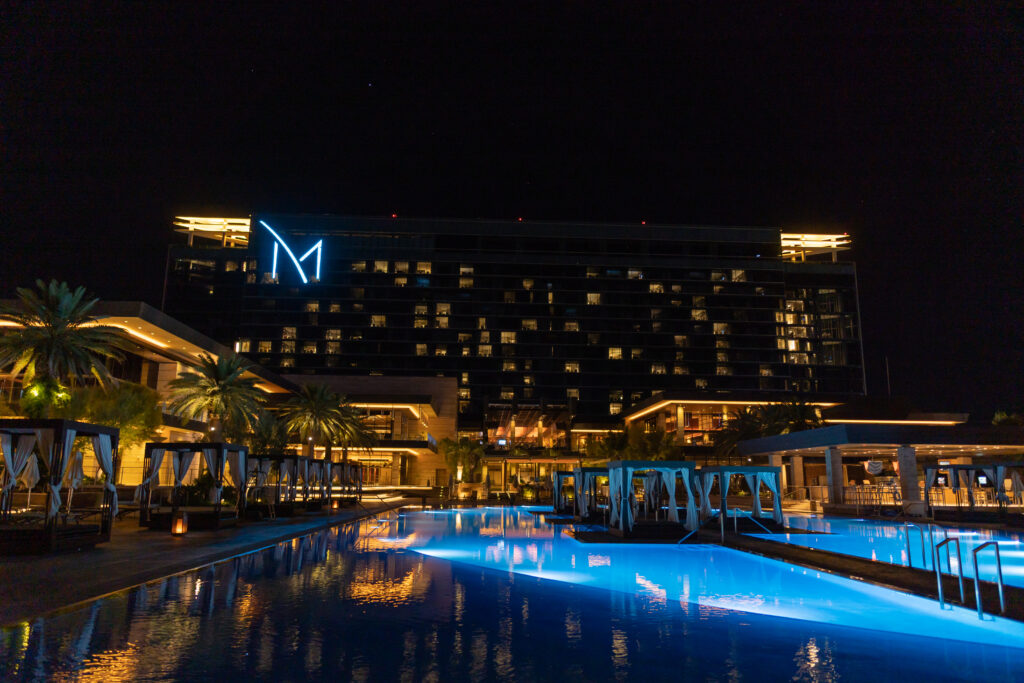 Penn moving ahead with Barstool purchase despite Portnoy questions
Regional casino operator Penn National Gaming is moving forward with plans to acquire the remaining 64 percent of online media platform Barstool Sports, even as investors have expressed concern about Dave Portnoy, the platform's founder and leading personality.
Penn spent $136 million in January 2020 to acquire 36 percent of Barstool and has used the brand to launch sports betting online and at the company's casinos in 13 states.
Stifel Financial gaming analyst Steven Wieczynski said investors are concerned Portnoy, who was the subject of sexual harassment allegations in articles published by Insider.com, would have to be licensed by gaming regulators in states with Barstool sports betting operations.
"Management indicated that is not a foregone conclusion," Wieczynski wrote in a research note. "The requirements for being licensed are murky and Portnoy currently sits in a more content-focused role, separate from gaming operations."
However, the analyst said he was told by Penn management that Portnoy's role with the company could change over time. He currently has a contract with Penn through 2025.
Barstool made Portnoy a national figure through its sports-oriented online channels and content that boasts a following of more than 66 million viewers. His philanthropy during the pandemic raised $42 million to help small businesses throughout the U.S.
Penn operates 44 gaming properties in 20 states. In Nevada, the company manages the Tropicana Las Vegas and will depart the south Strip resort once Bally's Corp. closes its acquisition of the operations later this year. That will leave Penn with ownership of just the operations of M Resort in Henderson and two small casinos in Jackpot, which is near Nevada's border with Idaho.
Penn has sports betting contracts with Caesars Entertainment-owned William Hill U.S. for its Nevada casinos but might consider bringing Barstool to the state if it were to land a larger presence on the Strip.
During a licensing hearing in December for Penn National Chief Financial Officer Felicia Hendrix, Gaming Control Board Chairman Brin Gibson expressed his concern with Barstool and Portnoy, saying he expected the company would provide information "on the vetting of those issues."
In February, Gibson confirmed he received the requested information from Penn, but what the company provided was confidential. On Monday, Gibson declined to comment on Barstool.
---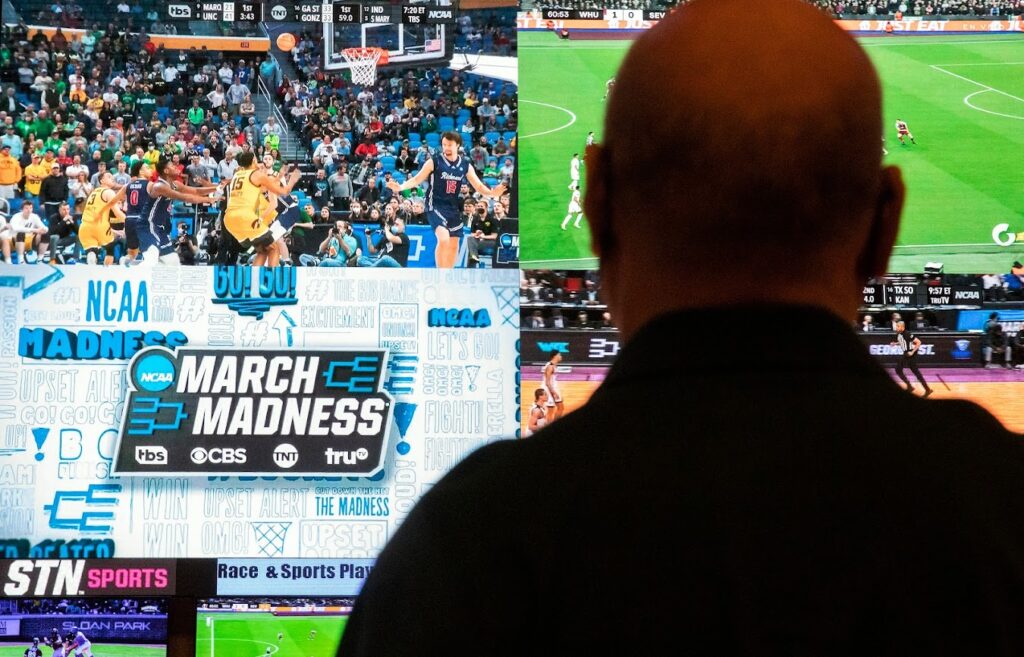 AGA makes suggested changes to Massachusetts sports betting legislation
The American Gaming Association has suggested Massachusetts lawmakers rework key portions of the state's effort to legalize sports betting; otherwise, the outcome could set the market up for failure.
In a letter released last week, Bill Miller, CEO of the Washington, D.C., trade organization, said components of the legislation – a ban on collegiate sports wagering, restricting sports betting advertising and a potentially high tax rate – would "ultimately undermine the ability of the regulated marketplace to compete against illegal operators."
Massachusetts' two legislative bodies each passed a sports betting bill – the state Senate at the end of April and the House more than a year ago.
Select members from both chambers will meet in a conference committee with the intent to agree on a final version of the bill. Massachusetts Gov. Charlie Baker, a Republican, said he would sign a legalized sports betting bill that would allow both retail sportsbooks and online sports wagering.
Eilers & Krejcik Gaming analyst Chris Krafcik wrote in the advisory firm's monthly sports betting monitor that the bills "laid bare the considerable amount of daylight between Senate and House preferences on multiple issues."
In addition to AGA's concerns, the bills differ on the number of online skins (betting sites offered to competing operators) and promotional credits.
The state's three casino operators – Wynn Resorts (Encore Boston Harbor), MGM Resorts International (MGM Springfield) and Penn National Gaming (Plainfield Park) – are closely watching the proceedings.
Analysts have said Wynn's digital gaming subsidiary could see a boost from Massachusetts sports betting given the company's casino is the state's largest and located in its most populated metropolitan area.
Krafcik said it "may be simple, if not easy, to split the difference" in a compromise on the tax rate for online wagering – 10 percent proposed by the House and 35 percent by the Senate.
However, he said the Senate bill contains a complete ban on collegiate wagering.
Miller, in his letter, said that move would "hinder the growth and development of a legal sports betting industry in Massachusetts." He cited AGA research that estimated collegiate sports wagering accounts for as much as 20 percent of all legal sports bets, which totaled $57.71 billion in 2021.
"There has always been, and always will be, significant public demand for betting on collegiate sports," Miller wrote. "States have appropriately recognized that the real public policy question is not if collegiate sports wagering will occur, but whether it should take place through legal or illegal channels."
As for advertising by sports betting operators, Miller said the marketing efforts have "an essential role" in drawing bettors away from illegal and unregulated offshore operators to "the protections of the legal, regulated market."
However, concerns were expressed by many parties during the recent football and basketball seasons over the seemingly endless number of sports betting ads. Several companies, notably Caesars Sportsbook, cut back on its massive national advertising effort.
"While sports betting only constituted 1 percent of total broadcast ads last year, the industry, media partners and sports leagues recognize the need to ensure a sustainable and responsible advertising market," Miller wrote.
Krafcik wrote in the research report there were mixed signs of Massachusetts lawmakers coming together on compromise legislation.
The state senator who represents the Springfield area could be appointed to the committee, giving sports betting a vocal proponent. However, the Massachusetts Senate president's recent endorsement of her chamber's bill might represent "a hardening" of the Senate's preferences.
"Make no mistake, the committee has its work cut out for it," Krafcik wrote. "Given the amount of public, legislative, and executive support for legalization, however, we remain cautiously optimistic that lawmakers will pass a sports betting bill this year."
---
Other items of interest
Caesars Entertainment, through its charitable Caesars Foundation, awarded a grant of $200,000 to the International Center for Responsible Gaming (ICRG) in support of the organization's research and education on problem gambling.
Established in 1996, the Massachusetts-based ICRG is s problem gambling research group, publishing hundreds of articles in peer-reviewed scientific journals. The donation from Caesars will help fund several programs designed to educate treatment providers, responsible gambling professionals, regulators and public policymakers about gambling disorders and responsible gambling.
"Caesars has supported ICRG from day one and has literally helped create the field of study on gambling addiction and responsible gambling," ICRG President Arthur Paikowsky said in a statement. "We are deeply grateful for their continuing support of efforts to effectively prevent and treat gambling disorders."
Michigan officially became part of the Multi-State Internet Gaming Agreement on Monday, more than a year after state lawmakers approved legislation that allows the state's poker players to join games online with players in Nevada, New Jersey and Delaware.
Michigan Gaming Control Board Executive Director Henry Williams said in a statement the state will "almost double the potential pool of participants in multistate poker games."
Nevada has just one online poker website operated by Caesars Sportsbook and based on the World Series of Poker.
Michigan has three licensed online poker operators — MGM Grand Detroit with BetMGM, the Grand Traverse Band of Ottawa and Chippewa Indians with Caesars' World Series of Poker and the Little Traverse Bay Bands of Odawa Indians with PokerStars.
The Nevada Independent is raising $200,000 by Dec. 31 to support coverage of the 2024 election.
Tax-deductible donations from readers like you fund this critical work.
If you give today,your donation will be matched dollar-for-dollar.
Give + Get Matched
Featured Videos