At Housekeeping Olympics, workers who keep Vegas hotels humming have their day in the sun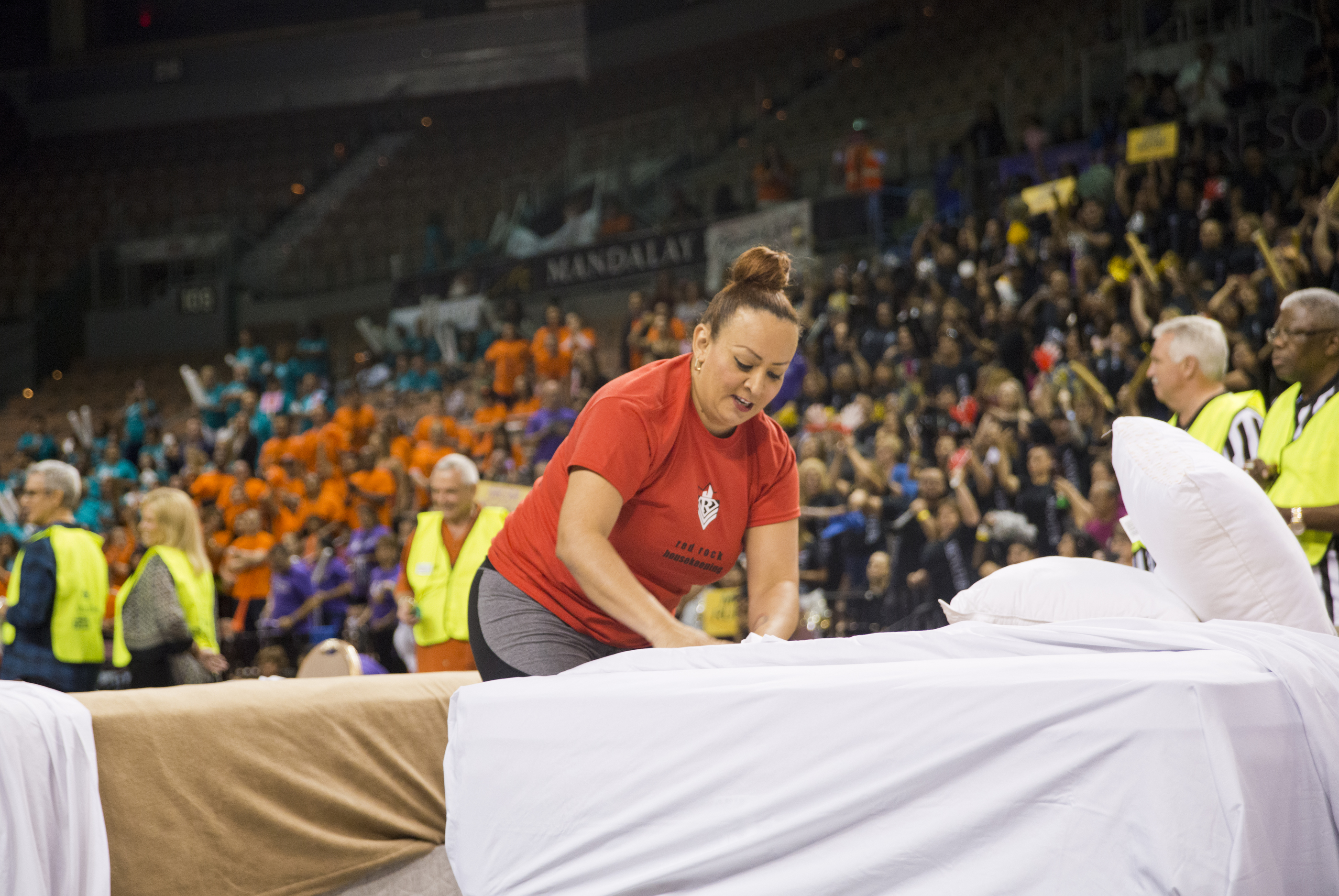 This story has been translated and edited from its original Spanish version.
On your mark. Get set. Go!
Equipped with vacuum cleaners, linens and toilet paper, maintenance, housekeeping and guest services workers launched into their 17th annual Housekeeping Olympics last Wednesday at the Mandalay Bay Events Center. Employees from 16 hotels and The Service Companies, a housekeeping services provider nationwide, gathered to show off their skills during an event celebrating the contributions of thousands of hands that keep Las Vegas looking spotless.
Attendees dressed as pharaohs, skaters, and Elvis Presley wore sequins and painted their faces and bodies with bright colors. The room buzzed with excitement at the competition, which was organized by the International Executive Housekeeping Association and sponsored for the eighth consecutive year by Mandalay Bay.


"The competition with friends and co-workers is fun, but the evening is mostly about taking the time to stop and recognize the hardest working men and women in the hospitality industry," Chuck Bowling, president and chief operating officer of the Mandalay Bay, said in a statement. "Our GRA [guest room attendants] and EVS [environmental services] teams are the backbone of our business, and this event is just one small way to recognize and say thank you for all that these dedicated individuals do to keep our operations humming around the clock."
Cheers, music, horns and applause could be heard even outside the building, where the parade of teams showing off costumes and banners that identified their casinos began.
James Healey, who has emceed the Olympics for 14 years and is currently the hotel operations director at New York New York, said that the level of pride and camaraderie among the participants is indicative of the industry they represent.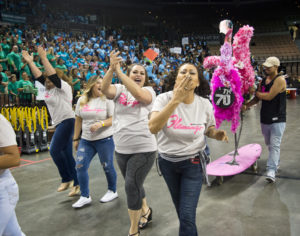 "They are the unsung heroes and forgotten heroes," Healey said. "Because without housekeepers, our industry doesn't exist."
With a lump in his throat, Healey noted that many workers in this area have made great sacrifices to come to the United States. They gave up professional jobs that require a high level of education in their countries, such as doctors, lawyers, and business owners, leaving everything behind to pursue better opportunities for their families.
The executive said that those responsible for this kind of work clean between 12 and 17 rooms per day, including toilets and beds, depending on the size of the room.
"It's because of their dedication and passion that we have a highly successful industry, particularly here in Las Vegas, where guests absolutely trash these rooms," Healey said.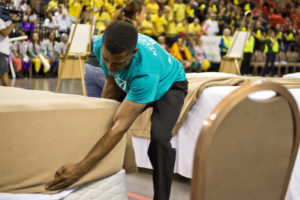 A series of mattresses placed in the center of the building served as the centerpiece for the first event of the night: a race against the clock to make beds. Participants gave their best effort to make their beds in record time as shouts and claps rose from the crowd.
Between competitions, other workers had a chance to show off their artistic skills, performing dance routines in which Latino rhythms predominated.
Then it was the vacuum cleaners' turn. As they lined up, the participants set their eyes on their task: a piece of carpet covered with confetti. The goal: to clean it in less than two minutes.


Then there was the toilet paper toss, where participants had to throw rolls inside buckets that were placed directly in front of them.
"I prepared for two and a half weeks," said Anthony Edwards, who has been working at the Bellagio for the past 18 years and competed in the toilet paper race for the first time.
Edwards collects dirty sheets that the housekeeping staff hand over to him, ensures that guests have everything they need and also provides fresh bed linen and towels at their request. In an interview with The Nevada Independent, he said he is proud of his work and enjoys providing customer service.
One attendee, "Maria," said she also enjoys that role but finds it full of challenges, mainly physical.
"It hurts all over," said Maria, who asked to use a pseudonym and declined to name the casino she works for. "But we have to do our best. We must do the work well and fast, because there is a lot to do, and you have to finish it."
Maria, who has been a housekeeper for 10 years in Las Vegas, said she would like guests to better respect the service house-cleaning employees provide, because it is the hardest work that is done at these hotels and one of the least appreciated.
"They should have compassion when arriving at a hotel and complaining about the smallest things like a hair they happen to find," Maria added.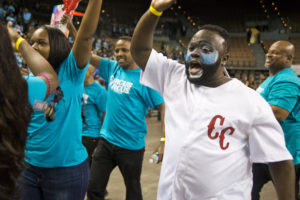 Interviewed between competitions, Mauricio Clark, whose face was painted in blue and white, said he always works with a touch of joy, although he added that one of the biggest challenges in his area is to keep smiling all day.
"We have different guests and all guests show different attitude," said Clark, who has been working in the cleaning and hotel guest service area at Circus Circus for the past five years. "But if you show them the perfect smile, the perfect service, they all leave with a smile on their face. We have our ups and downs, but as a team we all stay strong."
After almost three hours of competition, the event concluded on the same festive note that it started. This year, The Mirage took first place in the overall competition category, while second place went to the MGM Grand Hotel/The Signature. Circus Circus came in third.
"There are no winners or losers," Jim Murren, chairman and CEO of MGM Resorts International, told the audience. "The winner is the hospitality industry."
Disclosure: MGM Resorts International has donated to The Nevada Independent. You can see a full list of donors here.
The Nevada Independent is raising $200,000 by Dec. 31 to support coverage of the 2024 election.
Tax-deductible donations from readers like you fund this critical work.
If you give today,your donation will be matched dollar-for-dollar.
Give + Get Matched
Featured Videos