Good morning, Nevada, and welcome to the battle of the billboards.
Both the Democratic National Committee and the National Republican Senatorial Committee are up with billboards this week attacking Republican Sen. Dean Heller and his Democratic opponent Jacky Rosen, respectively. Democrats are targeting Heller over Senate Republicans' recent efforts to repeal the Affordable Care Act, while Republicans will paint Rosen as "loyal" to House Minority Leader Nancy Pelosi.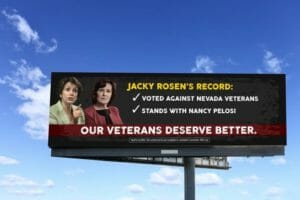 The ads, which launch today, criticize Rosen for voting "against Nevada veterans" and standing "with Nancy Pelosi," saying that "our veterans deserve better." The NRSC says that Rosen has voted with Pelosi 91 percent of the time, and points to two bills Rosen voted against, one to allow the secretary of the Department of Veterans Affairs to fire, demote or suspend VA employees and another to approve $2 billion in additional funding for the Veterans Choice Program, which allows veterans to see a private doctor at the government's expense.
The ads will run along Keystone Avenue and W. Moana Lane near two Veterans of Foreign Wars posts in Reno. Rosen will need to spend a significant portion of her campaign meeting with voters in Reno to increase her name recognition in the northern portion of the state.
"Nevada's veterans should not have to pay the price for Jacky Rosen's loyalty to radical liberal Nancy Pelosi and her out-of-touch policies," NRSC Spokesman Michael McAdams said in a statement. "Nevada voters want elected officials who will put the needs of Nevadans before partisan allegiance."
At the same time, Democrats will continue to hammer home their message over Heller and his votes on Senate Republicans' proposals to repeal the Affordable Care Act with billboards near the Las Vegas Strip this week.
A mobile video billboard will show Heller smiling and laughing at a White House lunch with his fellow senators during which the president needled Heller over his wavering positions on health care, saying, "He wants to remain a senator, doesn't he?"
"Senator Heller told us he'd protect our health care. Then he voted to threaten health care for 328,000 Nevadans," the ad says. "Tell Heller to wipe that grin off his face and start working for Nevadans. Our health care isn't a joke."
Heller voted at the end of July to proceed to debate on the Senate Republican plan to repeal and replace the Affordable Care Act. That proposal, which Heller eventually voted against, would have resulted in 328,000 Nevadans losing health care, according to a report by the Children's Advocacy Alliance and Nevadans Together for Medicaid.

A stationary billboard will also display a static version of the same message, saying that Heller "voted to threaten health care for 328,000 Nevadans."
"Senator Heller broke his promise to improve health care for his constituents, voting for a bill that would take health care away from millions of Americans. A repeal of the Affordable Care Act would result in as many as 371,000 Nevadans losing their health care, and cause Nevada to lose 22,100 jobs," said DNC Chair Tom Perez in a statement. "While Senator Heller and Republicans remain committed to an agenda that prioritizes the wealthy, Democrats will continue to fight for working families in Nevada and across the country and Nevadans will hold him accountable in November."