Buttigieg, preparing to run for president, touts community solutions to societal problems during Las Vegas visit
Pete Buttigieg — the mayor of South Bend, Indiana, who's gearing up for a presidential run — is six days away from making a "special announcement," but a slip of the tongue Monday in Las Vegas strongly hinted at his decision.
It happened during a chance meeting with a South Bend native now living in Las Vegas.
"You're running for Congress?" Doug Miller, a veteran, asked him.
"President," Buttigieg said, drawing an excited "Really?" from Miller. But then the mayor added a caveat: "We've got an exploratory committee. We're not official."
Official or not, Buttigieg's swing through Las Vegas on Monday certainly mirrored the type of campaign visit organized by other Democratic presidential hopefuls. The 37-year-old mayor spoke inside a crowded suburban coffeehouse and then made his way to downtown Las Vegas, where he toured Veterans Village, which provides housing, medical, food, job training and other services for men and women who have served the nation.
Buttigieg, a Navy veteran, listened intently as Arnold Stalk, the founder of Veterans Village, showed him the organization's expansion plans, food pantry, salon and under-construction housing units made from shipping containers.
He's the second potential presidential candidate to visit the organization in less than a week. Democratic Massachusetts Rep. Seth Moulton participated in a roundtable discussion Friday at Veterans Village.
"It's a national sin and a disaster that we have one veteran that's homeless in this country," Stalk said. "We don't sweep that under the carpet. We talk openly about it."
Stalk said he hopes Buttigieg and other candidates who visit walk away realizing that the seven-year-old Veterans Village is a "Lego set" that can be replicated across the country.
Buttigieg echoed that desire, saying the federal government should be leaning on local communities for answers to complex societal problems such as veteran homelessness.
"It starts with a White House that trusts the communities to come up with the right answer — at least some of the time," he said.
Buttigieg, who served in Afghanistan, has made veterans a key focus during his exploratory campaign. On Monday, he said Democrats need to be more intentional about energizing veterans, a key voter group that he said is "up for grabs politically."
The small-city mayor who is openly gay has become a national name in the early start to the 2020 election cycle. Buttigieg announced last week that he fundraised more than $7 million during the first quarter of this year. The local government leader acknowledged that his path is "admittedly not a traditional way to get into presidential politics."
"That's kind of the point," he said while speaking to a cheering crowd in the Las Vegas coffee shop.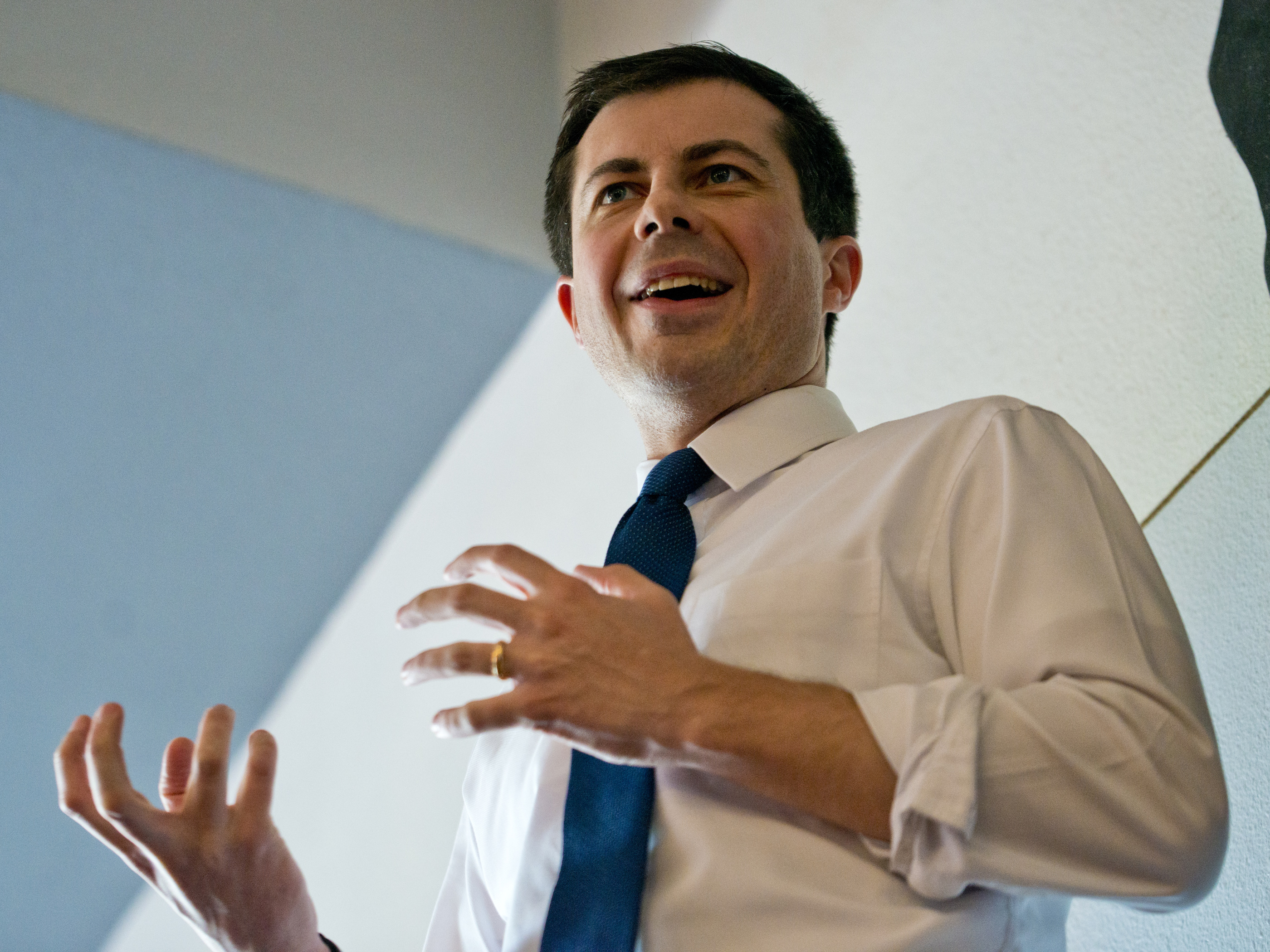 During a brief interview with reporters at Veterans Village, Buttigieg addressed the need for affordable housing and comprehensive immigration reform. He said public housing wait lists are "out of control" and that the country needs to consider this an income problem in addition to a housing one.
Without directly mentioning his name, Buttigieg also blasted President Donald Trump for "inhumane policies" he said have worsened the country's immigration struggles.
"It just goes to show that punitive and cruel policies don't really help with the issues that have many people, especially on the asylum side, rushing to our country because they believe their lives depend on it," he said.
Buttigieg was one of several politicians campaigning Monday in Las Vegas. Vermont Sen. Bernie Sanders and Minnesota Sen. Amy Klobuchar spoke at a transportation conference and then Klobuchar toured a middle school.