Clark County high school students join push for teacher pay increase
Nye County schools get a new superintendent, and a proposal to create a student advisory state board picks up support.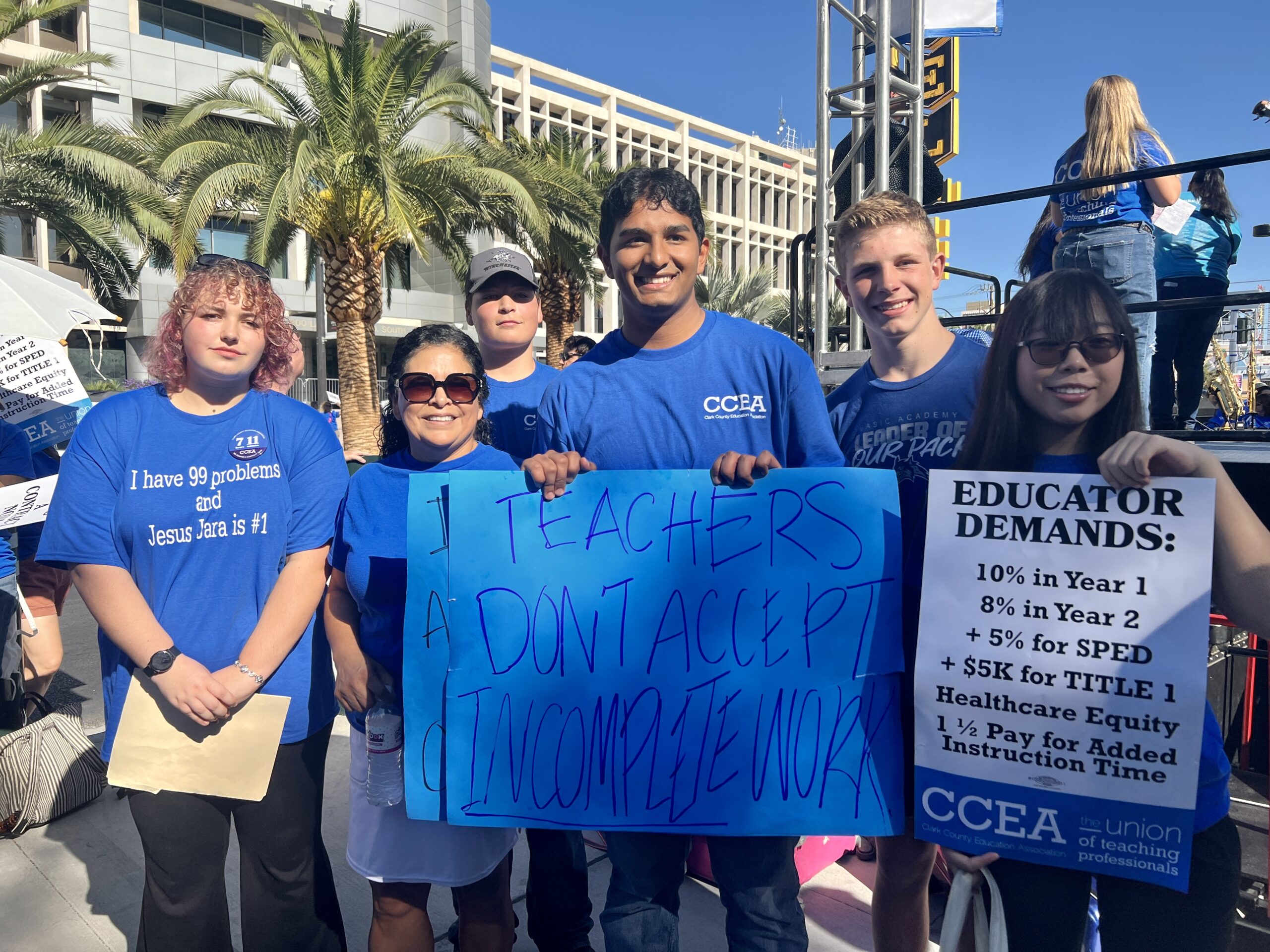 Good morning, and welcome to the Indy Education newsletter. I'm Rocio Hernandez, The Nevada Independent's K-12 education reporter.
This newsletter provides a recap of the latest education stories and highlights interesting educators, students, programs and other events and resources throughout the state. Click here to subscribe to the newsletter and receive it each Tuesday via email.
I want to hear from you! Send questions, comments or suggestions on what I should be covering to [email protected].
News briefs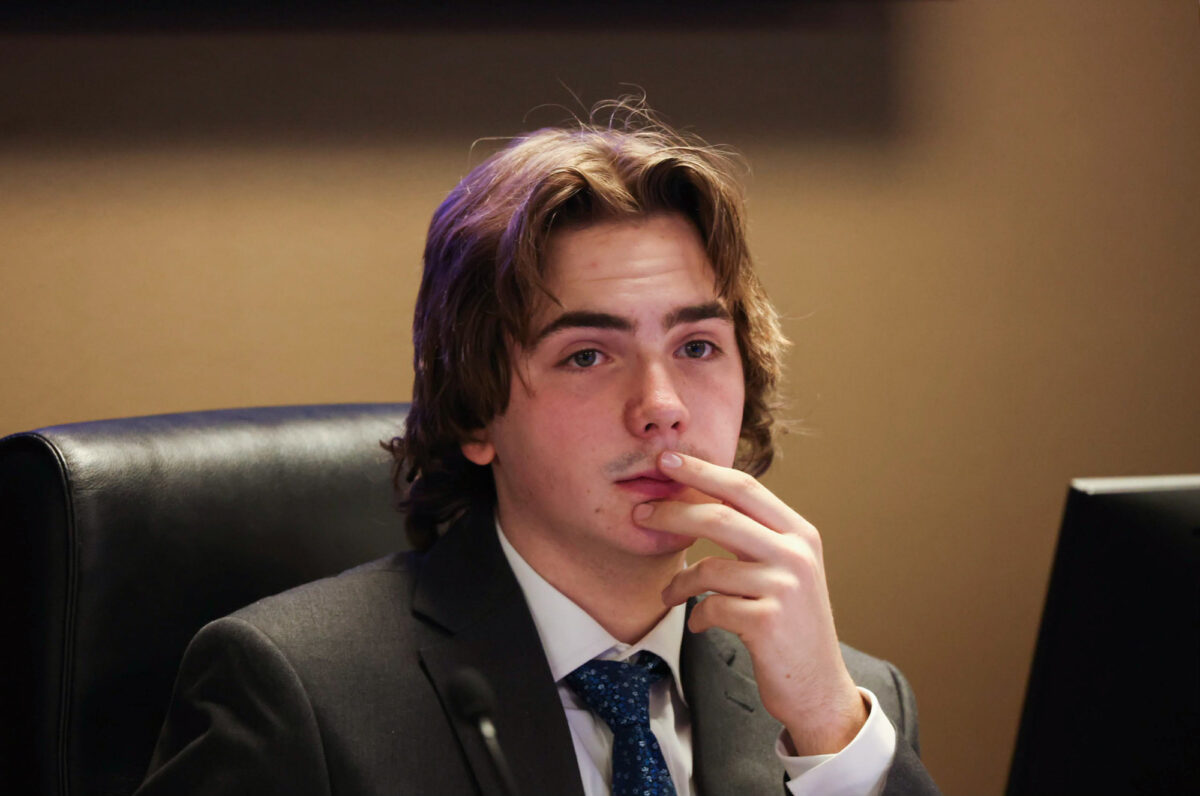 🖍️ State student advisory committee proposed — During a Wednesday meeting, State Board of Education student member Michael Keyes pitched a proposal to create a student advisory board. The proposed board would include 40 student members from across the state and would meet each month to discuss upcoming items on the State Board of Education's meeting agenda. The idea was well received by other state board members, who encouraged Keyes to continue working on developing the student advisory board with the help of State Superintendent of Public Instruction Jhone Ebert.
🖌️ Nye County School Board approve four-year contract for new superintendent — On Thursday, the Nye County School Board approved a contract for Joe Gent, the district's new superintendent. Prior to becoming the superintendent, Gent worked as the district's director of alternative education.
According to board documents, Gent's contract begins Oct. 4, 2023, and will end June 30, 2024, unless the board decides to extend it in the future. Gent will be paid a base salary of $175,000 annually. His younger brother, Nathan Gent, who's on the board, recused himself from the vote.
💰$15M grant to fund new magnet programs at Clark County schools — The Clark County School District (CCSD) has received a $15 million grant from the Magnet Schools Assistance Program (MSAP) to implement new environmental science, technology, engineering and math magnet programs at Carroll M. Johnston Middle School in North Las Vegas and Lyal Burkholder Middle School in Henderson. The grant will allow each school to offer a rigorous, interdisciplinary, STEM-infused curriculum to students in grades 6-8 that focuses on the environment and experiential and project-based learning.
CCSD is now accepting applications for students interested in attending any of its more than 40 magnet schools. The application window will remain open until Jan. 9, 2024.
School Spotlight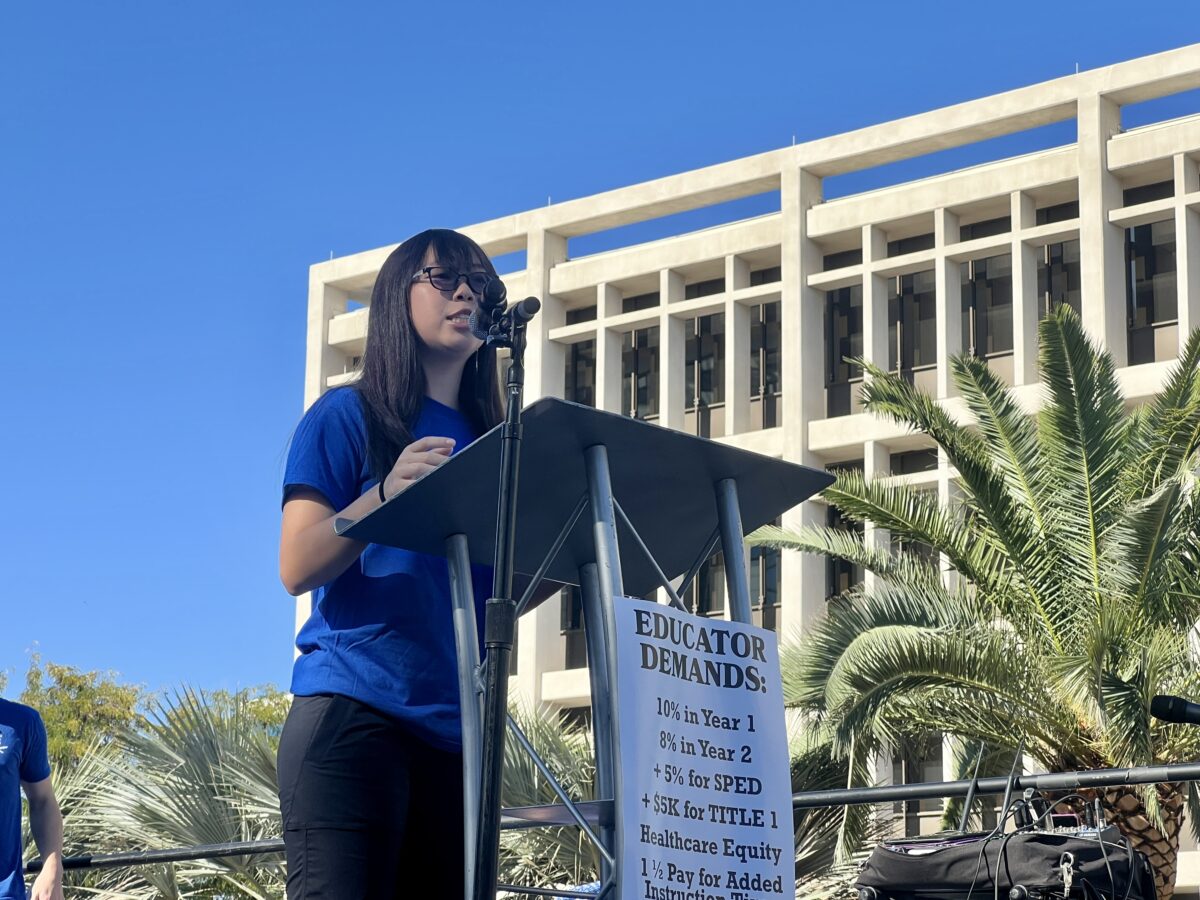 Clark County students say teacher pay raises will help them succeed
Clark High School junior Karen Wu considers the impact that Clark County teachers have on students' lives priceless.
But she said that doesn't mean teachers shouldn't get paid better.
Wu was one of five students who took part in a Saturday rally in downtown Las Vegas hosted by the Clark County Education Association (CCEA). For months, CCEA has been advocating for an 18 percent pay increase and other incentives as a way to address the district's teacher shortage, attract new educators and keep veteran teachers in their classrooms.
Basic High School sophomore Clark Wood said he's seen the issue firsthand. He said it's not uncommon to see classrooms led by long-term substitute teachers or other staff members who aren't qualified to teach, or to see teachers leave the state for better pay elsewhere.
"This is not a complex problem with some unknown answer. It is really quite simple: Pay wages that attract the best and the brightest, and give them the resources they need to succeed," Wood said from the podium. "Because when the teachers succeed, the students succeed, and when students succeed, the future is bright."
This isn't the first time students have gotten involved in the contract dispute between CCEA and the CCSD. Wu and other students have organized walkouts at their schools.
"Raising teacher pay is not just about money," she said in her speech. "It's about recognizing the value of education in our society. … It's about ensuring that the teaching profession is held in higher regard and that remains an attractive career choice for young intelligent individuals."
Last month, CCSD Superintendent Jesus Jara sent an email to high school students asking them to do their research before reaching their own conclusions on the ongoing negotiations, and to exercise their rights to speech and expression outside of school hours.
The students encouraged their peers to stay engaged and raise their voices on the issue.
"Even just talking about this is a form of rebellion," said Aaron Sebastian, a student at Advanced Technologies Academy in an interview. "Students should not be afraid to get involved. Conversation is one thing, but action can lead to more change."
Have a student or staffer who we should feature in the next edition of School Spotlight? Share your nominations with me at [email protected].
Reading Assignments
Clark County Education Association challenges law prohibiting teacher strikes
CCEA filed a complaint on Monday morning asking the court to declare five state statutes related to strikes unconstitutional.
Douglas County School Board reverses course, keeps superintendent in place
The school board voted down a proposal to terminate Superintendent Keith Lewis' contract as it had previously agreed with Lewis to do.
State board moves target date for later high school start times to 2025
The change will give the board time to fine tune the proposed regulation, gather more data and feedback. It comes after CCSD put a hefty price tag on later start times.
Joey Gilbert's latest bill for Douglas County school legal fees is double previous month's
The school board is expected to vote on a set of invoices totaling $74,000 during a meeting on Tuesday.
Five applicants to be interviewed for next state charter schools director
Last Tuesday, the board for the State Public Charter School Authority narrowed its search to five candidates out of the 15 who applied for the executive director position.
Extra Credit
Las Vegas appoints new state-mandated member of school board
The Las Vegas City Council voted Wednesday to select former charter school leader Adam Johnson as its nonvoting appointee to the Clark County School Board, the Las Vegas Review-Journal reported. Henderson City Council plans to make an appointment Oct. 17, while the Clark County Commission is slated to make a decision Nov. 7.
Marching bands have been struggling with extreme heat. Here's how they're adjusting.
In places such as Phoenix, school marching bands are getting creative to beat the heat of climate change, NPR reported. Some changes include covering brass instruments under direct sunlight, scheduling frequent water breaks and time to put on extra sunscreen, no longer wearing traditional marching band uniforms at games and practicing before sunrise or after sunset.
Events
🍎 Washoe County School Board meeting – Tuesday, Oct. 10, at 2 p.m.
The agenda includes a presentation, and possible approval, of a new collective bargaining agreement between the Washoe County School District and the Washoe Education Support Professionals (WESP) union.
💰Legislature's Interim Finance Committee meeting – Wednesday, Oct. 11, at 9 a.m.
The agenda includes a request from the Humboldt County School District for nearly $2.7 million in SB231 funds to support salary increases and benefit costs for certain district staff.
🍏Clark County School Board meeting – Thursday, Oct. 12, at 5 p.m.
The agenda includes a presentation on student proficiency data.
🎃Carson City school pumpkin patch – Saturday, Oct. 14, from 9 a.m. to 3 p.m.
Seeliger Elementary School in Carson City will host its 29th annual pumpkin patch on Saturday, Oct. 14. This year's fall festival will feature carnival games, food trucks, wagon rides, a dunk tank, raffles, a silent auction, a bake sale, a cake walk, vendors, prizes, a petting zoo, pumpkins and other family fun. All proceeds go toward Seeliger classrooms to help purchase instructional supplies, pay for field trips and extras for the children.
Teachers at Southeast Career and Technical Academy in Las Vegas are getting into the Halloween spirit.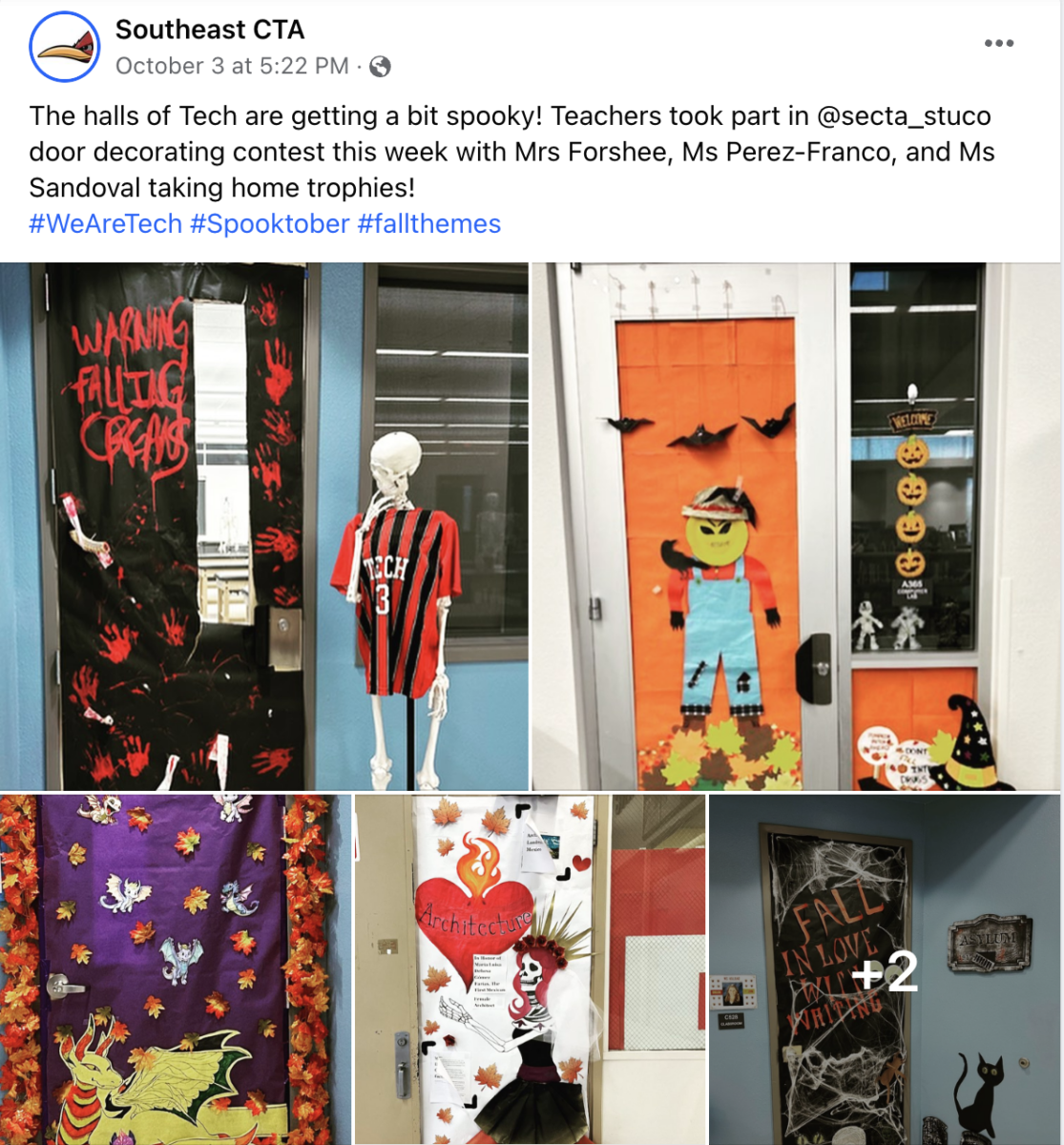 The Nevada Independent is raising $200,000 by Dec. 31 to support coverage of the 2024 election.
Tax-deductible donations from readers like you fund this critical work.
If you give today,your donation will be matched dollar-for-dollar.
Give + Get Matched
Featured Videos