Clark County man pleads guilty to voting more than once in 2020 election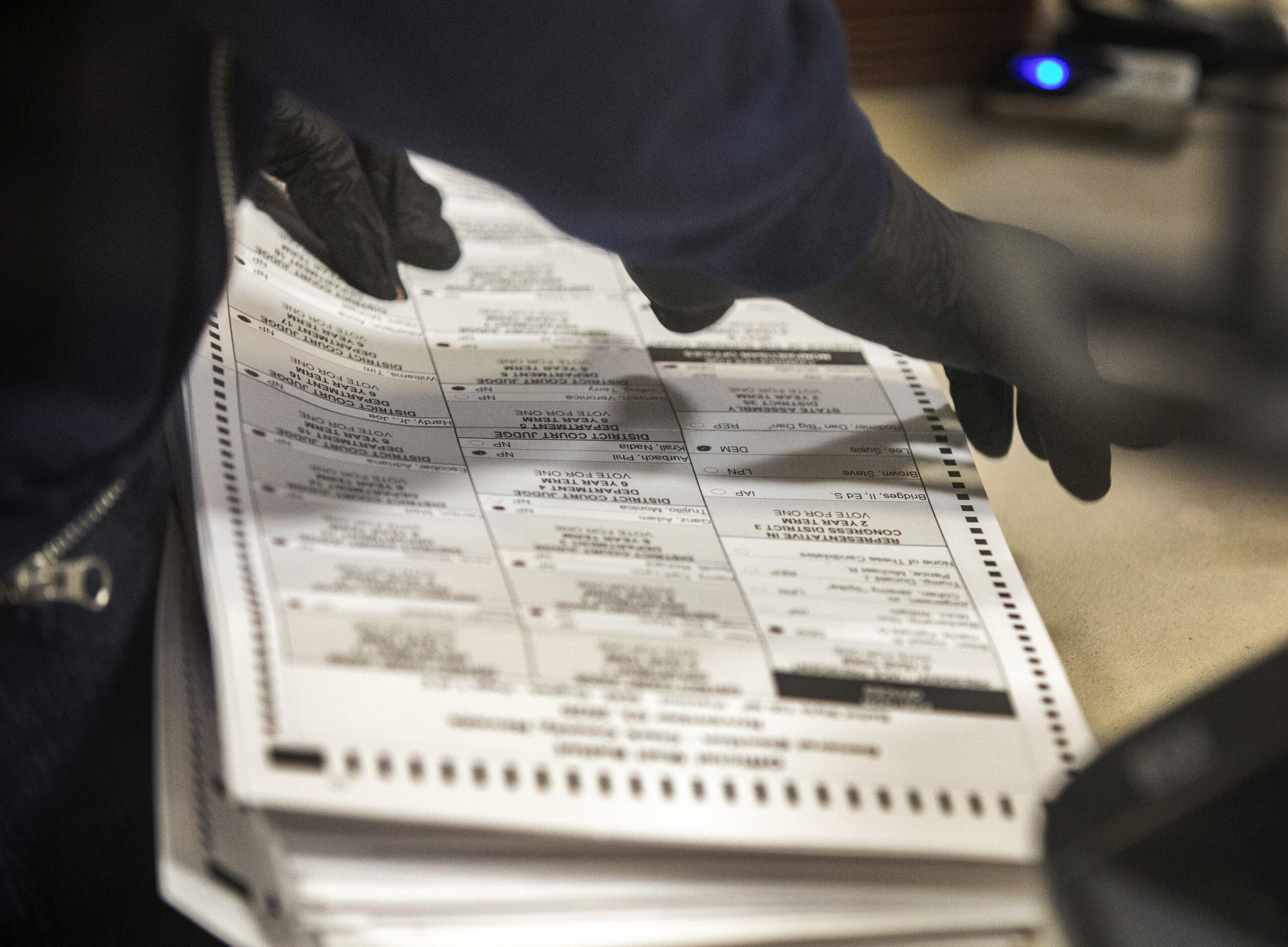 A Clark County man prominently featured by local and national Republicans as having evidence of voter fraud in the 2020 election pleaded guilty on Tuesday to voting more than once during the same election, after using his deceased wife's ballot to vote a second time.
The man, Donald Kirk Hartle, was publicly cited by the Nevada Republican Party last November as evidence of voting irregularities that affected the results of the 2020 election — Hartle, 55, claimed to learn that someone had cast a ballot in the 2020 election for his wife Rosemarie Hartle, who died in 2017.
"That is pretty sickening to me to be honest with you," Hartle told KLAS Channel 8 days after the election.
Eleven months later, he was formally accused by the state attorney general's office of casting his wife's ballot. On Tuesday afternoon, Hartle pleaded guilty to the charge at the Clark County District Court.
"I accept full responsibility for my actions and regret them," Hartle said to the judge via teleconferenece.
As part of the plea deal, Hartle will be able to withdraw his plea, if he follows the terms of a yearlong probation, and instead plead guilty to a misdemeanor charge of conspiracy to commit voting more than once in the same election. Under that charge, he would be fined $2,000 and receive credit for time served — meaning he would not serve any additional jail time. The felony charge he pleaded guilty to is typically punishable by a prison term of up to four years, as well as a fine of up to $5,000.
Hartle also waived certain rights as part of the plea, including the right to a jury trial, the right to testify in his own defense and the right to appeal the conviction.
District Court Judge Carli Kierny, who accepted Hartle's plea, expressed displeasure about the agreement.
"I do have some concerns, and I'm troubled by this," Kierny said of the conditional plea agreement. "I'm going to follow the negotiation that your attorney has worked out for you, but I will say that in this case, this isn't something that ultimately I first wanted to do."
Kierny also described Hartle's actions as a "cheap political stunt" that backfired and showed that "our voting system actually works."
"If I were not to follow the negotiation in this case, I do realize that it would be a political stunt of my own," she said.
Though remarks from Hartle's attorney, David Chesnoff, were limited during the roughly 10 minute-long hearing, Chesnoff said Hartle was motivated to negotiate a plea in order to avoid a felony conviction.
"There were issues that were defensible. However, because of my client's concern for his future and career, he endeavored at great lengths to negotiate this," Chesnoff said. "Suffice to say, your honor, that he will eventually wind up with a conviction. What we attempted to accomplish here, most importantly your honor, was to not be a felony."
In a statement emailed to The Nevada Independent, Attorney General Aaron Ford pointed to his efforts to reform the criminal justice system as reason for agreeing to a conditional plea that will allow Hartle to receive a reduced punishment.
"The criminal justice reform efforts I've championed in this office do not extend only to those people with certain political beliefs. Mr. Hartle took responsibility for his conduct, had been a productive member of society prior to this incident, and I will not waste taxpayer dollars on unnecessary sanctions in order to score political points," Ford said. "As a result of this guilty plea, Nevadans should have no doubt that our elections are secure and the system works as it should."
The charges against Hartle were filed following an investigation by Secretary of State Barbara Cegavske's office.
Earlier this year, Cegavske's office reviewed the Nevada Republican Party's alleged evidence of irregularities in the 2020 election and found no evidence the election was plagued by widespread fraud. The review found 10 people who voted by mail were actually deceased, and those 10 individuals were referred for investigation by law enforcement.
Hartle is the chief financial officer and treasurer for the Ahern Family of Companies, according to his LinkedIn page. The company's owner, Don Ahern, is a major supporter of former President Donald Trump, and the company hosted a QAnon-linked conference in October at the Ahern Hotel off the Las Vegas Strip.
The Nevada Republican Party has not commented on the case since the group posted on Twitter about Hartle's situation last year as evidence of "voting irregularities".
Read the plea agreement below:
Updated at 2:00 p.m. on 11/16/21 to include details from the court hearing.
Updated at 4:10 p.m. on 11/16/21 to include a statement from Attorney General Aaron Ford.
The Nevada Independent is raising $200,000 by Dec. 31 to support coverage of the 2024 election.
Tax-deductible donations from readers like you fund this critical work.
If you give today,your donation will be matched dollar-for-dollar.
Give + Get Matched
Featured Videos