Clark County School Board of Trustee member Linda Young, left, congratulates new member Irene Cepeda while members-elect Danielle Ford and Linda Cavazos look on during an oath of office ceremony on Monday, Jan. 7, 2019. (Jeff Scheid-Nevada Independent)
Clark County's new school trustees take oath of office, reshaping the board
January 8th, 2019 - 2:00am
The Clark County School Board of Trustees has welcomed its new members, making it an all-female governing body for the first time in recent years.
Board newcomers Irene Cepeda and Danielle Ford were sworn in alongside Trustee Linda Cavazos during a special board meeting Monday evening. All three women won their respective races in the November election.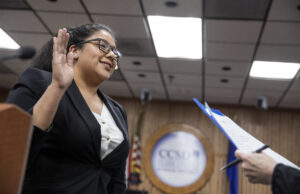 Cepeda defeated incumbent Kevin Child to claim the District D seat, garnering 69 percent of the votes. A product of the school district, Cepeda works as a Title V project coordinator at Nevada State College. The 29-year-old, who grew up in North Las Vegas, said she's excited to be an advocate for all students, especially those who are learning English as a second language or come from a low-income family.
"I'm able to speak for those who don't have a voice," she said.
Ford, who will represent District F, also grew up in Las Vegas but dropped out of high school. She went on to earn her general-equivalency degree and, later, attended college. Now a business owner and single mom, Ford vowed to address problems she encountered as a student and observed as an involved parent. She beat her opponent, Kali Fox Miller, by 20 percentage points and replaces term-limited former Trustee Carolyn Edwards.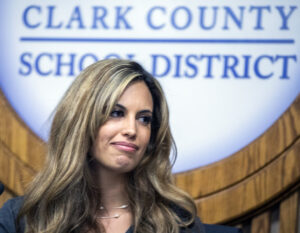 Ford said witnessing challenges at her children's schools, including a struggle to fundraise enough money for a gate, drove her to run for the elected position.
"I just knew that I was very passionate for children and knew I could help out," she said.
The third woman to take the oath of office Monday is no stranger to the board: Cavazos was appointed to represent District G in August 2017, after former Trustee Erin Cranor resigned. Cavazos kept her word to run for election when that term ended, and she won with 66 percent of the votes.
But the moment still made Cavazos teary-eyed. The seasoned trustee said she's grateful and happy to continue serving the community and school district. She also planted a seed for unity going forward.
"We are a team of eight," she said. "There are seven of us, plus the superintendent."
The school board has had a rocky few years given sweeping change in the large district and internal struggles among members. The tension culminated in Child filing a lawsuit in September against the school district, former Superintendent Pat Skorkowsky and four trustees.
The revamped board comes at a critical juncture in the school district's history. Superintendent Jesus Jara, who started in June, is forging ahead with a new strategic plan, and the battle for more K-12 funding has intensified over the past year. The legislative session begins in early February, where education policy is expected to take center stage.
Cavazos said she's optimistic the all-female board, which is also more ethnically diverse, can chart a positive course for the school district.
"I am super excited," she said. "Along with the supermajority in the Legislature, we have females all over the place. I just kind of think females multitask extremely well, and I think we're going to get a lot of things done."
This article was updated to correct inaccurate information provided by the school district about previous all-female school boards.
Comment Policy (updated 3/21/19): We welcome reader comments on our stories. However, in keeping with our general policy of transparency, accuracy and accountability, we do not accept comments from anonymous accounts. Anonymous accounts are those without a valid first and last name. Any such comments will be deleted, and anonymous users will be blocked from commenting further. We also will block commenters who use offensive language, engage in personal attacks or state things that are verifiably false.
get our morning newsletter,
The Daily Indy
INDYMATTERS PODCAST
CAFECITO CON LUZ Y MICHELLE
@TheNVIndy ON TWITTER