Jesus Jara, left, Superintendent of the Clark County School District, during a school board meeting on Thursday, Oct. 18, 2018. (Jeff Scheid-Nevada Independent)
Trustee elections could shake up a fractured Clark County school board
October 21st, 2018 - 2:05am
Four days before school started this year, dozens of parents and community members packed the Clark County Government Center for an education-related showdown. Many brought homemade signs and prepared remarks with them.
The question: Should the school district adopt a proposed gender-diverse policy?
The marathon meeting, which stretched long after sundown, ended a battle that pitted parents against parents and, in some cases, students against students. But it also highlighted increasing tensions on the fractured Clark County School Board of Trustees — the governing body tasked with making this decision. One could argue, however, that the decision was made months earlier, when the board first voted to craft a policy. It was a split vote: four in favor, three against.
But lengthy trustee dialogue followed public comment again this night, perhaps for the sake of due diligence or to voice their constituents' concerns or because they all thought they could change each other's minds. The discussion wasn't outright nasty — this was a public meeting, after all — but it featured undertones of discontent among members.
Trustee Chris Garvey called the proposed policy "secretive" and questioned whether it protected all students' rights. Trustee Lola Brooks countered, saying the district wasn't "reinventing the wheel" because Washoe County School District already had a similar policy.
Other trustees chimed in, showcasing the divide that existed on the board as well as in the community.
"There seems to be the misunderstanding or the misnomer that because some don't agree with others, then we're not listening," Board President Deanna Wright said at one point. "That's simply not true."
The conversation ended where it began — without any consensus. The board narrowly approved the gender-diverse policy with another split vote. Trustees Carolyn Edwards, Linda Cavazos, Brooks and Wright cast the yes votes, while their colleagues Garvey, Linda Young and Kevin Child voted no.
The 4-3 split has come to define the governing body of the nation's fifth-largest school district this past year. Time and time again, the trustees have formed those two camps over issues ranging from executive compensation to budget cut decisions. In September, the divide took on a new form: Child filed a lawsuit against the school district, former Superintendent Pat Skorkowsky and four of his board colleagues — Wright, Edwards, Cavazos and Brooks — who typically make up the other half of the split vote.
To say professional relationships among the board members aren't great would be an understatement. Wright, the board president, acknowledged she barely speaks to Child.
"There's no relationship," she said.
Now, there's an election around the corner that could shake up a school board that has been described by observers as petty and inefficient. Three seats are up for grabs. At least one newcomer will join the board because Edwards is termed out. Child and Cavazos, meanwhile, are campaigning to retain their seats.
Predicting outcomes is risky business: It's a low-ballot race with little attention and meager or nonexistent spending that could fall prey to random candidate selection — in other words, voters indiscriminately checking a box next to whatever name sounds good.
***
Just below trustee photos on the Clark County School District website lies the board's vision statement: "All students progress in school and graduate prepared to succeed and contribute in a diverse global society."
It's a tall order for the seven trustees, each elected to four-year terms, who form the school board for a district that serves more than 320,000 students, including many from disadvantaged backgrounds. The school district has battled a negative public perception for years, fueled by contract disputes with its labor unions, budget deficits, large class sizes, lackluster student performance on standardized tests and perennial teacher shortages. As a result, problems tend to overshadow any successes.
Attend any board meeting, and there's usually a line of staff and community members waiting to complain about poor working conditions, transportation problems, budget cuts — you name it. They bring their grievances to the elected officials tasked with overseeing the superintendent and ensuring progress toward that board vision regarding student achievement.
As far as some parents are concerned, they're to blame for some of the district's downfalls.
"They are absolutely beyond frustrated with the trustees," said Rebecca Garcia, a founding member of a group called CCSD Parents. "They feel they are inept … People feel they're not spending enough time with what matters most."
Board members don't necessarily disagree with the need to re-focus on student achievement. The topic recently surfaced in a board retreat, and trustees said it's a top priority.  
"For the first year of being on the board, I was trying to figure out why we spend so much time talking about operational stuff that is under the purview of the superintendent," said Brooks, who was elected in 2016 to represent District E, which includes portions of Summerlin and the northwest valley.
Wright attributed some of the board's rocky dynamics to its shift to a balanced governance model. The board approved the move to that model, which essentially gives more authority to the superintendent, in the spring of 2017. Growing pains ensued as the board navigated its new way of doing business that, in theory, strikes a balance between oversight and micromanagement.
"I think that led to a blurring of the roles that board as a body played versus what the superintendent's role was," she said. "We got to a place where those lines were being more blurred as time went on."
The same time period was marked by the district's state-mandated reorganization, financial crises and a high-profile, contentious search for a new superintendent after Skorkowsky announced his retirement last year.
Garvey said her trust in Skorkowsky deteriorated during the reorganization process. A bulwark for transparency, Garvey said the former superintendent failed to share crucial information with the board on a variety of matters, which led to tense conversations during board meetings. A surprise budget deficit in the summer of 2017 further chilled relations between Skorkowsky and some trustees, who argued he should have known about the financial situation and alerted them sooner. It also magnified the growing divide between certain board members as some defended Skorkowsky while others criticized him.
(Before his retirement, Skorkowsky didn't delve into the particulars of criticisms thrown his way. Instead, the longtime educator-turned-administrator said he had developed a "thick skin.")
"Everybody was trying to figure out what's the truth and what's not the truth," Garvey said. "It just constantly felt like (we were) trying to figure out how to untangle everything instead of actually working toward stuff."
***
The most tension arguably exists between the two trustees who sit on opposite ends of the boardroom table — Deanna Wright and Kevin Child.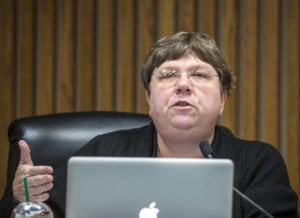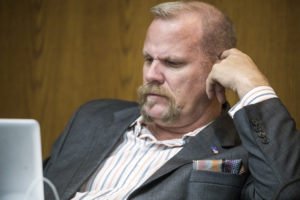 She's a longtime board member who was an active parent before seeking the office; He's a blunt-talking board member who ran unsuccessfully for other offices before winning the trustee seat in 2014. Now, they're board colleagues who display niceties during meetings but have little interaction beyond that formal setting.
Child, whose father was a school board member in Illinois, said he ran for the trustee position to be proactive. As a real-estate broker, he often hears clients express disappointment about the large school district.
"I didn't do this to win points," he said. "I did this to better a public education system so every child has equity."
But his inaugural term on the board has been mired in controversy. Nearly two years ago, Skorkowsky announced Child couldn't drop by schools without an invitation. The restriction came after the district received complaints about his behavior visiting the schools, officials said. The Review-Journal reported that those complaints included Child talking to young students about his wife's suicide and creating a hostile environment for district employees.
He also received public criticism after posing a question on his Facebook page about whether his followers would run over protesters. The post appeared a week after a gunman killed Dallas police officers during a Black Lives Matter protest in July 2016.
Last fall, Skorkowsky issued a new edict banning Child from directly contacting school employees or visiting district property, aside from very specific exceptions related to his trustee duties. District officials blamed the tighter restrictions on Child's continued unannounced school visits and complaints about his behavior.
The troubles spilled into the new year. In March, the school district agreed to a settlement with Deputy Superintendent Kim Wooden, who accused Child of workplace harassment and intimidation. She filed a complaint against the school district with the Nevada Equal Rights commission for not keeping her work environment safe.
Child has maintained his innocence throughout the various controversies, arguing the allegations were all part of a smear campaign designed to quiet him. He has been a vocal board member who has questioned the district's financial management.
"We didn't have enough money to do a lot of the stuff we were doing," he said. "Some of the board members just turned a blind eye to it."
In September, he filed a lawsuit that named 11 defendants, including Skorkowsky and the four trustees who tend to make up the other half of the split vote — Wright, Edwards, Brooks and Cavazos. The wide-ranging, 41-page lawsuit accuses them of defamation and conspiracy.
Child, who's running for re-election, said the lawsuit is about vindication.
"I want my name cleared up," he said. "I never did any of those things they accused me of.  It was all contrived."
The lawsuit also takes aim at a situation involving Wright and her husband, Jason, who's a teacher in the district. Review-Journal columnist Victor Joecks first reported in May that a fifth-grade student at George Harris Elementary School had accused Jason Wright of kicking his finger. Jason Wright has since been transferred to another school within the district.
"Regarding the assault and battery allegations made against Jason Wright, Defendant Deanna Wright, along with Defendant Skorkowsky and or Defendant Edwards, conspired to 'sweep these allegations under the rug' and cover-up the possible assault and battery by transferring Mr. Wright to a different school," Child's lawsuit states.
Deanna Wright said her husband tried to prevent the child from being stung by a bee, adding that there was never any "ill intention." She also rebutted any notion of using her position as leverage to protect her husband or advance his career.
"All this stuff on favors and backroom deals — it didn't happen that way," she said.
School police took a report, noting that the child's pinky finger was swollen and bruised, but the department ultimately determined the case was "unfounded for the misdemeanor charge of battery." Police wrote in a report that the lack of video evidence and no indication that Jason Wright had "malicious intent" to harm the student contributed to their decision.
***
The introduction of a new superintendent, some trustees say, has helped point the board in a more positive direction.
Superintendent Jesus Jara started in June and has emphasized honesty in his dealings with the trustees and community at large. He recently completed a 90-day listening tour and has identified building public trust as a key goal.
"I think we're making progress," Brooks said. "I think it has been worse than it is right now. I think there are some little tiffs between individual board members that make it very hard to come together as a group."
Cavazos, who was appointed last year to the position vacated by former Trustee Erin Cranor, said she, too, was surprised by the volume of time the board spent discussing issues not centered around student achievement. But she agreed board dynamics have improved in recent months.
"I'm the eternal optimist 90 percent of the time," she said. "I think that I do see already a little bit of coming together — maybe not on every single topic that comes before us, but I do see some encouraging signs that when we are disagreeing, more discussion is taking place."
Plus, disagreement isn't always a sign of a dysfunctional board, said Edwards, who's termed out at the end of this year. It was mostly controversial issues that divided the board, she said, citing the gender-diverse policy and reorganization-related matters as examples.
School trustees, she said, often make difficult decisions and must weigh whether the issue is important enough to stand their ground on or one that would benefit from board solidarity.
"We can't always have consensus on everything, and the idea that we should always try for consensus isn't realistic," she said. "We just have to go with the flow."
But the board seems to agree on at least one issue: elected representation for the school district's governing body. They largely panned the idea of appointed school trustees, which has been floated by various politicians and business leaders as a potential solution to improve the board.
The school board shouldn't be singled out as an entity in need of appointed members, Garvey said. If lawmakers favor that approach, then "why not an Assembly or Senate seat here of there?" she said.
Brooks echoed that sentiment. She believes community members like to feel as if they have some power over their local school system through voting. Even so, Brooks said she wouldn't necessarily be opposed to a system that allowed for the removal of "disruptive board members" or contained qualification requirements for elected trustees.
"You can improve the makeup of a school board without having an appointed school board," she said.
***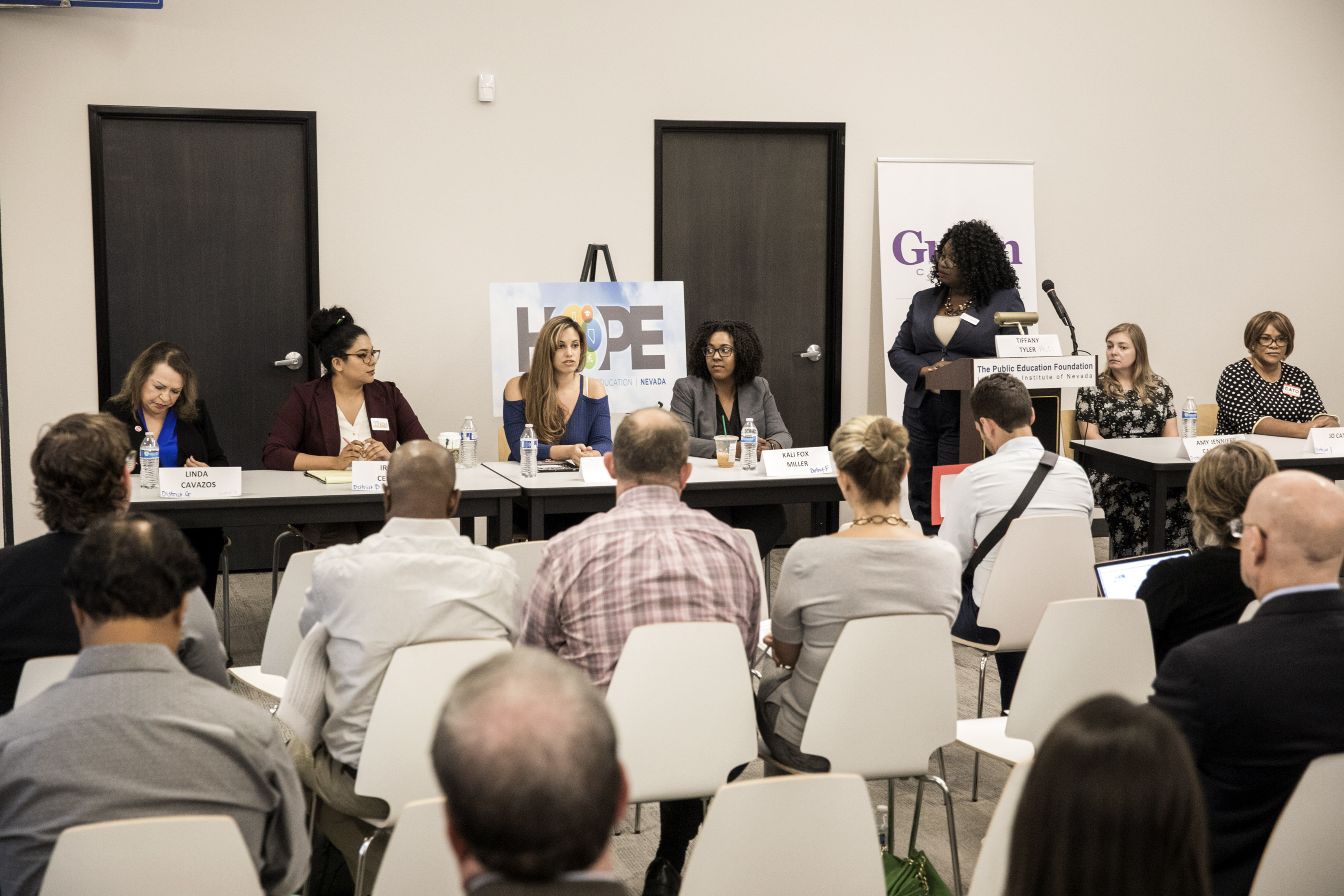 For now, the voters will decide who represents them on the seven-member school board. The primary election in June set the field of candidates who are running in the three races.
Child is running against Irene Cepeda, a Title V project coordinator at Nevada State College, in District D, which covers a meandering chunk of central and downtown Las Vegas. Cepeda, the newcomer who has earned broad community support, snagged 47 percent of the vote in the primary. Child received nearly 24 percent of the vote.
Cepeda also has a fundraising advantage over Child, with $44,959 banked this year. She has spent just under $30,000 of that, according to recent campaign finance reports. Child had raised $500 earlier this year, but he didn't file a campaign expense report last week.  
Child also did not attend a candidate forum held at the Public Education Foundation earlier this month. The incumbent announced on Twitter that he had never received an invite. The Guinn Center, which was a sponsor of the forum, replied on the social-media site, saying the organization had emailed him in August and September.
Cavazos, who's running for re-election in District G, as well as the District F candidates — Danielle Ford and Kali Fox Miller — participated in the candidate forum. Cavazos' opponent, Ryan Scalia, did not attend.
Felicia Ortiz, a State Board of Education member, said she hopes the candidates who emerge victorious in those three races put aside the petty politics and zero in on boosting student achievement in Clark County. An effective school board, she said, should have clear goals and objectives, performance indicators to measure those goals and a focus on student achievement 95 percent of the time.
"It's just not a good example for our children," she said, referring to the infighting. "Adults should behave better."
Comment Policy (updated 3/21/19): We welcome reader comments on our stories. However, in keeping with our general policy of transparency, accuracy and accountability, we do not accept comments from anonymous accounts. Anonymous accounts are those without a valid first and last name. Any such comments will be deleted, and anonymous users will be blocked from commenting further. We also will block commenters who use offensive language, engage in personal attacks or state things that are verifiably false.
get our morning newsletter,
The Daily Indy
INDYMATTERS PODCAST
CAFECITO CON LUZ Y MICHELLE
@TheNVIndy ON TWITTER