Kihuen says he won't resign, says leaders asking him to leave knew about allegations but still supported him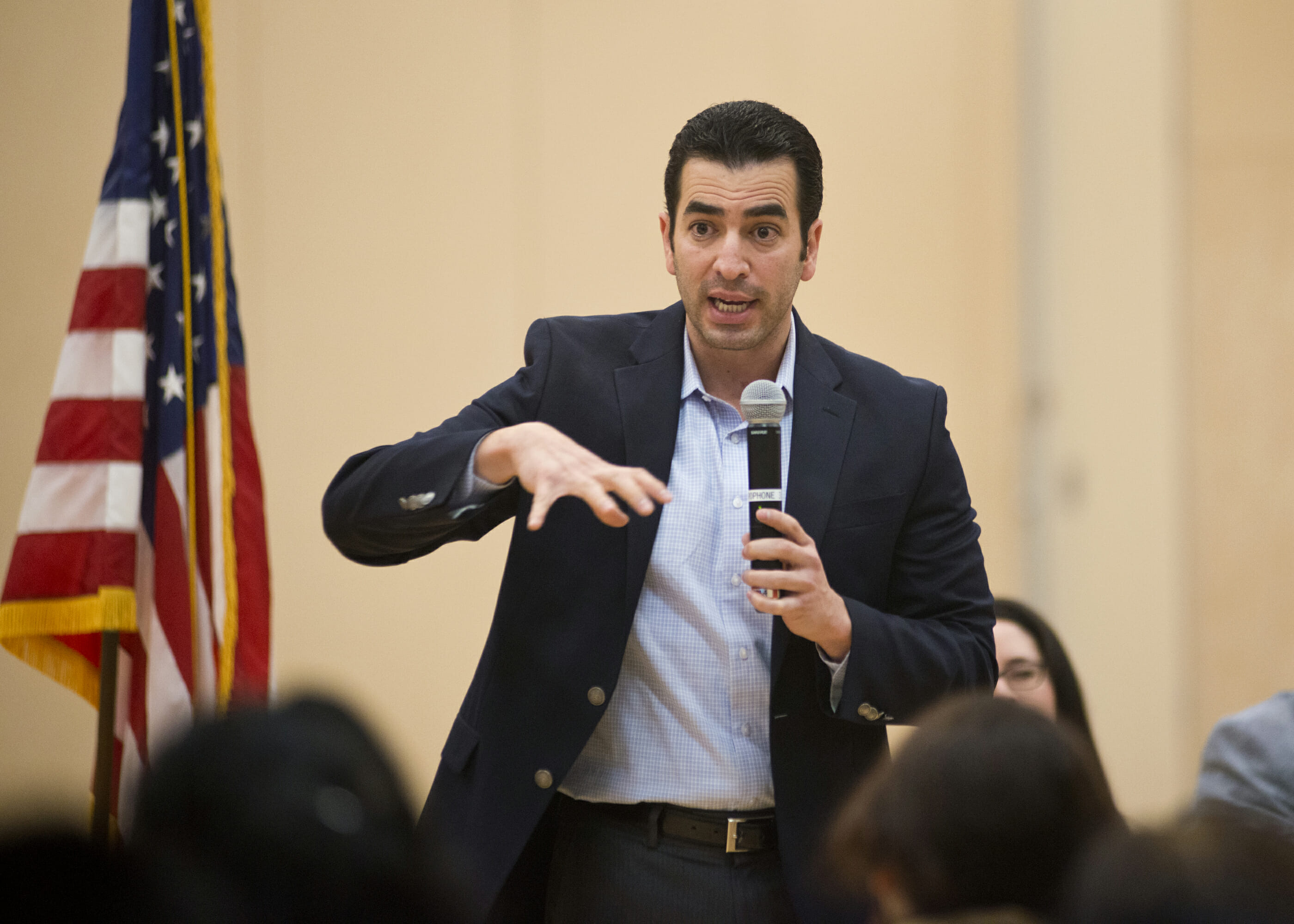 Nevada congressman Ruben Kihuen told ABC News on Tuesday he will not resign his seat four days after a former campaign staffer alleged the Democrat sexually harassed her during the 2016 campaign, adding that Democratic leaders were aware of the allegations last year but continued to support him.
The brief on-camera interview was the first comment from Kihuen on his future plans after a BuzzFeed story published Friday detailed a 25-year-old campaign staffer's accusations that Kihuen made repeated sexual advances toward her during his congressional campaign last year. He said last week in a written statement that "I don't recall any of the circumstances she described."
The woman has since provided screenshots to KLAS in Las Vegas of text message conversations in which she described the conduct to a friend at the time.
#Breaking: Former campaign finance director who says @RepKihuen sexually harassed her provided text messages to the I-Team like this one. It's dated 3/10/16. We'll have a more detailed report coming up on @8NewsNow at 5pm. #8NN pic.twitter.com/qddxBZmVT5

— Vanessa_Murphy (@Vanessa_Murphy) December 6, 2017
"I'm not resigning," he told ABC. "I plan on continuing the job that I was elected to do by the people of the 4th Congressional District."
Kihuen also said that the Democratic Congressional Campaign Committee (DCCC), Democratic Leader Nancy Pelosi and DCCC Chair Ben Ray Lujan were aware of the allegations and looked into them but didn't find anything. Both had called on him to resign.
"They looked into them. They didn't find anything, and they continued investing millions of dollars in my campaign," Kihuen told ABC. "They went out there and campaigned for me."
Pelosi and the DCCC denied to ABC that they knew about the allegations before they were approached by BuzzFeed last week. Kihuen's office did not provide any evidence of his claim to ABC.
Kihuen also faced calls to resign from Democratic Rep. Jacky Rosen and Republican Sen. Dean Heller.
Other Democrats — including Democratic Minority Whip Steny Hoyer, Nevada Rep. Dina Titus, Sen. Catherine Cortez Masto and Nevada Democratic Party chairman William McCurdy — fell short of calling on Kihuen to resign from office, but said they were disappointed in the allegations of sexual harassment, with many supporting an investigation into Kihuen's behavior.
On Wednesday, New York Democratic Rep. Kathleen Rice also joined the chorus calling on Kihuen, Texas Rep. Blake Farenthold and Minnesota Sen. Al Franken to resign.
"If we believe the women, as so many of us say we do, then we can't just go on serving alongside and working with colleagues who we believe have preyed on women – we need to act, and men who have abused their positions of power need to face consequences," she said in a statement.
Kihuen, who is 37 and unmarried, was first elected to Congress in 2016, emerging from a competitive primary to defeat incumbent Republican Rep. Cresent Hardy on a 49 to 44 percent margin. He was first elected to the state Assembly in 2006, serving two terms before winning election to the state senate in 2010.
Earlier in the day, the Congressional Hispanic Caucus (CHC) announced it would not call on Kihuen to resign following the allegations.
"For us as a body to be arbiters and the judge and jury, that's way beyond our role," said veteran caucus member and Arizona Democrat Raul Grijalva, who added that it's up to individuals to decide whether to call for him to leave or not.
Since its creation in 1976, the group has been a strong voice on issues affecting the Hispanic community. The CHC is expected to release a statement, as soon as Tuesday, stemming from the accusation against Kihuen, who is a CHC member, Grijalva said.
The statement, spurred by a spate of sexual harassment allegations, will call for an improved process, more transparency, protecting victims and a speedy due process for the accused, according to Grijalva.
The statement was released Wednesday:
"It is the position of the CHC that those responsible for sexual harassment or sexual assault must be held accountable. Every allegation of sexual harassment and misconduct is extremely disturbing and requires a thorough investigation. As elected officials, we must adhere to the strictest and highest standards, regardless of political party, elected office, or seniority. The CHC is committed to being a part of the solution, which ensures that our workplaces are safe, professional, and treat all employees with dignity and respect."
The communique followed a meeting held by the group on Monday where the Kihuen allegation was discussed and comes after Michigan Democrat John Conyers, the longest-serving House member, announced he would step down after allegations of sexual impropriety. He has served in Congress since 1965.
Asked whether he thinks Kihuen should resign, Grijalva said, "I'm not going to make that judgment."
He said that the transgression happened outside the Capitol, so he believes the issue should be settled by the "legal channels available to the victim."
He added that "if Ruben is going to make a decision to fight it, he should say so. If he is going to make a decision to resign, he should say so."
Other caucus members were also reluctant to call for Kihuen's resignation. Arizona Democrat Ruben Gallego, who helps lead the group as 2nd vice chair, said he "did not have enough information" to make the call.
New York Democrat Adriano Espaillat said "that is something I will be looking for him to decide in the next couple of weeks."
Kihuen's Nevada colleague, Rep. Dina Titus, pointed to the statement she released Friday about Kihuen when asked whether she believes he should resign. Her statement stopped short of resignation, but she noted in a short interview Tuesday, "I believe the girl. Ruben better do something soon."
Updated on Wednesday, Dec. 6 at 9:46 a.m. with Rice and CHC statements. Updated on Wednesday, Dec. 6 at 10:10 a.m. with tweets provided to KLAS.
The Nevada Independent is raising $200,000 by Dec. 31 to support coverage of the 2024 election.
Tax-deductible donations from readers like you fund this critical work.
If you give today,your donation will be matched dollar-for-dollar.
Give + Get Matched
Featured Videos