Coronavirus Contextualized, 30th edition: Exploring, through data, COVID-19 in Nevada and beyond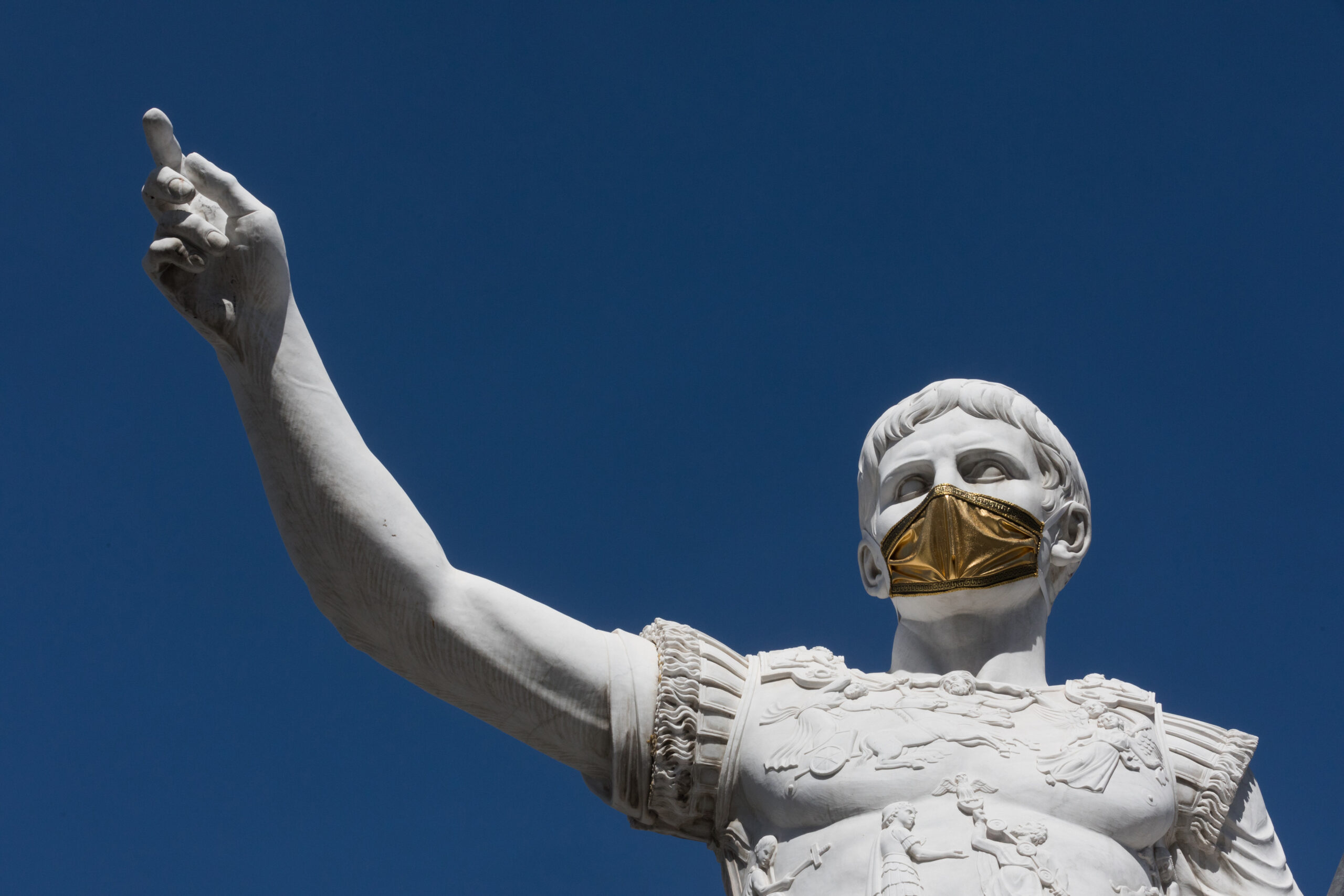 Welcome to the 30th installment of "Coronavirus Contextualized," a recurring feature in which we explore some of the numbers swirling around in the time of coronavirus.
Through these stories, we hope to parse the numbers, including confirmed cases of COVID-19, people tested, number of hospitalizations and deaths, and provide some context to them. You can view the prior editions of "Coronavirus Contextualized" here.
These stories serve as a written roundup of the COVID-19 trends we kept our eyes on this week, with all graphs and charts living permanently on our COVID-19 data page, where they are updated multiple times a day with the latest numbers.
We're continuing to take suggestions for what kind of data, graphs and trends you would like to see analyzed in future versions of this story or included in a future update of our data page. Reach out to [email protected] with any feedback.
Below, we take a look at some of the latest COVID-19 trends in Nevada as Gov. Steve Sisolak this week urged Nevadans to voluntarily stay home to stem the rising tide of coronavirus cases under what he's calling "Stay at Home 2.0." The governor has said that if COVID-19 numbers do not improve in two weeks, he will be forced to impose new restrictions.
"I don't know what restrictions we're going to have to put in place, but they're going to be severe, they're going to be hard, and they're going to be things that people aren't going to want to do and I get that, but we don't have to do any of that," Sisolak said at a press conference on Tuesday. "I don't want to focus on what we're going to do if this doesn't work, because I want to believe, I do believe, this will work."
Cases and test positivity
COVID-19 is spreading like wildfire across the state of Nevada, setting records day after day for new reported coronavirus cases.
A record 1,379 new COVID-19 cases were reported on average each day over the last seven days as of Thursday. The previous record from the summer, when coronavirus cases surged, was 1,176 on July 20. The state surpassed that record on Saturday, when it hit a seven-day average of 1,197, and has continued to beat its own new records almost every day since.
"We have seen that going through the steps that we've gone through to date to open up the economy, we do not have a sense of control over COVID currently in our communities, which was our goal," state biostatistician Kyra Moran said at a meeting of the state's COVID-19 Mitigation and Management Task Force on Thursday. "Our goal was to do that and slowly and steadily in a way that we could not get back to where we were, and the reason I just wanted to make a comment now is because at this point we are back where we were, and we do not have control over COVID."
Thursday's seven-day average also demonstrates significant case growth since last week, when the seven-day average was 986. It was 833 the week before that. At the recent low point in mid-September, before cases started rising, an average of 267 cases were reported each day.
Since the beginning of the pandemic in March, there have been 115,410 COVID-19 cases reported statewide. That includes 9,651 new cases reported over the last seven days, about 8 percent of the total cases reported during the pandemic. At the peak this summer in mid-July, 8,184 new cases were reported in a seven-day period, including 1,451 in a single day, records which have now both been exceeded during this latest case surge.
One in 27 Nevadans has tested positive for the virus since the beginning of the pandemic. Nevada ranks 18th in the nation for COVID-19 cases per capita, unchanged from last week.
Nevada's test positivity rate — which looks at the percentage of tests or people coming back positive out of the total tested — also continues to increase. Again, we'll look at two different methods of calculating test positivity below, using both individual people and a metric known as testing encounters.
Starting with the number of new reported people who tested positive for COVID-19 out of the total number of new reported people tested each day, the state's seven-day average test positivity rate was about 26.8 percent as of Thursday, up from a recent low of 9.2 percent on Sept. 17.
However, there are some drawbacks to looking at test positivity using individual people since some people are tested repeatedly. For instance, someone who tested negative four times but tested positive on their fifth time would be counted as a new positive person but not a new person tested. (In other words, they would be counted in the numerator but not the denominator.)
Additionally, someone may receive a rapid antigen test that comes back negative the same day, only to have a positive molecular PCR test, which is more accurate in determining whether someone is negative for COVID-19, come back positive several days later. In that instance, the individual would be counted as a new person tested the day of their first, negative test but a positive several days later.
Another way of looking at test positivity, as we have noted each week, is to examine test encounters, or the number of individual people tested each day. This method of looking at test positivity excludes duplicate samples collected the same day but accounts for people who are tested repeatedly on different days.
It is not possible to independently calculate the test positivity rate based on test encounters because the state only reports the number of positive cases, not the number of positive test encounters. However, the state does provide this number, calculated as an average over a 14-day period with a seven-day lag. As of Wednesday, that number was 14.3 percent, up from a recent low of 6.5 percent on Sept. 19.
Whichever calculation you use to look at test positivity, the trend is the same: Test positivity continues to increase.
A total of 865,363 people — or about one in 3.6 Nevadans — have been tested for COVID-19 and there have been 1,375,669 individual testing encounters since March.
Deaths
COVID-19 deaths have been up, though fluctuating, over the last week. As of Thursday, the average number of new deaths each day over the last seven days was 7.7, up from a recent low of 4.1 on Oct. 27. At the high point this summer, on Aug. 20, the seven-day average was 20.7 new deaths each day.
It's important to note, however, that officials say that trends in deaths typically lag trends in cases by about five weeks, meaning that the significant surge in cases being experienced now wouldn't be reflected in the death data for several weeks.
Over the last seven days, 54 new COVID-19 deaths have been reported across the state, including 42 in Clark County, eight in Washoe County and one each in Carson City, Elko County, Mineral County and Nye County. The death in Mineral was the county's first.
A total of 1,880 COVID-19 deaths has been reported statewide since March. Nevada ranks 24th in the nation for deaths per capita, down from 23rd last week.
Hospitalizations
COVID-19 hospitalizations continue to be on the rise, though the most significant surge in hospitalizations is happening in Washoe County where hospitals are preparing for an increase in patients. At Renown Regional Medical Center in Reno, some patients are, as of Thursday, being treated in an alternative care site set up in the hospital's parking garage, which can accommodate up to 1,600 beds.
"We're unable to keep pace with the virus in the way it's currently presenting itself in our community," Renown Health CEO Tony Slonim said at the press conference with Sisolak this week.
The number of people hospitalized with confirmed or suspected COVID-19 exceeded 900 this week for the first time since mid-August. There were 941 people hospitalized with COVID-19 as of Wednesday, the last day for which data is available, up from a recent low of 417 on Sept. 12. At the peak over the summer, 1,165 people were hospitalized with COVID-19 on July 31.
County-level data, however, show how much worse the situation is in Washoe County compared to Clark County. There are currently 192 COVID-19 hospitalizations in Washoe County, about double the numbers county hospitals saw over the summer, while Clark County, at 673 hospitalizations, hasn't yet returned to its peak.
As of Wednesday, 80 percent of licensed hospital beds and 65 percent of ICU beds statewide were occupied. Those numbers were 85 percent and 66 percent, respectively, in Southern Nevada and 71 percent and 67 percent, respectively, in Northern Nevada.
However, Washoe County is only able to staff 1,404 of its 1,686 licensed beds, which makes the percentage of staffed beds occupied actually 86 percent. Clark County, meanwhile, is staffing more than its number of licensed beds — a decision made by hospitals to respond to increased demand — driving its percentage of staffed beds down to 78 percent.
County by county
While Clark County was hit hard by COVID-19 over the summer and has not reached its previous peak, many counties across Nevada are day over day hitting record numbers of new cases, including Washoe County, Carson City and Elko County.
For instance, Washoe County's peak seven-day case average was 98 on July 30. It's now 356 as of Thursday. Clark County's peak was 1,072 on July 20 and is a still high, but not quite as high, 888 as of Thursday.
Carson City's summer peak was 6.3 on Aug. 13. Elko's was 14.7 on July 15. As of Thursday, they're now at 21.9 and 39.1, respectively.
In total, 12 of the state's 17 counties currently meet the state's criteria to be flagged as at risk of elevated spread of COVID-19 as of Thursday, up from 10 last week.
Counties are considered at risk for elevated spread of COVID-19 if they meet two of the following three metrics:
The average number of tests per day per 100,000, calculated over a 14-day period. If this number is less than 100, a county could be considered at risk.
The case rate per 100,000, calculated by taking the number of cases diagnosed and reported over a 30-day period. If this number is greater than 200, a county could be considered at risk.
The case rate per 100,000 and the test positivity rate, calculated over a 14-day period with a seven-day lag. If the case rate is greater than 50 and the test positivity rate is greater than 8.0 percent, a county could be considered at risk.
Of those 12 counties, Carson City continues to have the highest case rate per capita, at 1,293 cases per 100,000 over the last 30 days, followed by Washoe County at 1,211, Churchill County at 1,152, Elko County at 1,015, and Clark County at 779. The other at-risk counties are Douglas, Eureka, Humboldt, Lander, Lincoln, Lyon and Nye.
Lincoln County continues to have the highest test positivity rate by far, 23.8 percent, followed by Nye County at 19.7 percent and Carson City at 16.7 percent.
The Nevada Independent is raising $200,000 by Dec. 31 to support coverage of the 2024 election.
Tax-deductible donations from readers like you fund this critical work.
If you give today,your donation will be matched dollar-for-dollar.
Give + Get Matched
Featured Videos