Coronavirus Contextualized, 54th edition: As cases, hospitalizations start to plateau down south, Northern Nevada braces for its surge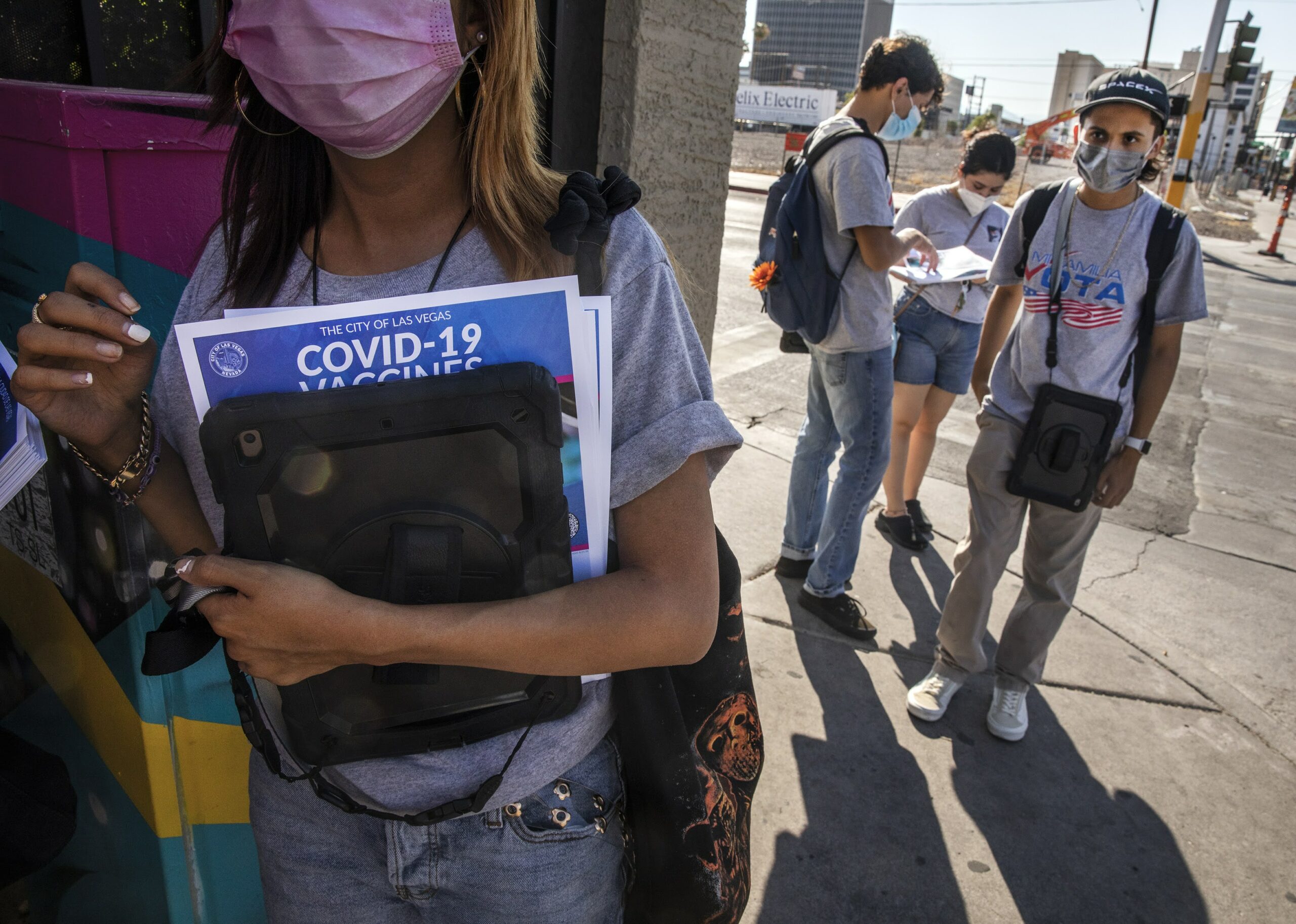 Welcome to the 54th installment of "Coronavirus Contextualized."
Since the beginning of the pandemic, we have brought you the latest COVID-19 numbers in Nevada, including COVID-19 cases, hospitalizations and deaths, and provided context to them on a near-weekly basis through this series. (Prior editions of "Coronavirus Contextualized" live here.)
"Coronavirus Contextualized" publishes on a semi-regular basis, meaning that if cases are increasing or decreasing, you can expect to see a new story every week or every other week, and if cases are stable, you might not see a new story for a few Fridays.
Don't fear, though: You can find the latest data daily on our COVID-19 data page and on Twitter. As always, you can reach out to [email protected] with any questions.
Below, we take a look at how COVID-19 is hitting Nevada unevenly, with cases and hospitalizations starting to plateau in hard-hit Clark County while continuing to climb in Washoe County and several other counties across the state. Breakthrough cases among fully vaccinated individuals continue to represent just a sliver of overall case and hospitalization numbers.
Cases
The number of new COVID-19 cases reported on average each day statewide has been fluctuating in recent days, the result of a small downward trend in Clark County coupled with upward trends in Washoe County and other counties.
As of Thursday, 1,082 new cases were reported on average each day over the previous seven days, slightly down from the recent high point, 1,093, on Monday. The daily average has been fluctuating since Aug. 3.
Cases remain slightly below where they were last summer — when the state saw an average daily case record of 1,176 on July 20, 2020 — and significantly below the winter case record, 2,736, set on Dec. 10, 2020.
The trends do, however, vary by county. The daily case average in Clark County — which was hit hard and early by the latest wave of the virus — has been generally falling, with some slight fluctuations, since Aug. 1, when it saw an average of 917 cases reported on average over the previous seven days. As of Thursday, the county's case average was 807. Both of those numbers are significantly less than the peak of 1,073 the county saw last summer.
In Washoe County, meanwhile, cases continue to rise day over day, hitting a seven-day average of 164 on Thursday. That number is already higher than the peak of the very small summer surge Washoe County saw in 2020, where cases peaked at a daily average of 98 on July 30. During the fall and winter surge, the daily case average peaked at 532.
"We are climbing quite rapidly and alarmingly with the number of cases we have, and the vast majority of those cases are unvaccinated individuals," Washoe County District Health Officer Kevin Dick said on a press call this week.
Several other counties are experiencing notable increasing case trends as well, including Carson City, Churchill, Douglas, Humboldt, Lyon, Mineral and Nye.
Data from the Nevada State Public Health Lab released this week show the highly transmissible Delta variant is now responsible for more than 9 in 10 new infections in the state. In the 14-day period leading up to Aug. 6, the Delta variant was responsible for 93 percent of sequenced COVID-19 cases in the state. The previous week, it was responsible for 85 percent of cases, and the week before that, 84 percent.
In Clark County, the Delta variant was responsible for 85 percent of sequenced cases in July, compared to 89 percent in Washoe County, 91 percent in Carson City and 38 percent in Elko County.
In total, there were 1,411 cases of the Delta variant sequenced in July, including 931 in Clark County, 372 in Washoe County, 46 in Lyon County, 29 in Carson City, 21 in Elko County, eight in Churchill County and four in Pershing County. Not all positive COVID-19 samples are sequenced, however, meaning those totals represent just a fraction of all Delta variant cases.
Since the beginning of the pandemic, there have been 369,846 COVID-19 cases confirmed statewide, meaning 1 in 8 Nevadans has tested positive for the virus. A little more than 8 percent of those cases, 30,101, have been diagnosed in the last month, and a little more than 2 percent, or 7,571 cases, have been reported in the last week.
Test positivity
At the same time, the test positivity rate, which looks at the percentage of tests coming back positive out of the total tested, has started to fluctuate in recent days.
It is not possible to independently calculate the test positivity rate based on test encounters because the state only publicly reports the number of positive cases, not the number of positive test encounters. However, the state does provide this number, calculated as an average over a 14-day period with a seven-day lag. As of Wednesday, that number was 16.3 percent. It has been fluctuating between 16.3 and 16.4 percent since Saturday.
Still, the test positivity rate is currently triple the World Health Organization's recommended 5 percent threshold but less than the peak test positivity rate of 21.2 percent the state saw in mid-January.
Since the beginning of the pandemic, more than 1.8 million people — 59 percent of Nevadans — have been tested for COVID-19, and there have been more than 3.8 million individual testing encounters.
Vaccinations
The pace of vaccine distribution in Nevada has been generally increasing in recent weeks as the state ramps up efforts to get shots in arms.
As of Thursday, about 7,000 vaccines were reported administered each day over the last seven days, down from 7,800 last week but up from 6,700 two weeks before and up from a low of 5,200 last month.
More than 55 percent of Nevadans have now been either partially or fully vaccinated against COVID-19 — including 45 percent fully vaccinated — and about 31 percent of Nevadans eligible for the vaccine have yet to receive it.
Since vaccinations started in December, more than 3 million doses of the COVID-19 vaccine have been administered in Nevada. In total, more than 1.7 million people have received at least one dose of the COVID-19 vaccine and nearly 1.4 million Nevadans have been fully vaccinated. Nevada has received more than 3.4 million doses of the vaccine for distribution.
Among the counties, Carson City continues to have the highest percentage of residents fully vaccinated against COVID-19 at 52.2 percent, followed by Washoe County at 49.6 percent, Douglas County at 45.8 percent and Clark County at 40.6 percent. Tiny Storey County has still vaccinated the least, with only 15.2 percent of its residents fully vaccinated.
Nationally, Nevada ranks 33rd among the 50 states for percentage of its population fully vaccinated, at 45.5 percent, continuing to trail all of its neighbors except Idaho, which comes in at 46th with 37.9 percent vaccinated.
Breakthrough cases
As of Wednesday, there have been 4,377 breakthrough cases — fully vaccinated individuals who have tested positive for COVID-19 — in Clark County, meaning that only 0.47 percent of fully vaccinated individuals have contracted the virus. In Washoe County, meanwhile, there have been 516 breakthrough cases, representing 0.22 percent of fully vaccinated individuals in the county.
There have also been 225 breakthrough hospitalizations in Clark County — up from 178 two weeks ago, the last time the data was reported — and 49 breakthrough deaths, up from 40. That means that 0.02 percent of vaccinated individuals in Clark County have been hospitalized and 0.005 percent have died.
Of the breakthrough hospitalizations, 68 percent had underlying conditions, 73 percent were 65 years or older and 59 percent were men.
"The vaccines are doing exactly what they are designed to do: protect against severe illness and death," said Candice McDaniel, deputy director of programs for the Department of Health and Human Services, on Thursday press call.
Deaths
COVID-19 deaths in Nevada continue to sharply rise.
As of Thursday, 20 COVID-19 deaths were being reported on average each day over the prior seven days, up from 11 last week and five at the same point last month.
Over the last seven days, 141 new COVID-19 deaths have been reported across the state — up from 79 last week — including:
130 in Clark County
4 each in Washoe and Elko counties
2 in Nye County
1 in Douglas County
Since the beginning of the pandemic, there have been 6,120 deaths from COVID-19. Nevada crested 6,000 deaths last week, which Gov. Steve Sisolak, in a statement, called a "significant and heartbreaking milestone."
"My heart aches alongside all of the Nevada families who are mourning the loss of a loved one," Sisolak said. "I want to encourage all Nevadans who have not yet done so to please consider getting the COVID-19 vaccine as soon as possible. The vaccines are free, safe and incredibly effective at preventing severe illness, hospitalization and death."
In the last month, 390 deaths from COVID-19 have been reported statewide, about 6 percent of the deaths reported statewide since the beginning of the pandemic.
Hospitalizations
Last week, COVID-19 hospitalizations in Nevada surpassed last summer's record. Hospitalization numbers across the state are starting to stabilize, the result of new hospitalizations slowing in Clark County while increasing in Northern Nevada.
As of Wednesday, there were 1,276 people hospitalized with confirmed or suspected cases of COVID-19 across the state, down from 1,317 the day before, the recent record. Hospitalizations exceeded last summer's record, 1,165, on Aug. 1 and have remained above that level since then. Hospitalization numbers remain below the record 2,025 hospitalizations seen during the fall and winter surge.
County-level data, again, reveals differing trends across the state. In Clark County, hospitalization numbers have been relatively level since the end of July, where they have continued to rapidly climb in Washoe County.
The Nevada Hospital Association, in its weekly report, highlighted this dichotomy.
"Northern Nevada is experiencing its second well defined surge of COVID-19 hospitalizations," the hospital association reported. "Unlike southern Nevada, there is currently no evidence to suggest that this wave is slowing."
However, the hospital association noted that even as case counts slow in Southern Nevada, hospitalizations during previous surges have typically remained high "for close to a month once the end of the peak has been reached."
Still, the hospital association has "warnings" in place for staffing levels, high occupancy rates and ICU occupancy rates in Southern Nevada. No regions are in "alert" or "crisis mode," the two levels after "warning."
County by county
Nine of the state's 17 counties are considered by the state as being at elevated risk for the spread of COVID-19 as of Thursday: Clark, Lincoln, Nye, Carson City, Douglas, Lyon, Washoe, Churchill and Elko.
Counties are considered at risk for elevated spread of COVID-19 if they meet two of the following three metrics:
The average number of tests per day per 100,000, calculated over a 14-day period. If this number is less than 100, a county could be considered at risk.
The case rate per 100,000, calculated by taking the number of cases diagnosed and reported over a 30-day period. If this number is greater than 200, a county could be considered at risk.
The case rate per 100,000 and the test positivity rate, calculated over a 14-day period with a seven-day lag. If the case rate is greater than 50 and the test positivity rate is greater than 8.0 percent, a county could be considered at risk.
The state, however, continues to align its mask mandate with federal guidance, meaning it is using the CDC's community transmission tracker to determine which counties are at substantial or high risk for the spread of COVID-19 and therefore required to abide by indoor mask mandates for vaccinated and unvaccinated individuals alike.
Under the CDC's metrics, counties are considered at risk for "high" transmission if they have more than 100 cases per 100,000 residents in the last seven days, "substantial" if they have between 50 and 100, "moderate" if they have between 10 and 50 and "low" if they have less than 10.
As of Tuesday, when the state reevaluates CDC data for purposes of making changes to its masking guidance, all Nevada counties except Esmeralda, Eureka, Lander and Storey counties were considered at "high" risk of transmission.
Eleven of those counties — Carson, Churchill, Clark, Douglas, Elko, Lincoln, Lyon, Mineral, Nye, Washoe and White Pine — have mask mandates currently in place, meaning their residents must wear masks indoors regardless of vaccination status.
Two other counties, Humboldt and Pershing, moved from "moderate" to "high" transmission this week, meaning that although they have no mask mandate in place now, they could have one next week if they remain at a "high" or "substantial transmission level."
Esmeralda's mask mandate, meanwhile, drops on Friday for vaccinated individuals, the result of two weeks of sustained "low" transmission in the county.
The other three counties — Eureka, Lander and Storey — do not currently have mask mandates in place.
Counties can have mask mandates put in place if they have two weeks of "substantial" or "high" transmission; those mask mandates will automatically be removed after two weeks of "moderate" or "low" transmission, as was the case with Esmeralda.
Read more of our pandemic coverage here. You can also find the latest COVID-19 data on our data page.
Featured Videos
Comment Policy (updated 4/20/2021): Please keep your comments civil. We reserve the right to delete comments or ban users who engage in personal attacks, use an excess of profanity, make verifiably false statements or are otherwise nasty. Comments that contain links must be approved by admin.