County leaders vote to certify results of primary election after skeptics push back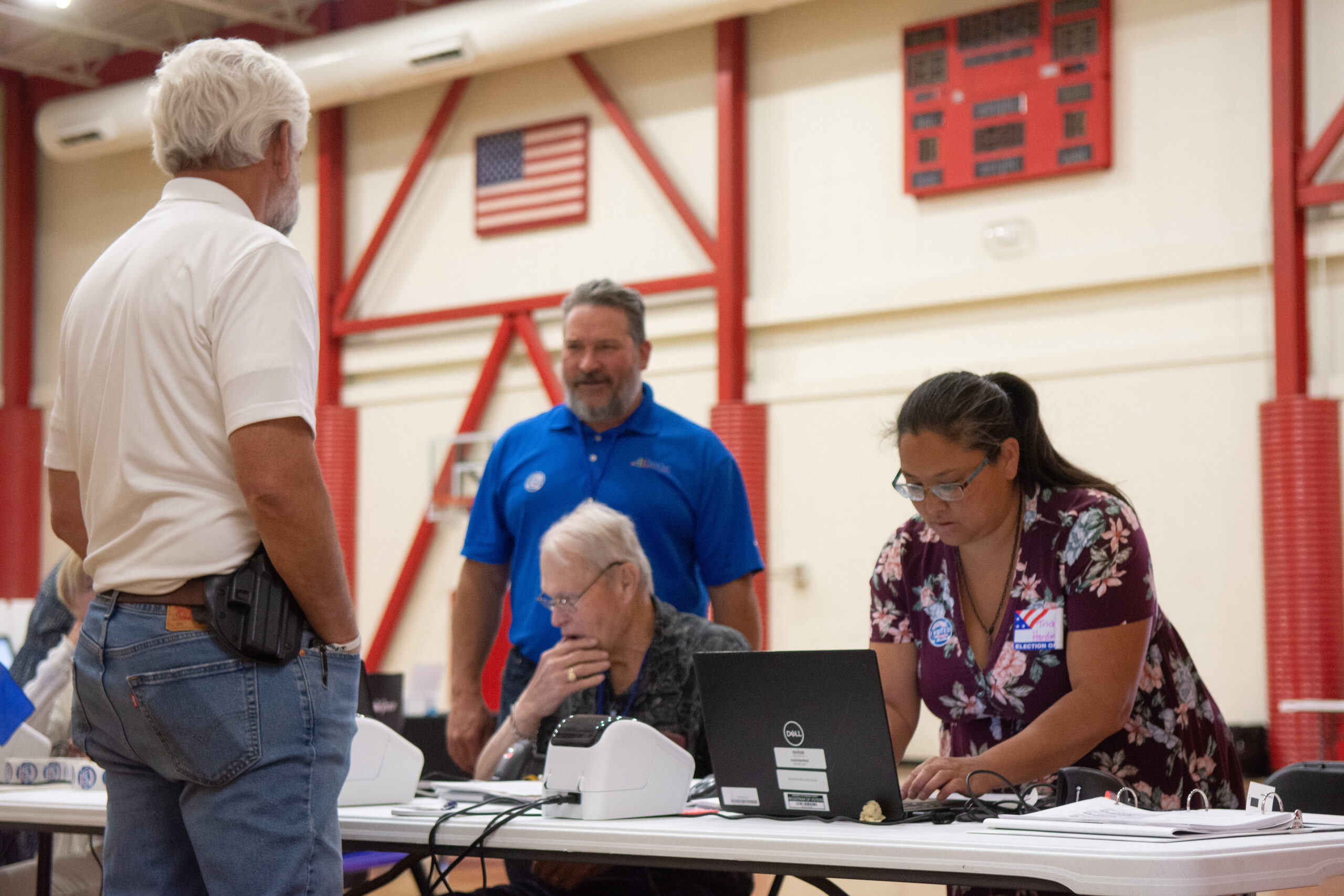 Elected officials across Nevada met to canvass the votes from the June election on Friday, giving their seal of approval to the results even as dozens of public commenters gathered to raise the specter of voter fraud and try to block certification.
Nevada law states that no later than 15 days after the primary election, each county and the secretary of state must certify who won.
Clark County commissioners voted unanimously on Friday afternoon to approve the outcome of the election, as about 50 residents — some wearing T-shirts in support of candidate Joey Gilbert, who lost the Republican primary for governor against Clark County Sheriff Joe Lombardo by about 26,000 votes and has promised to challenge the results — looked on.
Audience members had to go through a metal detector and security officers checked bags of those heading into the chambers.
During public comment, audience members urged the commissioners to not certify the "invalid election" and voiced concerns about the process, mail-in ballots and overall results.
Mindy Robinson, a Libertarian candidate for Assembly District 35, cast doubt on Lombardo's win on the basis that he had not held events on his own and failed to unite Republican voters who support other candidates for governor.
"Now I can go on with the weirdness that just occurred in the primary election and how established candidates — some who didn't even campaign — beat popular grassroot candidates who did and who are favored," Robinson said during the meeting. "Or how a sheriff — who's so hated by his own voters, he couldn't show up in public without getting booed and heckled — somehow magically won against the guy who's filling rooms and leading rallies."
Several commenters asked the commissioner to not certify the "invalid election" and that instead, the election should be audited or subject to a revote with paper ballots on a single Election Day.
Audience members, who had booed Clark County Clerk Joe Gloria during his presentation at the meeting, erupted into heckling after the vote certified the results and threatened to sue the board of commissioners.
Washoe County commissioners also certified the 2022 primary election in a 4-to-1 vote Friday but not without plenty of public comment about "election integrity." Even after a routine post-election audit finalized on June 21 by the Accuracy Certification Board reported no errors, most people who spoke in public comment at the commission meeting were not convinced.
Speakers argued that the use of electronic ballots, DMV automatic registration and under-trained poll workers were reasons the election should not be canvassed. Many called for a paper-only election, with a single voting day instead of two weeks of early voting and a weeks-long window of opportunity for mail voting.
However, three public commenters disagreed with a majority of the crowd.
One of those people was Chip Evans, who ran and lost by a small margin in his race for Washoe County assessor in the 2018 general election and lost a Democratic bid for heavily Republican Congressional District 2 to Mark Amodei in 2016.
"The idea of certification of votes seems to be the new battleground for the folks that want to add to the momentum of the Big Lie," Evans said in an interview, referencing the suggestion that the 2020 election was plagued by widespread voter fraud.
Evans called Washoe County's processes for ballot handling one of the best in the country. He also argued that the commenters calling for "election integrity" didn't reflect the county as a whole and said the crowd at the commission meeting was gathered by Robert Beadles, a cryptocurrency millionaire and right-wing activist who called supporters to show up at canvassing proceedings and wrote on his blog that "it would literally be a crime to certify this election."
According to Washoe County, despite a push from several Republican candidates to get rid of the broad distribution of mail ballots, 21,000 Republicans turned in mail-in ballots. That's just 4,000 fewer than the number of mail-in ballots turned in by Democrats.
Several commenters referenced information from Beadles when they asked the commissioners not to certify the primary. Beadles, who also participated in public comment, refused an interview with The Nevada Independent when approached at the meeting.
Commenters also thanked Commissioner Jeanne Herman, the only board member to oppose the certification. She also opposed certifying the election in 2020, and earlier this year unsuccessfully proposed an ordinance to revert to hand-counting of ballots.
"I think that we missed the boat again … But right now, we just have to move forward with what was voted on because that's the democratic way," Herman said in an interview after the commission's Friday vote.
The county results Herman opposed certifying included her own 5-point victory in the primary. Herman's commission colleague, Bob Lucey, who recently lost his re-election bid to Beadles-backed Mike Clark, had a different outlook.
"I'm looking forward to certifying the vote today. I'm looking forward to [certifying] my loss," Lucey said.
Meanwhile, in Esmeralda County, which has a population of a little more than 700 people, county commissioners delayed certifying the results of the election on Thursday and instead decided to have another hand count Friday of the 314 votes cast after hearing concerns from constituents about ballot breaches, according to The Associated Press.
Commissioners reconvened their meeting at 2 p.m. Friday and opened with the pledge of allegiance followed by swearing in. They then immediately took seats and began counting using papers and pens in a proceeding that was live-streamed online.
The deadline to certify election results is Friday at 11:59 p.m., and Attorney General Aaron Ford warned in a statement to the AP that commissioners' role in the election was "ministerial only," and that his office would take legal measures if the results of the election were refused "based on posturing designed to undermine faith in our democratic process."
Shortly after 5 p.m. Friday, the county's feed was showing people reading off long curls of paper that streamed across a desk and the floor.
About a quarter of the state's more than 1.8 million active registered voters participated in Nevada's June primary. More than half of the ballots were cast through the mail, a format that was the center of controversy in 2020 and has continued to be divisive, with numerous Republican candidates calling for the repeal of a law that requires mail ballots be sent to all active registered voters unless they opt out.
Updated at 5:40 p.m. on 6/24/22 to add detail from Clark County and Esmeralda County meetings.
The Nevada Independent is raising $200,000 by Dec. 31 to support coverage of the 2024 election.
Tax-deductible donations from readers like you fund this critical work.
If you give today,your donation will be matched dollar-for-dollar.
Give + Get Matched
Featured Videos