Washoe commissioners reject election overhaul criticized as 'regressive'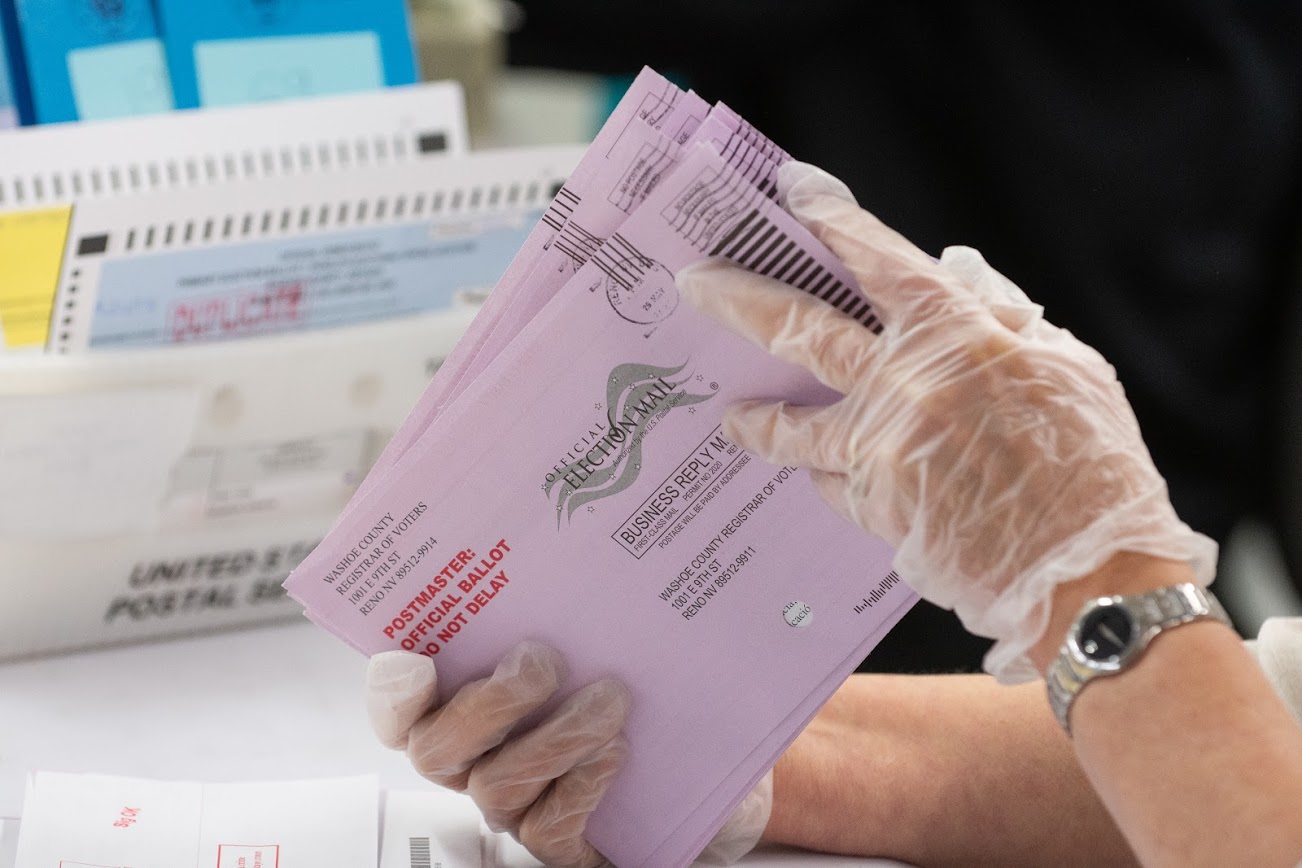 Washoe County commissioners voted 4-1 to reject a resolution proposing sweeping changes to the county's election system, including moving to almost all-paper ballots and requiring counting be done by hand, but left the door open for further consideration of the proposals.
Republican Washoe County Commissioner Jeanne Herman, who introduced the election resolution, couldn't gain support from two fellow Republican commissioners who joined two Democrats in denying the proposal. Republican commissioners Bob Lucey and Vaughn Hartung cited a need for more vetting of the proposed changes and pointed to the commissioners' inability to legally take action on certain measures that would violate or go against state law.
"There are some things in here that I can support, but I see this resolution as a whole and … I don't know how we deal with that," Hartung said.
Legal analyses of Herman's resolution conducted by Washoe County district attorney's office staff and Legislative Counsel Bureau staff found several proposed changes — such as ensuring voter registrations expire every five years and ensuring there are "bipartisan teams" approved by the central committees of primary political parties that would oversee various portions of the electoral process, including manning ballot boxes and verifying signatures — would require changes to state law enacted by the Legislature.
In February, Herman first introduced the sweeping list of 20 proposed election changes, including measures that would shift the county's elections to almost all-paper ballots counted entirely by hand and have members of the Nevada National Guard stationed outside of polling places. But the proposal was pulled from the agenda of the Feb. 22 a commission meeting, after Washoe County District Attorney Christopher Hicks said the item had not gone through the proper review process to be considered by the commissioners.
The decision Tuesday came after about six hours of heated public comment on the election resolution, featuring supporters who claimed the 2020 election was fraudulent and said the changes would improve election security, and opponents who argued the resolution represented a form of voter suppression that would make it more difficult to engage in the county's elections and who pointed to the high costs of the proposal.
A county staff report on Herman's resolution estimated the collective costs of the election changes to be nearly $5 million. The majority of those costs would come from one proposed measure requiring mail ballots to be sent via certified mail, which requires a recipient's signature and provides the sender with a mailing receipt.
Even as commissioners rejected the proposal, Lucey and Hartung both indicated there were portions of the resolution they supported, though they were largely unspecific. Instead, they called for further discussions about potential election changes and to ensure the county's voter rolls are clean.
"I would like to see moving forward, if we are to move forward with any type of resolution, that there are discussions about voter rolls," Lucey said. "I'd have a discussion further about poll workers versus polling location managers … Audits on machines throughout the polling season, what would that look like?"
One significant point of contention was a proposal to station members of the Nevada National Guard at each polling location. Because the governor is the only state official with the power to take such action, Herman proposed stationing Washoe County sheriff's deputies at each polling location, but that idea was rebuffed by Washoe County Sheriff Darin Balaam.
In a letter to the commissioners read during Tuesday's meeting, Balaam said his office did not have the personnel or funds to staff 65 polling locations on Election Day and 25 during the two week-long early voting period.
Attempts to overhaul Nevada elections
Herman's proposal in part mirrors election administration changes happening or proposed in other Nevada counties in response to unverified claims of voter fraud in the 2020 election. Earlier this month, Nye County commissioners requested the clerk eliminate use of the county's electronic Dominion voting machines and move to all-paper, hand-counted elections for the 2022 primary and general elections.
Lander County commissioners considered a similar change last year, and Republican secretary of state candidate Jim Marchant — who backed the Nye County proposal — told Steve Bannon, a strategist for former President Donald Trump, that he plans to bring the proposal to other Nevada counties.
But Herman's proposal stretched far beyond the changes recommended by Marchant or adopted in other counties. Her so-called "election integrity resolution" proposed requiring poll workers to be Washoe County residents, using "stealth paper ballots as [the] primary method of voting," counting all ballots by hand and issuing differently colored ballots to same-day registrants, among several other changes.
Prior to Tuesday's meeting, Herman told the Reno Gazette-Journal she trusts paper ballots more than electronic voting machines, saying "I don't like my computer. I know they make mistakes. And (paper ballots) worked in 1776."
Herman's proposal was immediately met with backlash from progressive advocacy and voting rights groups after becoming public in mid-February, and the concerns from those groups were echoed in the lead up to Tuesday's meeting.
On Monday, the ACLU of Nevada released a letter it sent to the commissioners arguing that the commissioners lack the authority to enact many of the proposed changes and promising litigation if the resolution was adopted.
"It is costly, burdensome, and would roll back and impede the strides made by the state of Nevada to expand access to voting," the group wrote. "The ACLU of Nevada … will litigate the matter should the board adopt these regressive policies."
Many of those who spoke out against the resolution on Tuesday pointed to the secretary of state's extensive review of alleged evidence of massive voter fraud, which found there was no "evidentiary support for the contention that the 2020 general election was plagued by widespread voter fraud."
Opposition to the resolution was echoed by Democratic commissioner Alexis Hill.
"This resolution would limit access to voting and create chaos and really throw our voting tallies into question. I don't see any evidence for this resolution," Hill said.
Meanwhile, supporters of Herman's proposal often pointed to one often-discussed election change — a requirement for voters to show proof of identification to cast their ballots. But Herman noted the commissioners are not able to implement such a requirement, as it would need to be taken up by the Legislature.
An analysis of the resolution conducted by legislative research division staff — which came at the request of Sen. Ira Hansen (R-Sparks) — found that certain proposed measures could only be effectuated through a change in state law, including scanning ballot envelopes as "received" as they arrive and sending mail ballots through certified mail.
In a letter to the county manager, Washoe County Assistant District Attorney Nathan Edwards similarly found that commissioners could not act on several of the proposed changes, including ensuring voter registrations expire every five years and stationing members of the Nevada National Guard at polling locations.
Edwards also described the proposal to send ballots by certified mail as not within the commissioners' purview, noting that the change goes against the intent of AB321 from the 2021 legislative session, which permanently expanded mail-in voting with an opt-out model throughout Nevada.
"The additions would appear to reduce access to ballots by mail recipients, because they would be
required to be home when the mail arrived and to sign for them as well," Edwards wrote.
The legislative legal analysis also took issue with the proposed change to hand counting ballots, finding that "if one county were to count ballots differently than another county, it may be in violation of the Voters' Bill of Rights, which provides that every voter has the right to have a uniform, statewide standard for counting and recounting all votes accurately."
Despite Hartung and Lucey's support for further discussions, the commissioners largely did not identify specific changes included in the resolution that they would like more conversation on or a path forward for considering such ideas. 
"Changes to the election system that Washoe County can legally make need to be rigorously vetted, debated, and soberly decided," Lucey said.