COVID in Context: Federal health chief promotes COVID-19 vaccine as new subvariant emerges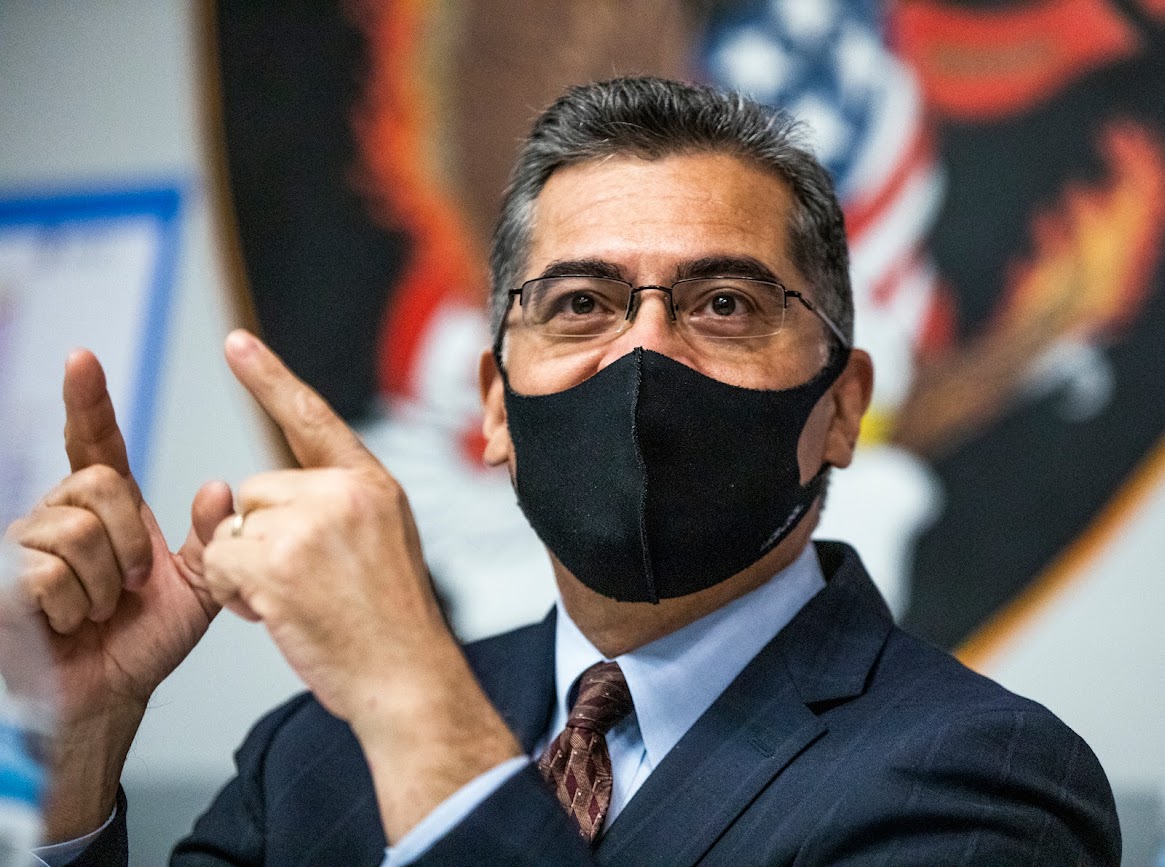 Welcome to COVID in Context, in which the staff at The Nevada Independent provides context and clarity on what's happening with COVID-19 in Nevada.
COVID in Context changes depending on the situation. If you have questions, thoughts or suggestions, please reach out to [email protected], send me a direct message on Twitter, or submit them using this form.
Health Secretary Becerra on RSV, COVID, infant Tylenol shortage
Health and Human Services Secretary Xavier Becerra paid a visit to the Advanced Health Care of Reno nursing home just before Christmas to promote seniors getting vaccinated against COVID-19 and influenza as several major holidays — and consequently large indoor gatherings — quickly approached.
After spending some time with local health care representatives and residents, Becerra sat down with The Nevada Independent to discuss respiratory syncytial virus (RSV), COVID-19 vaccines, stores running low on children's Tylenol and his Latino Health Tour — a tour of communities across the country to speak with local leaders about how to better provide health services to the Latino population.
The following Q&A has been lightly edited for clarity.
Nevada has seen more cases of RSV so far this season than it did all of last year. As cases surge nationwide, some companies, such as Pfizer, are developing a RSV vaccine. I asked Becerra when he anticipates there will be a widely available RSV vaccine in the U.S. and if he considered fast-tracking approvals as was done with COVID vaccines.
Xavier Becerra: RSV is a virus that's been around for a long time …. Any American can catch RSV, but it's hitting, at least this year, our youngest kids hardest, but there are a lot of seniors and adults who also catch RSV and in some cases die.
We don't have a vaccine. The federal government doesn't manufacture vaccines. What we do is we work with the private sector to help bring those vaccines to the public.
I'm not aware of a vaccine that will be available during this RSV season. Whether or not some manufacturers decide to come forward is another question. If you take all the right precautions, even with your children, most Americans will get past RSV.
What we are seeing is just a high, far higher number of Americans being hit by RSV and, in some cases, more intensely. So that's a great question to ask some of the pharmaceutical manufacturers to see if they are interested in moving in that direction. There has to be a market for these manufacturers to move forward.
The RSV virus is one where you can typically get past it so long as you take all the precautions.
It's not like COVID where it was clearly causing grave illness but also killing so many Americans. There was a clear need for a vaccine and therefore there was a clear market for it.
Can you talk a little bit about those precautions?
Becerra: It's the things that you would think we would need to do for the flu or COVID. Make sure that you keep your distance, especially from those who seem to be sniffling, coughing, sneezing; making sure that where you can and should, you put on a mask.
Usually if you're in a congregate setting, especially indoors, you want to make sure that you're protecting yourself because the way these viruses transmit — it's usually through water droplets. And so if you're close to a lot of folks, there's a good chance that someone may contract the virus through the spray emitted by individuals as we're speaking and so forth. You want to make sure you're cautious.
The other thing you can do is make sure that if you start to feel ill, you take the precautions early. Don't go out and go to school, go to work and then perhaps infect others. The precautions are what we've known for years and years and years.
The high rates of RSV and flu have caused a rise in the demand for children's Tylenol. As a result, some stores are out of stock. I asked Becerra what the causes and proposed solutions to the children's Tylenol shortage were and what general advice he'd give parents dealing with the shortage. Can they give them adult medicine, and if so, how should they do that?
Becerra: First, I want to make sure that everyone knows that please use medicines for the purpose they're prescribed, or for the purpose that's indicated. Very important.
Secondly, please know that the medicines are available…
The commissioner at the Food and Drug Administration, and other representatives from the federal government, have had conversations with the pharmaceutical manufacturers of these various medicines, and they have said to us that they are continuing to provide the retail stores with the medications.
What we are seeing is an increased demand. So depending on what part of the country you're in, and what part of a city you might be in, you may be entering a store that has just recently seen a reflection of the high demand. People have bought up most of the medications that are on the shelves at the time. But the shelves are constantly restocked.
The federal government doesn't control the supply. We don't distribute it. But we do have conversations with manufacturers. They're telling us that they feel confident that they're going to meet the demand that's out there, and [ask the public to] please help us meet the demand.
If your child or someone in your family is sick and there's a medicine over the counter that you can use, absolutely make sure you find it, you go and get that medicine. But please don't take extras thinking that you're going to need it down the line possibly. Because there is somebody probably who will need it and let's not create a shortage. That is a shortage only because people are buying up more than what they really need.
Becerra was in Reno, in part, because he was touring the country to encourage seniors and nursing home staff to get COVID-19 vaccines before the holidays. People 65 and up are among those most likely to die because of COVID-19 complications, yet the rate of seniors (as well as the general public) receiving the boosters that protect against the COVID-19 variants is low. I asked Becerra who is to blame for the low rate of COVID booster vaccination in nursing homes and overall, if it is time to mandate boosters for nursing home staff.
Becerra: So when you think about it, hundreds of millions of Americans have gotten a vaccine for COVID. And many of those Americans who are accustomed to already getting a vaccine for the flu are doing that as well. What we need to do is try to reach every American because we know that's the most effective way to avoid that type of tragedy that COVID created early on.
We must all step up to the plate and do our part. So I'm fully vaccinated. That means I got the latest updated vaccine, the bivalent vaccine for COVID. I've also gotten vaccinated for the flu, I'm wearing a mask as you are as well. We all have to step up and do our share, and part of that is taking personal responsibility for ourselves. Then, of course, taking responsibility for our family members and doing what we can to make sure that they get vaccinated.
President Biden has made it possible for us to say that at the level of the federal government, we have done everything we believe possible to make that vaccine available for Americans free and easily available.
So today what I would say to anyone who asks the question, who's responsible? Everyone is responsible. Everyone shares responsibility in different ways. We personally have [a] responsibility to keep ourselves and our loved ones safe and everyone in the public who we encounter. And at the federal level, we have a responsibility to make it possible for you to do the responsible thing, and President Biden, fortunately, has made it possible for us to do that.
Becerra was also in Reno for a Latino Health Tour dubbed Mi Salud Importa (My Health Matters). The goal of the tour was to reach out to Latino leaders to communicate vital health information and promote the COVID-19 vaccine and boosters to the community. During our interview, I asked Becerra what the most pressing Latino health equity issue is right now based on what he had learned on the tour.
Becerra: Access. Having the medicines, the doctors available, knowing where to go, who you can see. For many families, unfortunately, they still don't have access. If you don't have access, you don't have the best chance for good health. So what we're trying to do is make sure that no one in America falls through the cracks simply because they don't know where they can go or who they can see.
That's why one of the things that we've done, especially with something like COVID — we've done it as well for enrollment in affordable health care plans under Obamacare at the marketplaces. We've not waited for folks to find us. We've gotten to where they are. And the results have been very promising and, I believe, have helped keep a lot of people healthy and alive.
So we're going to continue to do that the best we can. And we're going to use all of our partners, whether it's the local community health center, whether it is your school coach who's going to help us reach you, we're going to try to use trusted voices to reach people so they can have access to the care they need.
What's going on with the latest COVID-19 variant? Should I be worried?
A new strain of the coronavirus virus, XBB.1.5, is quickly becoming the dominant subvariant in the United States.
The Centers for Disease Control and Prevention estimated that as of Jan. 7, XBB.1.5 accounted for more than a quarter of COVID-19 infections across the country and 70 percent of cases in the Northeast.
Officials with the World Health Organization (WHO) dubbed it "the most transmissible subvariant that has been detected yet." They said there is not yet any data on the severity of the latest variant, which mutated amid a 'tripledemic' consisting of the flu, RSV and COVID-19.
"Our concern is how transmissible it is," said WHO Technical Lead Maria Van Kerhove during a news conference Jan. 4. "The more this virus circulates, the more opportunities it will have to change."
So far, symptoms of the XBB.1.5 variant are similar to earlier Omicron variants, including cold symptoms, shortness of breath and low oxygen levels. But as it spreads, symptoms may shift, said Dr. Andrea Garcia, the vice president of science, medicine & public health at the American Medical Association, in a question and answer published by the association.
"XBB1.5 has gone from 1% to nearly 28% of COVID cases here in the U.S. pretty quickly. Scientists are reporting that it appears to bind more tightly to cells in the human body than the predecessors," Garcia said. "It also seems to be more resistant than earlier variants to immune system antibodies. So we're likely going to continue to see that increase in cases."
She and other health officials have emphasized getting vaccinated and staying up to date on COVID-19 boosters remain the best ways to protect against serious illness, hospitalization and death.
A recent study from Israel showed the bivalent booster significantly reduces hospitalization and mortality rates among older populations. According to the study, which hasn't been peer-reviewed, there was an 81 percent reduction in hospitalizations and an 86 percent reduction in deaths among people 65 and older who had received the latest bivalent booster compared with those who'd received two doses of a COVID vaccine but not the updated booster dose.
"The evidence from high quality studies is clear," White House COVID-19 Response Coordinator Dr. Ashish Jha tweeted Tuesday. "The bivalent vaccine is far superior to the original vaccine against circulating variants."
In a January Twitter thread, Jha said the key to managing the virus lies in updated vaccinations, improving indoor ventilation and filtration systems, testing before gatherings and wearing a high-quality mask in indoor spaces.
"So am I concerned about XBB.1.5? Yes. Am I worried this represents some huge setback? No," Jha tweeted. "We can work together to manage the virus and if we all do our part we can reduce the impact it will have on our lives."
— Tabitha Mueller
Nevada Health Link open enrollment ends Jan. 15
Nevadans have until 11:59 p.m. on Jan. 15 to enroll in insurance coverage through Nevada Health Link, a state-funded insurance market made up of 700 brokerages that offer coverage to people not eligible for Medicare or Medicaid who are not receiving employer-sponsored health insurance. Coverage for those who enroll begins Feb. 1.
Ninety percent of Nevadans who shop for insurance plans through Nevada Health Link qualify for tax credits that help lower the costs of monthly premiums, and half can find plans costing less than $100 a month.
Those wishing to enroll after Jan. 15 won't be eligible unless they experience a Qualifying Life Event, which includes losing insurance coverage, changing jobs, getting married, moving or having a child.
"Time is of the essence for Nevadans to enroll in affordable and comprehensive health coverage for 2023," Silver State Health Insurance Exchange spokeswoman Katie Charleston said in a news release.
Charleston encourages people interested in or even on the fence about getting insurance through Nevada Health Link to contact an enrollment assistant or broker online or by calling 1-800-547-2927. Offices are open from 9 a.m. to 5 p.m. every day, excluding holidays.
News you can use
Get a vaccine
Flu and Covid Vaccines: Vaccines.gov
Washoe County Health District: Immunization Clinic
Southern Nevada Health District: Immunization Clinic
Carson City Health and Human Services (serving Carson City, Douglas, Lyon and Storey counties): Vaccine Options
Immunize Nevada: Statewide Vaccine Provider Search
Proof of vaccination
If you received your vaccine in Nevada, you can access and download your COVID-19 vaccination records through the state's immunization information system, WebIZ, here.
WebIZ is a resource for not only a record of COVID-19 vaccines, but of any vaccinations received in Nevada, such as flu or routine back-to-school shots.
For those that may not have access to a computer or need information in a different language about testing and therapeutic information or to schedule a vaccination appointment, call the 1(800) 401-0946 COVID-19 hotline.
If you experience difficulty with WebIZ, call the WebIZ helpdesk at (775) 684-5954 or email [email protected].
Are you searching for COVID-19 testing and treatment options?
Free therapies are available throughout Nevada for COVID-19 patients, including Evusheld, Sotrovimab, Paxlovid and Molnupiavir.
Patients can complete the pre-screening tool at https://nevadacovidtreatment.com/ or call (800) 401-0946 (7 a.m. to 8 p.m., seven days a week) to locate and schedule these treatments.
For those looking for testing, individuals should visit testing sites, not hospital emergency departments.
To find a testing site in Nevada, including pharmacies, head to the state's COVID-19 test site finder.
Rapid Tests
As part of a federal effort, private insurance companies will cover at-home test kits purchased at pharmacies. Companies will cover up to eight kits per month, depending on the number of people on a health plan.
Here's a guide for getting your over-the-counter COVID-19 test reimbursed.
COVID-19 Guidelines
The Centers for Disease Control and Prevention's COVID-19 guidelines focus on a combination of three metrics to determine risk levels: new COVID-related hospital admissions, percentage of hospital beds occupied by COVID-19 patients and new cases per 100,000 people.
The CDC sorts community levels of COVID-19 into low, medium and high categories.
Recommendations for counties falling within the categories are as follows:
Low: Stay up-to-date with COVID-19 vaccines and get tested if you have symptoms
Medium: For those at high risk for severe illness, discuss precautions, talk with a health care provider, get tested if you have symptoms and stay up-to-date on COVID-19 vaccinations.
High: Wear a mask in indoor public places, stay up-to-date with COVID-19 vaccines and get tested if you have symptoms.
As of Thursday, Nye County, Lincoln County, Clark County and Esmeralda County fall under the "medium" COVID-19 community risk level category. All other counties within the state fall within the "low" risk level category.
To find complete guidelines and recommendations surrounding quarantine and isolation guidelines, visit the CDC's COVID-19 Quarantine and Isolation page.
Respiratory Illnesses
A weekly U.S. influenza surveillance report from the Centers for Disease Control and Prevention indicates that as of Monday, seasonal influenza activity is elevated across the country. Nevada is one of seven states listed as having a "moderate" index for respiratory illnesses.
What we're reading
Healthcare Finance News reports approximately 15 million people could lose Medicaid coverage when the COVID-19 public health emergency ends and, with it, a continuous enrollment provision.
Growing vaccine hesitancy is fueling a resurgence of measles and chickenpox in the United States. Polling from the Kaiser Family Foundation indicates that more than a third of parents with children under 18 – and 28 percent of adults — say public schools should not require measles, mumps or rubella vaccines. The Washington Post has more.
The Nevada Independent is raising $200,000 by Dec. 31 to support coverage of the 2024 election.
Tax-deductible donations from readers like you fund this critical work.
If you give today,your donation will be matched dollar-for-dollar.
Give + Get Matched
Featured Videos