Culinary Union condemns 'vicious attacks' by Sanders supporters after receiving hostile calls, tweets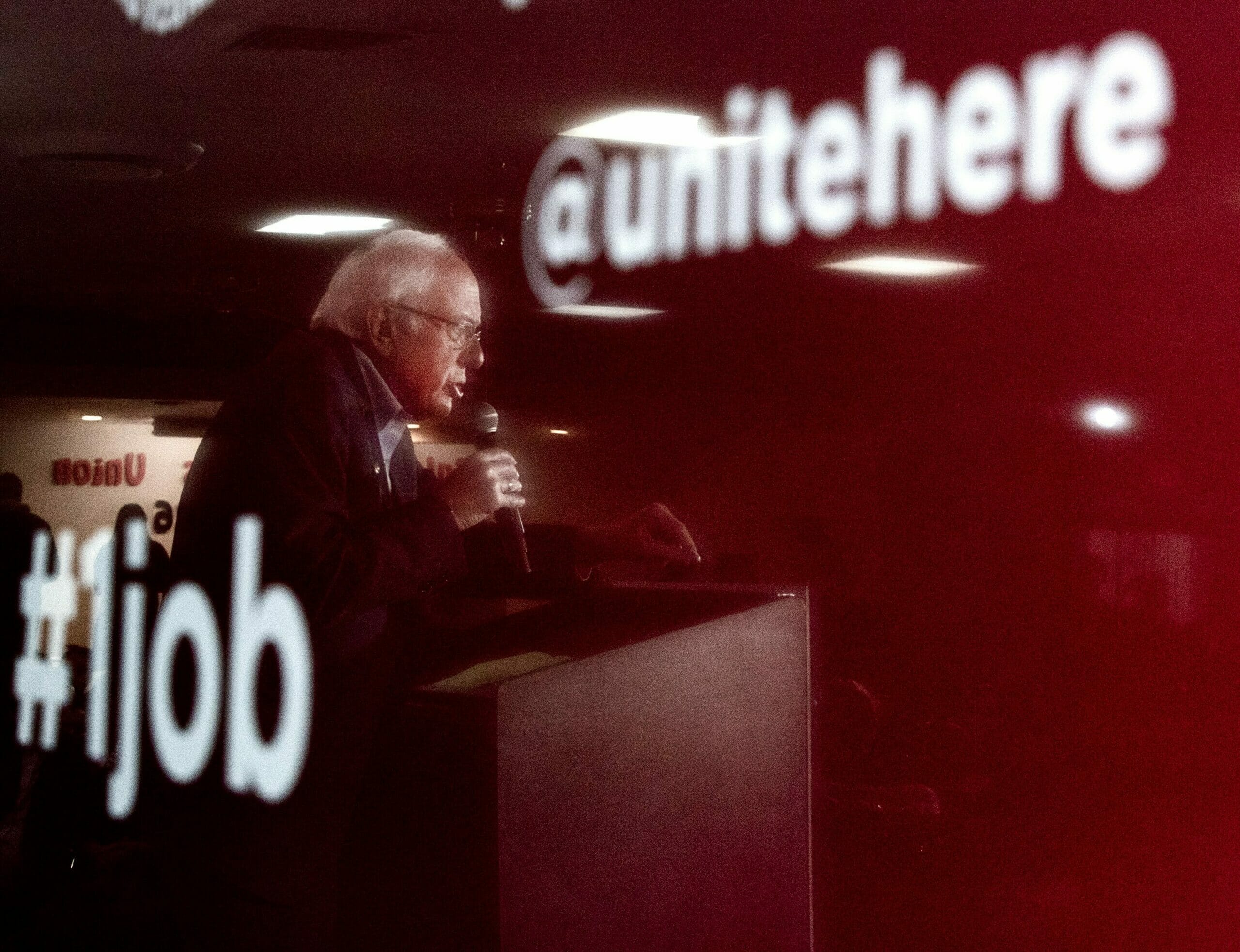 The politically powerful Culinary Union is punching back at supporters of Vermont Sen. Bernie Sanders, who have lashed out at the union after it began distributing a one-pager to members warning that the Democratic presidential hopeful would "end Culinary Healthcare" if elected president.
Culinary Union Secretary-Treasurer Geoconda Arguello-Kline said in a statement Wednesday that Sanders supporters have "viciously attacked" the union since it began distributing a one-pager to union members that takes specific aim at the Vermont senator over his Medicare-for-all policy. The Culinary Union, which provides insurance to 130,000 of its members and their families through a special kind of union health trust, strongly opposes the creation of a single-payer, government-run health insurance system on the grounds that it would eliminate their health plan.
In distributing the flyer, the union was trying to provide "facts on what certain healthcare proposals might do to take away the system of care we have built over 8 decades," Arguello-Kline said. "We have always stood up for what we believe in and will continue to do so."
She also noted that the union invited Sanders to its headquarters for a town hall and took him on tours of its 60,000-square-foot state of the art Culinary Health Center and the Culinary Academy of Las Vegas, a training facility for hospitality workers in North Las Vegas "to show what we have fought for and won."
"The Culinary Union has faced some of the toughest companies who wanted to break our union, and even the President of the United States Donald Trump – and won," she said.
Since news of the flyer broke on Tuesday night, the Culinary Union has faced attacks in the form of tweets, phone calls and emails, a union spokeswoman said.
On Twitter, the union has been derided, among other things, as "corrupt," "incompetent" and "operating in bad faith." The spokeswoman said the content of the phone calls and emails has largely been the same.
A spokeswoman for the Sanders campaign declined to comment Wednesday afternoon.
Randi Weingarten, president of the American Federation of Teachers and a member of the AFL-CIO, chimed in on Twitter in support of the union.
.@culinary226 is a great union that has lifted the standard of living 4 tens of thousands..They raise the issue about having a HC choice as we have when we called 4 #MFA as a floor. Isn't it better to keep fighting 4 universal health care, than attack those who have concerns? https://t.co/NPRRPx2AvM

— Randi Weingarten (@rweingarten) February 12, 2020
The 60,000-member hotel workers' union, an organizing powerhouse in the state known for turning the tides in close races, has yet to announce whether it will endorse ahead of the Democratic presidential caucus in Nevada on Feb. 22. However, the flyer appears to be part of a coordinated campaign by the union to insert itself into the race — with or without an endorsement.
According to the flyer, Sanders would "end Culinary Healthcare," "require 'Medicare For All,'" and "lower drug prices" if elected president. It uses much softer language to describe Massachusetts Sen. Elizabeth Warren's Medicare for all plan, which the union says would "replace Culinary Healthcare after 3-year transition or at end of collective bargaining agreements."
The flyer also praises four other Democratic presidential hopefuls — former Vice President Joe Biden, former South Bend Mayor Pete Buttigieg, Minnesota Sen. Amy Klobuchar and California billionaire Tom Steyer — for backing plans that would create a government-run public health care option that the union says would "protect Culinary Health care."
The Culinary Union has repeatedly stressed that it believes that health care is a right, just not at the expense of the union's gold-standard health plan, considered some of the best insurance in the state.
"Our union believes that everyone has the right to good healthcare and that healthcare should be a right, not a privilege," Arguello-Kline said. "We have already enacted a vision for what working people need — and it exists now. Workers should have the right to choose to keep the healthcare Culinary Union members have built, sacrificed for, and went on strike for 6 years, 4 months, and 10 days to protect."

The Nevada Independent is raising $200,000 by Dec. 31 to support coverage of the 2024 election.
Tax-deductible donations from readers like you fund this critical work.
If you give today,your donation will be matched dollar-for-dollar.
Give + Get Matched
Featured Videos