D.C. Download: How Nevada Democrats plan to capitalize on $2B from Biden's infrastructure bill
All five of Nevada's congressional Democrats voted for the bill, which supplied $4 billion in investments for the state's roads, broadband and more.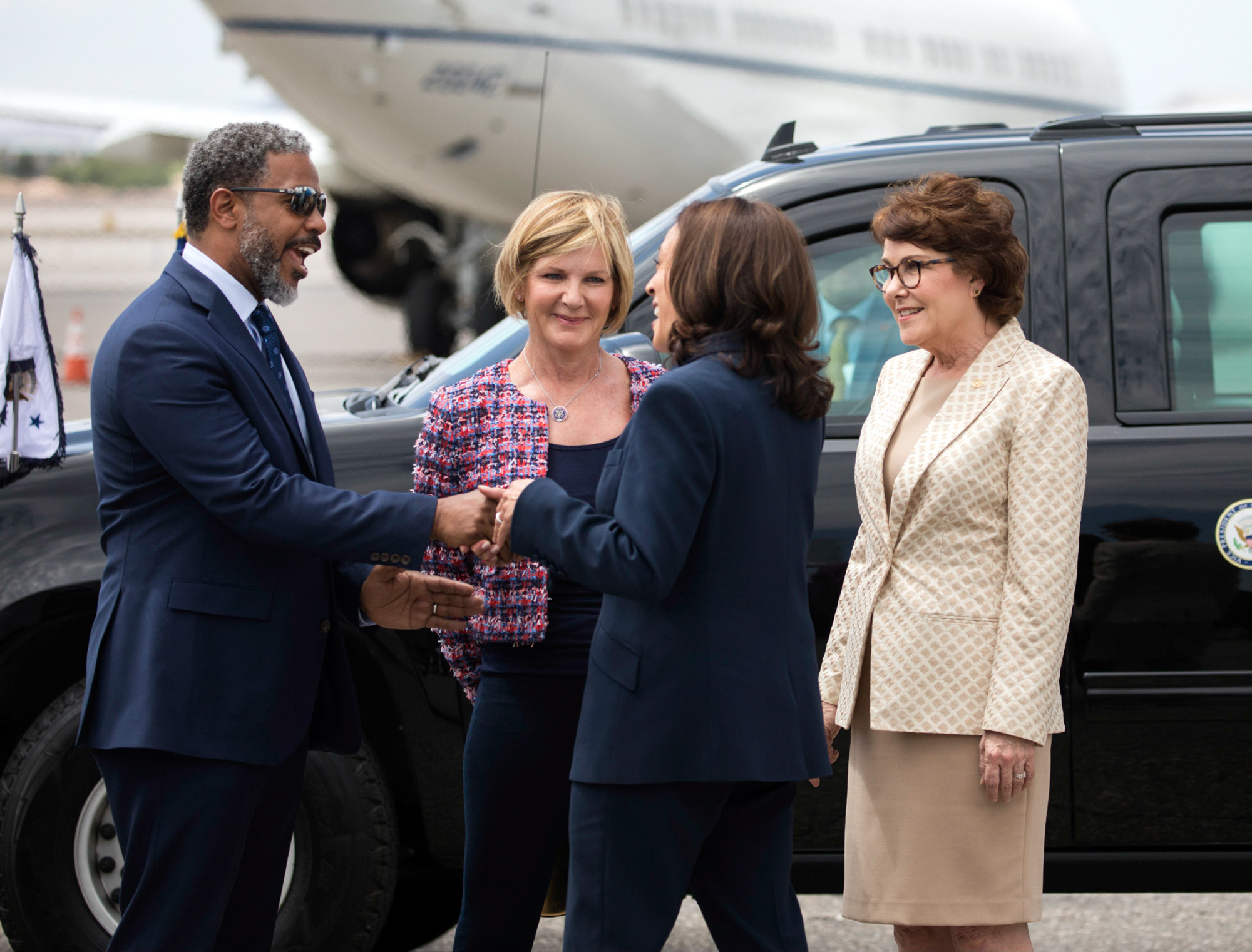 At the two-year anniversary of the infrastructure law, Nevada has received billions of federal dollars — and Democrats plan to campaign on it. And reader, rejoice — the government will not shut down! (At least until the next deadline in January.)
Two years of the infrastructure law
On Nov. 15, 2021, President Joe Biden, flanked by Democratic leaders in Congress and Republicans who crossed the aisle to write and pass the bill, signed the $1 trillion Infrastructure Investment and Jobs Act. Better known as the Bipartisan Infrastructure Law (BIL), the bill earmarked more than $4 billion in investments for Nevada's roads, bridges, airports, broadband, water infrastructure and wildfire resilience efforts.
Two years later, with shovels in the ground and projects underway, Nevada Democrats are taking a victory lap, eager to campaign on the bill as everyone from Biden to House Democrats attempt to translate the accomplishment into votes. All five of Nevada's congressional Democrats voted for the bill — Sen. Jacky Rosen (D-NV) helped write the broadband section — while Rep. Mark Amodei (R-NV) voted against it.
Through the end of October, Nevada has received $2.2 billion in announced funds for nearly 200 projects, according to the White House. That includes:
$1.9 billion for roads and bridges
$416.7 million to build out a broadband network throughout the state
$203 million to improve drinking water, including replacing lead pipes
$180.4 million for public transit
$156.1 million for power infrastructure, including weatherization, resiliency and battery supply chain programs
$149.1 million to upgrade airports
$21.8 million to build electric vehicle charging stations
$18.9 million for low-emission and no-emission transit buses
$9.9 million for electric school buses
$4 million for cleaning up brownfield sites
All those public funds have been buoyed by private sector investment. The White House estimates that companies including Tesla and Redwood Materials have poured $11 billion into the state spurred on by investment opportunities created by the BIL and other laws, mostly in clean energy manufacturing.
"It is such an easy thing to talk about in my state, because we are doing incredible things," Sen. Catherine Cortez Masto (D-NV) said in a Senate Democrat press conference on Wednesday marking the anniversary that saw a giddy Senate Majority Leader Chuck Schumer (D-NY) break into song multiple times. "It's an exciting time."
When Cortez Masto ran for re-election in 2022, several of the major infrastructure programs including broadband had not yet doled out grants. She was still able to connect with voters on a few key provisions — broadband funding (particularly for students and for rural health care), fighting wildfires and the air pollution they bring, and attracting clean energy jobs to the state.
Next year, when Rosen and, of course, Biden run, they can point to bigger numbers. While broadband construction is not expected to begin until 2025, Nevada lawmakers said voters appreciate the size of the investment and other programs, such as the Affordable Connectivity Program subsidies, which more than 200,000 Nevadans have used to lower their internet bills.
In a statement, Rosen highlighted broadband as a key investment, as well as upgrading airports and transportation — topics she'll likely discuss often on the campaign trail.
Cortez Masto said in her campaign experience, voters know who to credit.
"Everybody who's a recipient of these investments that are coming into our state, they know where it's coming from," she said.
For Rep. Dina Titus (D-NV), whose district includes the Strip and downtown Las Vegas, the water and sewer investments are already making an impact. She pointed to the Safe Streets and Roads for All program, which provides grants to transportation authorities to implement safety measures such as bike lanes, curb extensions and median islands that are proven to reduce crashes. In Las Vegas, for example, the city was awarded $23.9 million to put a two-way cycle track, more lighting and sidewalk widening, among other changes, on Stewart Avenue.
Rep. Steven Horsford (D-NV), whose district includes North Las Vegas and rural central Nevada, said he's most excited about electric vehicle installations, including building out the state's existing network of charging stations.
"It's also about creating good-paying jobs and building that ecosystem in both rural and urban areas, and marginalized communities that typically get left out," Horsford said, citing a small electric company in his district that won a federal contract to create EV installations and partner with Siemens on larger projects. "We've been intentional about bringing them in."
The vast majority of companies that receive federal contracts through the infrastructure bill must pay prevailing wage standards for construction. These updated standards, which went into effect in October, give Nevada's union construction workforce a leg up for public works projects.
Ben Bryce, who oversees the southwest region for the Environmental Defense Fund, said Democrats from Biden on down should emphasize that the infrastructure bill is about giving people energy choice — a refrain that seemed to work for Nevada's Republican Gov. Joe Lombardo — and improving their everyday safety and comfort.
"It's such a gigantic package that it's often hard for people to conceptualize all of this stuff," Bryce said. "When good roads work well, and bridges work well, people don't notice.
"They're just going to expect that their future is cleaner, safer and more reliable," he continued. "That's the pitch."
Government funded through January
'Tis the season…for another short-term spending bill!
Last week, Speaker Mike Johnson (R-LA) proposed a laddered continuing resolution, in which funding is extended for some government agencies through mid-January and other agencies through February. Spending was set to run out this weekend.
It was that proposal — extending government funding at their 2023 fiscal year enacted levels, without any policy riders — that passed both chambers Wednesday. In the House, more Democrats (209) than Republicans (127) voted for the bill, which passed on a 336-95 vote.
Funding for veterans, transportation, housing, agriculture, energy, water and the Food and Drug Administration runs through Jan. 19, while the rest of the government agencies are funded through Feb. 2.
All six members of the Nevada delegation voted to continue funding the government. The move averted a government shutdown and punted the next spending battle to early 2024.
Around the Capitol
Rosen plans to screen footage of Hamas' Oct. 7 attack on Israel for fellow senators. The House Foreign Affairs Committee did the same in the lower chamber.
Four bills and an amendment sponsored by Titus passed out of the Transportation & Infrastructure Committee pertaining to emergency management and public buildings.
Horsford swore in newly elected Rep. Gabe Amo (D-RI) to the Congressional Black Caucus, growing its ranks to a historic 60 members.
Cortez Masto, Rep. Susie Lee (D-NV) and Horsford joined Biden and the Vegas Golden Knights on Monday for a ceremony celebrating their Stanley Cup win. Biden received a jersey and a hockey stick from the team and called captain Mark Stone "my kind of guy."
Small Business Administrator Isabel Guzman will attend the grand opening of the new Veterans Business Outreach Center in Las Vegas with Nevada's five congressional Democrats Mondays.
Lee was the first member of the delegation to declare her intent to expel Rep. George Santos (R-NY) after an ethics report detailing his unethical conduct came out Thursday.
Notable and Quotable:
"In Southern Nevada, my hometown, there's going to be 25 new clean buses. Why is this important? Because I remember riding on these buses in Nevada, going through the public school system. Now we're finally changing them. Don't look [at] how old I am! But it's taken some time."
— Sen. Catherine Cortez Masto (D-NV), on the excitement of upgrading to clean buses in Clark County schools through the Bipartisan Infrastructure Law
Legislative Tracker
CATHERINE CORTEZ MASTO
Legislation sponsored:
S.3290 — Autonomy for Disabled Veterans Act.
S.3307 — A bill to amend title XVIII of the Social Security Act to require the inclusion of certain information in encounter data under Medicare Advantage.
S.3324 — A bill to modify the penalties for violations of the Telephone Consumer Protection Act of 1993.
S.3325 — A bill to support research on privacy enhancing technologies and promote responsible data use, and for other purposes.
S.3329 — A bill to require any person who maintains an internet website or who sells or distributes a mobile application that is owned, wholly or partially, by the Chinese Communist Party, by a Chinese state-owned-entity, or by a nonstate-owned entity located in the People's Republic of China, or who stores and maintains information collected from such website or application in China, to disclose that fact to any individual who downloads or otherwise uses such website or application.
S.3337 — A bill to establish national data privacy standards in the United States, and for other purposes.
S.Res.469 — A resolution commending and congratulating the Las Vegas Aces basketball team on winning the 2023 Women's National Basketball Association Championship.
Legislation co-sponsored:
S.3296 — A bill to amend the Internal Revenue Code of 1986 to expand and modify employer educational assistance programs, and for other purposes.
S.3323 — A bill to establish the Office of the Ombudsperson for Immigrant Children in Immigration Custody, and for other purposes.
JACKY ROSEN
Legislation co-sponsored:
S.Res.462 — A resolution emphasizing the urgency of responding to attacks in Israel and the greater region from the Islamic Republic of Iran and its proxies, and for other purposes.
​​S.Res.463 — A resolution recognizing Operation Green Light for Veterans for supporting veterans and raising awareness about important county resources available to help veterans transition to civilian life.
S.3299 — A bill to provide that United States citizens evacuating Israel shall not be required to reimburse the United States government, and for other purposes.
S.Res.466 — A resolution calling upon the United States Senate to give its advice and consent to the ratification of the United Nations Convention on the Law of the Sea.
S.3336 — A bill to provide compensation for United States victims of Libyan state-sponsored terrorism, and for other purposes.
S.Res.469 — A resolution commending and congratulating the Las Vegas Aces basketball team on winning the 2023 Women's National Basketball Association Championship.
S.Res.471 — A resolution expressing support for the goals of National Adoption Day and National Adoption Month by promoting national awareness of adoption and the children awaiting families, celebrating children and families involved in adoption, and encouraging the people of the United States to secure safety, permanency, and well-being for all children.
S.3343 — A bill to provide that United States citizens evacuating Israel shall not be required to reimburse the United States government, and for other purposes.
DINA TITUS
Legislation co-sponsored:
H.R.6381 — To require the Secretary of Homeland Security to establish a veterans visa program to permit veterans who have been removed from the United States to return as immigrants, and for other purposes.
H.R.6394 — To provide for the creation of a Congressional time capsule in commemoration of the semiquincentennial of the United States, and for other purposes.
H.R.6404 — To direct the secretary of Homeland Security to enhance border security by disrupting the smuggling of United States-sourced firearms and related munitions across the land border with Mexico, and for other purposes.
H.R.6405 — To amend title 18, United States Code, to protect more victims of domestic violence by preventing their abusers from possessing or receiving firearms and to amend the Omnibus Crime Control and Safe Streets Act of 1968 to establish a grant program relating to the removal of firearms from adjudicated domestic violence offenders, and for other purposes.
H.R.6416 — To amend the Internal Revenue Code of 1986 to impose certain tax penalties in connection with the invasion of Ukraine.
H.R.6417 — To amend the Ending Importation of Russian Oil Act to provide for a prohibition on importation of energy products produced at refineries outside the Russian Federation.
SUSIE LEE
Legislation co-sponsored:
H.R.6388 — To authorize the secretary of Health and Human Services, acting through the Administration for Community Living, to carry out a grant program for states to provide telephone reassurance services to certain older adults and to other adults with disabilities, and for other purposes.
H.Res.870 — Supporting the goals and ideals of National Rural Health Day.
The Nevada Independent is raising $200,000 by Dec. 31 to support coverage of the 2024 election.
Tax-deductible donations from readers like you fund this critical work.
If you give today,your donation will be matched dollar-for-dollar.
Give + Get Matched
Featured Videos