DACA survives: Nevada immigrants celebrate largely unexpected victory at Supreme Court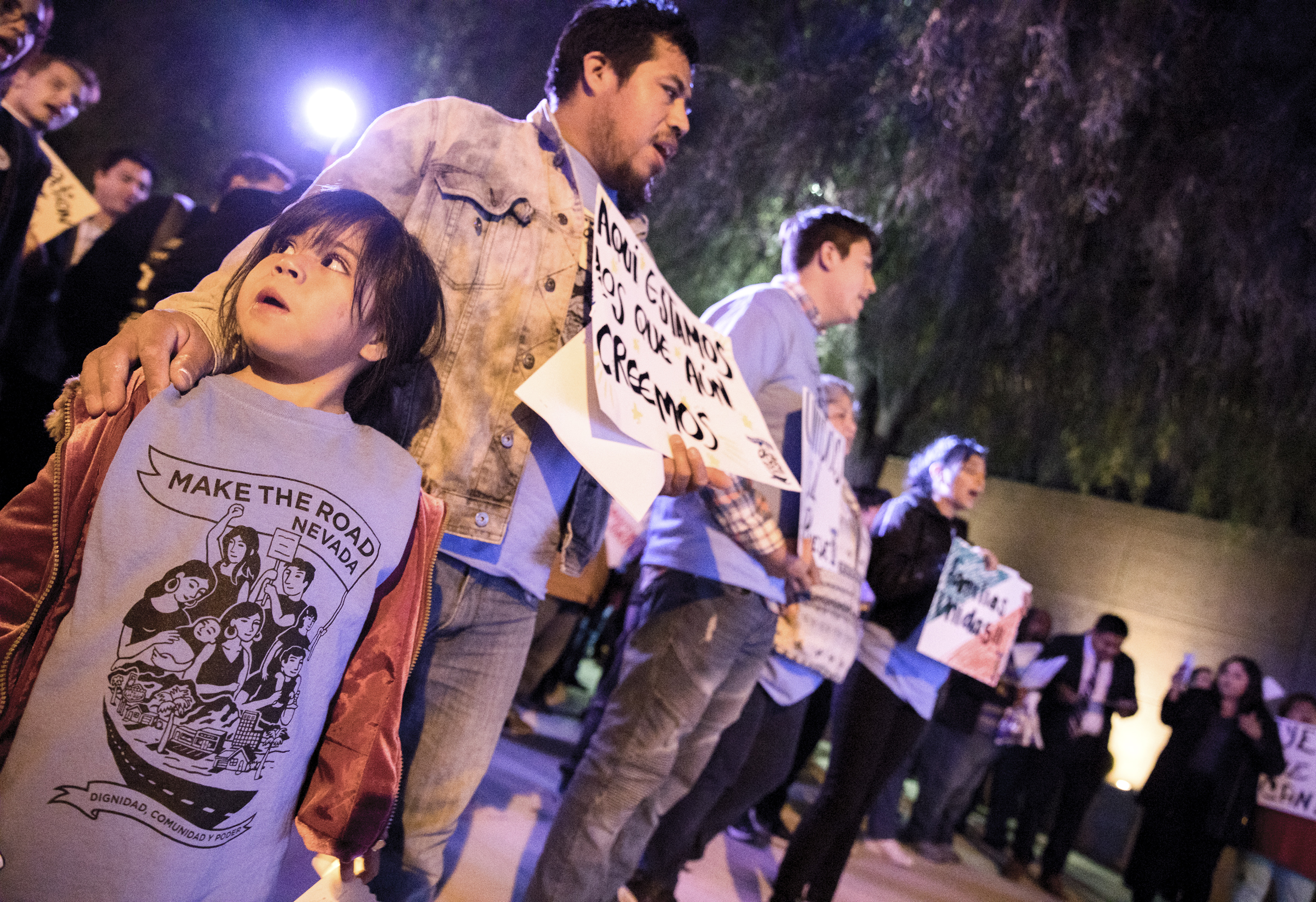 Nevada elected officials and immigrant advocates celebrated on Thursday when the Supreme Court ruled in favor of the DACA program that offers relief to people brought to the country illegally as children, with justices describing the Trump administration's decision to rescind it as "arbitrary and capricious."
The 5-4 ruling — somewhat unexpected for immigrants rights advocates who had been bracing for the end of the program that defers deportation and allows participants to work legally in the U.S. — means the program will survive for now.
"DREAMers are Nevadans. They're our neighbors, teachers & friends. They deserve to live and work in our state & country without the constant fear of deportation, and I'm thrilled and grateful that #SCOTUS agrees. DACA is the law! #HomeIsHere," Gov. Steve Sisolak said in a tweet.
But others noted the uncertainty that has loomed over participants for years remains because the program is based on an executive order and Congress has not fundamentally resolved the issue for the nation's nearly 700,000 DREAMers. The ruling kicks the issue back to the Department of Homeland Security to come up with a more complete rationale for why it is ending the program.
"Today's ruling allows #Dreamers to continue giving back to the only country they call home, but a sense of uncertainty still hangs over them. Congress must provide permanent relief for Dreamers and finally give them the opportunity to become full citizens of this country," tweeted Sen. Catherine Cortez Masto.
The justices in the majority — including Chief Justice John Roberts — wrote that federal officials had failed to consider whether to retain forbearance and what to do about the hardship facing DACA recipients. He cited proponents' arguments that the consequences would extend to the estimated 200,000 U.S. citizen children who depend on DACA recipients, their workplaces and schools.
"We do not decide whether DACA or its rescission are sound policies. 'The wisdom' of those decisions 'is none of our concern.' ... We address only whether the agency complied with the procedural requirement that it provide a reasoned explanation for its action," Roberts wrote. The rescission "raises doubts about whether the agency appreciated the scope of its discretion or exercised that discretion in a reasonable manner."
Justice Clarence Thomas, in a dissenting opinion, forcefully criticized the majority's opinion and said it would keep the DACA fight in court rather than in the legislative branch.
"Today's decision must be recognized for what it is: an effort to avoid a politically controversial but legally correct decision," he wrote. "The majority has decided to prolong DHS' initial overreach by providing a stopgap measure of its own. In doing so, it has given the green light for future political battles to be fought in this Court rather than where they rightfully belong—the political branches."
President Donald Trump slammed the decision on Twitter Thursday morning.
"These horrible & politically charged decisions coming out of the Supreme Court are shotgun blasts into the face of people that are proud to call themselves Republicans or Conservatives. We need more Justices or we will lose our 2nd. Amendment & everything else. Vote Trump 2020!" he wrote, adding later: "Do you get the impression that the Supreme Court doesn't like me?"
DACA was created in 2012 under the Obama administration and now counts about 13,000 recipients in Nevada. Although the program was canceled in 2017 and stopped accepting applications from people who hadn't previously participated, court decisions have allowed existing participants to renew their permits for two-year increments.
The Center for American Progress estimates that beneficiaries and their households pay $5.6 million annually in federal taxes and $3.1 billion in local and state taxes.
In the weeks leading up to the decision, lawyers had been preparing Nevada's DACA recipients for a worst-case scenario. During a virtual session held last month by the nonprofit Dream Big Nevada, immigration attorney Jocelyn Cortez offered a preview of the scenario that beneficiaries could face if DACA was canceled.
She tried to comfort recipients by saying that even if the decision ended DACA immediately, it was unlikely immigration agents would come and round up recipients from their homes.
Astrid Silva, who leads Dream Big Nevada and has been a public face of the program from its early years, tweeted her surprise about the Supreme Court's outcome.
"I prepared so long for a bad decision, IDK wtf to do with a good one" she wrote. "So, while that settles in my brain, tune in and please, celebrate by donating to local organizations working on DACA and DREAMer issues in YOUR community!"
Supreme Court DACA Decision by Michelle Rindels on Scribd
The Nevada Independent is raising $200,000 by Dec. 31 to support coverage of the 2024 election.
Tax-deductible donations from readers like you fund this critical work.
If you give today,your donation will be matched dollar-for-dollar.
Give + Get Matched
Featured Videos