Data shows Southern Nevada hospitals using higher percentage of beds, ventilators than rural, northern counterparts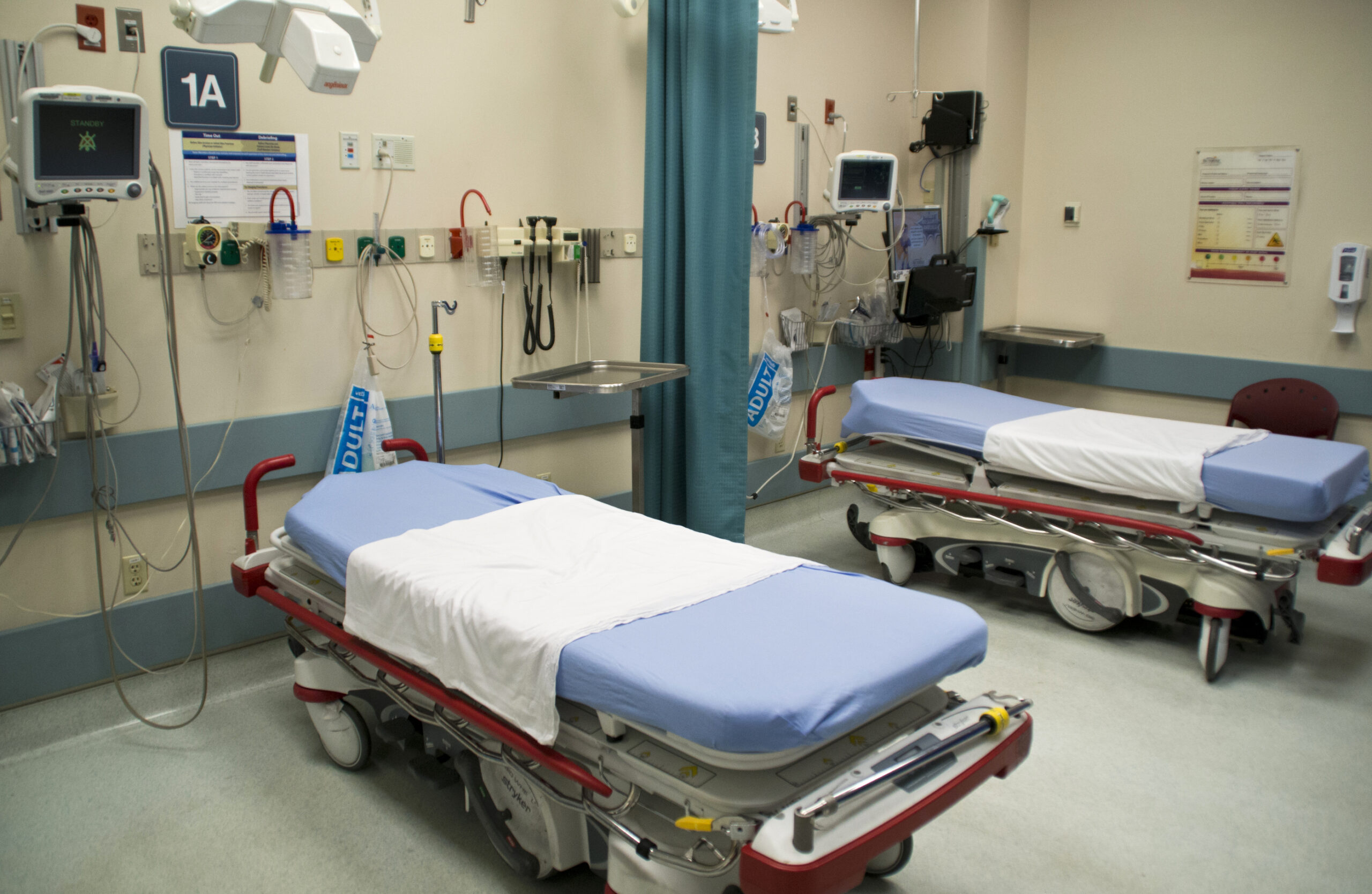 Hospitals in Nevada are still not near their maximum capacity as the number of confirmed cases of the novel coronavirus grow, though Southern Nevada hospitals appear to be experiencing the most strain so far, according to a Nevada Hospital Association report shared with government officials and obtained by The Nevada Independent.
The data, which are current as of Tuesday, shows that Southern Nevada hospitals have a higher percentage of occupied beds, occupied ICU beds and ventilators in use than their counterparts in northern and rural Nevada. In Southern Nevada, 65 percent of hospital beds are occupied, 79 percent of ICU beds are occupied and 56 percent of ventilators are in use, compared to 57 percent occupied beds, 43 percent occupied ICU beds and 30 percent of ventilators in use in Washoe County.
Rural Nevada has even smaller percentages of resources being utilized, with only 31 percent of beds occupied, 35 percent of ICU beds occupied and 3 percent of ventilators in use.
Clark County has, so far, seen not only the most cases of the novel coronavirus — 1,878 as of Wednesday morning — but the most cases per capita as well, about 84 cases for every 100,000 residents. Washoe County, by comparison, 326 confirmed cases, or about 70 cases for every 100,000 residents. There are 59 confirmed cases in the state's 15 other counties.
The hospital association data provide additional insight on the status of those patients, as well as which hospitals specifically are treating the most confirmed and suspected COVID-19 patients. For instance, there are 633 patients admitted to hospitals in Southern Nevada either confirmed to have COVID-19 or suspected to have contracted the illness. Of those, 212 are in intensive care units.
University Medical Center, the county-run hospital in Las Vegas, is caring for 33 of those patients, while St. Rose Dominican Hospitals' Siena Campus in Henderson has 29 and Summerlin Hospital Medical Center has 21.
However, it is Siena that has the most patients on ventilators in Southern Nevada, 28, while UMC has 22 on ventilators and Centennial Hills Hospital in northwest Las Vegas has 14. In Southern Nevada, there are 160 confirmed or suspected COVID-19 patients on ventilators, and eight who were removed from ventilators in the last 24 hours.
In Northern Nevada, there are 51 patients admitted to hospitals either confirmed to have or suspected of having COVID-19. Renown Regional Medical Center in Reno has 31 of those patients, with the rest at Northern Nevada Regional Medical Center, Carson Tahoe Health and the VA Sierra Nevada Health Care System. (Saint Mary's Regional Medical Center failed to report its Tuesday totals, but had 17 confirmed and suspected COVID-19 patients as of Monday.)
Of the admitted patients in Northern Nevada, 19 are in the ICU and 13 patients are on ventilators, most of those also at Renown. Seven patients were removed from ventilators in the last 24 hours, all of them at Renown.
In rural Nevada, there are 12 patients who have been admitted to hospitals either with confirmed or suspected COVID-19. Humboldt General Hospital in Winnemucca and Northeastern Nevada Regional Hospital in Elko each have one patient confirmed to have COVID-19.
Of the remaining 10 suspected cases, Banner Churchill Community Hospital in Fallon has one, Carson Valley Medical Center in Gardnerville has one, Desert View Hospital in Pahrump has four, Humboldt General Hospital has two, Northeastern Nevada Regional Hospital has one, and William Bee Ririe Hospital in Ely has one.
Carson Valley, Humboldt and William Bee Ririe each have one confirmed or suspected case in ICU. Humboldt is the only rural hospital with a confirmed or suspected COVID-19 case on a ventilator.
Eleven of 38 hospitals have listed themselves at "yellow" levels of staffing. For instance, Siena reports that 70 hospitalists, ICU physicians or ICU nurses are out sick, and a note appended to the report says the hospital has contracted with traveling nurses to work in the ICU and emergency departments, with orientation scheduled for next week. A hospital spokesman was not immediately able to provide additional details about whether those workers are out sick because of COVID-19 or another illness and about the traveling nurses.
Others list their status as "green" but note they have hospitalists, ICU physicians or ICU nurses out sick as well. Sunrise Hospital has 43 out sick, while MountainView has 33. A spokesman for HCA, which runs both hospitals, did not provide additional details about why those workers are out sick, saying that the company does not publicly report personnel absences.
The hospital report also shows the needs that hospitals across the state have for personal protective equipment, or PPE. Most hospitals list their PPE status as "yellow," with a couple listing their status as "green" and only one, San Martin, listing its supply as "red." San Martin reports needing N95 masks, surgical masks, face shields, gowns, test kits and gloves. Most of the "yellow" hospitals also report needing similar supplies.
Other health care facilities also have confirmed or suspected COVID-19 cases, according to the report. Willow Springs Center, a residential psychiatric child and adolescent treatment center in Reno that is the site of a COVID-19 outbreak, now has 25 confirmed cases among their patient population, while PAM Specialty Hospital of Las Vegas, Infinity Hospice Care and Nathan Adelson Hospice each have one confirmed COVID-19 case. Two other facilities, Kindred Hospital's Flamingo campus and EncompassHealth Rehab Hospital of Henderson, also have suspected cases.
The Nevada Independent is raising $200,000 by Dec. 31 to support coverage of the 2024 election.
Tax-deductible donations from readers like you fund this critical work.
If you give today,your donation will be matched dollar-for-dollar.
Give + Get Matched
Featured Videos