Dealmaking, lobbying and delays: Inside the political fight over homes at Red Rock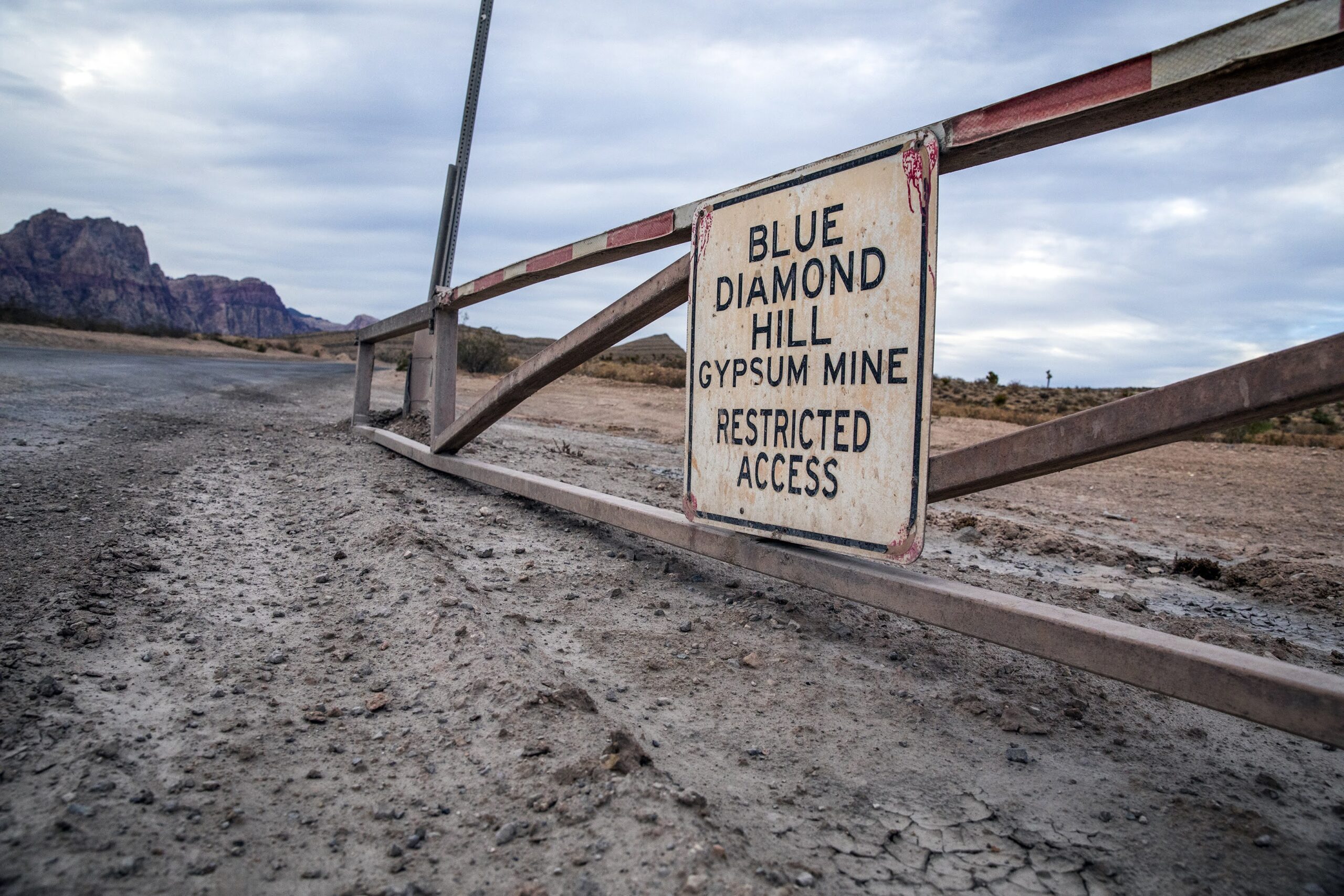 Jim Rhodes wants to build homes, and he will not let the "criminals" in Clark County government stand in his way. The prolific and sometimes fractious Las Vegas homebuilder has spent two decades pushing county commissioners to approve a planned community on top of a mine he runs on the outskirts of town, adjacent to the Red Rock Canyon National Conservation Area.
"Listen, I've been just a part of a crime," Rhodes argued during a Zoom interview in May. "I've been a victim of a crime. I'm just trying to build [it] out, do a good job [and] make a few friends."
The saga has taken twists and turns — in sometimes unbelievable ways. Over the last 20 years, Rhodes has deployed a team of well-connected lobbyists to state and local government boards, all in an effort to rezone his property so he could build what would effectively amount to a small town near the conservation area, replete with grocery stores, restaurants and businesses. For years, the project has been met with stiff opposition from environmentalists and local residents.
But of all the twists and turns, set against the muddied world of Clark County politics, his most recent offensive is unparalleled in its claims. Rhodes' creditors have helped to pay for a lawsuit against the county in which the developer alleges that Gov. Steve Sisolak, as chair of the county commission years earlier, entered into an "illicit deal" with Commissioner Justin Jones, then the lawyer for an environmental group, that prevented Rhodes from moving forward with his plans.
Sisolak, Jones and Clark County have denied the allegations.
Over the past several months, The Nevada Independent has reviewed thousands of pages of court documents, meeting transcripts and testimony, including Sisolak's three-hour deposition.
As the lawsuit makes its way through federal court, the case filings read as a who's who of Las Vegas politics. They shed light on the transactional nature of the Clark County Commission and how one of the state's most powerful local governments decides land-use questions. The filings also provide a rare window into the rough-and-tumble nature of these deliberations and the way local government insiders exert pressure on politicians to influence the outcome of critical votes.
The story is a tale fit for Nevada, involving a Gypsum mine, federal public land, a high-pressure lobbying effort, local politicians seeking higher office and a major homebuilder who has faced a long string of allegations involving fraud, unpaid bills and several regulatory compliance issues.
For decades, the dynamic looked something like this: A well-known developer was lobbying Clark County to rezone his land and build a master-planned community near the Red Rock Canyon National Conservation Area — on and around a Gypsum mine that he operates.
Rhodes' team exerted pressure on several politicians, including Sisolak, whom Rhodes said he met weeks before the 2018 election. Some Clark County officials were concerned that if the county did not work with Rhodes in "good faith," it would get dragged into a protracted lawsuit.
But such a plan — to build near a highly popular recreation area for climbing, hiking and biking — has drawn fierce public opposition from all parts of the political spectrum (it once prompted the Legislature to limit density on the property, a law that was ultimately ruled unconstitutional). And despite all of the lobbying, the county only ever OK'd Rhodes' plan in concept. The county still required Rhodes to meet several conditions, including that he obtain a federal road permit.
In April 2019, Clark County unanimously voted down a waiver of one of those conditions, one that Rhodes' team said was needed for the project to move forward and was designed to stop the project altogether. The waiver vote is at the center of the allegations. After the 2019 vote, Rhodes' company, Gypsum Resources LLC, filed for bankruptcy and sued the county, ultimately alleging a corrupt deal took place (Gypsum Resources LLC is typically referred to as Gypsum).
The county got the lawsuit it long feared. Gypsum's lawyers allege that, through years of delays and unfair dealing, the county deprived it of its property rights, drove the project into bankruptcy and effectively took Rhodes' land without just compensation. Gypsum claims it is due more than $1 billion for the alleged loss of property rights — and it wants the county to pay. The county claims Gypsum had failed to meet the conditions necessary to move forward with the project.
The allegations in the lawsuit, first reported by the Las Vegas Review-Journal, turn an attack, similar to one used against Rhodes, onto the project opponents — a coalition of recreation, environmental and progressive groups — and the very politician, Sisolak, once perceived to be supporting the project. For years, the project's critics, including a conservation group known as Save Red Rock, alleged a cozy relationship between Rhodes' lobbying team and Clark County.
Battle Born Progress, a progressive group opposing the project, once called it a "shady mess." At the time, the group's executive director said it exemplified the "typical pay-to-play politics that happen in Nevada." Now the tables are flipped as Gypsum accuses the county of unfair dealing.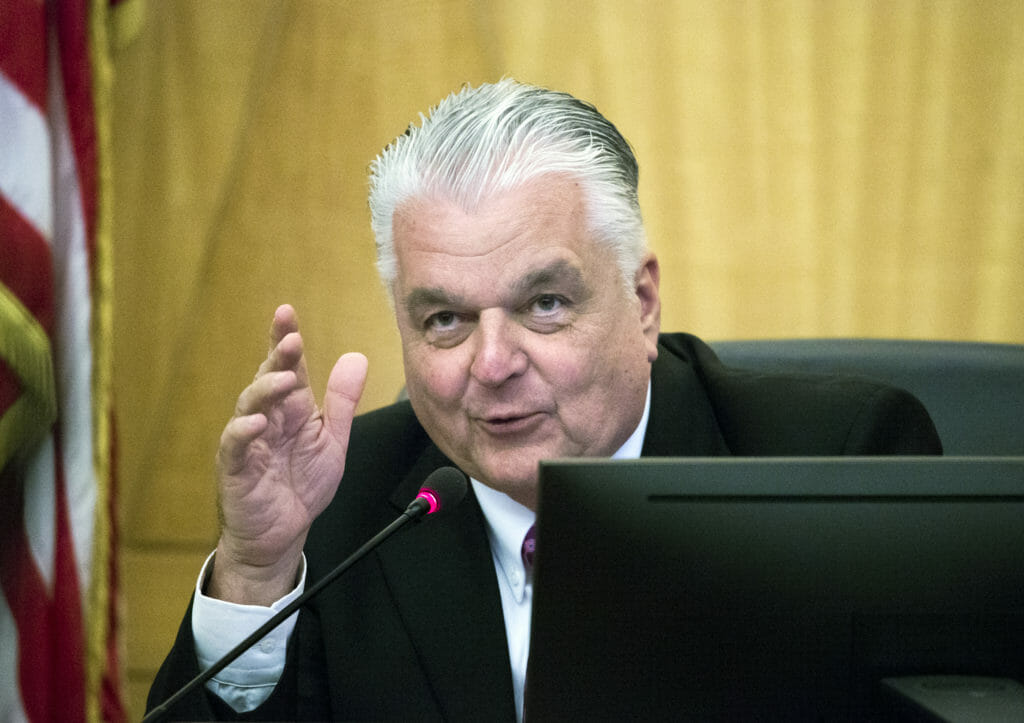 "If Sisolak doesn't want to play, then it is going to blow up in his face tomorrow."
Part of Gypsum's case is a claim that Sisolak and Jones made a deal amounting to a legal quid pro quo, exchanging a thing of value (campaign support and the dismissal of an "uncomfortable" lawsuit) for an official action (Sisolak opposing a land-use vote). Gypsum has also alleged that Jones improperly deleted correspondence, including public records, after the April 2019 vote.
Before Sisolak was elected governor in November 2018, he served as the chairman of the Clark County Commission, which oversees the Las Vegas Strip. During his commission tenure, he got involved in many fraught issues, from the regulation of Uber and Lyft to further regulating casino parlors. Yet few issues were as thorny as the fight over building more homes near Red Rock.
Sisolak's position on Red Rock was somewhat inscrutable. In public interviews, he insisted that the county was neutral on the project. What that meant in actuality, however, was often unclear.
In his own correspondence, Sisolak seemed to be balancing the protection of Red Rock against Rhodes' land rights and an unfavorable ruling in prior litigation. In a 2012 email to lawyer Laura FitzSimmons, Sisolak wrote that "I am not a fan of Jim Rhodes and I love Red Rock. That being said, some of the residents are being totally unreasonable, and he does have property rights."
In a follow-up, Sisolak wrote that county staff said "if [Rhodes] takes us back to court, we will lose." FitzSimmons had previously represented Sisolak in a dispute against Clark County.
As for Rhodes, he said he believed the county chair "thought it was great, and we should build as many houses as we want to build up there." Jay Brown, a lobbyist close to Sisolak, said he got the impression that Sisolak would vote for two waivers if Commissioner Susan Brager, who represented the Red Rock area, took action to move the developer's waiver requests to a vote.
"Whether it was Sisolak or [Commissioner] Larry Brown or anyone else, when she said jump, they would say how high," Brown stated in his deposition. "And that's what it came down to."
But just a few days before the 2018 election, on Oct. 24, Sisolak put his cards on the table.
Sisolak forcefully spoke out against the two waivers Brown believed he was willing to support. In the background, Jones, as Save Red Rock's attorney, had been lobbying for such a statement.
Jones, acting as an attorney for Save Red Rock, emailed a top Sisolak adviser with a proposed "resolution" ahead of the election to help protect Red Rock by ensuring that Sisolak did not back a waiver for a condition that he voted to approve in 2011. That condition required Gypsum to get a federal road permit — a right of way — before proceeding with the county planning process.
Save Red Rock, Jones wrote, would drop a lawsuit that could prove "uncomfortable" for Sisolak if Sisolak publicly opposed a request, from Rhodes' team, to waive the federal road condition. In addition, Jones said Save Red Rock and other conservation groups would publicly praise him.
Text messages show that Jones was communicating with the Nevada Conservation League. The messages suggest some environmentalists were frustrated with Sisolak, whose campaign had received the strong backing of conservation groups. As with Rhodes' team, several project opponents appeared inclined to believe Sisolak would vote to let the project proceed, as he had done several times in the past. In a text to the Nevada Conservation League's director, Jones wrote that "if Sisolak doesn't want to play, then it is going to blow up in his face tomorrow."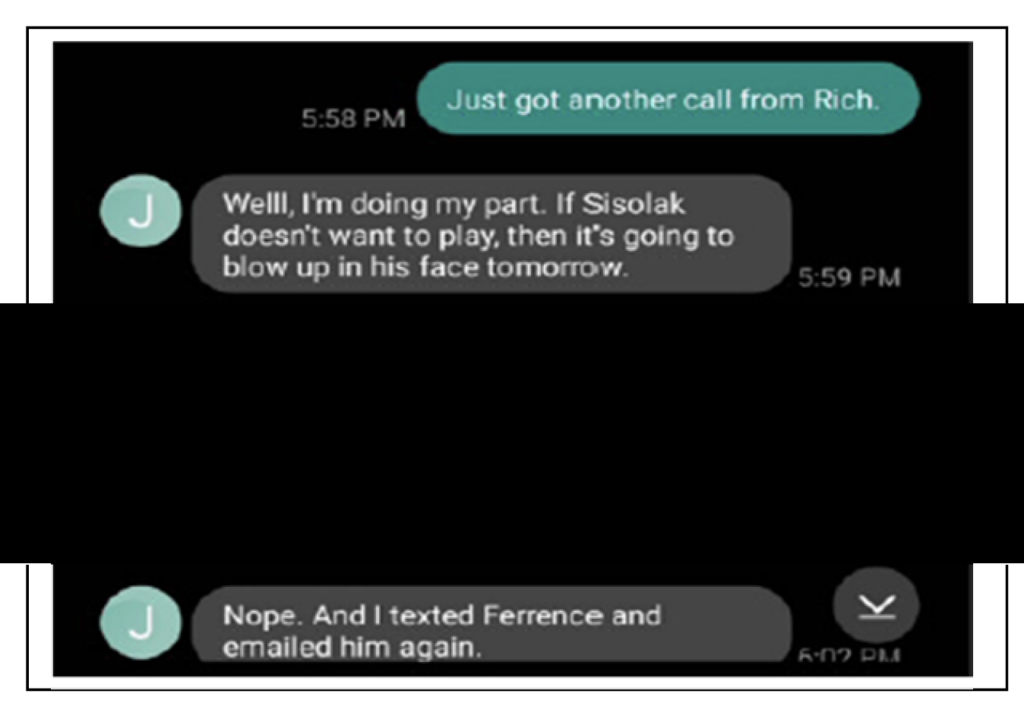 The issue did not blow up in Sisolak's face, as the campaign moved to make a public statement on the issue. Sisolak helped review the statement opposing the waivers. When the conservation league released it, the subject line read: "Sisolak stands up for protecting Red Rock Canyon."
Shortly after, Save Red Rock dropped the lawsuit Jones said could be "uncomfortable."
Not only did Sisolak oppose the waivers in his statement, the powerful chairman said he wanted the vote delayed until 2019, when a new county commission would be seated and "the voters of Clark County will have spoken." Jones was running for a commission seat he was expected to win, meaning a delayed vote could put him in the driver's seat on an issue he vocally opposed.
To Rhodes' team, that deal set off a chain reaction that further delayed the project, reshuffled the political calculus and met the legal standard of a quid quo pro. In April 2019, the vote took place, and the commissioners unanimously refused to waive the federal road permit condition.
In July 2019, Gypsum filed for bankruptcy. An eventual payout from the county lawsuit is one of the ways that Gypsum plans to recoup funds for its creditors, according to the bankruptcy case.
"This entire bankruptcy and the consequences of it are the result of the unlawful 'deal' Jones admitted he made with the then-chairman of the county commission," Gypsum alleged in a court last year. "That deal was for valuable consideration. It deprived Gypsum of its rights."
More recently, Gypsum has argued that Jones, as a county commissioner, destroyed evidence, including public records, after the April 2019 vote, which effectively halted the Red Rock project from moving forward. Jones declined to comment on whether he deleted the messages, but he said that the allegation "is nothing more than an attempt to get a judgment by default against the county, and I think the courts are going to see through it." Gypsum has also said Jones misled the Nevada Ethics Commission, which had issued an opinion allowing him to vote on the issue.
Jones, through an attorney, filed a legal brief last year saying "this is a case about a disgruntled man who just can't let go of his ill-conceived pipe dream." The filing went on to say Rhodes was using creditor funds to "exact a vendetta" on Jones as an outspoken project critic. In one filing, Jones' lawyer said the strategy was "the equivalent of a spoiled child throwing a (litigation) fit."
Sisolak, in his deposition, claims he had always opposed the waivers in question. The governor stated that "nobody demanded anything of me," according to a copy of his deposition transcript.
Despite where Brown, Rhodes and others perceived him to be, Sisolak argued that opposing the waivers was consistent with his voting record — that he did not change his position. Sisolak and his representatives point to a 2011 vote. In it, Sisolak voted for the requirement that Rhodes obtain a federal road permit before proceeding, the very condition that Rhodes sought to waive.
Clark County has defended its decision-making, as well as Sisolak and Jones. In one brief, it argued that Sisolak's statements were protected as expressions under the First Amendment, suggesting that the narrative is unsound based on the public record surrounding the project.
Gypsum, the county argued last year, "does not allege that Governor Sisolak had changed his position on the issue; nor could plaintiff sustain such an allegation given the evidence in the record showing that Governor Sisolak had never publicly espoused a different viewpoint."
The aggressive legal posture from Rhodes, the county said, is not new. Nor is the developer's claim that county commissioners were biased against him. By 2003, Rhodes had hired the firms where three county commissioners worked and had sued a fourth commissioner who previously worked for him. At the time, Las Vegas Sun columnist Jon Ralston, now CEO of The Nevada Independent, wrote the "obvious effort to create conflicts for commissioners is unprecedented."
The county has also sued Gypsum, alleging breach of a 2010 agreement. Clark County argued that the commission acted in the public interest, deciding unanimously in April 2019 not to waive a condition that Gypsum had not obtained from federal land managers over a number of years.
But Gypsum's lawyers argue that the road conditions effectively became a smokescreen, cover for the county to ultimately kill a controversial development, arguing they were "abused" by the county. They "became a subsequent point of dispute, including leading to years of extraordinary delays to simply stall the project and preclude development through inaction," Gypsum argued.
Even before the 2019 vote and the alleged quid pro quo took place, Clark County's "actions and obstruction had deprived Gypsum of nearly $500 million in profits," Gypsum attorney Todd Bice argued in an email, citing an estimate by a property development expert. "Simply put, not only would there have been no bankruptcy, Gypsum would have earned significant profits, numerous jobs would have been created and taxpayers would have reaped significant economic benefits. Instead, for the sake of politics, it was sabotaged, including by a corrupt political agreement."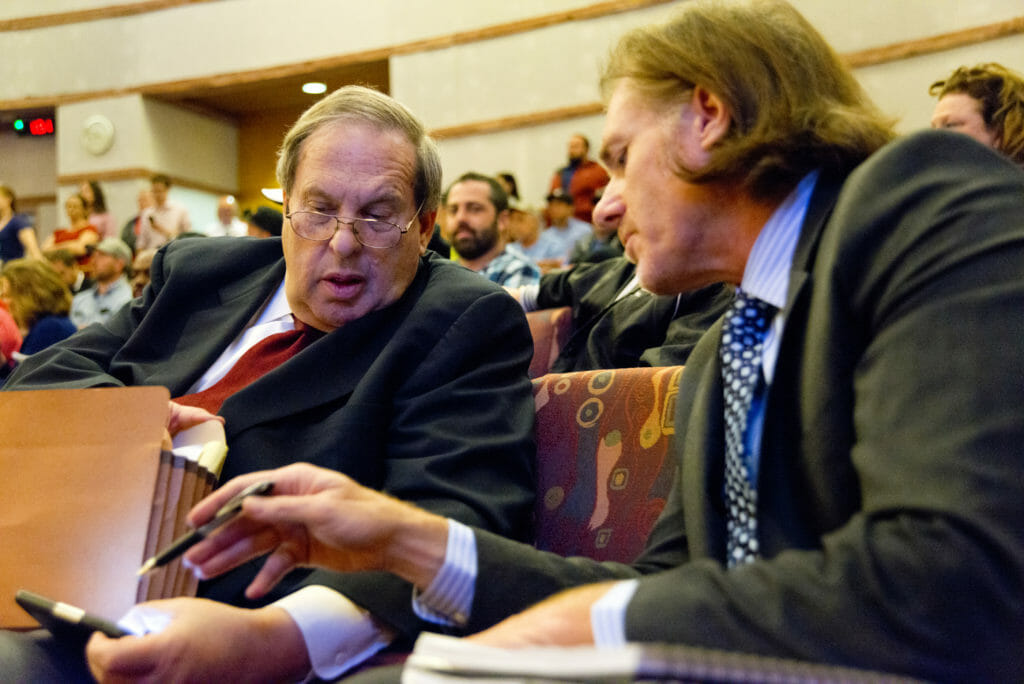 "I got a Ph.D. in the issues of the County Commissioners."
Behind the litigation and the Red Rock project is a labyrinth of money, influence and power. For Rhodes' creditors, the allegations are tied to a potential windfall. The litigation with the county, pending before U.S. District Court Judge Gloria Navarro, revolves around the bankruptcy.
In filings, Gypsum describes the county causing $1 billion to $2 billion in damages. A settlement of that magnitude, if awarded, would have a cratering impact on the county's $1.5 billion budget.
Rhodes hired Brown, a high-powered Clark County lobbyist and the well-connected Kaempfer Crowell law firm, to push the project through the sixth floor, where the commissioners have their offices (in his deposition, Rhodes describes the sixth floor as "where they house the gangsters").
Brown had access to Sisolak while on the commission and as governor. The two had nearly 30 scheduled meetings, including 17 one-on-ones, during 2018, according to Sisolak's calendar. (In his deposition, Brown stated that "now that I don't see my friend the governor too often, we may do texting a little bit now," though Brown said he generally does not communicate through texts).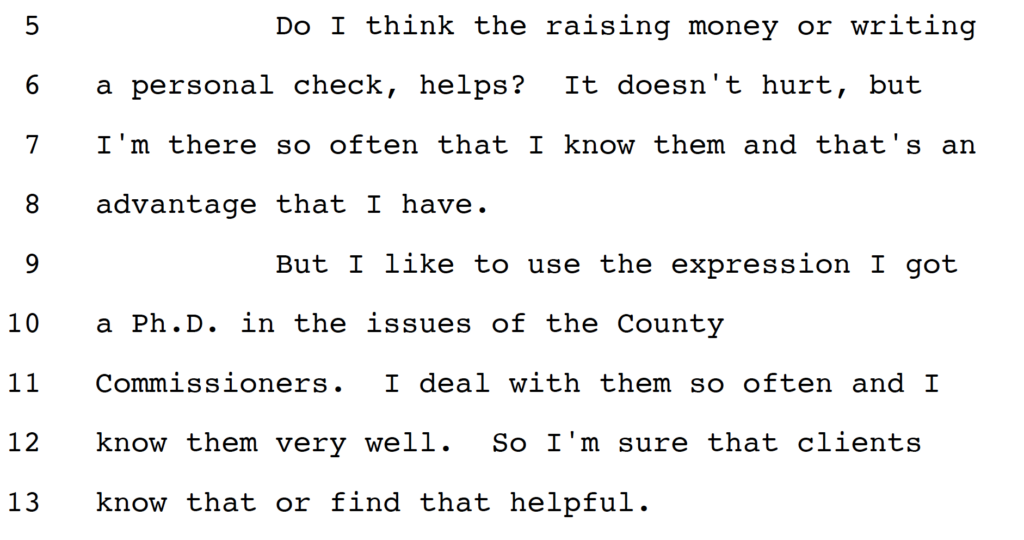 Brown had access to several other commissioners too. In a deposition, Brown acknowledged that he has raised campaign funds from third parties and personally donated to Sisolak, as well as current and former members of the commission. At one point during the deposition, Brown even challenged a lawyer to name a local politician who he had not helped raise money for.
"Do I think raising money or writing a personal check, helps? It doesn't hurt, but I'm there so often that I know them and that's an advantage that I have," Brown said in his deposition. "But I like to use the expression I got a Ph.D. in the issues of the County Commissioners. I deal with them so often, and I know them very well. So I'm sure that clients know that or find that helpful."
Then there is Rhodes himself, no stranger in the halls of Clark County government.
These are neither the first accusations Rhodes has leveled against government officials nor his first bankruptcy. Rhodes has been involved in several lawsuits. In one of its filings, Clark County stated that "James Rhodes had a widely-known history for undertaking ambitious developments resulting in disputatious civil litigation with other private parties involving fraud allegations and government grievances with numerous of his companies seeking bankruptcy protection."
During a criminal bribery probe in 2007, former Clark County Commissioner Erin Kenny testified that Rhodes had paid her about $200,000 a year to consult after she left office. In 2003, Kenny lobbied her former colleagues on the Red Rock project. Kenny, who had traded votes for money while in office, was later sentenced to 30 months in federal prison after pleading guilty.
In his deposition, Rhodes denied knowing of the bribery charges Kenny faced before he hired her. During her time in office, Kenny was criticized for a close relationship with Rhodes. In 2002, Rhodes used his companies to funnel nearly $200,000 dollars into her unsuccessful campaign for lieutenant governor. Rhodes recalled having hired Kenny about a week after she left office.
In one legal filing last year, attorneys for Clark County wrote that Rhodes "alleges his past and current troubles were the product of a conspiracy against him involving employees and officials from Arizona, Nevada and the federal government." In his deposition, Rhodes called an Arizona utilities commission a "kangaroo court" and he pointed to rumors that Clark County had been "in cahoots" with federal land managers who accused him of illegally grading a property in Arizona.
All this time, Rhodes has continued to operate the Gypsum mine that he hopes to reclaim and redevelop into a small community near Red Rock. In its bankruptcy filing, Gypsum disclosed 19 legal liabilities and four regulatory compliance issues involving the mine or Rhodes personally. These issues included not paying contractors and air quality violations. Gypsum disputed some of the claims and has since settled other claims, according to a review of several court dockets.
In an interview, Rhodes suggests many allegations stem from the county's inaction in approving his plans. If the county had just approved his project, he argued, these conflicts would not exist.
"There would be no subcontractors," he said. "There would be no any other things but for the underhandedness in this conspiracy of this large group of people in power in the government."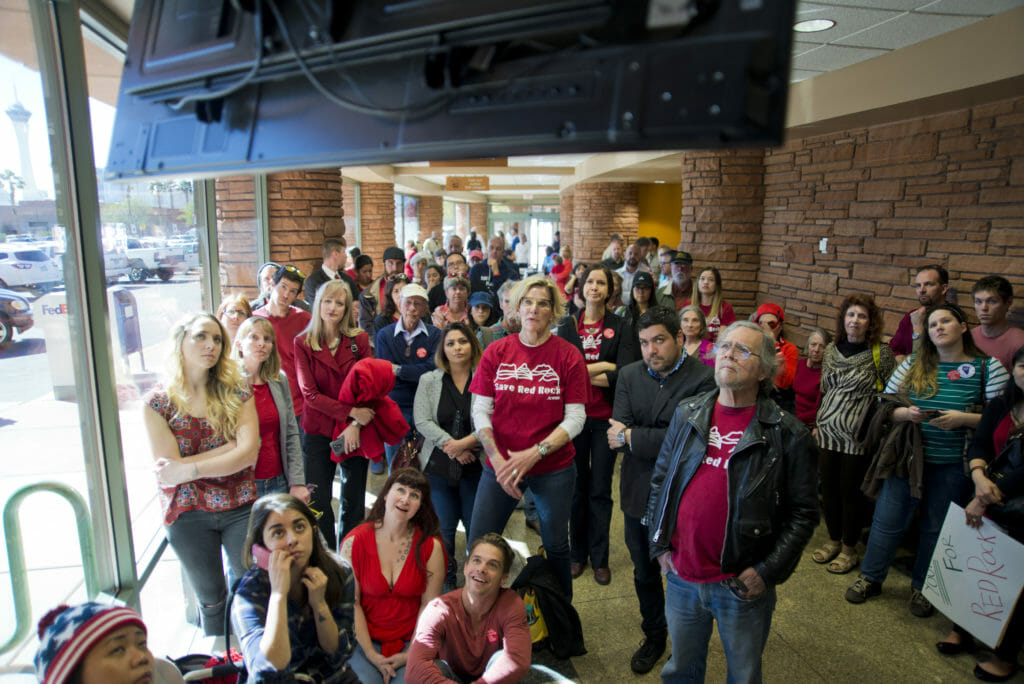 "Shame on you."
An estimated 2 million people visit the Red Rock Canyon National Conservation Area each year, making it one of Nevada's most popular destinations. On any given day, climbers scope out the area with crash-pads hanging over their backs. Bikers and day hikers use Red Rock to exercise in nature. On the weekend, families flock to the conservation area, a refuge from the city.
With more than 40 springs and tinajas, the area has supported human life for many thousands of years. The land is an ancestral home for the Southern Paiute, Patayan and Puebloan people. Across the area, there are traces of intact petroglyphs, abandoned tools and roasting pits.
During COVID-19, Red Rock, as with so many outdoor areas, grew even more popular. In fact, Barbara Luke, the chair of the Red Rock Citizens Advisory Board, said one of the most serious threats that it faces, in addition to ever-encroaching homebuilding, is visitors "​loving it to death."​
Although much of the area is federal land, managed as open space for the public, not all of it is. In scattered locations within the conservation area and along its outskirts are parcels of private land — and the owners of that private land have rights. Rhodes is one of those property owners.
For many decades, politicians and local activists have worked to protect Red Rock, generally to restrict residential development from conflicting with the character of the area. Since the 1990s, Congress, the Legislature and the Clark County Commission have all passed laws that apply to what can and cannot be done within Red Rock and around its borders. But there are limitations.
Those limitations rest at the intersection of property rights and government zoning, restrictions that are often up for debate, yielding differing interpretations from local officials and the courts. Over the last two decades, Rhodes has strongly asserted a legal claim to construct high-density housing on his property, despite the fact that the land is zoned for rural, low-density housing.
Imagine a vacant piece of land that extends for hundreds of acres. There are many ways a developer could build on it. The choice between building one home for every two acres or four homes for every one acre is a major decision. There are considerations about traffic, utilities and a slew of environmental impacts. But that decision is not only for a developer to make.
Local government zoning determines how land is developed. When Rhodes purchased the land, it was zoned for rural, low-density housing — one home for every two acres of land. To build the community he envisioned, Rhodes needed politicians to approve a significant zoning change for higher density. Rhodes, the lawsuit suggests, thought the ask was reasonable. The county, the lawsuit said, had regularly rezoned rural, low-density areas to allow for greater density. County officials, Bice noted, testified they "understood that Gypsum would seek an increase in density."
That's neither how many members of the public nor local politicians interpreted the ask. In 2003, when Rhodes began lobbying for the project and seeking to rezone the land, an uproar could be heard from the Legislature in Carson City to the commission chambers in Clark County.
Opponents voiced concerns about traffic, light pollution, wildlife impacts, the destruction of a sensitive ecosystem and the views of the landscape. Democratic Rep. Dina Titus, then a state senator, led the charge in the Legislature. She helped push through a unanimous bill, signed by Republican Gov. Kenny Guinn, that limited the county's ability to increase density in the area.
Through the court system, Rhodes challenged the state law — and won. Gypsum prevailed in 2009, when a federal court ruled the state law unconstitutional. As of 2009, the court had not ruled on the county ordinance. But Clark County folded weeks before a trial was scheduled.
In 2010, the Clark County Commission narrowly approved a settlement agreement with Rhodes that would allow Gypsum to submit an application and begin permitting a higher-density project.
After hours of public comment, Commissioner Susan Brager, whose district included Red Rock, brought the settlement agreement to a vote. She argued the settlement was in the best interest of protecting Red Rock, although it was opposed by Titus and an attorney for the Legislature.
Many warned it could pave the way for increased density. Brager argued it would allow Clark County to retain control of where, how and on what terms the development could take place.
Sisolak voted in favor of the deal, splitting with Commission Chair Rory Reid and Commissioner Chris Giunchigliani, who both suggested that the deal was compromising on Red Rock. When the outcome of the vote was finally announced, the audience filled the chambers with faint boos.
"Shame on you," someone yelled at the commission. The Review-Journal spun it as a win for Rhodes: "County commission sides with Rhodes in housing development near Red Rock."
Come 2011, Rhodes was ready to build his higher-density community. But the settlement only went so far. It did not approve Rhodes' project. Rhodes still needed to submit an application, and the county, the settlement agreement said, had to process the application in "good faith."
"I really think a lot of this is about Rhodes."
Sisolak was elected to the Clark County Commission in 2008.
By 2013, he would rise to serve as the commission's chair. Few people better understood the financial peril that the county can find itself mired in if it is found to violate property rights.
In 2008, Sisolak received a roughly $16 million payout from the county to compensate him for the taking of his property near what is now known as Harry Reid International Airport. During his deposition last year, Sisolak acknowledged his experience would have weighed into whether to settle a case, saying "it would have a contributing factor to my decision-making process."
Every time a Red Rock issue arose during Sisolak's tenure and even before, groups mobilized scores of vocal opponents. County commission meetings stretched on for hours as members of the public stated why the county should not allow Rhodes to construct more homes than what existing zoning allowed. The residents were clear: Keep the area zoned for low-density housing.
But after the county approved the settlement agreement in 2010, its hands were somewhat tied.
The settlement said the county needed to consider Rhodes' plans in "good faith," a phrase that would loom over the county's Red Rock deliberations throughout the following decade.
In 2011, Gypsum submitted an initial application for its master-planned community. The concept plan proposed building about 5,000 residential units, a move that would bring the population of a small town near Red Rock, a development that far exceeded existing rural, low-density zoning.
When the commission held a meeting about whether to approve the initial plan in August 2011, a coalition of environmentalists, climbers and concerned citizens voiced opposition. Density was not the only concern. There was another major issue: Federal permits to build an access road.
Rhodes' parcels are surrounded by public land managed by the Bureau of Land Management, an agency responsible for overseeing huge swaths of terrain covering about 67 percent of the state. To build an access road for the project, Rhodes had to obtain a permit from the federal agency. Obtaining such a permit would require an environmental review and federal approval.
One of the project opponents, at the time, was Lisa Mayo-DeRiso, a board member of a group known as Scenic Nevada. At the meeting, she asked Clark County to consider requiring Rhodes to apply for a federal road permit before continuing with the development process. In a court filing, Clark County notes that Mayo-DeRiso was backed up by several other commenters.
The county approved Rhodes' plan — but not without including the road condition.
Sisolak voted for Rhodes' plan. Giunchigliani voted against it. Votes on Red Rock would often look similar to this: Giunchgliani voting against the project and Sisolak voting the other way.
On the day of the 2011 vote, in an email to then-Las Vegas Sun reporter Joe Schoenmann that surfaced as part of the court case, Sisolak wrote "the judge said we have to be 'reasonable' in any proposal," noting that other major developments had a "density of five or more per acre."
"What I don't get," Sisolak added in his email to Schoenmann. "Summerlin is much closer to Red Rock and no one complained about that. I really think a lot of this is about Rhodes."
"I dare you to say that," Schoenmann shot back.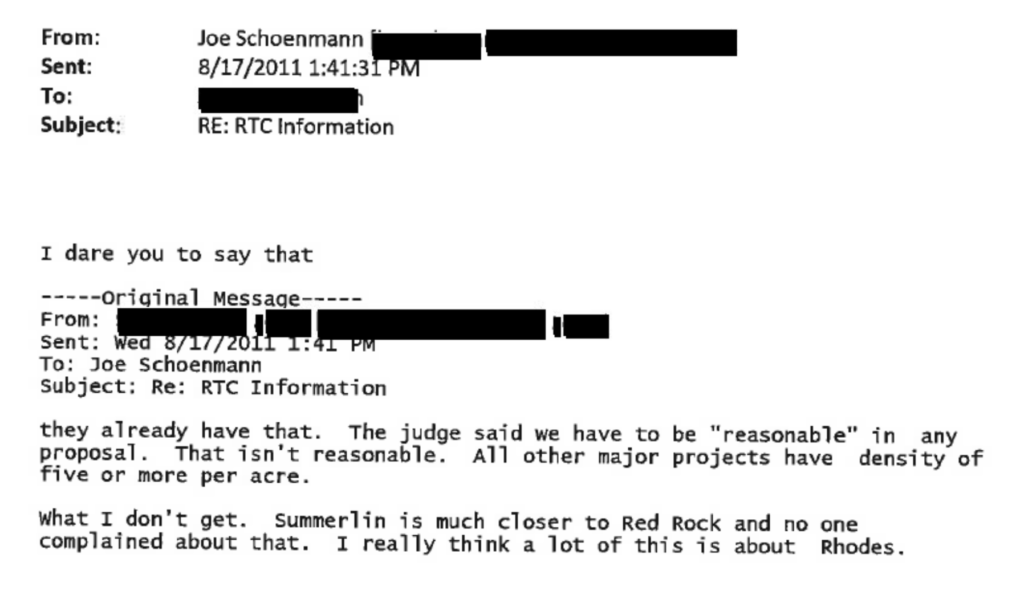 In approving the 2011 concept plan, Clark County gave Rhodes a checklist of requirements. Out of those restrictions, perhaps the most consequential condition was that Gypsum must obtain a permit from the Bureau of Land Management for an access road. The commission requested this be done before Gypsum advanced to the next step in the county's development process.
The developer saw this condition as a poison pill, a way to kill the project. Gypsum argued that the condition was illogical. How could the developer apply for a permit without fully knowing the approved build-out of the final project? In the May interview, Rhodes said "we wouldn't know where to get your easements, your flood control, because you wouldn't know your roadway."
Bice, Rhodes' attorney, further noted how the road condition came to be. Bice, in an interview, said "the language came up at the public meeting at the last possible minute after being planted by Chris Guinchigliani, the commissioner who was looking for a way to torpedo the project."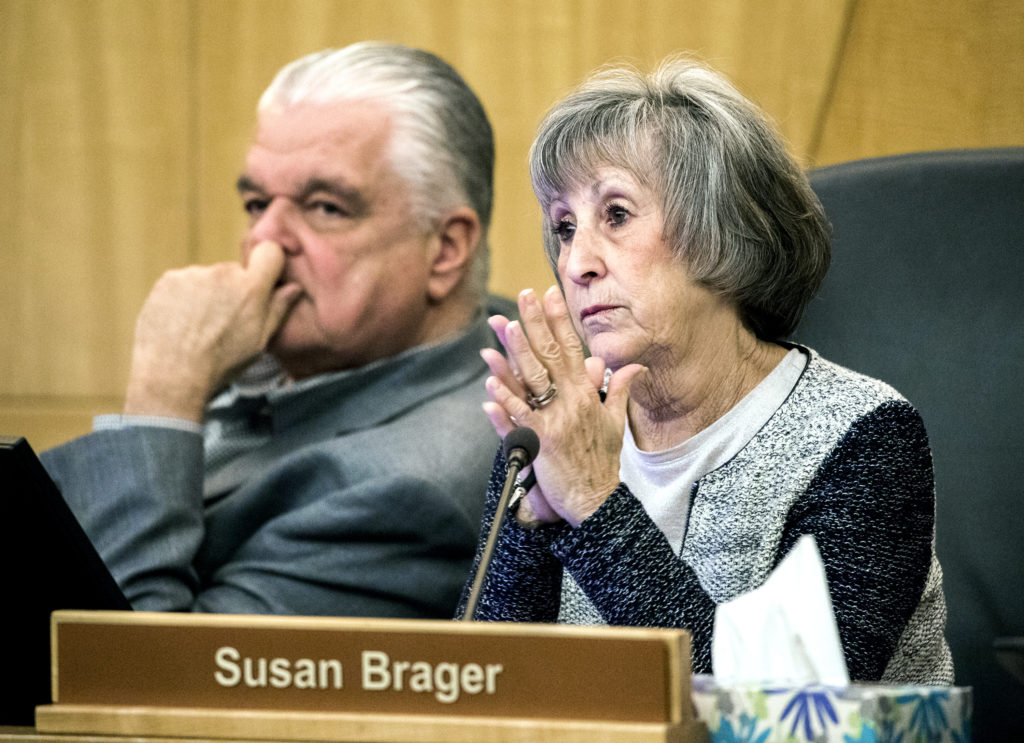 "Susan wanted to hear it, didn't want to hear it."
In the years after the 2011 vote, Sisolak's position in the state's most powerful local government continued to grow. From 2013 until becoming governor in 2019, he chaired the county board. He had influence over the agenda, the public message and how the county would approach issues.
At the same time, another Clark County politician, Justin Jones, was getting more involved with preserving Red Rock. Jones, an attorney and assemblyman elected in 2012, began to work with Save Red Rock as its lawyer. Jones had left the Legislature in 2014 after losing his re-election bid. But he still had political aspirations. In May 2017, he announced a run for Brager's seat.
For years, the project was put on pause as Rhodes, Clark County and Save Red Rock pushed to exchange the property for public land where development might have had a lesser impact (In his deposition, Brown said he had discussed the proposal with Sen. Harry Reid, who passed away late last year). But the proposed land deal ultimately failed when the U.S. Bureau of Land Management said it would not acquire the land because it had been so degraded from mining.
By 2017, the Red Rock project was back and again gaining public attention. In June of that year, Sisolak announced a run for governor, and Red Rock weighed heavily in his primary campaign.
In the Democratic primary, Sisolak faced Giunchigliani, whose position on Red Rock could not have been clearer — and Giunchigliani hammered Sisolak on his. In a campaign ad and during a primary debate, Giunchigliani criticized Sisolak for his Red Rock stance — or lack thereof.
In an interview this year, Giunchigliani said her criticism was meant to point out that Sisolak did not have a strong, longtime record on environmental issues like Red Rock; whereas, she had clearly opposed the project, consistently voting against it while a county commissioner.
"I was trying to point out that he was inconsistent or you weren't sure where he was going to be — and then he started calling himself a progressive," Giunchigliani said, referring to Sisolak.
Throughout 2018, Rhodes and his lobbying team, including a Sisolak fundraiser in Brown, wanted the county to waive the road conditions. One waiver was particularly important. Gypsum sought to waive the 2011 condition to obtain a federal road permit before proceeding.
During this time, Gypsum appeared to target its lobbying effort on Brager. Her vote and support was critical because of a de facto way the Clark County Commission operates. When it comes to land-use decisions, county commissioners are known to defer to the final recommendation of the commissioner who represents a particular district. That made Brager a key decision-maker.
"So everybody knew that, you know, if Susan Brager made a motion to approve, there would be four votes, at least, in support of it," Brown said, when asked about the political calculus during a deposition last year. "If she made a motion to deny, it would probably be denied unanimously."
Although there was deference given to the "controlling" commissioner, this was not an ironclad rule. In an interview, Giunchigliani called the de facto rule "bullshit," and said she would often vote the other way, analyzing issues on their merits. In his deposition, Sisolak acknowledged deference was a norm, but he added that "[the commissioners] wouldn't give up their vote."
As the election cycle heated up, Brown testified that Brager seemed to be delaying a vote on the issue, much to the frustration of Gypsum. Even Sisolak, in his deposition, painted a picture of a commissioner he described as "hopscotching" about whether to bring the waivers to a vote.
"Susan wanted to hear it, didn't want to hear it," Sisolak recounted.
In early 2018, Brown said Brager stalled, citing concerns about how a vote might affect Sisolak. Brown said that Brager had told him "Jay, I'm ready to vote yes on this matter," but was "very concerned about the primary election." (Brager has said she did not recall telling Brown that).
Reached briefly by phone, Brager further denied taking the election into consideration, saying that "I stand by my honesty that's been proven for many years." She did not comment further.
As Sisolak was running for governor, Jones, serving as the attorney for Save Red Rock, was running to replace Brager as the commissioner for District F (Brager, who was termed out, had endorsed his opponent). Jones' race largely revolved around Red Rock. He frequently referred to himself as "The Red Rock Guy" and used photos of the landscape in his campaign materials.
As much as Gypsum was frustrated with Brager's alleged delays, some project opponents were concerned about her plans to bring the waiver forward before the end of her term in 2018. There was also a concern that Sisolak and the other county commissioners would follow Brager's lead, potentially allowing the developer to move forward without first meeting all the 2011 conditions.
In a March 2018 email, part of the lawsuit, Jones laid out his sense of the political landscape:
"[Giunchigliani] has been pounding [Sisolak] on his votes against Red Rock," Jones wrote, adding that he "would be surprised if Sisolak…would want a vote before the election. That said, if Sisolak loses the primary, he truly has nothing to lose and will probably push the vote forward as payback to Jay Brown, who is raising him hundreds of thousands for the governor's race. I think Rhodes/Brown probably figure that their best hope is to try to get something through right after the election in the lame duck time before I (hopefully) take the seat in January 2019."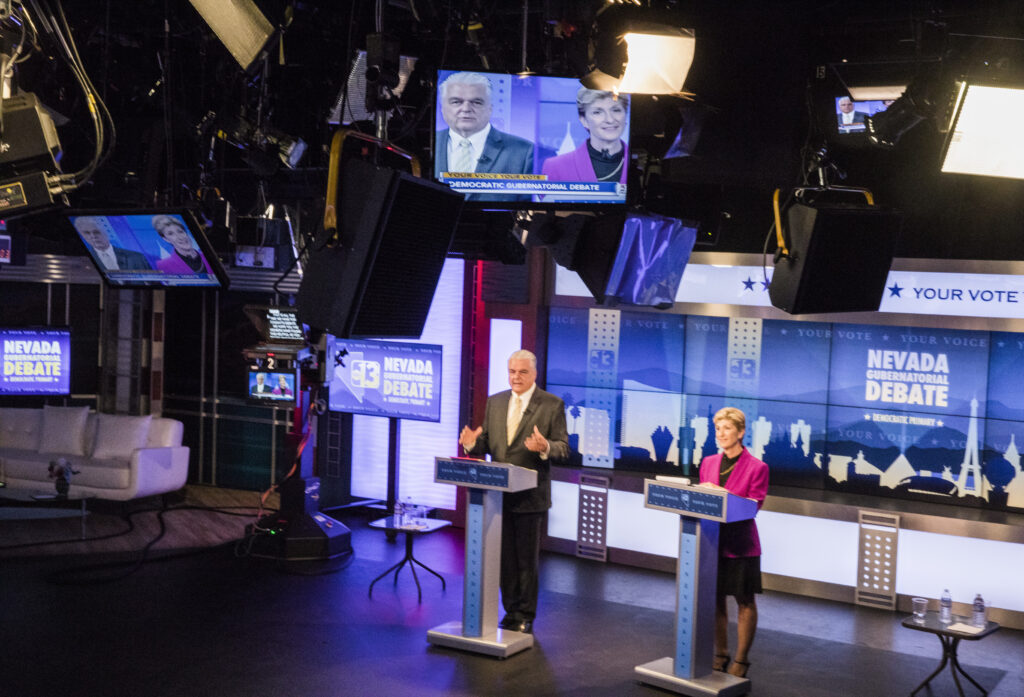 "Push this out with some support for Steve"
Jones' prediction would prove to be correct, at least in part.
A vote on the waivers was scheduled to take place shortly after the election — on Dec. 5, 2018.
It was now October 2018, early voting had started, and the election was days away. Sisolak was running against Attorney General Adam Laxalt, a conservative Trump-ally who had drawn fierce opposition from environmentalists. And the arms of both campaigns had framed one another as having engaged in untoward behavior, using epithets like "Shady Steve" and "Lackey Laxalt."
Once Gypsum began to lobby for approval of the road permit waiver, pressure began to mount on Sisolak. In past public comments, Sisolak had attempted to strike a position of neutrality on the Red Rock project. In an interview with the Las Vegas Sun in 2017, Sisolak insisted that "the county is not on anybody's side." Privately, court records indicate that both Gypsum and Jones appear to have believed Sisolak would be willing to support a vote on the waivers in question.
Yet just days before the 2018 election, on Oct. 24, the powerful county chairman offered a public statement — to the surprise of some observers — opposing the two waivers and favoring a vote in 2019. The lawsuit sheds light on the dynamic that prompted Sisolak to speak out so forcefully.
Sisolak argued that the 2018 statement was consistent with his voting record, as he had voted for the 2011 condition that required Rhodes to obtain a federal road permit before proceeding.
Sisolak stated, in his deposition, that "there was a considerable amount of rumor out there that was being amplified, and I don't know if it was being done by Justin [Jones], if it was being done by the Save Red Rock people, whoever it was being done by, that my position was softening."
That's not how Rhodes saw it. In filings, Bice points to emails and texts showing that the Sisolak campaign was facing immense pressure on the issue. He writes in one court brief that "evidence unequivocally establishes that Sisolak's vote commitment and its timing were no coincidence."
In the background, Save Red Rock and the Nevada Conservation League had been pressuring the Sisolak campaign, court documents show. Days earlier, on Saturday, Oct. 20, Jones sent an email to Sisolak's political consultant, Jim Ferrence. Jones, representing Save Red Rock and a candidate for the District F seat, told Ferrence that he had briefly spoken to Sisolak earlier in the day and "gave him a quick 60-second rundown on why it's important to deal with it quickly."
Jones wrote that if Sisolak was willing to publicly oppose the road permit waiver, conservation groups would publicly praise him. In addition, Jones said Save Red Rock was willing to settle a lawsuit with the county that could prove to be "uncomfortable" for Sisolak. Jones forwarded the email to a Nevada Conservation League donor involved with Save Red Rock, who replied: "I suspect they won't take up your offer to settle now without much more pressure on Sisolak."
But the Sisolak campaign agreed to the deal, court records allege. Phone records included as part of the lawsuit show Ferrence spoke with Sisolak on Oct. 22. Before noon that day, Ferrence had emailed Sisolak a draft statement, according to documents obtained during the proceeding.
Soon after, Andy Maggi, then the director of the Nevada Conservation League, told Ferrence he would "push this out with some support for Steve on the issue…" By Oct. 24, just a week before the general election, Sisolak had released a public statement through the conservation league.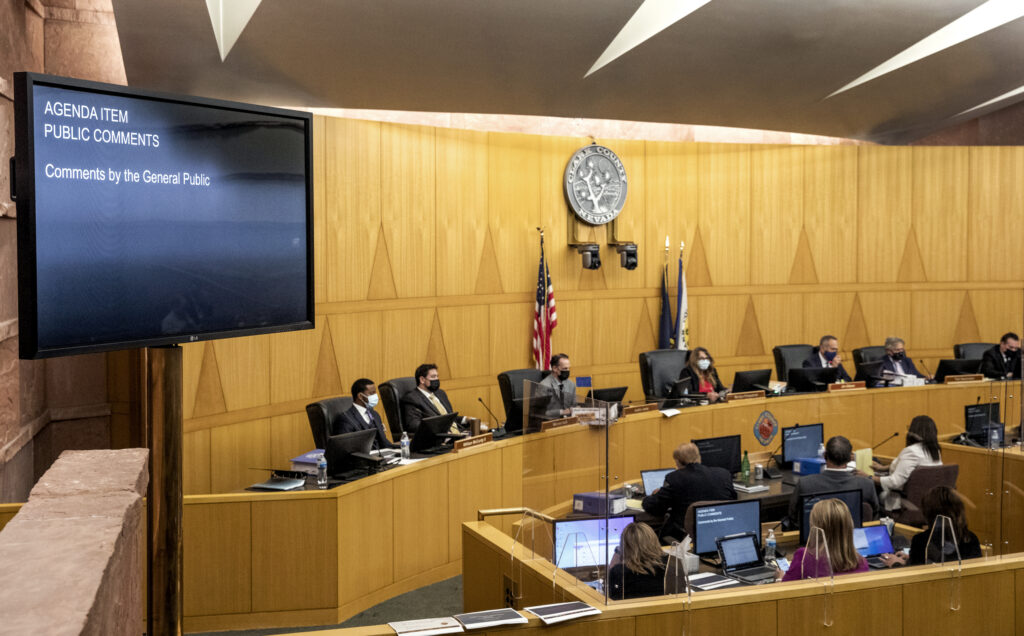 "I never conditioned a vote on any political consideration"
Contemporaneous text messages show that Sisolak's move did disrupt the political calculus that had been made by Brager, who allegedly told Gypsum that she would move the project forward.
According to the court filings, Gypsum had worked with Brager's office and county planning staff to ensure the waivers were ready for a vote in December. At the time, the county's staff had recommended that the commission approve the waivers, believing that Gypsum had started the permitting process for the road, according to the deposition of county planner Nancy Amundsen.
But in a deposition, Brager said she was "blindsided" by Sisolak, agreeing "Sisolak had gone the other way" on her. On Oct. 24, the day Sisolak's statement was released, Brager texted Brown, saying that her "comfort is diminishing" in bringing the issue forward. In another text exchange that is presented as an exhibit, Brager said that she was now likely to oppose the road waiver.
Understanding Rhodes had lost the votes, Gypsum pulled its waiver request and tabled a vote.
"Once she tells me she's voting no, why would you go forward to lose," Brown said. "I don't bring matters forward to lose. If I don't have four votes — people think I win a lot because when I can't count the four, I don't go forward. The secret of success. The secret to having a good average."
Additionally, evidence from the court case includes a December 2018 text from Sisolak, sent a few weeks after the election, apparently boasting that he had helped get Brager to delay a vote.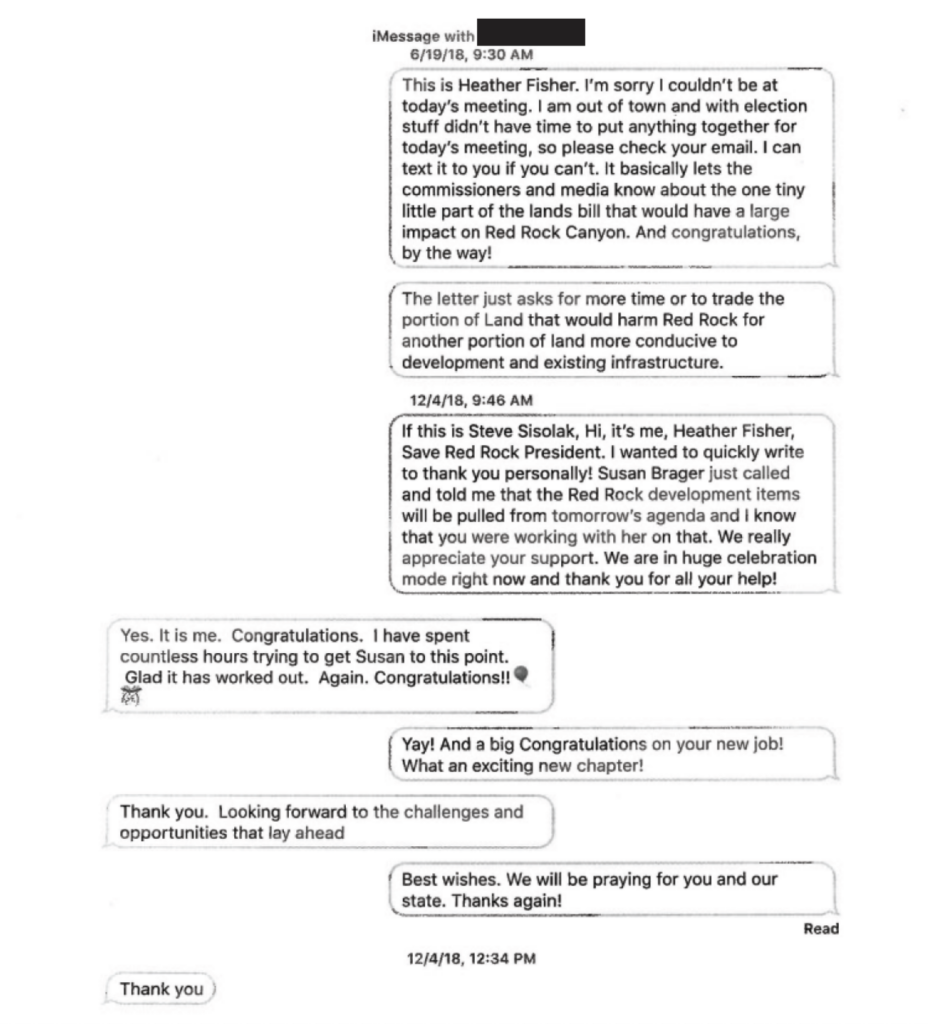 "I have spent countless hours trying to get Susan to this point," Sisolak wrote to Save Red Rock President Heather Fisher, after she told him that the items were being pulled from an agenda.
Brager, in her deposition, said the content of the text was "absolutely not true."
By January 2019, Sisolak was sworn in as governor and Jones as a county commissioner.
The issue would now go to the commission in April 2019, with Jones still pushing back against the project, but now from his sixth-floor office as the commissioner for District F, which included much of the Red Rock area. Despite his prior advocacy, Jones did not recuse himself in a vote on the waivers; he had received an opinion from the state ethics board clearing him to weigh in.
The ethics commission noted Jones' abstention from the process could "divest his constituents of his vote on matters of importance that were, in part, a basis for electing Jones to office."
County planning staff reversed course and recommended denying the road waiver, with a top local planner arguing that the original recommendation was "based on incomplete or incorrect information." But Gypsum alleges that another staffer, responsible for initiating the changes, "could not cite any facts for these actions other than the fact that Jones was now in office."
In April 2019, at the recommendation of Clark County staff, the county commission voted down the waiver in question and approved another less-consequential waiver. Jones read a disclosure before the voting took place. The decision by the county commission was unanimous, 6-0.
Gypsum appears to blame the results of this vote on Jones, as the "controlling commissioner," a notion that Jones disputes. He said he did not control the votes of six other elected politicians.
"I made it clear, on the record, that although Red Rock is largely within my district, that this was an issue of importance to the entire community," Jones told The Nevada Independent earlier this year. "And so I expected [the commissioners] would make their own independent decisions."
Shortly after that vote, in July of 2019, Gypsum filed for bankruptcy.
Bice, in an interview earlier this year, said that Clark County's actions, taken together, violated the good faith and fair dealing provisions that were included in the 2010 settlement agreement.
"They didn't deny it because of water," Bice said, explaining where the county's legal discretion on the project began and ended. "They didn't deny it because of traffic. They denied it because of a backroom deal and then got rid of the evidence to try to cover up that backroom deal."
Even Giunchigliani, Sisolak's primary opponent, believes Sisolak would not trade a land-use vote for more election support. "Steve does a lot of things I didn't always agree with, but I don't see that happening," she said in an interview this year. "It was not integral to their election."
Sisolak, in his deposition, noted that it would be "unethical" or could be against the law to swap campaign support for a land-use vote. However, Sisolak asserted his position on Red Rock had never changed since the 2011 vote: He still supported the condition and wanted to clear the air.
"I never conditioned a vote on any political consideration," he said.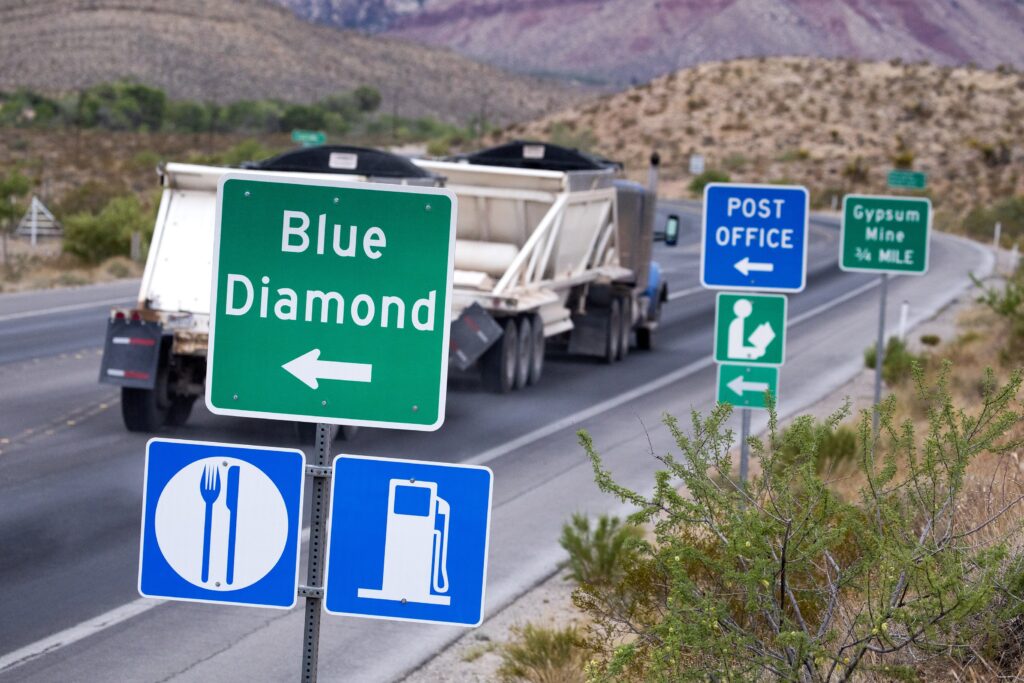 "The Ethics Commission was fed misinformation"
When Gypsum sued Clark County over the vote, it asked a federal court to act in several ways. Gypsum sought a ruling to overturn the commission vote, a finding that the commission violated the equal protection clause, an injunction and compensation for an alleged taking of its property.
Gypsum's case recently centered on Jones. In addition to alleging that he participated in a quid pro quo, Gypsum has accused Jones of obtaining a "sham opinion" from the state ethics board.
"The opinion is predicated upon a wholesale misrepresentation of Jones' activities," Gypsum wrote, arguing that Jones withheld the scope and nature of his advocacy with Save Red Rock.
In a court filing, lawyers for Jones denied this, accusing Gypsum of misrepresenting the facts. Terry Coffing, an attorney for Jones, argued the allegation was "just another effort by Gypsum's to paint Commissioner Jones in a bad light so that it can somehow justify its frivolous actions…"
More recently, Gypsum asked the court to sanction both Clark County and Jones.
As Gypsum collected evidence for the case, it received several communications involving Jones from other witnesses, communications that Jones had not turned over. As part of the discovery process in the case, Gypsum sought documents from Jones, associated law firms and his wife, Megan Jones, a Democratic consultant who has served on the Nevada Conservation League board. A bankruptcy judge last year allowed for the forensic investigation of Jones' cell phone.
What Gypsum found was significant. According to a filing, on the evening of the April 2019 vote, "all of Jones' text messages magically disappeared from his phone." Gypsum said Clark County is also culpable in not taking steps to preserve the records, and it should also be sanctioned.
Brian Hardy, an attorney for Jones, told the court that "Gypsum's litigation strategy throughout this case has been to throw out as many smokescreens as possible to divert attention from its own self-inflicted failures." Jones, he argued, provided the communications he had accessible to him. But notably, Hardy did not deny the allegation that Jones had deleted the correspondence.
In response, Gypsum stressed the need for an open hearing, claiming that "as a public official, Jones destroyed public records in an effort to conceal his improprieties relative to Gypsum."
The court has not ruled on any of the substantive issues and has not set a date for hearings, although Rhodes' creditors — with money on the line — have urged the court to move faster.
In June, VICES LLC made a filing with the court. VICES, a company managed by Las Vegas businessman Jelindo A. Tiberti II, made a $500,000 loan to Gypsum in May 2019, a loan that is secured by Gypsum's land, according to a footnote in the court filing.
"While a nonparty to the case, Vices and other non-parties are interested in the disposition of [Gypsum's] claims before this court," VICES' lawyer told the federal district court last month.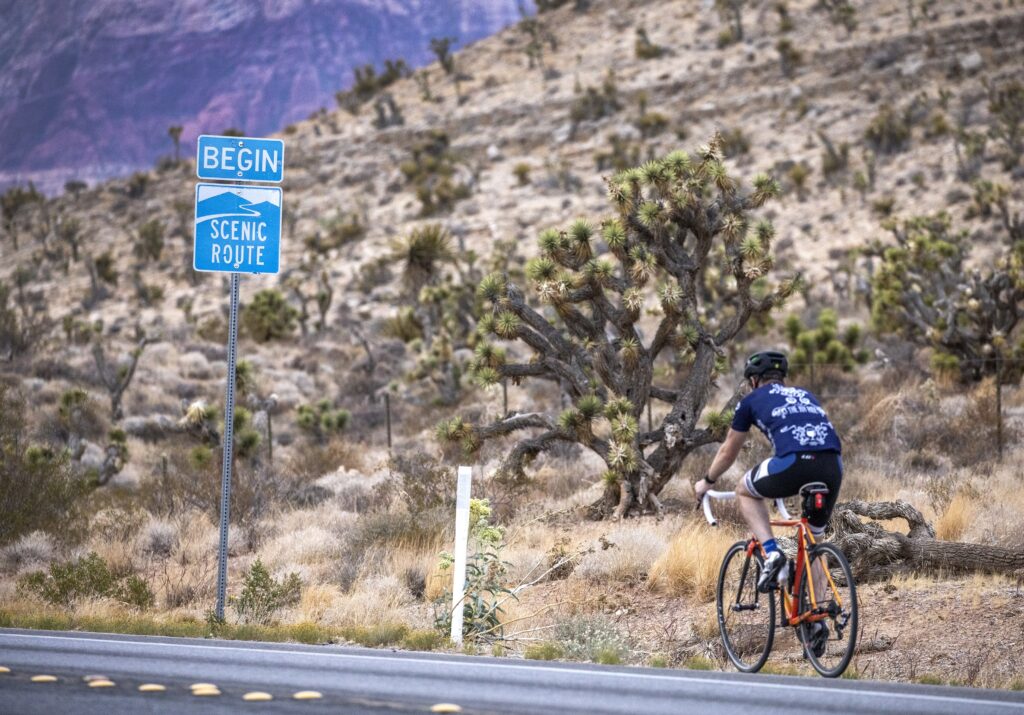 "You know what you bought"
During our reporting of this story, Lisa Mayo-DeRiso, who spoke out about the costs of Rhodes' project at the 2011 county meeting, emailed The Nevada Independent to talk about this article.
Mayo-DeRiso had switched sides. Once an advocate against Rhodes' project, Mayo-DeRiso, a political strategist, was now coordinating communications for Gypsum, a developer that she had long opposed. It was yet another bizarre turn of events in the decades-long fight over Red Rock.
At the time, in March, Mayo-DeRiso was backing the campaign of Jenna Waltho, a former Clark County Planning Commissioner and a Republican candidate for District F. Waltho, who lost her primary race to Drew Johnson, was running to unseat Jones, who is up for re-election this year.
Mayo-DeRiso said she was disgusted with the dealing between Sisolak and Jones that Rhodes' team presented in his lawsuit. She came away agreeing the county was trying to "target him."
"The whole tone of that made me sick to my stomach," Mayo-DeRiso said.
Of course, Mayo-DeRiso also hinted at another reason for her frustration with Jones: As a new commissioner in 2019, Jones sought to certify the close election between Commissioner Ross Miller and then-Las Vegas City Councilman Stavros Anthony, whose campaign she managed.
The switch in allegiance underscores an essential point that becomes clear throughout the case filings: Politics in Clark County are deeply personal. The inner-workings of Clark County can be insular — a landscape of de facto rules, seasoned lobbyists and the ongoing threat of litigation.
Beneath the intrigue and accusations that have always shrouded the Red Rock project, the case revolves around larger questions about where Clark County's discretion begins and ends.
Bice has argued that, legally, land use is not "a referendum." There are laws that Clark County must follow. Property rights should not change based on the political whims of the county or a politician. And while the settlement agreement does not prescribe an outcome, it requires the county to process an application for high-density homes in "good faith," a clause that Gypsum says the county violated by delaying a vote and allowing for behind-the-scenes deal-making.
But as a local government, the county says it retained agency to vote for or against an agenda item — and the commission voted down the contested waiver in April 2019. Jones was only one of five votes. As a result, Clark County has argued that "there is no official policy and no causal nexus between the alleged conduct and a final policy making decision of Clark County…"
Activists opposing the Red Rock project have long stated that Rhodes is entitled to build on the land he bought, land that is zoned for a rural density. Giunchigliani said she sees the issue as a simple one: Rhodes "knew what the land use was," and he did not obtain a federal road permit.
"I still think it comes down to the fact that they did not have access to that road. [Rhodes] bought what he bought, and it's not developable," she said. "That's not the county's fault. That's not Save Red Rock's fault. I'm tired of developers that say 'I should have this.' Well too bad."
"You know what you bought," Giunchigliani added. "You know what the zoning was."
The Nevada Independent is raising $200,000 by Dec. 31 to support coverage of the 2024 election.
Tax-deductible donations from readers like you fund this critical work.
If you give today,your donation will be matched dollar-for-dollar.
Give + Get Matched
Featured Videos