Democratic incumbents stay on top in Senate, House fundraising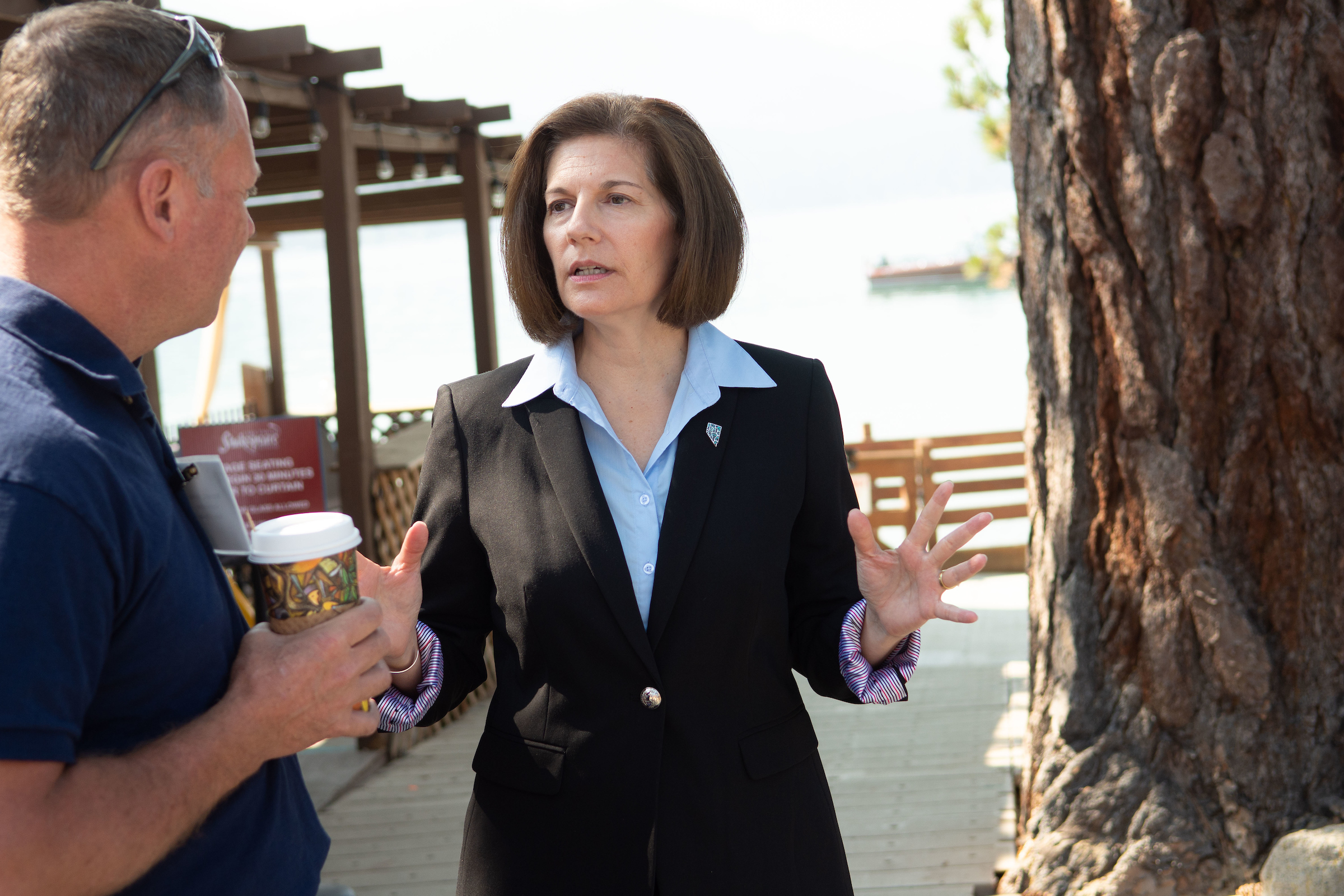 Nevada's incumbent Democrats led the way in campaign fundraising during the fourth quarter of 2021, with Sen. Catherine Cortez Masto and Rep. Susie Lee leading their respective fields and bringing in roughly triple the amount of money their top Republican opponents did.
The latest campaign finance reports, filed with the Federal Election Commission earlier this week, mark the first look at congressional fundraising since a redistricting special session in November that saw Democrats bolster slim voter registration advantages in districts 3 and 4 by adding residents from the once heavily Democratic District 1.
Following redistricting, each Democrat-controlled district encompasses an area that President Joe Biden won by between 6 and 8 percentage points in the 2020 election. Those Democrats in control maintained hefty fundraising leads over their potential Republican opponents throughout the fourth quarter, while Republican Rep. Mark Amodei continued to lead the way in District 2.
Below, we explore the latest campaign finance data from Nevada's Senate and House candidates vying for seats in 2022.
Senate
Catherine Cortez Masto
Though she still lags the biggest names in the push from national Democrats to keep the Senate in 2022, Cortez Masto has continued to pile up multi-million dollar fundraising quarters with no intra-party competition.
With another $3.3 million raised to close the final three months of 2021, Cortez Masto boosted her cash on hand to more than $10.4 million — by far the most of any candidate in Nevada.
Most of that fundraising — about $2.9 million — came from individual contributions, with the remainder coming from PAC contributions ($320,700) and committee transfers ($42,800).
Almost one third of those PAC contributions came from just 25 corporate, union and political groups giving Cortez Masto $5,000 for the primary, including major corporations such as Google and General Motors.
Cortez Masto also spent just over $1.2 million in the fourth quarter — more than either Laxalt or Brown, and nearly more than either of her Republican opponents managed to raise overall.
The senator's single largest expense came from a single firm — Anne Lewis Strategies — which received $200,000 for online fundraising consulting and another $162,000 for a contact list acquisition. Her campaign also spent more than $293,000 on a handful of mailing campaigns, including costs for printing, postage and consulting.
Adam Laxalt
Through the fourth quarter and for the second quarter in a row, Trump-endorsed Republican candidate and former Attorney General Adam Laxalt notched a seven-figure fundraising period with nearly $1.34 million raised and more than $1.69 million cash on hand.
Most of that fundraising, roughly $1.28 million, also came from individual contributions, with the remaining $38,000 coming from PACs.
Some of those individuals giving Laxalt the $5,800 maximum include Republican mega-donor, heiress and part-Breitbart owner Rebekah Mercer, and Derek Stevens, the owner of several Downtown Las Vegas properties, including Circa resort.
Laxalt also received a $2,900 contribution from former Trump-era White House Counsel Pat Cipollone, who was at the center of a chaotic period at the Justice Department as then-President Donald Trump sought to undermine the results of the 2020 election.
Laxalt spent the least of any of the top three candidates — though not by much, doling out $904,000 in the fourth quarter. The biggest single chunks of spending went largely to contact list rentals and acquisitions, which alone soaked up more than $245,000, while another $131,000 went to a handful of digital advertising campaigns.
Sam Brown
Emerging as a dark horse candidate in an unexpectedly competitive Republican primary, Republican Sam Brown touted the second consecutive quarter of million-dollar fundraising, raking in $1.06 million in the last three months of last year.
However, Brown spent nearly all of it — about $979,000 — leaving just $732,000 cash on hand, the least of any of the three major candidates.
Only a handful of Brown's donors gave the maximum $5,800. Among them were Robert Groesbeck, the co-CEO of the marijuana company Planet 13, Gillett Construction CEO Darren Gillett, and Robert Beadles, a cryptocurrency entrepreneur and member of the Washoe County GOP Central Committee.
At least some of that is already being reserved for late-primary ad buys, according to documents filed with the Federal Communications Commission on Tuesday. That includes more than $22,000 on a single local reservation, with ads set to air for the final two months before polls close in June.
Other candidates
Two more Republicans continued to fundraise in the distance behind Laxalt and Brown. Raising the most was Sharelle Mendenhall, who brought in more than $45,000 and spent more than $44,000, leaving roughly $10,000 cash on hand.
She was followed by fellow Republican William Hockstedler, who reported $4,375 raised (including $2,100 in candidate loans) and more than $9,300 spent, leaving $10,725 cash on hand.
Two additional non-affiliated candidates, Gretchen Rae Lowe and J.J. Destin, did not file reports for the fourth quarter.
District 1
Dina Titus (D-incumbent)
Longtime incumbent Dina Titus raised over $273,000 in the fourth quarter, with about half ($143,155) coming from political committees and PACs.
Supporters who gave her the maximum amount of $5,000 for the primary election include the Progressive Turnout Project PAC, Wynn Resorts, the Elect Democratic Women PAC and Titus' own leadership PAC, Democrats Time In Nevada.
Titus was recently endorsed by the Democratic Majority for Israel PAC and received $2,500 from the Pro-Israel America PAC. House Speaker Nancy Pelosi's campaign PAC also contributed a total of $4,000 to Titus's campaign.
In the fourth quarter, more than a dozen people gave the $2,900 individual maximum for the primary election, including former dean of UNLV's Boyd School of Law, Daniel Hamilton; Diana Bennett, CEO of Paragon Gaming, and the San Manuel Band of Mission Indians tribe and casino operator.
Of the $39,500 Titus spent, $12,200 went to fundraising consulting.
Amy Vilela (D)
Progressive candidate Amy Vilela raised $95,564, a bit less than the $102,000 she raised last quarter. Nearly $46,000 came from individual contributions under $200, including dozens of recurring monthly donors ranging from $5 to $27.
Vilela received $5,000 from political committees including Barriers To Entry PAC, which also endorsed Vilela; Bernie Sanders-affiliated PAC Two Eight Five, and a campaign PAC linked to Ohio Democratic congressional candidate Nina Turner.
Of the $107,050 Vilela spent, nearly $15,000 went to fundraising services, and $30,000 went to communications and campaign management consulting. She has $35,694 cash on hand.
Mark Robertson (R)
Republican candidate Mark Robertson raised $56,765, about $26,000 less than last quarter and nearly half of what he brought in during the second quarter. Since last quarter, Robertson switched to District 1 from District 3.
Several community members donated $1,000 or more to his campaign, and he also gave himself $1,200. Robertson did not receive anything from political committees and PACs.
He spent nearly $41,000, including $2,881 on Facebook advertising, $1,947 on Google services and advertising and $3,545 for fundraising services, leaving him with over $172,400 cash on hand.
Carolina Serrano (R)
Former Trump campaign staffer Carolina Serrano made a comeback in the fourth quarter, raising over $59,000, about double what she raised in the third quarter.
Her biggest contributor remains Richard Solomon, a Las Vegas poker player, who donated $5,800. Jim Hammer, owner of Westar Construction, donated $5,000.
Former attorney general and Senate candidate Adam Laxalt endorsed Serrano in January.
Of the $41,414 Serrano spent, $20,000 went to communications consulting and $4,105 went to fundraising services. She has $57,000 cash on hand.
District 2
Mark Amodei (R-incumbent)
Rep. Mark Amodei raised nearly $97,500 in the fourth quarter, slightly less than in the third quarter. About $55,177 came from individuals, while $41,655 was from political committees and PACs.
Amodei's donors include four members of the Fertitta family, owners of Station Casinos, who contributed a combined amount of $11,600. The Cherokee Nation contributed the maximum amount of $2,900, and Nevada Trucking Association CEO Paul Enos gave $1,500.
Among the PACs that donated, telecommunications company AT&T and aerospace company Boeing's PAC gave the maximum of $5,000, while right-leaning PAC Tuesday Group gave Amodei $3,000.
In the fourth quarter, Amodei spent nearly $65,000, including $33,413 for fundraising consulting, events and supplies (including over $500 for Cigars International), $2,000 to four Republican candidates' campaigns, and $2,075 for travel. He has $400,500 cash on hand.
District 3
Susie Lee (D-incumbent)
In this district — home to expensive House races in recent cycles — Democratic Rep. Susie Lee led the way in the money race, bringing in $623,000 in fourth-quarter contributions while raising her cash on hand to $1.79 million heading into 2022.
More than three-quarters of Lee's contributions ($479,000) came from individual donors, including 70 contributions of the maximum $2,900 for individuals, totaling $203,000. Lee also received nearly $140,000 from PACs, including $5,000 contributions from People Helping People, a leadership PAC associated with Rep. Maxine Waters (D-CA), and the House Majority PAC, a group aligned with Speaker Nancy Pelosi (D-CA).
The incumbent Democrat spent $276,000 during the fourth quarter, sending more than $41,000 to Washington, D.C.-based firm Break Something for marketing and digital consulting and nearly $78,000 to San Francisco-based consulting firm CleanSweep Campaigns for marketing.
Randell Hynes (D)
Lee's only challenger in the Democratic primary, Randell Hynes, an Army veteran and software developer, did not file a quarterly finance report with the FEC and told The Nevada Independent that he raised $0 during the fourth quarter.
April Becker (R)
On the Republican side, April Becker, a real estate attorney who narrowly lost a state Senate bid in 2020, has taken a clear fundraising lead.
Becker raised more than $200,000 from October to December of last year, bringing her fundraising total for 2021 to $846,000 — an off-year record for a non-incumbent running in any House race in Nevada.
Nearly $180,000 of Becker's contributions came from individuals, including two maximum $2,900 contributions from her husband, Matt. She raised another $19,000 through PACs, including two maximum contributions of $5,000 from Rep. Elise Stefanik's (R-NY) E-PAC.
After spending almost $106,000 during the quarter — including about $22,000 on fundraising services primarily through consulting firms Campaign Solutions and October, Inc. — Becker ended the year with $381,000 in cash on hand, an amount that topped the Republican field.
John Kovacs (R)
Becker was followed by construction company owner John Kovacs, who reported raising nearly $158,000 in the fourth quarter, of which $153,000 came from personal loans to his campaign.
Kovacs entered the year with about $16,000 in cash on hand, after spending $66,000 on various media and advertising buys and $15,000 on Republican campaign consulting firm Axiom Strategies, which has also worked for Senate candidate Adam Laxalt.
Noah Malgeri (R)
Attorney and business owner Noah Malgeri reported more than $30,000 in contributions during the fourth quarter, boosting his cash on hand to nearly $92,000. More than $29,000 of that money came from individual contributions.
Of the $15,000 Malgeri spent last quarter, the majority ($10,600) went to North Carolina-based fundraising consultant Saligram and Associates.
Clark Bossert (R)
UNLV machine shop manager Clark Bossert brought in $13,000 from October to December of last year, all of which came from individual contributions.
He spent nearly $10,000 of those funds, including $3,700 on campaign consultant Daniel Plitt, leaving him with just about $3,000 entering 2022.
Steve Schiffman (R)
One Republican candidate, Steve Schiffman, a Las Vegas-based attorney who lost in the Democratic primary for District 2 in 2020, did not file paperwork to run in District 3 until January and did not have to file a 2021 year-end report with the commission.
District 4
Steven Horsford (D-incumbent)
The Democratic incumbent raised $465,000 during the fourth quarter, boosting his cash on hand to $1.68 million — more than seven times the highest cash on hand of any Republican challenger.
Horsford saw most of his money flow from big-dollar fundraising and maximum contributions, as he brought in $254,000 from PACs, including eight maximum donations of $5,000. Horsford also received $208,000 in individual contributions, including nearly 30 maximum $2,900 contributions. Those included donations from former MGM Resorts International CEO Chairman Jim Murren and the company's current CEO Bill Hornbuckle.
Horsford spent about $253,000, including more than $58,000 on consulting through various fundraising and strategy firms and more than $4,000 on online advertising.
Sam Peters (R)
In the Republican primary, Sam Peters, a 2020 congressional candidate and insurance firm owner, raised $134,000 in the fourth quarter, including more than $32,000 in individual donations of less than $200. He ended the year with $229,000 in his campaign war chest.
Peters reported $77,000 in fourth-quarter disbursements, sending more than $18,000 to Las Vegas-based consulting firm McShane, LLC and spending another nearly $10,000 on campaign consulting through consultant Ryan Shear and Georgia-based firm Strategic Vision.
Jessie Vargas (R)
Former world champion professional boxer and political newcomer Jessie Vargas raised $84,000 in the fourth quarter after launching his congressional campaign in early November. About $64,000 of that money came from individual contributions, with the remaining $20,000 coming by way of a personal loan to his campaign. Vargas has had a multi-million dollar boxing career.
He ended the quarter with $82,000 in cash on hand, after spending just $2,000 in the quarter on fees for Republican fundraising platform WinRed.
Other candidates
Two other Republicans in the race, Annie Black (a real estate agent and assemblywoman who previously served on the Mesquite City Council) and Chance Bonaventura (a senior aide to Las Vegas City Councilwoman Michele Fiore) do not have to file 2021 year-end reports with the commission, as they did not file paperwork to run for office until early this year.
Editor's Note: This story appears in Indy 2022, The Nevada Independent's newsletter dedicated to comprehensive coverage of the 2022 election. Sign up for the newsletter here.
Featured Videos
Comment Policy (updated 4/20/2021): Please keep your comments civil. We reserve the right to delete comments or ban users who engage in personal attacks, use an excess of profanity, make verifiably false statements or are otherwise nasty. Comments that contain links must be approved by admin.