DeSantis super PAC calls Nevada GOP primary 'rigged' for Trump; other candidates shy away from state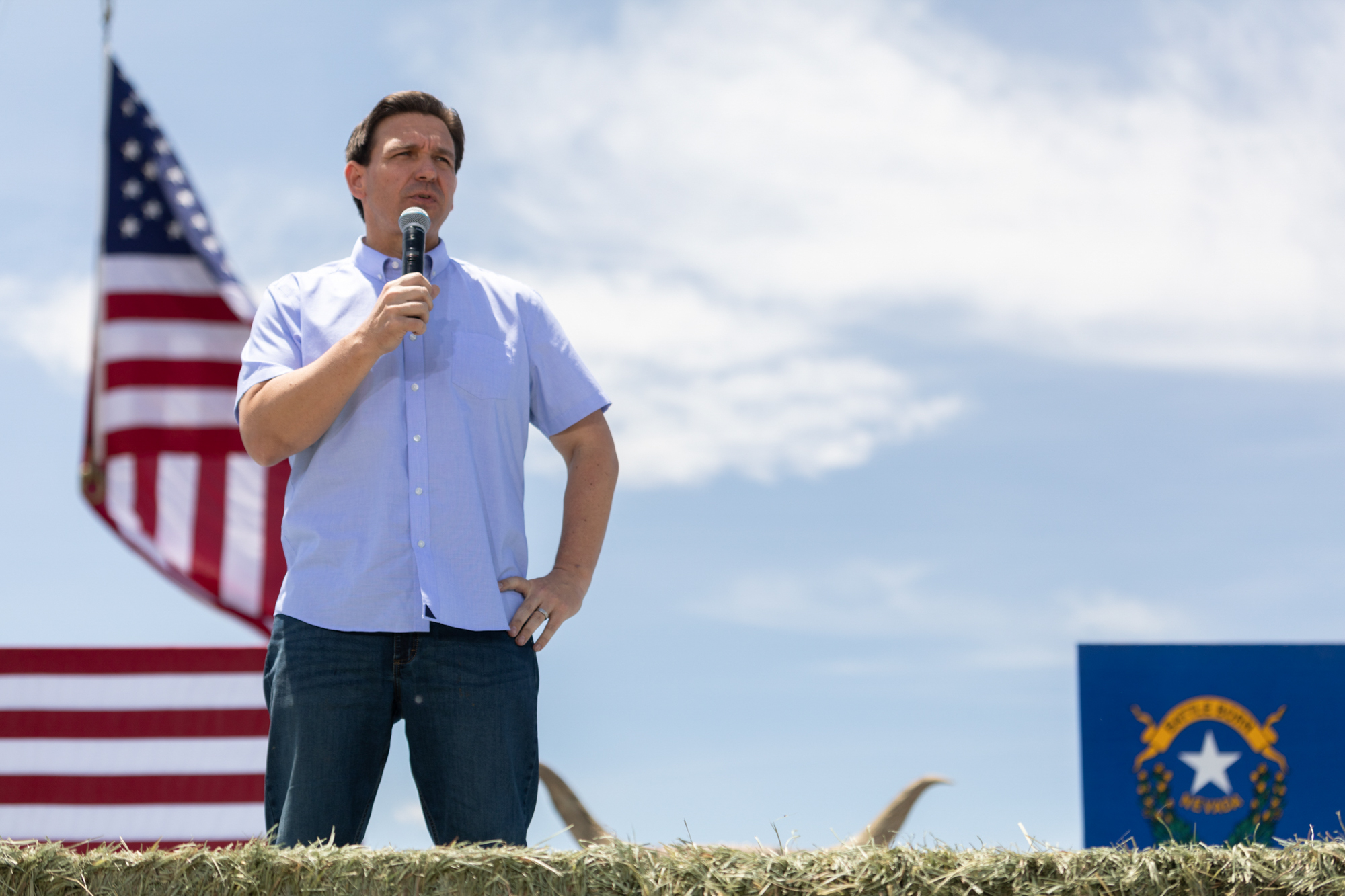 The super PAC backing Florida Gov. Ron DeSantis' presidential campaign is calling the state Republican Party's decision to hold a caucus as evidence that it has "rigged" the primary to ensure an early state victory for former President Donald Trump.
The Nevada GOP plans to hold a party-sponsored presidential caucus on Feb. 8 — two days after the state-run presidential primary on Feb. 6. The state GOP has said it will award delegates to the winner of the caucus, and is asking candidates to not participate in the primary.
Never Back Down, the super PAC backing DeSantis, criticized that decision in announcing that it was suspending door knocking operations in Nevada.
"Unfortunately, state GOP leaders are so obsessed with appeasing Trump that they've rigged their primary to prioritize Trump above their own voters," a Never Back Down official told The Nevada Independent. "They're eliminating important grassroots processes which doesn't benefit voters, only Donald Trump, so it doesn't make logical sense to continue spending resources on grassroots efforts like door-knocking in the state."
The super PAC's decision, first reported by NBC News, comes amid potential voter confusion over which contest to participate in and eroding candidate interest in the state, which has already received far less attention than fellow early states Iowa, New Hampshire and South Carolina. Candidate filing for the party-run caucus opened on Sept. 1 and runs through Oct. 15, while filing for the state-run primary will take place between Oct. 2-16.
The Nevada Independent reached out to the campaigns of 10 other GOP presidential hopefuls; only one responded as to whether they would participate in either the caucus or primary — Vivek Ramaswamy.
"We will be going for delegates," said Ramaswamy adviser Tricia McLaughlin. "Under the current version of the rules, that's the caucus."
The Trump campaign supports the caucus efforts and hired the state party's former executive director as its state director. The Nevada GOP did not respond to a request for a list of candidates who have filed for the caucus thus far.
The competing contests have at least one engaged Republican voter confused — Rep. Mark Amodei (R-NV), the state's only federally elected Republican.
In an interview, Amodei said he had spent the past five weeks of congressional recess meeting with various groups across the state, where he heard lots of questions about how voters are supposed to participate.
"Right now, [there] is a hell of a lot of confusion," he said. "And by the way, you can put me in that camp as well."
Amodei said he has not yet discussed the issue with Nevada GOP chair Michael McDonald, but that he hopes the state party involves the county parties in the caucus to resolve gaps in understanding at the voter level.
And he said he doesn't blame campaigns for focusing elsewhere.
"I can certainly see somebody going, we're going to put our money somewhere we know what the rules are, and we can have the best chance of getting a result," he said.
The state-run primary will be held in accordance with a 2021 law, signed by then-Gov. Steve Sisolak, setting a date for a presidential primary and ending the state's traditional caucus. Nevada was one of three states to use a caucus system in 2020.
The Nevada GOP, wanting to hold a caucus, sued the state to block the primary — an effort supported by the Trump campaign, which has been involved in efforts to change nominating contest rules in state parties across the country, according to Reuters. The case is still in litigation.
Campaigns will be faced with a dilemma over which process to participate in. The caucus will award the state's 26 delegates, which make up about 1 percent of the total estimated delegates.
But given Nevada's small delegate total, a strong performance in the state could give a candidate momentum heading into Super Tuesday, especially given that the primary results will be reported first.
There are also notable differences between the two; both are only open to registered Republicans, but the primary will feature a week of early voting, mail ballots distributed by Jan. 17 and same-day voter registration. Caucus-goers, meanwhile, must present voter ID and participate in meetings at precinct locations at 5 p.m. that day. For the caucus, absentee voting is only available to active duty military members and their dependents.
McDonald, a longtime Trump ally who was deeply involved in the campaign's effort to overturn the 2020 election, told NBC News that the move to host a caucus is about protecting the party from election fraud rather than advantaging Trump.
"We have to make sure that we're able to have a transparent election," he said.