Indy Explains: Nevada's 2024 presidential primaries and Republican caucus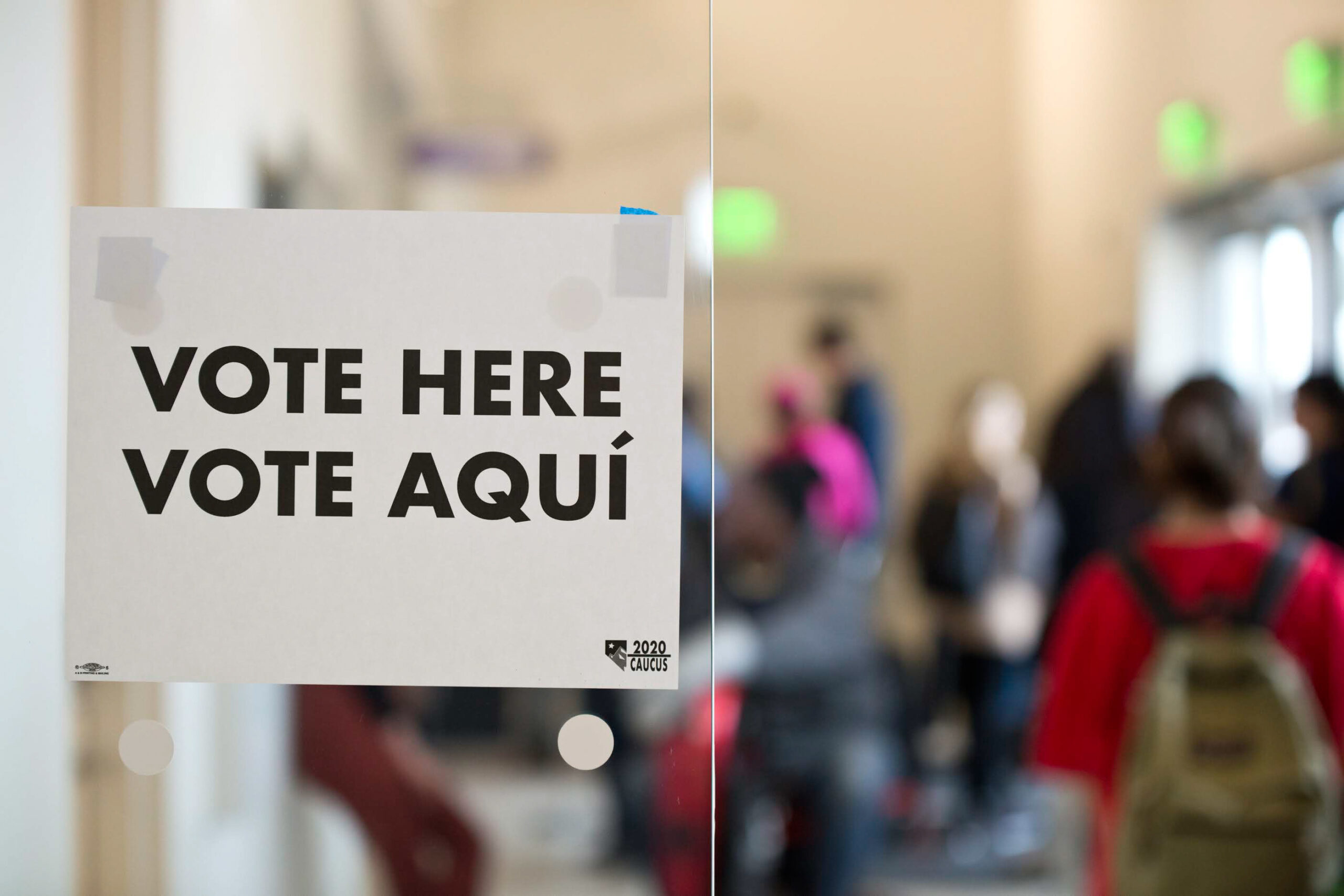 For the first time in more than four decades, Nevada will hold presidential primaries — rather than caucuses — on Feb. 6, 2024.
The transition comes after a bipartisan group of lawmakers in the Democrat-controlled Legislature and Gov. Steve Sisolak approved a 2021 law requiring that a presidential preference primary election be held for each major political party on the first Tuesday in February of a presidential election year.
But for Republican Party voters, the results from the primary won't hold any weight. The Nevada GOP plans to run a traditional caucus two days later on Feb. 8, to allocate the state's presidential delegates, and will not use the results from the primary election.
The new system is in part meant to increase participation in the partisan presidential nominating process, as the coming primary elections will see mail ballots sent to every voter registered with a major party — a stark contrast to the caucus system, that typically involves voters meeting in person and gathering in groups to openly cast votes for their preferred candidate through a complex delegate allocation plan.
In 2020, Nevada was one of three states to still use the caucus system.
The Democratic National Committee (DNC) has approved a nominating calendar that places South Carolina first on Feb. 3 next year, followed by both Nevada and New Hampshire on Tuesday, Feb. 6.
But the Nevada Republican Party has not been on board with the change, filing a lawsuit to block the state from holding a presidential primary election (a case still being litigated) and planning to hold a caucus in February to allocate the state's presidential delegates. Party officials have argued the lawsuit is meant to maintain the group's control over its nominating process and prevent "out-of-state interests" from interfering with the selection.
Nevada is still set to serve as an early state in the Republican National Committee's (RNC) nomination process — behind traditional frontrunners Iowa and New Hampshire, but jumping ahead of the traditional third Republican state, South Carolina, with its Feb. 8 caucus. The Nevada GOP is likely to approve the details of that election during its September meetings, though the party has already shared some specifics for the caucus on its website.
Nevada's presidential primaries will be run by state and local election officials using the same voting processes used in other elections — including secret ballots, mail voting and an early voting period.
Read below for more details on Nevada's new presidential preference primary system. This story will be updated in the lead-up to Election Day, as more details of each party's nominating process and ballots are finalized.
When are Nevada's 2024 presidential preference primaries and the GOP caucus?
The Silver State's presidential primaries will be held Feb. 6, 2024, the first Tuesday in February.
Under state law, early voting will last one week, running from Saturday, Jan. 27, through Friday, Feb. 2. State law also requires polling places to be open for at least four hours on Saturdays during early voting and at least eight hours on weekdays.
Mail ballots must be distributed by Jan. 17 — 20 days prior to Election Day.
In mid-August, the Nevada GOP announced it would hold its caucus Feb. 8 — two days after the primaries conclude. The caucus will occur at 5 p.m. on that Thursday evening, according to the party.
Under the national Republican Party's rules, Nevada is one of four states — alongside Iowa, New Hampshire and South Carolina — allowed to conduct its presidential preference election prior to March 1. The rules also dictate that for states holding their elections prior to March 15, that state's delegates must be allocated proportionally to votes.
Who can vote in the presidential primaries?
The presidential primary elections are considered closed primaries and are limited to major party voters (either Democrat or Republican), meaning those registered as nonpartisan or with a minor party are not eligible to vote in these elections.
But same-day voter registration is in effect during the presidential primaries, which means someone who is otherwise eligible to vote can register with one of the major parties during the early voting period or on Election Day and vote in the Democratic or Republican primary.
That includes nonpartisan voters, minor party voters and major party voters who are able to re-register as a Democrat or Republican on the day they vote.
For the GOP caucus, only voters registered as Republicans will be able to participate. The party also plans to require voters to show a government-issued ID to participate — a requirement that is not in place in government-run elections in Nevada.
Who will be on the ballot in the presidential primaries?
Despite the growing size of the presidential field, the list of candidates that will appear on each primary ballot will not be finalized until mid-October.
The candidate filing period for the presidential preference primaries will be held Oct. 2-16. To qualify for the ballot, a candidate must meet the constitutional requirements — be a natural-born citizen of the U.S., be at least 35 years old and have been a resident of the U.S. for at least 14 years — and any rules of the major political party.
The filing period for the GOP caucus is longer, running from Sept. 1 through Oct. 15, though the party is also asking candidates not to participate in the primary by only filing to run in the caucus.
If there is only one qualified candidate from a major political party in the race, the state is not required to hold a presidential primary election for that political party.
The Feb. 6 elections are also strictly limited to the selection of presidential nominees. Nevada's other primary elections for offices such as U.S. Senate, the House of Representatives and local office will be held in June.
What will the results of the primaries mean?
The purpose of a party's presidential preference primary is to award a state's presidential delegates. Based on the votes a candidate receives, they are assigned a certain number of state delegates who will vote for them at their party's national convention.
At the Republican National Convention, Nevada will have 26 delegates, about 1 percent of the estimated 2,467 Republican delegates. At the Democratic National Convention, the state will have 48, representing more than 1 percent of the estimated 4,514 delegates.
Still, the results of the primaries are not technically binding. The Nevada GOP plans to allocate delegates based on the results of the caucus, while Nevada Democrats plan to base the allocation on the results of the primary.
The candidate who receives the most delegate votes at their party's national convention will be the party's nominee on the November general election ballot. That also means the top choice of Nevada Republican or Democratic voters may not be the nominee if more delegates from other states support a different candidate.
Despite having a small fraction of delegates, Nevada holds more weight as a state that falls early in the nominating order, meaning that it draws greater attention from voters and candidates as the field takes shape.
The Republican Party's national convention will be held in July 2024, and the Democratic Party's convention is set for August 2024.
How will the presidential primaries be run?
The presidential primaries will function just like other elections in Nevada. All voters registered as Democrats or Republicans will be mailed a ballot, unless they've opted out of receiving a mail ballot.
Local election officials must mail ballots to every registered voter eligible to participate in the primary by Jan. 17, 2024. In-person voting will take place during the early voting period (jan. 27 to Feb. 2) and on Election Day (Feb. 6), and voters will be allowed to cast their ballots at any polling location in their county.
Same-day registration services for new and existing voters (including a change in party affiliation) will be available during the early voting period and on Election Day.
Mail ballots postmarked by Election Day will be counted as long as they are received by four days following the election, Feb. 10 at 5 p.m.
The deadline for county commissions to canvass and certify the vote is Feb. 16.
How will the GOP presidential caucus be run?
Though the party has not finalized all details of the caucus as of mid-August, the party-run nominating event will occur at 5 p.m. on Feb. 8 with Republican voters limited to participating in person at yet-to-be-announced precinct locations across the state.
There will be no early or mail voting, though absentee ballots will be available strictly for "active duty military members and their dependents," according to the party.
Voters will be required to show a government-issued ID to participate, and voting will take place on paper ballots. Caucus-goers will also be able to view the tabulation of the ballots at each precinct location.
In a statement announcing the caucus date, party officials described the caucus system as a way to provide voters "with the unique opportunity to engage with the candidates, discuss important issues and voice their opinions on the future direction of the Republican Party."
How much does a presidential primary cost?
During 2021 bill hearings, representatives with the secretary of state's office estimated that hosting the Democratic and Republican presidential primaries would cost upward of $5.2 million in each presidential election year.
Those costs are driven primarily by mail ballots in each county, with additional expenses for extra personnel and voter outreach and education.
The cost of each election will ultimately be influenced by the number of registered voters at the time of the election, and how many are mailed ballots.
The Republican Party's caucus will be run by the party and not cost money for the state.
Why did Nevada adopt presidential primaries in place of caucuses?
Nevada's adoption of a presidential preference primary system came as state Democrats led a push to make the Silver State the first-in-the-nation primary state, ahead of New Hampshire.
Following that change in law made during the 2021 legislative session, officials with the state party pitched Nevada as best suited for the first slot because of its diverse population, historical position as a swing state and recent policies to expand voting access — including same-day voter registration, two weeks of early voting before general elections and universal mail voting.
Nevada has also served as a presidential bellwether, as a majority of Nevada voters have supported the winning presidential candidate in 26 of 28 elections dating back to 1912.
The push also came with the support of former Senate Democratic Leader Harry Reid, who in 2020 called on states to switch to primaries for the Democratic presidential nominating process. Reid had previously helped move Nevada up the nominating calendar more than 15 years ago.
At that time in 2008, Nevada and South Carolina moved to third and fourth in the early state nominating order as Democrats aimed to add more diversity to the early voting calendar. Prior to then, Nevada's caucuses — implemented in 1981 and held later in the year — carried less weight, as most presidential primary races were already decided by the time the state voted.
Nevada has had a rocky history of different types of presidential nominating elections and low voter turnout in such contests.
Can the Nevada GOP have both a primary and a caucus?
Yes, the party can hold its own caucus separate from the primary to award presidential delegates.
It has happened multiple times throughout history, including in Washington in 2016, when Bernie Sanders won the state's Democratic delegates after winning the Democratic caucus in March, before Hillary Clinton won a symbolic victory in May by defeating Sanders in the state's Democratic primary.
Where is Nevada in the national nominating calendar?
On the DNC's calendar, Nevada is now tied in second place with New Hampshire — a move up from third, where the state has been since 2008.
Still, obstacles remain before that schedule is finalized. Party leaders in New Hampshire have resisted the changes, saying it conflicts with their state law requiring them to host the first presidential primary one week before any other state. DNC officials have given New Hampshire until Sept. 1 to comply with the change.
On the RNC's calendar, Nevada sits at third. The dichotomy between the parties marks a shift from the past 15 years, as Democrats and Republicans have maintained nearly identical nominating lineups since the early state reshuffling in 2008.
Does Nevada's slot on the calendar matter?
States that sit earlier in the nominating calendar typically hold greater weight in the process, serving as locales for presidential contenders to visit often, gain momentum and pick up delegates before the primary season hits full swing.
President Joe Biden, after finishing fifth in the 2020 New Hampshire primary, came second in the Nevada caucus. One week later, he went on to win resoundingly in the South Carolina primary — and eventually carried that momentum to the Democratic nomination and the presidency.
As of July 2023, most presidential contenders have placed little emphasis on Nevada, instead focusing on other early states, such as Iowa and New Hampshire. Just three announced presidential candidates — Trump, Florida Gov. Ron DeSantis and biotech entrepreneur Vivek Ramaswamy — have made campaign visits to Nevada.
When are Nevada's other elections in 2024?
The 2024 primary election — which will include partisan primary races for seats in the U.S. Senate and House of Representatives — will be Tuesday, June 11.
The general election will be held Tuesday, Nov. 5. Both elections will have two weeks of early voting preceding Election Day, and mail ballots will be sent out by 20 days before Election Day.
Update: Aug. 15, 2023. This article was updated to include additional information about the Nevada Republican Party's presidential nominating caucus.