DeSantis targets the left, not Trump, at Northern Nevada Basque Fry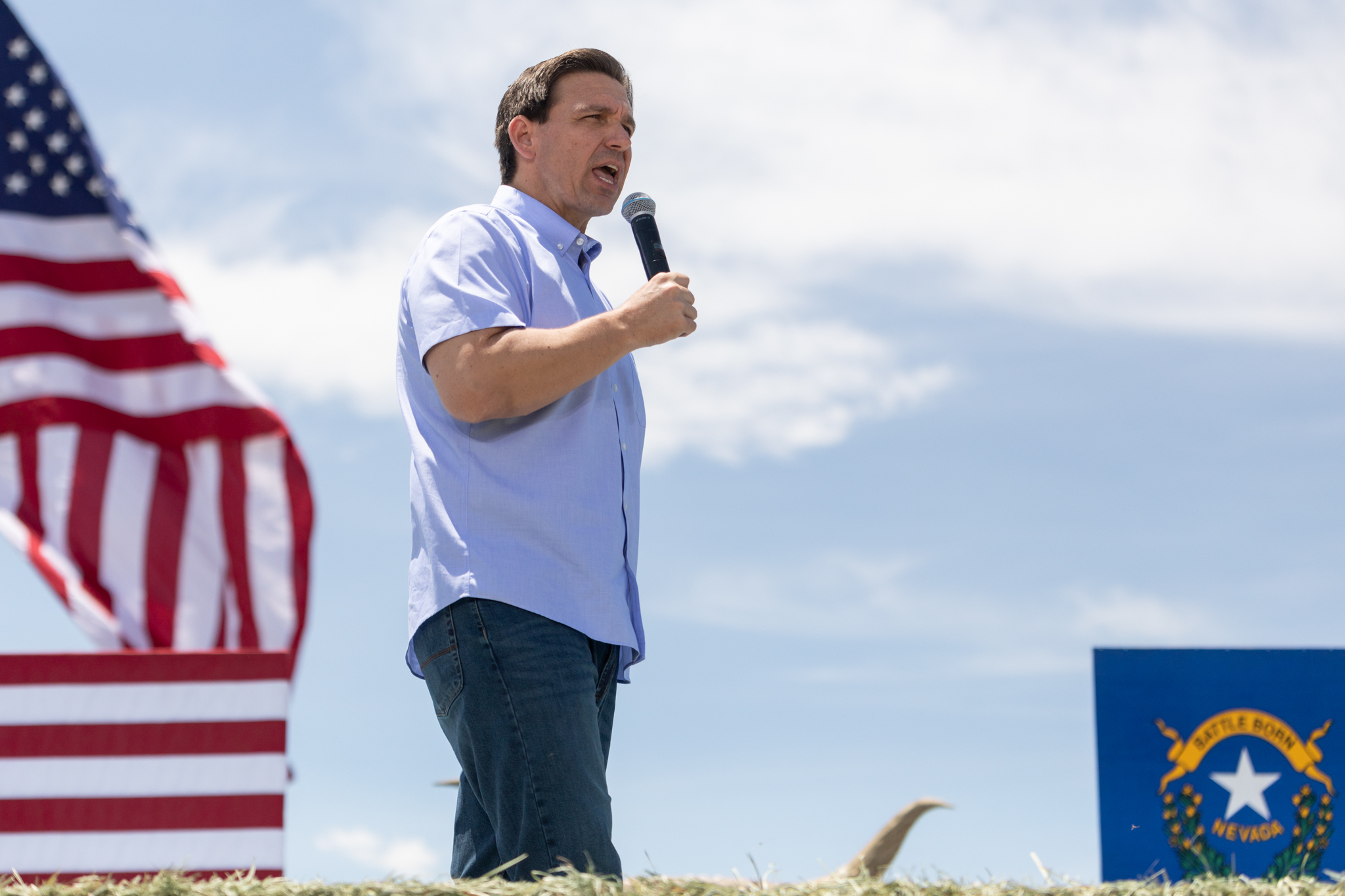 Florida Gov. Ron DeSantis this weekend became the first declared presidential candidate to visit Nevada, pitching himself as a leader who would restore sanity and normalcy to a nation in decline.
The Republican governor's comments came Saturday at the annual conservative Basque Fry event hosted by his longtime friend — and now head of a pro-DeSantis super PAC — former Nevada Attorney General Adam Laxalt.
Speaking before a crowd of an estimated 2,500 people at the Gardnerville-area Corley Ranch in Northern Nevada, DeSantis, a former congressman in his second term as Florida governor, leaned on his culture warrior bonafides. In a 50-minute stump speech, he cast Florida as a conservative model for the nation and railed against "leftist" Democratic governments "destroying" cities and states — and avoided direct mention of his top competitor for the GOP nomination, former President Donald Trump.
"This country is in decline," DeSantis said. "But I don't think that decline is inevitable. I think it's a choice. It's a choice we as Americans will make over these next 18 months."
DeSantis' visit marked one of his first opportunities to win over Republican voters who have ardently supported Trump in a key swing state where voters have supported the winning presidential candidate in all but two elections since 1912.
It also came as the first visit from a major candidate to Nevada in the 2024 presidential cycle, as Republican candidates have so far swarmed other early states in the Midwest and southeast.
The annual Basque Fry, hosted about 50 miles south of Reno, was launched in 2015 by friends of Laxalt, who most recently lost to Sen. Catherine Cortez Masto (D-NV) in a U.S. Senate race last year. Alongside Laxalt's Morning in Nevada PAC, this year's event was also put on by Never Back Down, a super PAC supporting DeSantis' presidential bid that is chaired by Laxalt.
Despite his loss last year, Laxalt told the crowd he was more motivated than ever, throwing his full support behind his former roommate in naval officer training, DeSantis, while taking fire at the national media, "corporations that have made this massive left wing swing" and those who identify as transgender.
"We know it is encroaching on our values," Laxalt said.
Over the past eight years, the annual jamboree rooted in Basque culture has become one of the nation's most prominent events for national conservative politicians — and one that features a Basque speciality, lamb fries (sliced, breaded and fried lamb testicles), as its marquee dish.
Read more about the history and significance of the Basque Fry here.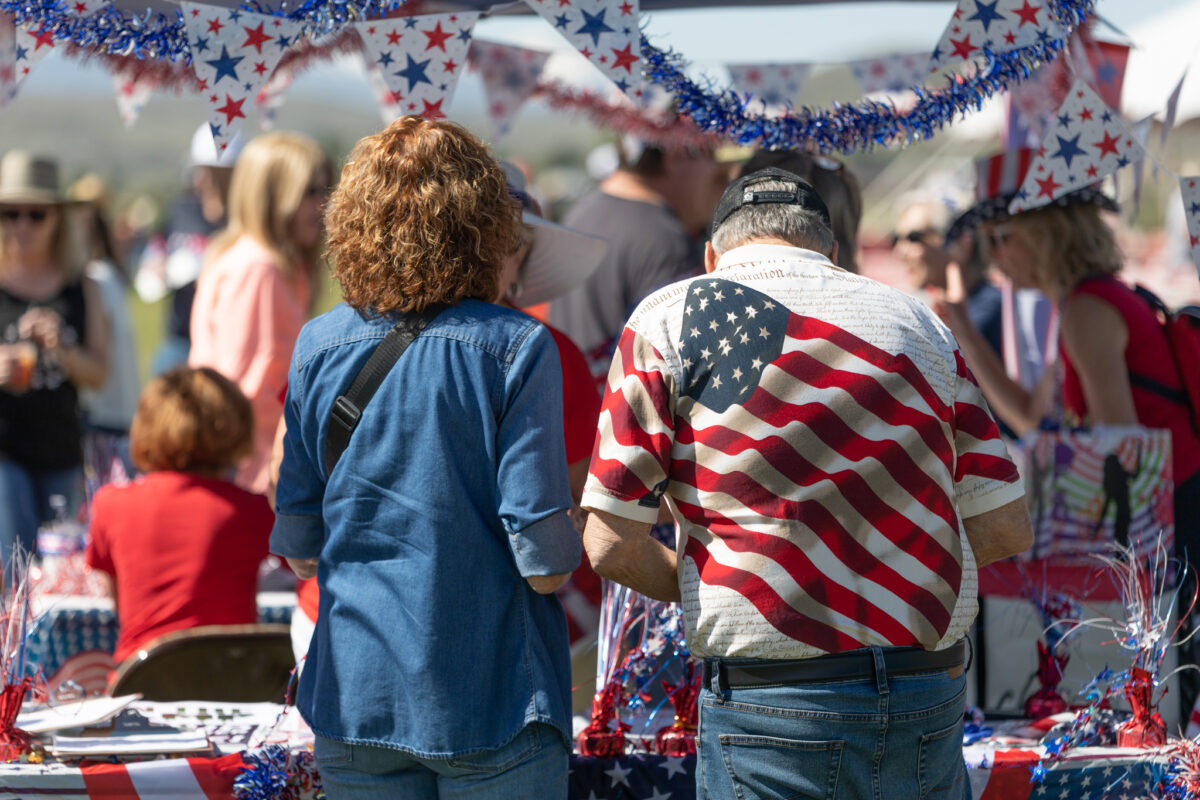 Though typically held in the doldrums of late summer, this year's Basque Fry came weeks early, as DeSantis and others took the stage against a backdrop of the Eastern Sierras on a warm, 80-degree day. The ranch grounds were filled with hundreds of cowboy boot-clad attendees donning red — including "Make America Great Again" hats and American flag apparel.
Last year's Basque Fry drew a mix of national and local GOP figures, including Sen. Ted Cruz (R-TX), South Dakota Gov. Kristi Noem and now-Gov. Joe Lombardo, who at the time had only recently emerged victorious from a 15-person Republican primary for governor. Lombardo had initially been billed as a guest at this year's Basque Fry, but did not attend, and is expected to make an appearance Saturday at the Vegas Golden Knights' championship parade in Las Vegas.
On Friday, DeSantis accompanied Laxalt and Rick Reviglio, president of Western Nevada Supply Co., to the Reno Rodeo, kicking off the presidential hopeful's visit to Northern Nevada with an appearance in purple battleground Washoe County.
Prior to the launch of his candidacy, DeSantis made a trip to Las Vegas in March as part of his promotional Florida Blueprint book tour.
Trump has yet to visit Nevada since announcing his presidential campaign officially in November, though prior to that, he visited Las Vegas in July last year and Minden in Northern Nevada in October — both times boosting the campaigns of Laxalt and Lombardo.
Florida as a national model
Describing Florida as a haven of fiscal responsibility and conservative policy, protected from left-leaning policies, DeSantis leaned on his accomplishments as Florida governor in pitching his vision for the nation.
He spoke about the response he led to COVID-19, emphasizing his pride in decisions to lift mask mandates and restore in-person schooling earlier than other states. Data from the Centers for Disease Control and Prevention (CDC) indicates that Florida ranked 18th among states with the highest COVID-19 mortality rates in 2021.
He also emphasized his fight against "woke ideology" and "leftism" — the word "woke" was uttered 13 times in a three-minute span — pointing to his efforts as governor to take on Disney and eliminate discussions of gender and sexual identity in schools.
But DeSantis' criticism of "woke ideology" extended well beyond the classroom, as he also attacked banks and the use of environmental, social and governance (ESG) investing and faltering military recruitment rates — both victims of what he described as "a war on truth itself."
"We can't let our country descend into some type of dumpster fire of woke ideology," he said.
DeSantis also sought to appeal to the Nevada Republican audience, saying that one thing the Silver State and Florida have in common is that both "receive a lot of disgruntled Californians."
On another common feature between the two states — no state income tax — DeSantis said he would follow suit at the federal level to eliminate income taxes across the country, saying the federal government should "get rid of the IRS and send it off into the sunset."
Another topic DeSantis focused on was his commitment to "law and order" and taking a strong stance on crime and immigration.

"We are tough on crime in Florida and we have enacted a whole bunch of those provisions including authorizing the death penalty for pedophiles in the state of Florida," DeSantis said.
He also highlighted a political stunt where he sent buses of immigrants to Martha's Vineyard — an island in Massachusetts, which Florida officials described as a "sanctuary" destination — as an example of his commitment to addressing an immigration status and following through on his promises.
"The other thing we're going to do is I will be the president to finally bring the issue of the southern border to a conclusion," DeSantis said, noting he wants to "shut down the border," "actually build a border wall" and hold drug cartels accountable.
One of DeSantis' major talking points centered around education, and his implementation of school choice initiatives in Florida and the ability for Florida parents to "direct the education and upbringing of their children."
DeSantis also said under his watch as governor, Florida eliminated Critical Race Theory in the state's K-12 educational systems. Critical Race Theory has become a central focus of conservatives in a culture war that has asserted the academic idea is an indoctrination designed to make children hate themselves, with Nevada candidates during the 2022 election, including Laxalt, seeking to ban it.

However, Critical Race Theory is primarily taught in law school or in some undergraduate- or graduate-level courses and, as defined by EducationWeek, is an academic concept that focuses on the idea that "race is a social construct, and that racism is not merely the product of individual bias or prejudice, but also something embedded in legal systems and policies."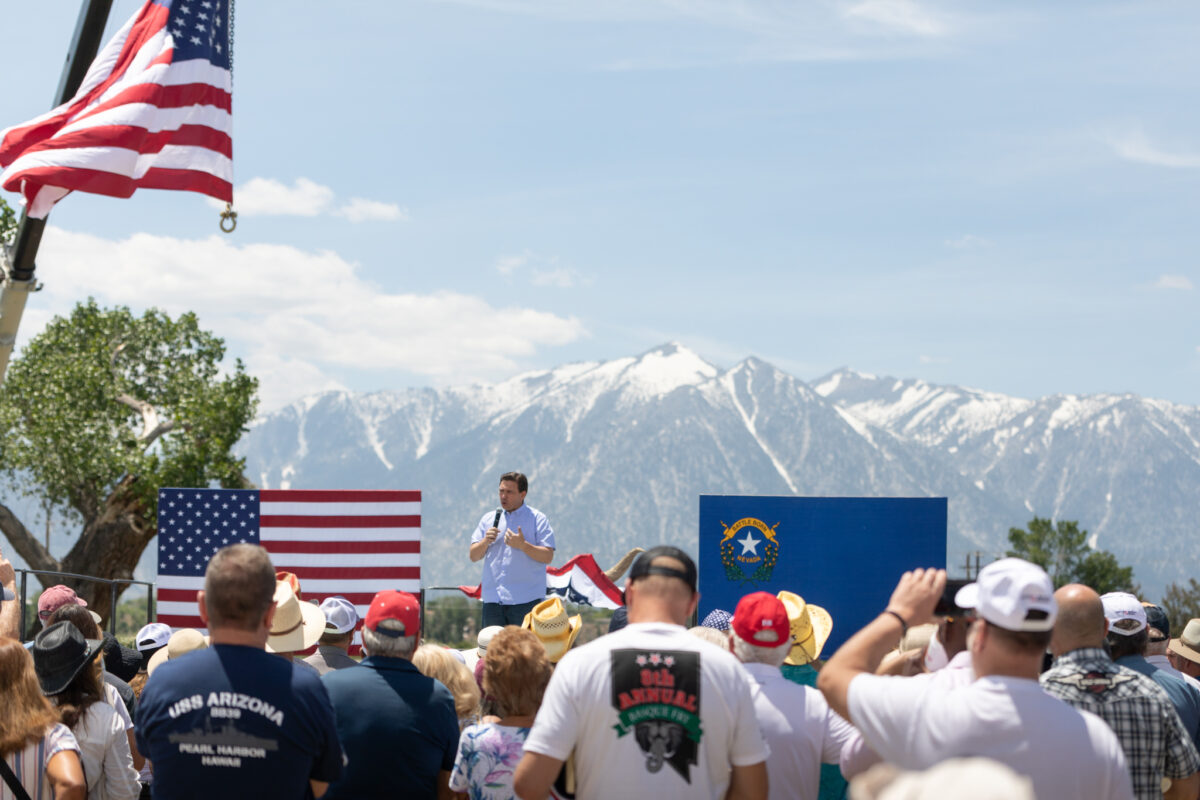 The long shadow of Donald Trump
DeSantis' visit comes at a time when his campaign has intensified its feud with that of Trump, whose continuing popularity among the Republican base nationwide has forced GOP hopefuls to tread a fine line on attacking the former president — even as he has now faced two criminal indictments, including a federal indictment issued last week over his handling of classified documents.
The tightrope act was on full display Saturday, as voters waiting to hear DeSantis told The Nevada Independent that they still leaned toward Trump.
That includes Ron Dayton, a 72-year-old retired Marine, who said he wanted to hear DeSantis defend Trump from what he called the "nasty precedent" set by the Department of Justice pursuing criminal charges against the former president.
"From DeSantis to the other candidates, they're not impressing me because they've joined the Democrats and the media to side against Trump with these false allegations," Dayton said. "They should be standing for the Constitution and such as that, and they're not. They're totally silent on it."
Likewise, Tom Stribling, 58, said he wanted DeSantis to address China and immigration in his stump — and "speak out and help Trump a little bit."
"I mean, bring the world together instead of dividing it," Stribling said.
Still, DeSantis had strong support from attendees who framed him as an electable candidate. Greg Karol, 60 — a former Florida resident now living in Carson City — said the Florida governor was "far more qualified, as a professional, for the job."
"I think Trump brings with him a lot of theatrics and issues and things like that," Karol said. "Plus, he can only go for another four years, DeSantis could go eight. The policies are similar. There's a lot less noise."
Others, meanwhile, remained on the fence. Dianne Dickey, a 62-year-old resident of Gardnerville, said she loved what Trump accomplished as president, but was concerned that he is too divisive. On the other hand, she was supportive of DeSantis' response to the COVID-19 pandemic.
A deepening campaign feud
But as the campaign season has accelerated, new rifts have opened.
The Trump-DeSantis feud now also includes simmering tensions between the Trump camp and Laxalt, who had been the state's most prominent ally to the former president and even co-chaired Trump's Nevada campaign in 2020, where he was central to the post-election public and legal campaign pushing unsubstantiated claims of mass voter fraud.
Even as Trump lost both general elections in 2016 and 2020 in the Silver State, Nevada's top Republicans have long embraced him as their standard bearer. The real estate mogul won the state's 2016 caucus by 22 percentage points, winning all but two rural counties and securing more than 45 percent of the vote in a field then filled with 11 candidates.
Not only did Trump's campaign join with the state GOP to claim voter fraud after losing Nevada in 2020, but state party chair Michael McDonald has since become embroiled in the Trump campaign's plan to submit slates of "false electors" voting for Trump in the electoral college.
Trump's presence also loomed over state races in Nevada last year. During a gubernatorial debate in October, when asked if Trump was a "great" president, Lombardo said: "I wouldn't say great. I think he was a sound president." But his campaign walked back that comment hours later, saying in a statement that "Trump was a great president."
Still, some within the party have now signaled a willingness to move away from Trump. Only days before the event Saturday, Laxalt told the Reno Gazette-Journal and NBC News that he believed voters were ready to move on from Trump to DeSantis.
"I was a two-time Trump chair. I don't see a path for him to win Nevada in a general election. Those voters are not coming back," he said.
The Trump campaign has since publicly bristled at the defection. Ahead of the Basque Fry (and the fried lamb testicles served there), Chris LaCivita, a senior campaign adviser, told NBC News Friday he was "not surprised Ron DeSantis is looking for a set of balls."
"So Adam Laxalt, who lost the governor's race in '18 and lost the Senate race in '22, is lecturing President Trump?" LaCivita told NBC. "That's the pot calling the kettle black."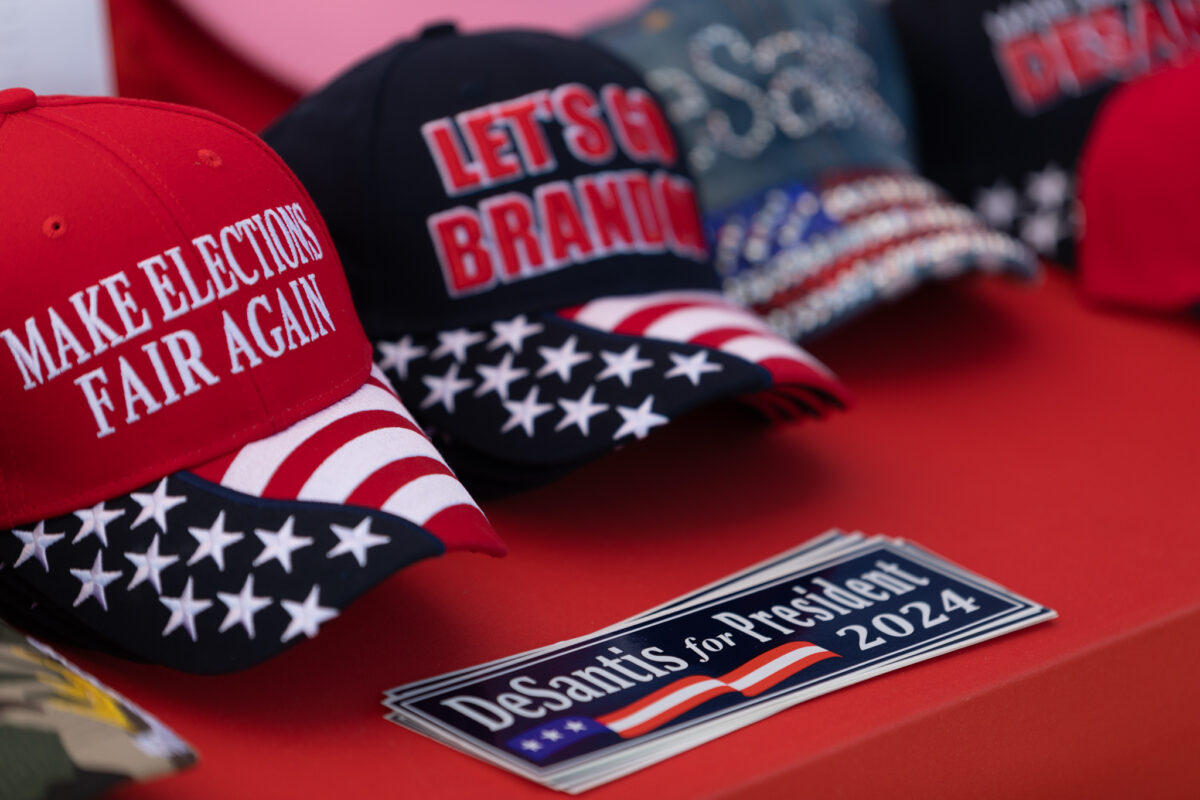 Conservative voices pitch DeSantis for Nevada, nation
In the leadup to DeSantis' speech Saturday, the Basque Fry featured remarks from several conservative pundits and politicians who amplified DeSantis' message of anti-wokeness and argued that he provides a vision for the country's future through Florida. That included political talk show host Dave Rubin, Never Back Down spokesman Steve Cortes and Lt. Gov. Stavros Anthony.
"We are losing our country. That's the bad news. Here's the good news. It's not too late to save it. We can save our country, and we must save our country, but to save it, we need to win elections," Cortes said. "DeSantis is the right leader — the man who can both win the election and govern as a capable and highly effective conservative populist president."
Those supporting DeSantis pointed to his history in Florida of taking on political and policy battles that have aligned closely with national Republican views. That includes signing bills banning abortions after six weeks of pregnancy and restricting LGBTQ+ rights, as well as waging a culture war against Disney.
Laxalt, in particular, praised those decisions from DeSantis, saying he "was the first governor to ban transgender ideology in their schools in Florida." (Transgender does not refer to an ideology, but is a term used to describe people whose gender identity differs from the sex they were assigned at birth.)
Laxalt also emphasized that DeSantis would rise to the challenge as a "conservative warrior," arguing he is the only candidate capable of winning a presidential primary and general election.
"We need discipline, we need focus, and if we don't do this now, we are going to lose our country," he said.
The Nevada Independent is raising $200,000 by Dec. 31 to support coverage of the 2024 election.
Tax-deductible donations from readers like you fund this critical work.
If you give today,your donation will be matched dollar-for-dollar.
Give + Get Matched
Featured Videos