In visit to early state Nevada, DeSantis touts self as leader willing to 'go on offense'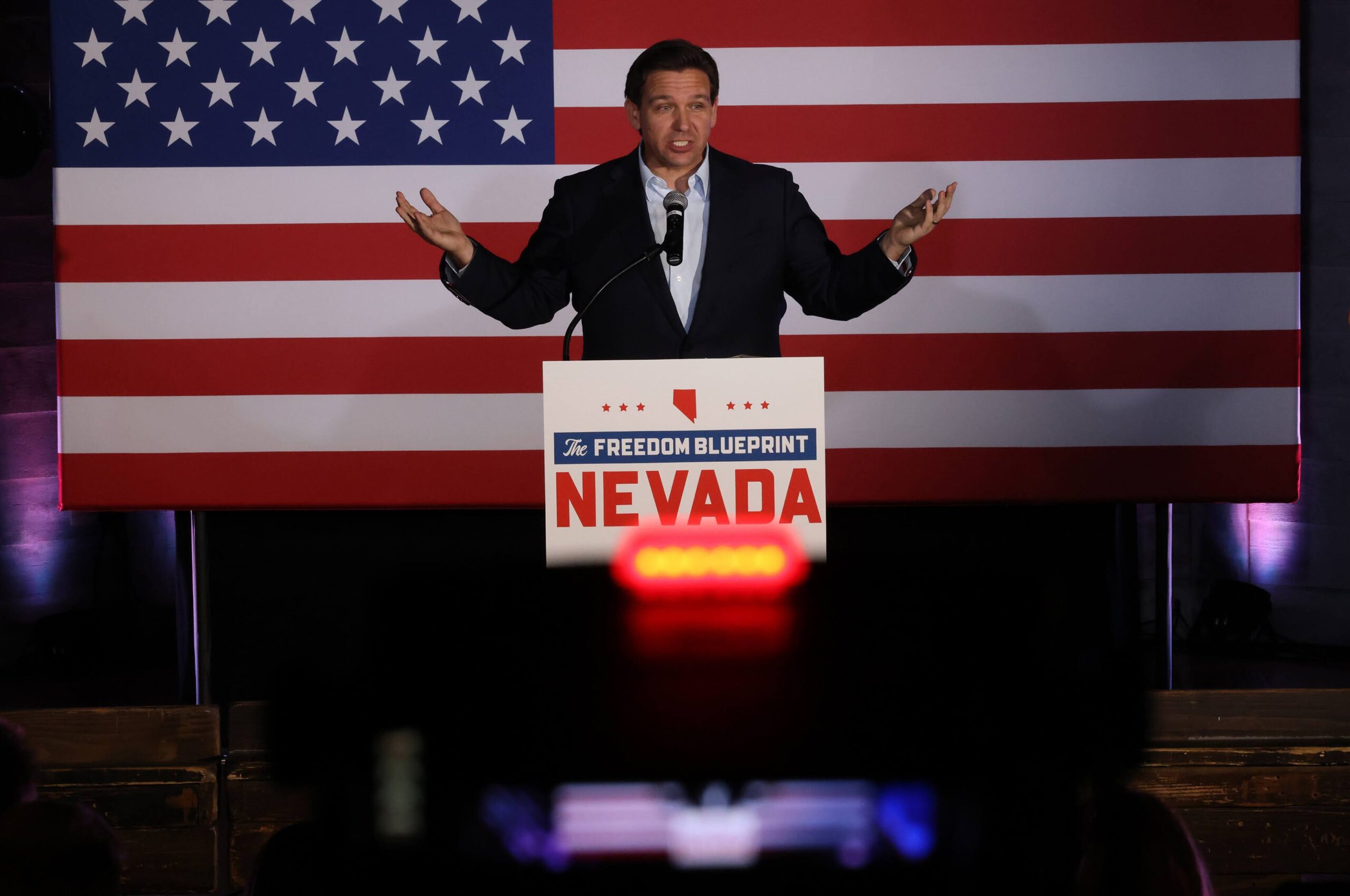 Hours before Republican Florida Gov. Ron DeSantis took to a Las Vegas stage to tout his state as a place "where woke goes to die," hundreds of people lined the side of Stoney's Rockin' Country bar and funneled into the space where patrons usually line dance.
DeSantis visited Las Vegas as part of the Florida Blueprint tour, which is outwardly a promotional tour for his new book, but unofficially viewed as a precursor to a presidential run. It's the latest in a round of visits by DeSantis to early states in the 2024 Republican nominating calendar, and it comes as a recent poll predicts he would do even better than President Donald Trump in Nevada if he chooses to jump in.
"I said you got to go on offense. You can't just sit back and play defense," DeSantis said during the roughly 40-minute speech to around 1,000 attendees on Saturday, describing himself as an "energetic executive" unafraid to confront the powerful Disney company, fight with public schools he said try to indoctrinate students, and challenge "medical bureaucrats" over COVID policies.
He said his philosophy of not being a "potted plant" and leading a swing state "in bold colors, not pale pastels" helped him score a landslide victory last year and contributed to Republican supermajorities in the Florida Legislature.
"In the state of Florida, we can say we came, we saw and we have left the Democratic Party for dead," he added.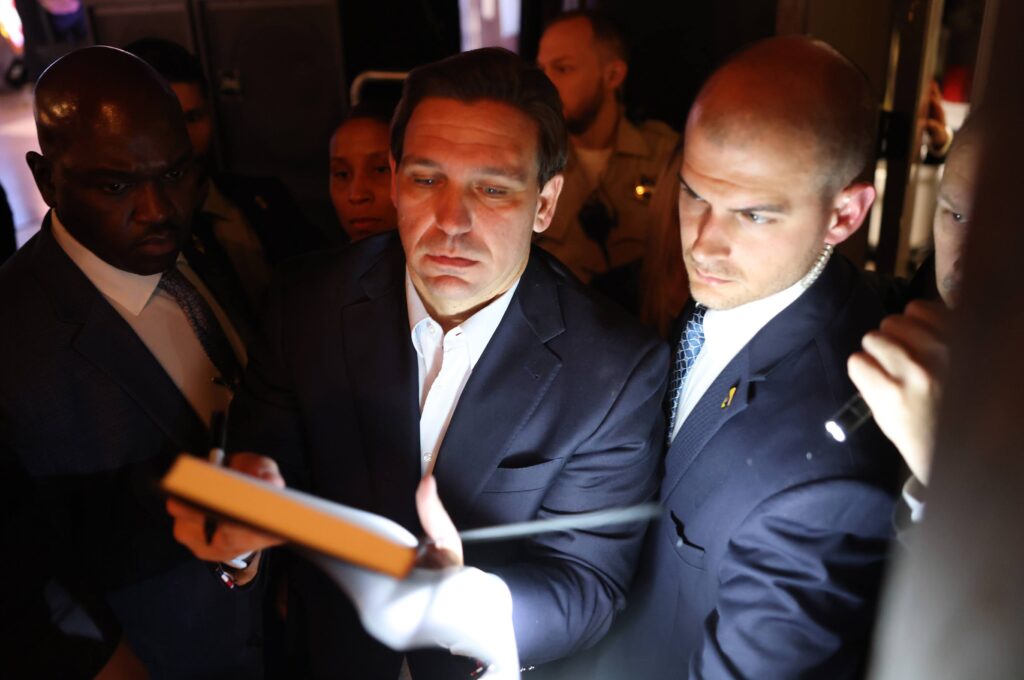 Among the crowd was 72-year-old William Bilansky. After voting for Trump in 2016 and 2020, Bilansky said he attended the event to learn more about DeSantis in the case he does run for president and challenges Trump in 2024.
Bilansky said he approves of how DeSantis is governing Florida and would like to see his leadership at the national level, but he has yet to see DeSantis' position on international issues — something that would help solidify his vote. And while Bilansky does not agree with some of the things Trump would tweet, he said he would "take mean tweets to what we're going through now with the Biden administration. Any day."
"I'm a Trump supporter. I think Donald Trump's policies are outstanding, and I think DeSantis' are pretty close to his," Bilansky said to The Nevada Independent before the event. "I would truly want to hear more of his worldviews. But right now, knowing what I know now, I would choose Trump."
The tour is being hosted by "And to The Republic," a nonprofit group with the sole purpose of helping DeSantis reach a national audience, according to Politico. Before stopping in Nevada, DeSantis visited two cities in Iowa, the first state in Republicans' presidential nominating order.
During the speech, DeSantis listed his priorities ranging from school choice and parents' rights to immigration and border security (including building the southern border wall) and the fentanyl epidemic — "I think cartels should be treated as terrorist organizations and dealers should be treated like the murderers they are," he said.
The Nevada State Democratic Party held a press conference ahead of the DeSantis event to "hold Republicans accountable." Newly elected chair and Assemblywoman Daniele Monroe-Moreno (D-North Las Vegas) called DeSantis "too extreme for Nevada" and said that while he may attempt to "sell his Florida Blueprint to Nevadans," voters have "rejected time and time again" the "extreme MAGA agenda."
Although DeSantis, a former member of the U.S. House of Representatives, is widely considered the leading candidate to challenge former President Donald Trump in 2024, he hasn't yet publicly announced a presidential bid and is not expected to do so until after the Florida legislative session ends in May.
During his time as governor, DeSantis has leaned into the culture wars, banning mask mandates in schools, signing legislation that prevents state or local governments from suspending in-person instruction and blocking businesses and government entities from requiring proof of COVID vaccination.
"I'm just proud to say that in Florida, we did it our way," he said in his speech. "When the world went mad, when common sense suddenly became an uncommon virtue, Florida stood as a refuge of sanity, a citadel of freedom for people."
He directed Florida lawmakers to restructure a self-governing Disney district after the company publicly opposed a so-called "Don't Say Gay" bill that blocked teaching on sexual orientation and gender identity in lower grades.
He won re-election by more than 19 percentage points in 2022, a sharp contrast to 2018, when he won by less than 1 percentage point.
"I got 50 percent of the vote but I earned 100 percent of the executive power. And I would use that power to the fullest to advance the agenda that is in the best interest of the state of Florida," he said.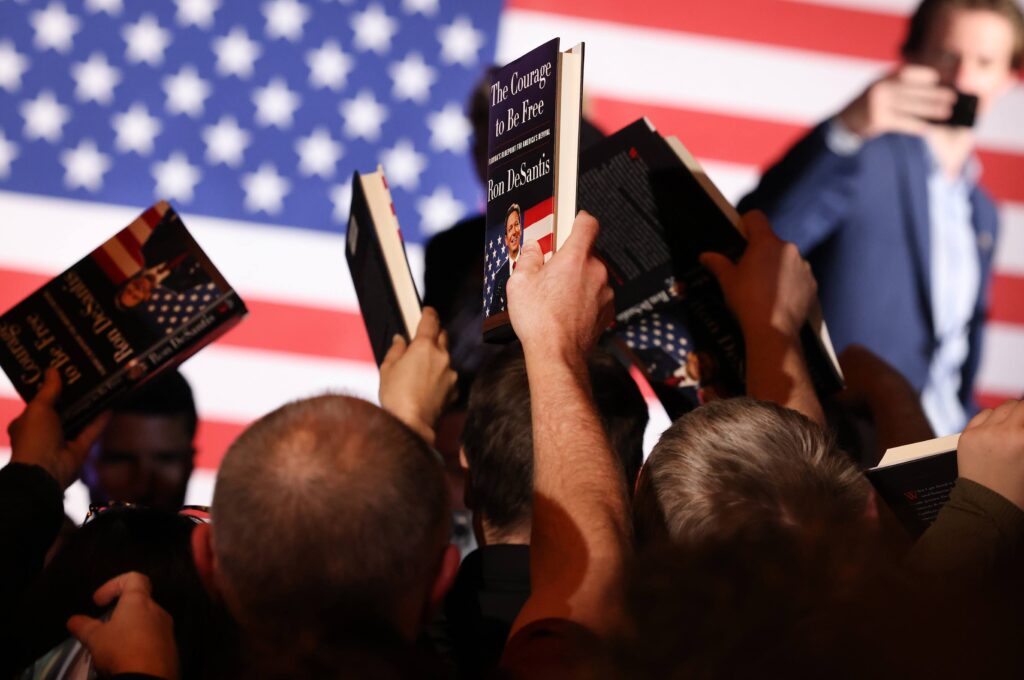 DeSantis has earned the backing of many prominent conservative donors, including Nevada billionaire Robert Bigelow, who, according to the Tampa Bay Times, donated $10 million to DeSantis' PAC last year — nearly half of what Bigelow has spent to support all other Republican governors.
Aside from an introduction from former Nevada Attorney General Adam Laxalt, who was DeSantis' roommate during their time together at the Naval Justice School and called DeSantis "America's best governor," and from Controller Andy Matthews, who previously led the pro-Laxalt Morning in Nevada PAC, the speech had few specific references to the Silver State. One was a passing mention that Nevada has widespread mail voting, while Florida does not and bans the practice of "ballot harvesting," or allowing non-family members to turn in another person's ballot.
Judy Sorce-Bauman, 69, said she likes DeSantis because at 44, he is younger and brings "fresh ideas," especially as President Joe Biden, 80, has been criticized for his age and stuttering.
"The current regime in Washington speaks to cognitive decline, inability to form sentences and non-sensible policies. And I think we need to take a different direction," Sorce-Bauman said.
A Nevada Independent / OH Predictive Insights poll from last month found that among Nevada voters, DeSantis has a sizable lead over Biden – 42 percent of respondents said they would vote for the Floridian compared with 36 percent who would opt for Biden.
That's a wider lead than Trump had in the same poll. Forty-two percent of voters said they preferred Trump compared with 40 percent who would support Biden.
In his closing lines, DeSantis, who said the Biden administration was floundering and had no energy, hinted at national ambitions, calling on Americans to preserve "the sacred fire of liberty."
"It's a responsibility. It's not one I shrink from. It's one that I welcome," he said. "But I'm very confident that if we step up and do it, and we never back down, that we will be able to turn this country around."
The Nevada Independent is raising $200,000 by Dec. 31 to support coverage of the 2024 election.
Tax-deductible donations from readers like you fund this critical work.
If you give today,your donation will be matched dollar-for-dollar.
Give + Get Matched
Featured Videos