Poll: Biden remains unpopular in Nevada as 2024 campaign approaches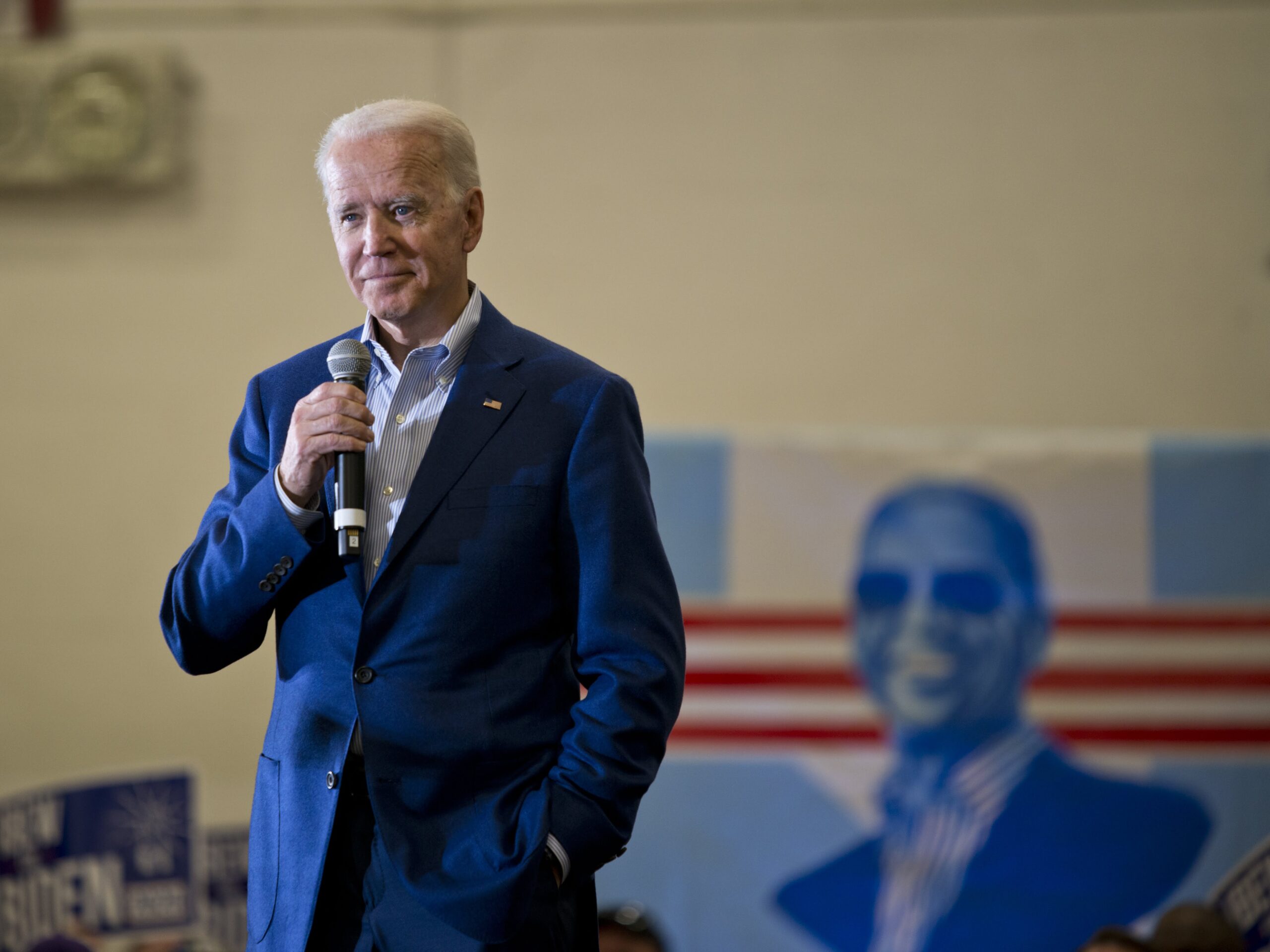 With President Joe Biden likely to announce his re-election campaign in coming months, a new Nevada Independent / OH Predictive Insights poll finds him trailing both former President Donald Trump and Florida Gov. Ron DeSantis.
The poll found DeSantis with a sizable lead over Biden – 42 percent of Nevada voters would vote for the Floridian firebrand expected to challenge Trump for the Republican presidential nomination and 36 percent would commit to Biden.
Trump would have a narrower lead if he were the GOP nominee, the poll found. Though Trump would retain the same 42 percent of voters, his presence on the ballot would flip some voters who were undecided in a Biden-DeSantis contest to vote for the president and increase Biden's total to 40 percent.
The poll was conducted between Jan. 30 and Feb. 6. Eight hundred registered voters in Nevada were polled in an online opt-in panel survey, and the results have a margin of error of about 3.5 percent.
Biden – who won Nevada in 2020 by just over 2 percentage points – remains unpopular in the Silver State. His approval rating stands at 40 percent, with 55 percent of respondents expressing disapproval. In a poll from August 2022, before the midterm elections, public opinion in Nevada was nearly identical, with Biden holding a 41 percent approval rating and 57 percent disapproving.
Most of Biden's approvers in this month's poll fell into the "somewhat approve" category. Forty-one percent of poll respondents "strongly disapprove" of the job he is doing.
Mike Noble, the chief research and managing partner at OHPI, said that Biden's approval rating, while continually low, did not pull Democrats down in the 2022 midterm elections and appears to be less of an indication of how his party will do than in the past. Since the Afghanistan withdrawal in 2021, his mark has remained underwater.
"What's so weird in this new age is that with Biden, he gets low marks on the job approval," Noble said. "However, [with] the electoral impacts…we didn't really see a shift."
Biden proved most popular among seniors, people who are neither white nor Hispanic, and people with postgraduate degrees. Groups least likely to support him included people who live in rural areas, those whose household income is greater than $100,000 per year and Nevada natives.
Among political independents, a critical population for candidates hoping to win the state, Biden trailed his overall metric, with a 31 percent approval rate.
When polled on Biden's handling of 11 different issues, Nevadans rated Biden's handling of COVID-19 (47 percent approval), the environment (40 percent) and race relations (38 percent) the highest — though he did not reach 50 percent approval on any issue. He was least popular on immigration (29 percent), dealing with China (30 percent) and uniting the country (31 percent). On the economy, which poll respondents ranked by far as their top priority, 35 percent approved of the job Biden is doing and 56 percent disapproved.
Though most respondents disapproved of the president's performance, Biden's favorability metric – 43 percent had a favorable impression of him – outpaced Trump's 39 percent favorability rating, and tied that of Gov. Joe Lombardo (R), who won the governorship mere months ago.
Sen. Jacky Rosen (D-NV), who faces re-election in 2024, trailed Biden in favorability. Thirty-seven percent had a favorable impression of her; 40 percent had an unfavorable impression, and 16 percent had no opinion. Rosen was less popular than her colleague Sen. Catherine Cortez Masto, for whom 48 percent of voters had a favorable impression.
Fresh off an expensive re-election campaign in which Nevadans were flooded with ads about Cortez Masto and opponent Adam Laxalt, more respondents had heard of the senior senator and had an opinion about her. Eleven percent had no opinion of her, and only one percent of the voters polled had not heard of her.
Noble said Cortez Masto also has the advantage of having faced a challenger tied to Trump and his challenges of 2020 election results – "running against a Laxalt and not a Lombardo" – and benefitted from immense spending in the race.
"It helps when you have tens of millions of dollars of beautiful ads running," he said.
Rosen polled better than several potential Republican challengers, many of whom also suffered from being relatively unknown to voters. Just 25 percent of respondents had a favorable opinion of Laxalt and former Army captain Sam Brown, who ran against Laxalt in the 2022 Senate primary. April Becker, who unsuccessfully challenged Rep. Susie Lee (D-NV) in 2022, has a 26 percent favorability rating.
Rep. Mark Amodei (R-NV), one of the only Nevada Republicans whose name could come up for Senate who has won an election recently, lags Rosen at a 29 percent favorability rating. Twenty-four percent of voters polled had never heard of him, compared with 6 percent for Rosen.
Noble said Rosen needs to improve her position, but that the large number of undecideds gives her a good place to start.
"She definitely has some work to do to help boost up her favorability," he said. "But also, that 24 percent that either don't have an opinion or never heard of her is really the opportunity to start communicating to those folks with her message of what she's done…to kind of get ahead of that ball and define that sooner rather than later, without letting her opponent define that for her first."
The poll shows Nevada remains deeply purple. Poll respondents preferred a generic Democratic candidate in a congressional race to a Republican one, 38 percent to 37 percent.
Expect more poll results on Gov. Joe Lombardo, state policy, and items being considered by the Nevada state legislature tomorrow. View the full poll results and crosstabs here.
The Nevada Independent is raising $200,000 by Dec. 31 to support coverage of the 2024 election.
Tax-deductible donations from readers like you fund this critical work.
If you give today,your donation will be matched dollar-for-dollar.
Give + Get Matched
Featured Videos