Biden declared the winner in Nevada, will become next president of the United States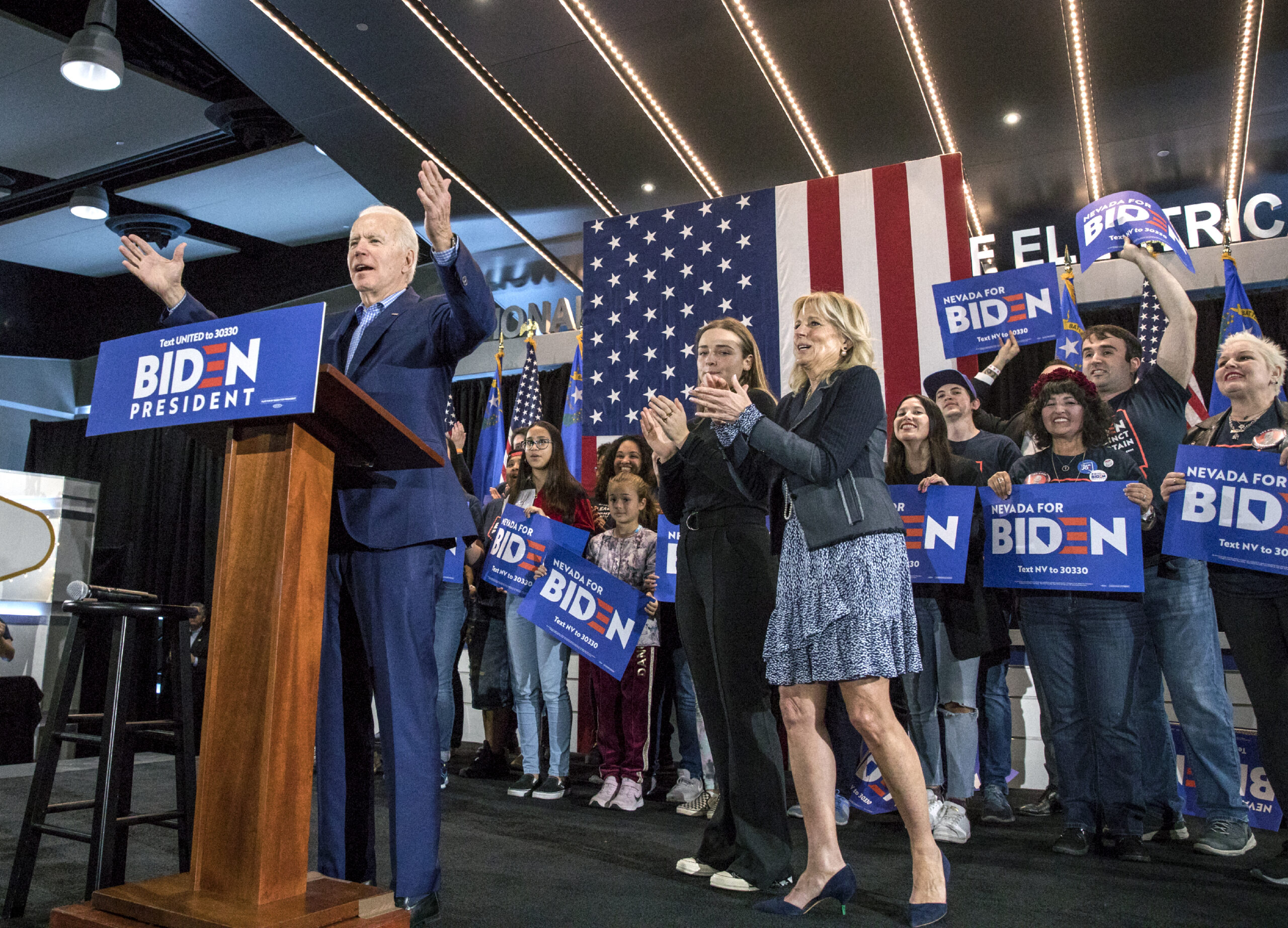 Former Vice President Joe Biden will become the 46th president of the United States after notching a projected victory in Pennsylvania Saturday morning that was cemented just a half-hour later by an expected win in Nevada.
Though counting still continues, Biden leads in the Silver State by 2.1 percentage points, or 27,530 votes, as of Saturday evening, a margin that based on the outstanding votes left to be counted President Donald Trump will not be able to make up. For the past four days, Biden has continued to gain ground on Trump in Nevada as mail ballots, which are a voting method more preferred by Democrats than Republicans, continued to be counted.
A Biden victory in Nevada, however, had seemed a dicey prospect as recently as Wednesday, when the former vice president held just a 0.6 percentage point, or 8,000-vote lead, over Trump. But after Biden won tens thousands of mail ballots in populous Clark County, the state's Democratic stronghold, by a 2-1 margin over the course of the week, and state election officials announced how few votes remained to be counted in the rural, Trump-friendly portions of the state, it became clear that there was no path to victory for Trump here.
"I am honored and humbled by the trust the American people have placed in me and in Vice President-elect Harris," Biden said in a statement Saturday morning. "In the face of unprecedented obstacles, a record number of Americans voted. Proving once again, that democracy beats deep in the heart of America."
Trump, however, in a statement was unwilling to concede the race and threatened additional legal action starting Monday.
"The simple fact is this election is far from over. Joe Biden has not been certified as the winner of any states, let alone any of the highly contested states headed for mandatory recounts, or states where our campaign has valid and legitimate legal challenges that could determine the ultimate victor," Trump said in a statement.
It is customary for media outlets to project the winners of presidential elections, while official results of each state's elections are typically not certified until many days after.
Biden's expected victory in the Silver State comes a little less than seven months after he lost the state's Democratic presidential caucus in February to Vermont Sen. Bernie Sanders by 26.6 percentage points. Though it appeared a crushing blow, it was actually somewhat of a victory for the former vice president after he came in fourth in the Iowa caucus and fifth in the New Hampshire primary.
His performance in Nevada offered a boost heading into the South Carolina primary, which he won just a few days later, and propelled him ahead toward securing the Democratic presidential nomination this summer.
The race in Nevada ended up being much closer, though, than many political observers had anticipated. Last year, Republicans predicted that if Biden won the Democratic presidential nomination they wouldn't have much of a shot at winning Nevada. The pandemic, however, appeared to narrow the contest as the president's re-election campaign returned to campaigning in-person in June and Democrats largely sat on the sidelines.
That changed when the politically powerful Culinary Union, which represents about 60,000 hotel workers across the state, launched its largest-ever field operation in August. By Election Day, the union had 500 canvassers in the field who managed to knock on 500,000 doors and talked to more than 42,000 voters who did not cast a ballot in 2016, according to the union.
They were eventually joined in the field by the Biden campaign itself, which finally resumed traditional door knocking efforts in October, and other grassroots mobilization organizations, including For Our Future, which knocked more than 150,000 doors, made 600,000 calls and sent more than 1,000,000 text messages, according to the organization. Other Democratic-aligned groups, meanwhile, held virtual events and engaged in socially distant canvassing efforts, such as leaving literature at voters' doors.
Republicans, however, were optimistic that the late blooming Democratic field operation, which has earned a reputation for turning the state blue over the past several cycles, would provide them an edge in the Silver State. The Trump campaign hit their millionth door knock in Nevada the week before the election and made more than four million voter contacts in person and over the phone across the state, according to the campaign.
The candidates, too, prioritized Nevada in the final weeks of the campaign. Biden visited Nevada once, holding a drive-in rally in early October, while Democratic vice presidential nominee Kamala Harris made stops in Las Vegas and Reno over the course of three trips to the Silver State.
On the Republican side, the president himself invested a significant amount of time personally in the Silver State across three trips, rallying his Nevada supporters in Minden, Carson City and Henderson and just across the stateline in Bullhead City, Arizona. Vice President Mike Pence additionally held campaign events in Boulder City and Reno.
Despite the personal touch from the president, who rallied thousands of his supporters in violation of state coronavirus health and safety directives and pitted himself as an oppositional force to Gov. Steve Sisolak, it wasn't enough in the end to carry the president to victory in the Silver State. It marks his second loss in Nevada, after Hillary Clinton won the state by 2.4 percentage points in 2016.
Down ballot, Democratic Rep. Susie Lee secured an expected victory in her race to hold the swingy, suburban District 3, as her lead continued to increase with each new tranche of counted ballots from Clark County.
Lee's lead over Republican Dan Rodimer widened slightly by Saturday night to 3.32 percent, or 12,574 votes, a boost over yesterday's tally by 1,137 votes.
In District 4, where incumbent Democratic Rep. Steven Horsford declared victory yesterday, Horsford's lead also continued to increase — though only slightly — largely as a result of newly-counted ballots from Clark County.
As of Saturday evening, Horsford led his opponent, Republican Jim Marchant, by 4.26 percentage points, or a difference of 12,997 votes.
Saturday's update continued to provide positive signs for legislative Democrats, though the party is still on track to lose their supermajority in the Assembly. State Senate Majority Leader Nicole Cannizzaro padded her lead against Republican April Becker in Senate District 6 on Saturday, while Democrat Kristee Watson trails Republican challenger Carrie Buck by fewer than 100 votes in Senate District 5.
No race leaders changed in the Assembly, though margins continued to tighten in the handful of districts where Democratic incumbents continued to trail Republican challengers. Republicans remain on track to crawl out of superminority status and win back at least three seats.
Results for Ballot Question 1, which, if passed, would remove the Board of Regents from the state Constitution, continued to tighten Saturday, though by a smaller margin than in days past. The "No" vote continued to lead by 19,573 votes, or 1.68 percent, as of Saturday evening, a net loss of 4,107 votes from Friday afternoon.
Much of the "Yes" vote for Question 1 has so far been heavily concentrated in Clark County, and whether or not the race continues to narrow will depend on the margin of new votes from Clark in both mail and provisional ballots in the coming days.
Though the results of the election became much clearer on Saturday, election officials continue to count about 98,000 ballots remaining statewide. Those include about 31,000 mail ballots in Clark County, the results of which are expected to be reported on Sunday, and 60,000 provisional ballots, which will not be counted until next week.
Those mail ballots are expected to likely continue to split in favor of Biden over Trump, while the provisional ballots may offer a more even split, with about 21,500 of those ballots cast by Democrats, 20,000 by Republicans and 19,000 by nonpartisans. That leaves about 8,000 ballots remaining between Washoe County, which has leaned slightly towards Biden, and rural Nevada, which has voted solidly for Trump.
Additionally, some identification-required ballots and ballots requiring additional signature verification may still be counted as well.
Clark County Registrar Joe Gloria, during a press conference on Saturday, stressed that election officials are doing everything they can to keep the process going as ballot counting continues over the next few days, with a final canvass of votes expected on Nov. 16. He additionally noted that this was Clark County's first election processing a significant number of mail ballots because of a legislative change this summer, unlike other Western states, such as Colorado, Oregon and Washington, who are accustomed to vote-by-mail.
"We simply don't have the equipment, the facilities, the staff that have been trained in that area to keep up the pace that they can put up when they normally deal with mail ballots," Gloria said. "But we've done a very good job of accommodating that."
The Nevada Independent is raising $200,000 by Dec. 31 to support coverage of the 2024 election.
Tax-deductible donations from readers like you fund this critical work.
If you give today,your donation will be matched dollar-for-dollar.
Give + Get Matched
Featured Videos