Trump blasts DeSantis, repeats false election claims in first Las Vegas visit of 2024 campaign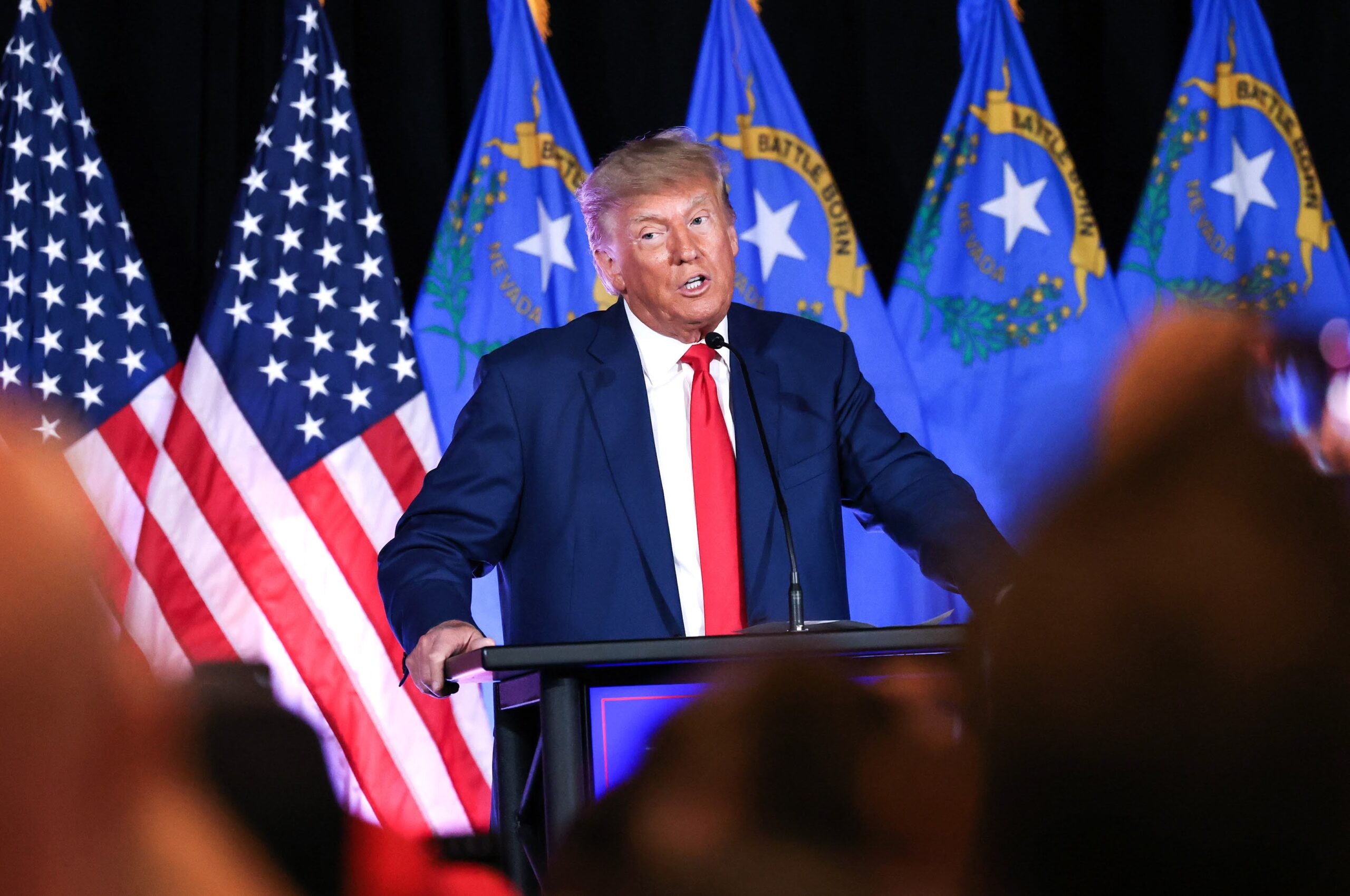 Former President Donald Trump spoke to a crowd of loyalists and volunteers Saturday afternoon in Las Vegas, marking his first visit to Nevada since launching his 2024 presidential bid.
Trump, who addressed a crowd of over 500 people at Fervent: A Calvary Chapel Church with another 400 people standing outside the venue, took shots at his top primary opponent — Florida Gov. Ron DeSantis — and President Joe Biden, attacking the former for being a political opportunist and the latter for being corrupt. He used the speech to repeat several disproven claims about the 2020 election.
Trump also lobbed a Nevada-specific attack on DeSantis' support as a member of Congress for funding Yucca Mountain as a nuclear waste storage facility.
Trump himself supported the use of Yucca in his energy budgets before he reversed course in 2020. But despite pronouncing "Yucca" wrong, he drew a clear distinction between himself and DeSantis on the issue.
"If you don't mind nuclear waste dumped in your backyard, I suggest you vote for Ron DeSanctimonious," he said.
Trump is now the second major Republican presidential candidate to hold a campaign event in Nevada; DeSantis became the first at the June Basque Fry in Gardnerville.
Nevada has been friendly territory for the former president, who dominated the 2016 Republican presidential caucus en route to locking up the nomination and has retained the loyalty of the state party apparatus. That includes Chairman Michael McDonald, whom Trump shouted out numerous times throughout the speech, saying he diverted his travel schedule to "come and say hello to Michael."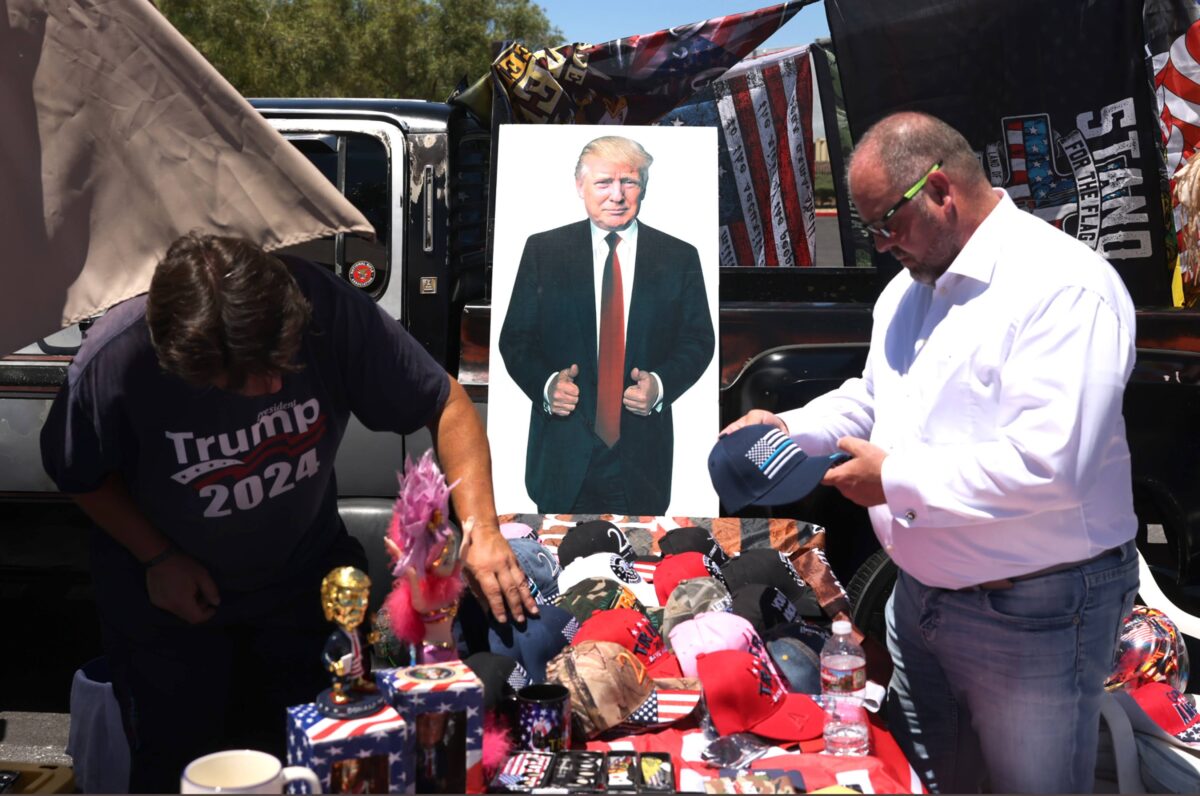 He name-dropped other Nevada GOP figures, including Clark County Republican Party Chair Jesse Law (who he said would be a "big factor" in the campaign's plans) Republican National Committeewoman Sigal Chattah, saying she would be helping him litigate the 2024 election, and national Committeeman Jim DeGraffenreid, despite mispronouncing his last name.
Several of those state party leaders were involved in efforts to overturn the results of the 2020 election. McDonald and DeGraffenreid were interviewed by the congressional January 6 Committee over their roles in the "fake elector" scheme to submit uncertified electoral votes for Trump, and have appeared in federal court this year as part of a Justice Department investigation. McDonald had his phone seized by the FBI last year.
Still, Trump's public praise of their efforts and discussions of their future roles in the campaign signaled a continued cozy relationship with just months remaining until the state's February presidential contest.
Trump is besieged with his own legal woes, including a federal indictment related to his mishandling of classified documents and an indictment by the state of New York for violating campaign finance law through hush money payments. Another federal indictment could be coming over his attempts to overturn the 2020 election as could criminal indictments over a state-level investigation into election interference in Georgia.
But among his supporters in Las Vegas on Saturday, he brought up the indictments sparingly, instead focusing mainly on unsubstantiated claims of election fraud, the border and energy.
Trump began his speech noting that he received over 150,000 more votes in the 2020 election than he did in 2016.
"We have a big job to do," Trump said. "This has been a hard state. I really believe it's a Republican state.
"They can be dishonest, and they can lie, they can cheat, they can do whatever they want," he continued, laying out his 2024 strategy with repeated false claims of electoral fraud "The one thing they can't do is, if we get massive numbers of votes — they can only go so far."
Nevada has voted for the Democratic nominee in every presidential election since 2004, albeit by close margins.
Rep. Dina Titus (D-NV), in a Saturday morning pre-retort to Trump, noted that electoral history.
"We're a swing state, but I don't think Nevada's going to go for that outrageous policy agenda again, because they didn't do it twice before," she said.
Trump was far more bullish, saying he would win the election "in numbers the likes of which nobody has seen before."
He continually noted throughout the speech that the Las Vegas crowd size was limited to volunteers as an explanation for the sparse attendance compared to his rallies in other states. More than 400 supporters were not able to enter the event because of occupancy limits, a fire department official said.
On Saturday morning, The Messenger reported his campaign made its first staffing move in the state: state GOP executive director Alida Benson will serve as Nevada's campaign director. Benson was the Nevada data director during Trump's 2020 run.
Trump described the upcoming presidential election as the most consequential one in the history of the nation.
"I believe it's truly the last chance," he said. "And I think that if we don't do it, our country is doomed to a tremendous and horrible failure … I am the only one that can save this nation."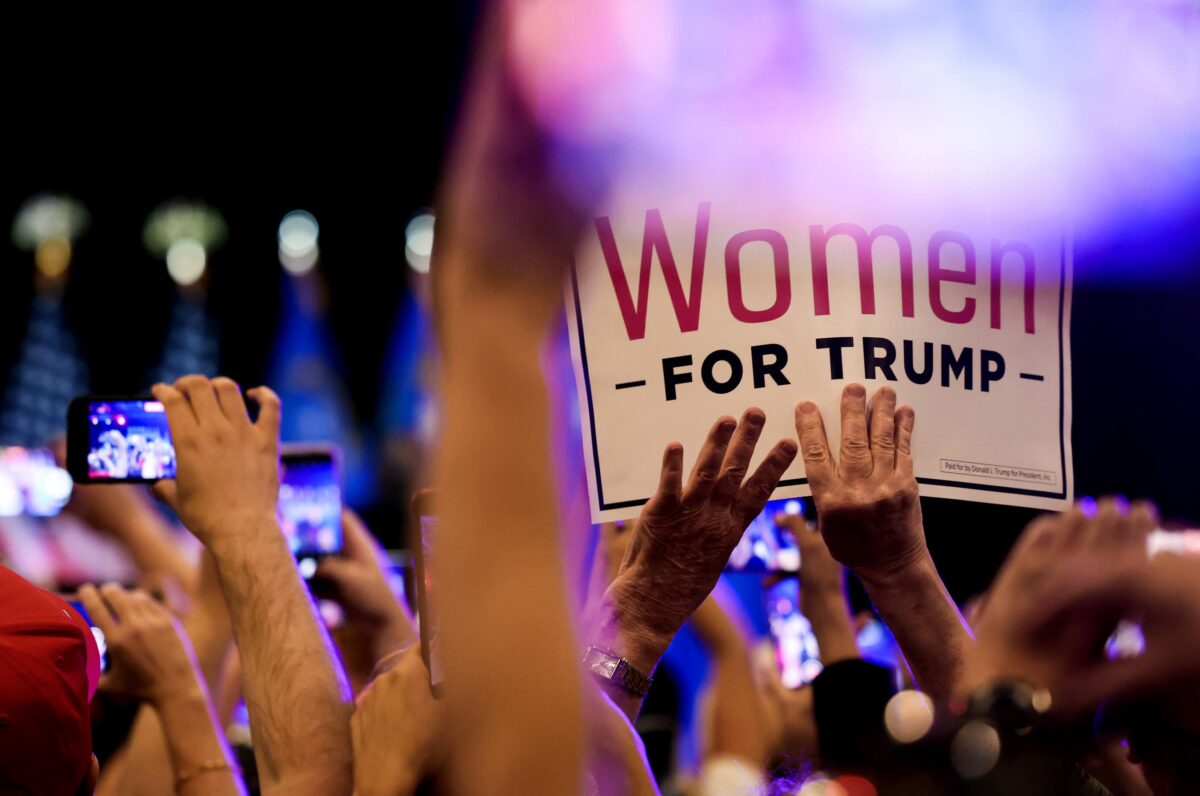 Policy agenda
Trump pledged to implement universal voter ID laws, same-day voting and paper ballots — something the vast majority of Americans already do, either via mail or at polling places, where they are typically marked by hand and processed by machine. He railed against vote-by-mail and the length of time the 2020 election took to be called.
Nevada expanded vote-by-mail ahead of the 2020 election due to the pandemic, and it took four days to call the election.
Trump also repeatedly discussed the border with Mexico, saying it had become a nonissue under his watch but would be a major factor in 2024.
"They actually really want open borders," Trump said of Biden and other Democrats. "Either they're stupid — which they're not, because you can't be stupid and cheat on elections like they cheat — or they hate our country. And they have to hate our country."
On energy, Trump pledged to open the U.S. up to further oil drilling, specifically in Alaska, which he said would generate enormous revenue and help ease inflation. He also joked about Democrats' embrace of electric vehicles, which he said only run for an hour at a time, drawing some laughs from the crowd. (The average range for an electric vehicle in 2020 was 260 miles).
He noted the rise in real median household income in Nevada during his presidency, saying it rose nearly $11,000 before falling under Biden amid inflation. He correctly noted that figure (from the Federal Reserve Bank of St. Louis), represented a high point in the state's history, but did not note its fall by the time he was leaving office in 2020 to a level nearly equal to when he was inaugurated.
Economically, he said he would reduce taxes beyond his signature 2017 tax cuts. And near the end of his speech, his focus shifted to transgender rights, telling long stories — with specific times and weights but no other details — about transgender women "obliterating" records in swimming and weightlifting.
But his most consistent focus — and the cause of the biggest cheers from the crowd — remained election fraud.
"If we stop the cheating, we are going to win," he said.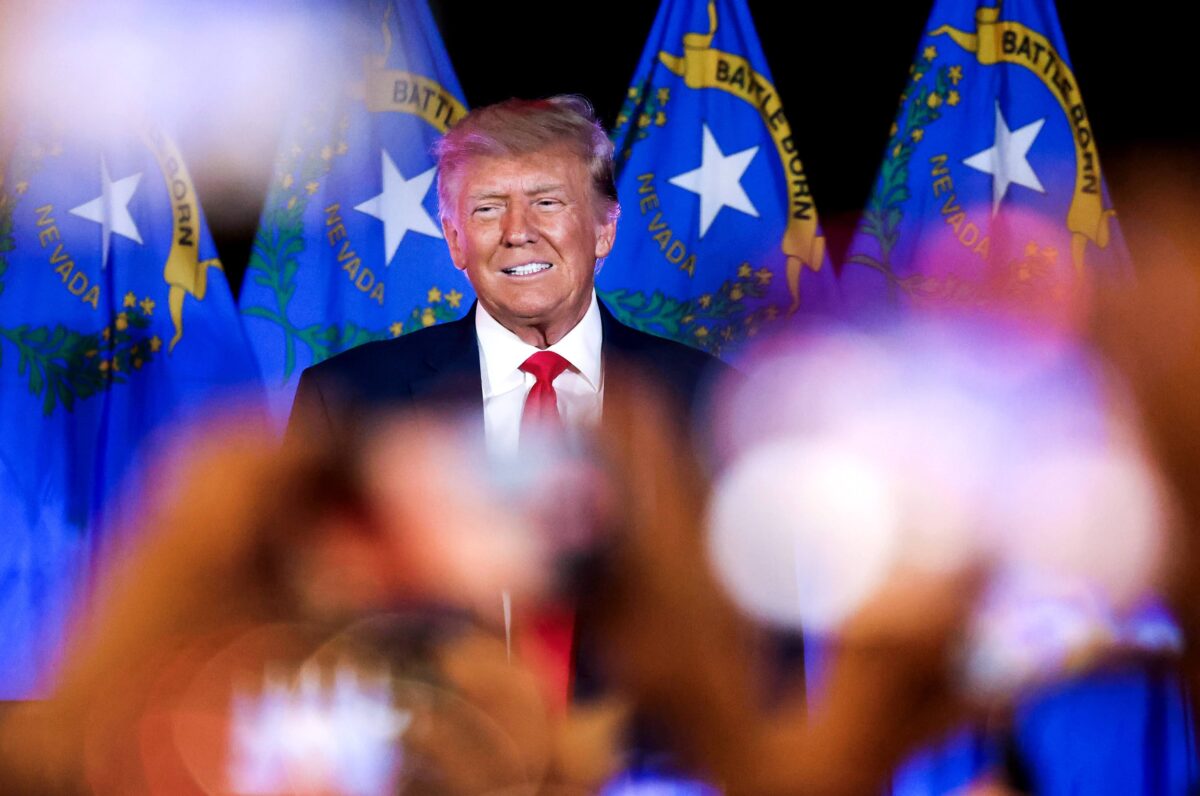 Opponents
Trump had plenty of criticism for Biden, calling him corrupt, incompetent and falsely claiming he took millions of dollars in foreign funds from China and Ukraine. But he saved his most personal — and Nevada-specific — fire for DeSantis.
Trump attacked DeSantis, his top competitor in the Republican primary, during an extended series of anecdotes and throughout the more policy focused parts of the speech. In his Nevada appearance last month, DeSantis did not mention Trump by name, but warned Republicans that they've "developed a culture of losing in this party."
Trump was more direct. Recalling how DeSantis asked for his political support during his 2018 run for Florida governor, a story Trump has told many times, claiming DeSantis' political career was dead on arrival before his endorsement, Trump described his anger at realizing DeSantis — or "DeSanctimonious," as he called him — would be his primary opponent.
"I said, listen Ron, you're so dead that if Abraham Lincoln and George Washington came back from the dead, and if they put their hands and hearts together and prayed for [you]…nothing is going to change," Trump said, of DeSantis' 2018 Republican primary. "Ron, you are gone."
Polling in Nevada has consistently found Trump maintaining 30-point leads over DeSantis. A Nevada Independent / Noble Predictive Insights poll conducted in late April found Biden with an 8-point lead over Trump and a 1-point lead over DeSantis in the state. A July poll from a pro-DeSantis group found Biden beating Trump by a narrower 3-point margin, and down a point to DeSantis.
Crowd reaction
Trump has a nearly decade-long history of rallies and events across the state —his first rally in October 2015 at Treasure Island in Las Vegas (when he memorably tweeted, "Many Hispanics who love me and I love them!"), stumping for Republican midterm candidates in Elko, appearing at the state party's Las Vegas convention in 2018 and holding in-person rallies in Minden and Henderson during the pandemic in 2020. He made several visits in 2022 to boost Adam Laxalt during his run for Senate and to support Gov. Joe Lombardo's campaign.
Attendees on Saturday described Trump as the only candidate who could save the country from ruin. They described Biden as a corrupt and incompetent president who is too old to be running, but also one who was capable of using whatever means necessary to plunge the country into chaos.
In interviews with The Nevada Independent, more than 10 attendees echoed Trump's false claims that the 2020 election was stolen from him, dismissed the two indictments against him as an abuse of government power and said Trump was the only Republican presidential candidate who has always stayed true to his word.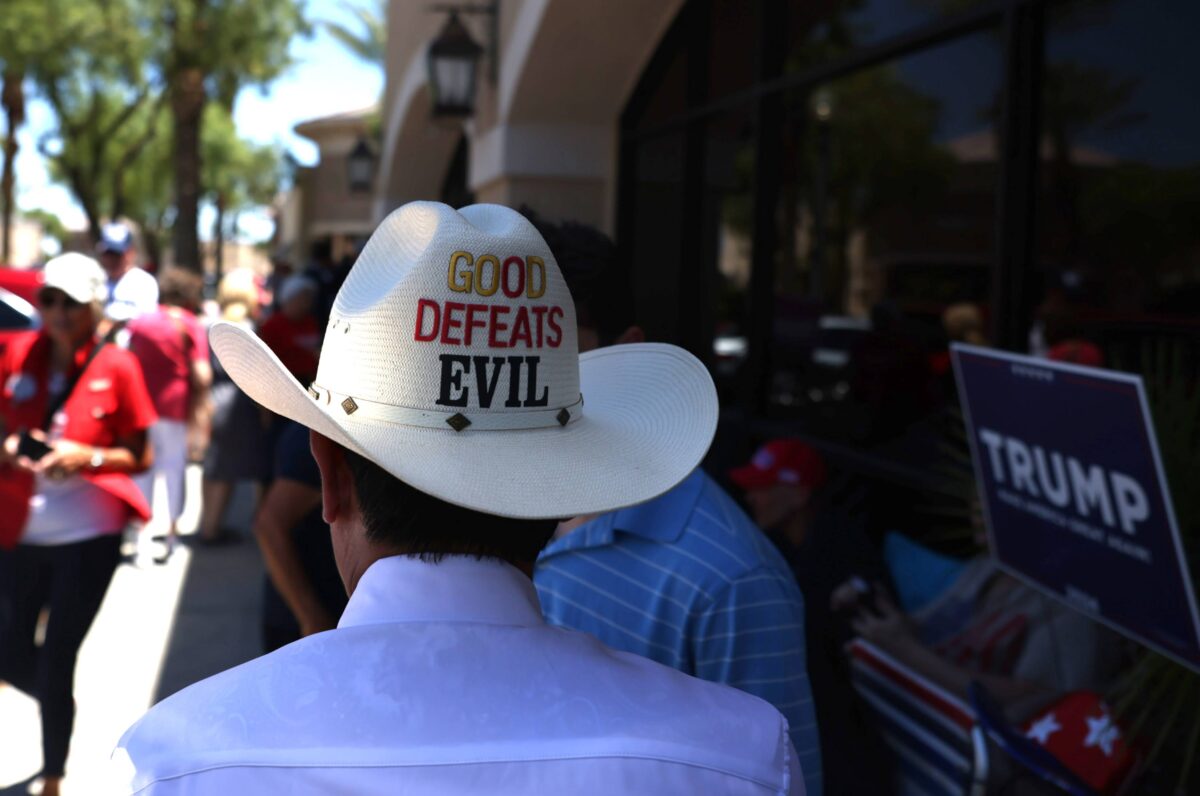 TN Trump, a 57-year-old Californian who said he legally changed his last name to Trump as a show of support, said Trump is "the only president that dares to speak the truth."
"For people that have a misunderstanding about what kind of person President Trump is, for the last many years, and they have not changed their mind yet, I have no idea what happened to their brain," he said. "America has been under fire. They are burning down this country."
It was the first time seeing Trump for some supporters, including Jackie Morales, a 63-year-old retiree who spent about $700 to come to Saturday's event from Utah. Other attendees had attended more than 10 Trump events.
Supporters wore hats that said "Trump won" and "God is our savior. Trump is our president." Volunteers also set up tables with information about the Republican caucuses next February and how to become a poll worker.
Val Simon, 81, said she thinks Trump is "down to earth" and "appreciates everyone" around him.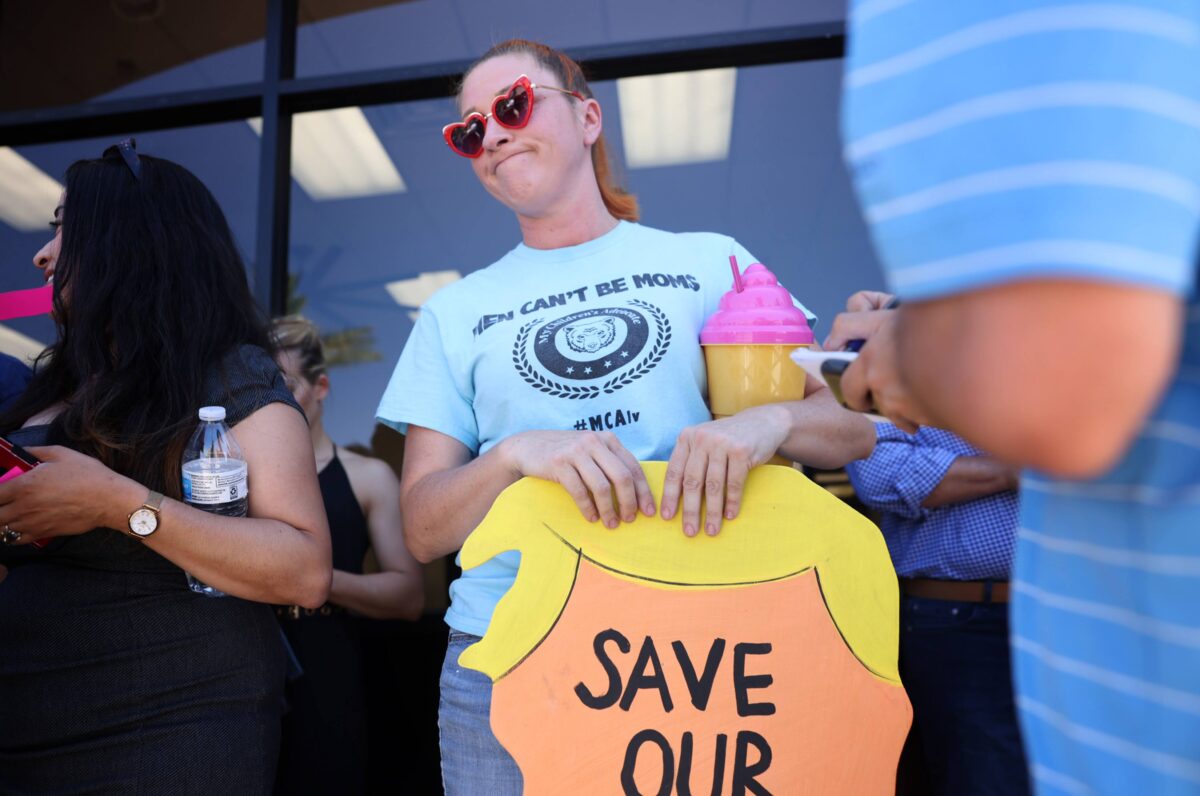 Stephanie Kinsley, a 41-year-old property manager, was wearing a shirt that said "Men can't be moms," part of the broader anti-transgender rhetoric that has become popular in the GOP. She also brought a cutout of Trump's head emblazoned with "Save our kids."
"Men have autogynephilia and are turned on by dressing as a woman, want to be a woman," she said. "They want to kill us and throwing on a bra and some lipstick makes you a woman? It's disgusting."
Gender dysphoria, which is the discomfort that arises when someone's gender identity differs from their biological sex, is recognized by leading medical organizations. Transgender individuals have higher rates of depression and suicide ideation than cisgender people, and medical groups have backed gender-affirming care to treat people with gender dysphoria.
Above all on Saturday, attendees catastrophized about what a Trump-less future in America would look like.
"If Trump does not win, game over," said Patrick Quan, a 68-year-old retiree.