Biden winning hypothetical matchup against Trump, ties DeSantis in Nevada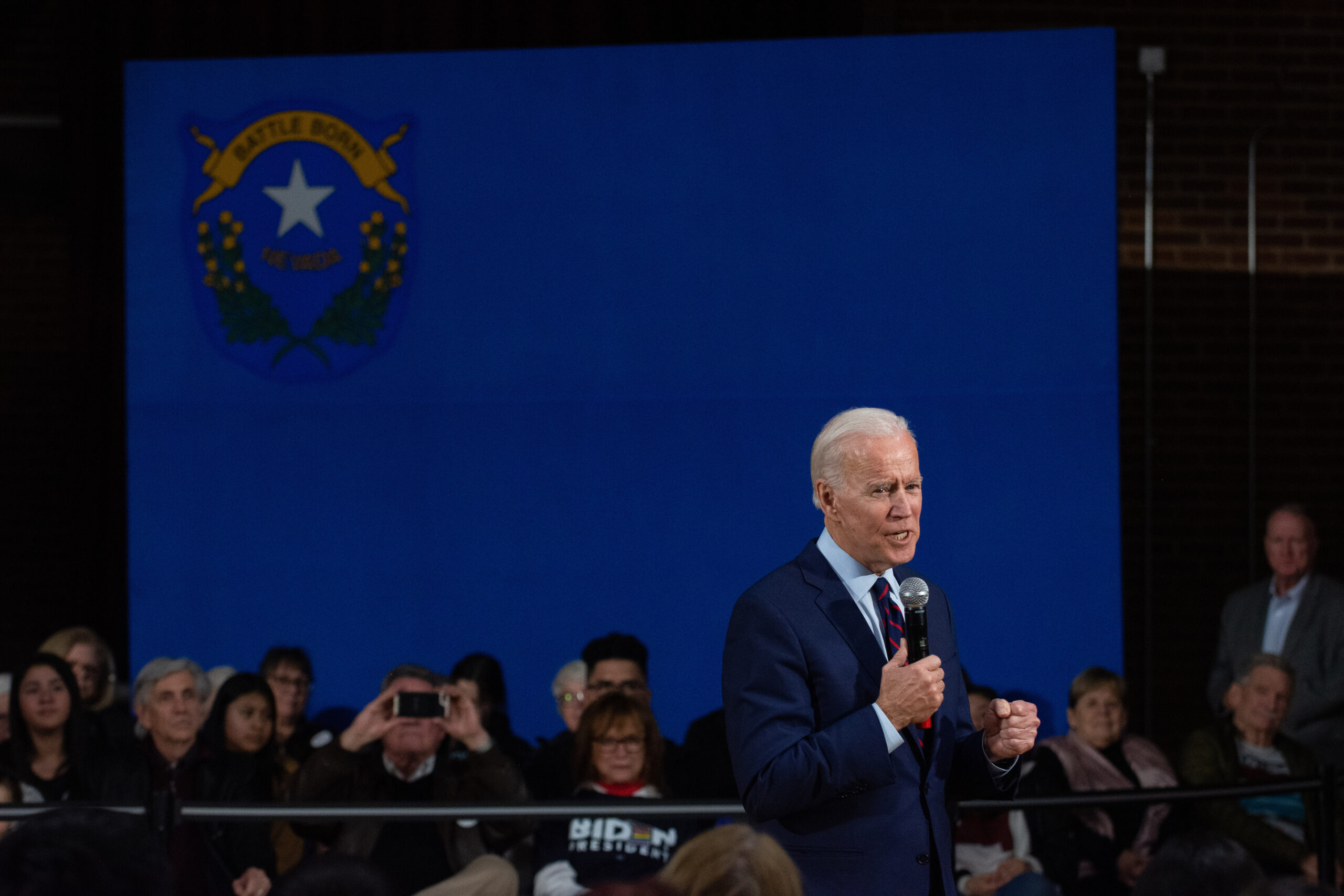 At campaign stops and official events, President Joe Biden likes to frequently remind supporters of a quote he attributes to his father: "Don't compare me to the Almighty; compare me to the alternative."
And while his approval rating in Nevada remains underwater, a new Nevada Independent / Noble Predictive Insights poll indicated that voters indeed prefer Biden to the Republican alternatives. Among likely voters, Biden leads former President Donald Trump by a substantial 8 points, 48 percent to 40 percent, and edges out Florida Gov. Ron DeSantis by 43 percent to 42 percent.
The poll was conducted from April 18 to April 26 of 613 Nevada residents in an online opt-in panel survey. The results have a margin of error of about 4 percent.
Biden has significantly improved his margins over each potential Republican foe since an early February poll of registered voters, which found him with a 6-point deficit to DeSantis and 2 points behind Trump. Since then, Trump has been indicted by a grand jury in Manhattan, while DeSantis, who has yet to announce a presidential bid, has fallen in polls after a barrage of attacks from the Trump campaign, a public legal battle with Disney, and a donor exodus.
Biden's approval rating among likely voters in the state — as in the rest of the country — remains low. He sits at 42 percent approval and 53 percent disapproval.
Mike Noble, the chief of research and managing partner at Noble Predictive Insights, said the 2022 midterm elections, in which Democrats nationwide notched notable wins against Trump-backed Republican candidates in what is typically a referendum on the president's party, proved that his low approval rating is not indicative of future electoral failure.
"It really depends on who Biden's ultimately running against," Noble said in an interview on Monday. "If it's Trump, Biden's job approval is meaningless."
Biden, who beat Trump in Nevada in 2020 by about 2 percentage points, officially launched his re-election campaign last week.
Biden's favorability sits at 44 percent, slightly higher than his approval rating. Noble said this phenomenon is typical for Biden, whom voters disapprove of on the issues but find relatively likable or inoffensive. He proved most popular among non-Hispanic voters of color, older millennials aged 35 to 44, and Nevadans with postgraduate degrees.
Among independents, Biden's approval rating is a paltry 34 percent. And yet, in a hypothetical rematch with Trump, Biden has a 12-point advantage among independents — a margin that, if it were to hold over the next 18 months, would put purple Nevada firmly out of reach for the former president. Independents are more enthused by DeSantis; the governor has a 1-point advantage over Biden among independents, though 23 percent of those respondents remained unsure of who to support.
When polled on Biden's handling of 11 issues, a majority of likely Nevada voters only approved of his handling of one topic — the COVID-19 pandemic. He also did well on the environment and race relations, relative to his overall 42 percent approval rating. His weakest marks were for his handling of immigration and the economy, each at 60 percent disapproval, followed close by gun policy, which 57 percent of likely voters disapproved of.
Democrats also continue to hold a major advantage among women, a trend that emerged after the Supreme Court overturned Roe v. Wade in 2022 and which has held in the year since. In a generic congressional ballot, the poll found Democrats held a 6-point advantage over Republicans among all likely voters. When narrowed down to women, the margin expands to a whopping 22-point margin.
Noble said polling from April 2022, before the Supreme Court made its ruling, showed Democrats with a 9-point lead with women.
"Frankly, abortion has been a buzzsaw issue for the GOP since the Supreme Court decision," Noble said. "Republicans need to align on a united position and strategy and navigate this issue if they hope to carry female voters come November."
On the generic ballot, Democrats also carried Hispanic voters by 14 percent. And despite having a negative favorability metric with Hispanic voters, Biden carried them in the poll by a margin of 16 and 17 points, respectively, against Trump and DeSantis.
Jacky Rosen ratings
Sen. Jacky Rosen (D-NV), who is up for re-election in 2024, is polling ahead of Biden. Fifty percent of likely voters had a favorable view of her (compared to 44 percent for Biden) while 36 percent did not.
Thirteen percent of voters either had no opinion or had not heard of her, a metric Noble said works to her advantage because she has a long window of time to define herself while Republicans will not even know their candidate until next summer.
Rosen's favorability was strongest among likely voters aged 18 to 44, voters of color, and voters with a postgraduate education. The only groups who viewed her disfavorably, on the whole, were Republicans and rural voters.
Given that both Rosen and Biden will be on the ballot in 2024, Biden's poor approval rating could be a drag on the junior senator. But Noble said that scenario is unlikely given that Rosen can expect a fundraising advantage as a Democrat in a battleground state.
Senate Democrats, including Sen. Catherine Cortez Masto (D-NV), racked up enormous cash sums in 2022 and outspent Republican opponents. He also expects the presidential election to juice turnout among young voters, particularly young women who support abortion rights — all good signs for Rosen.
"If I'm Rosen, I'd actually be feeling great," Noble said. "You have a long runway, and you've got plenty of financial resources to basically build your armor."
Find the poll toplines and crosstabs here.
Check back later this week for poll results on Gov. Joe Lombardo and policy proposals being considered by the Nevada Legislature.
The Nevada Independent is raising $200,000 by Dec. 31 to support coverage of the 2024 election.
Tax-deductible donations from readers like you fund this critical work.
If you give today,your donation will be matched dollar-for-dollar.
Give + Get Matched
Featured Videos