Nevada GOP approves party-run caucus that will exclude candidates who run in primary
The caucus — set to be held just two days after the primary, on Feb. 8 — will require candidates to pay a $55,000 filing fee.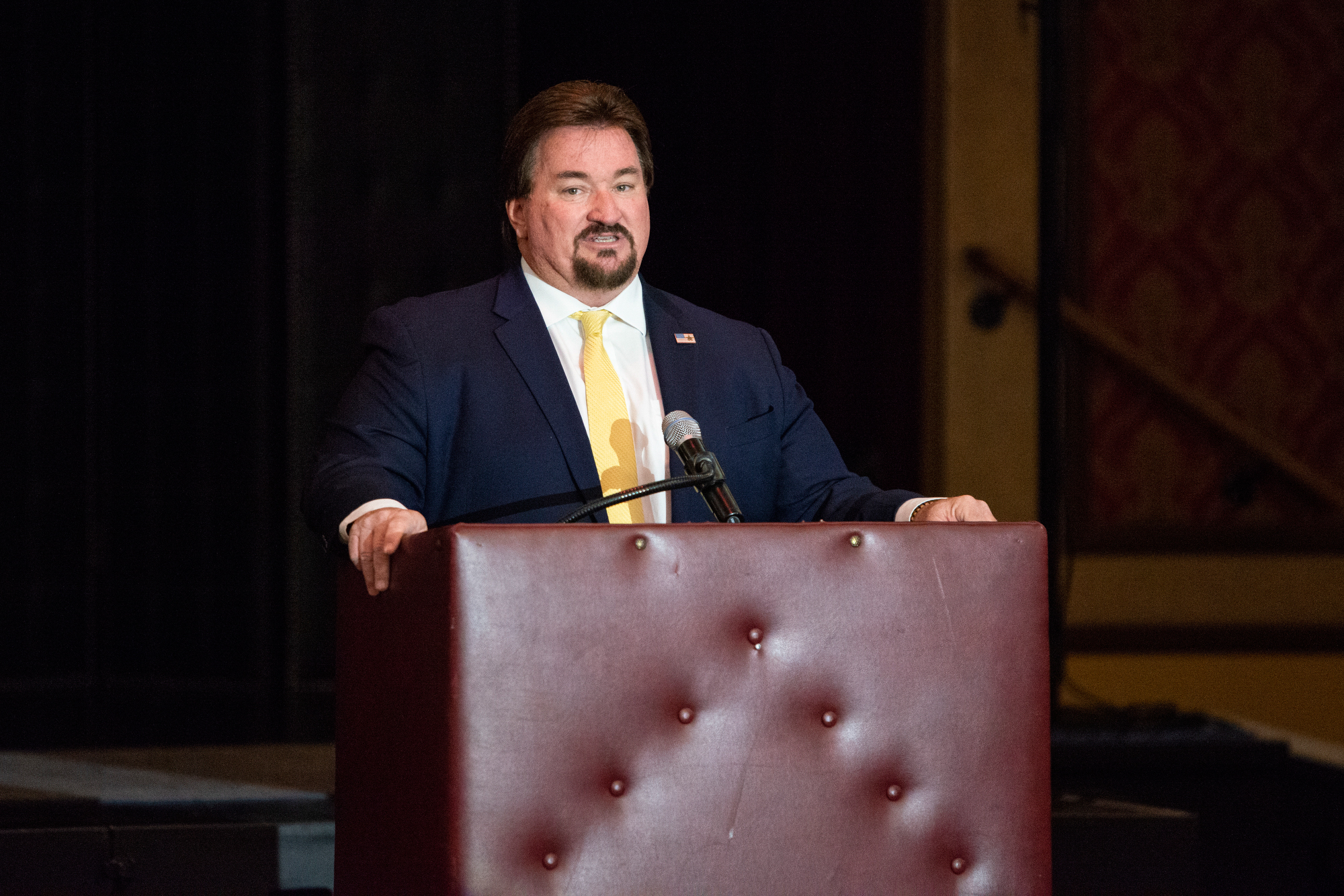 Members of the Nevada GOP voted Saturday to establish rules for a party-run caucus that include barring candidates who choose to have their name listed on the ballot for a state-run primary election being held two days earlier and restricting political action committees from getting involved.
The approval came during the Nevada GOP's fall meeting in Winnemucca as part of the state party's decision to abandon the primary established by a 2021 law and hold a party-run caucus in 2024. The party prohibited members of the media from attending the meeting.
In a phone call with The Nevada Independent Saturday evening, Nevada GOP Chairman Michael McDonald said that the vote "overwhelmingly" was to have a caucus.
"We've all voted for the caucus, so we're all gonna work together," McDonald said. "I was born and raised here. [Having a caucus] is one of the purest forms I've seen where candidates actually have opted to come out and talk with people."
Rules adopted by the party stipulate that the caucus — set to be held just two days after the primary, on Feb. 8 — will bar candidates who file for the primary, require a $55,000 fee for each campaign to register for the caucus and prohibit "super PACs" from participating in the caucus. McDonald said that as long as campaigns hold an event with the state party, it will refund $20,000 of that fee.
The split over the caucus and primary setup has frustrated Republican campaigns hoping to oust Trump from his de facto position as party leader and led to condemnation from other Republican groups that fear negative effects on the state's election process.
Earlier this month, the Ron DeSantis-linked super PAC Never Back Down called the planned caucus "rigged" to benefit Trump just as the PAC announced it would pull back on organizing efforts in Nevada.
The Nevada Republican Club, which has about 400 members, also sent a letter to each of Nevada's Republican Party county chairmen opposing the caucus. In the letter, signees wrote that holding the primary election and the caucus two days apart would "frustrate, anger and confuse Nevada's Republican voters."
"Even if the winner of the February 6th Primary received more votes than the winner of the February 8th caucus, it won't matter," the letter said. "They won't get delegates [to go to the Republican National Convention]. The voters will not react well to that, nor will the campaigns."
In response to fears about the caucus benefiting Trump, McDonald said, "it's not true."
"The caucus is probably the purest form of anybody who wants to get delegates — you have to put in the time in the state," McDonald said. "I can push back and say, 'Look, put your team together and come out to Nevada and start knocking some doors.'"
So far, only one candidate — Vivek Ramaswamy — has filed for the caucus.
Ramaswamy's participation ensures at least one candidate other than Trump will participate in the caucus. In a statement following the announcement on Tuesday, McDonald said the state GOP was "thrilled."
"His early commitment signifies not only his passion for representing the voices of Nevadans but also solidifies that Nevada is a key early state for the Republican Presidential nomination process," McDonald said.
McDonald added that presidential candidate Larry Elder and former President Donald Trump have indicated they will be filing to participate in the caucus.
An early nominating state
As early nominating states, including Iowa, New Hampshire and South Carolina, have been buzzing with Republican presidential hopefuls, Nevada has been a far less popular destination.
Candidate visits among the 13-person field have been sparse — DeSantis headlined the Basque Fry in June, while Trump emerged for a rally in Las Vegas in July. Political television spots have been dominated by President Joe Biden, as Republicans have ceded spending on the airwaves for all but incidental ads on national programming.
As of early September, the ad tracking firm Ad Impact found that out of more than $100 million GOP presidential ad spending from candidates and outside groups, only about $1 million had been spent in Nevada.
Though DeSantis was the first declared presidential candidate to visit Nevada this cycle and Trump has lost two general elections in Nevada, the former president has long dominated among Nevada's Republican voters. Trump nearly swept the 2016 caucus, winning 15 of 17 counties (including Clark and Washoe) and nearly 46 percent of the vote at a time when the field still held 11 candidates.
In the 2020 general election — which Trump lost to Biden in Nevada by 2.4 percentage points — Trump still secured a higher share of the vote (47.7 percent compared to 45.5 percent in 2016) as well as 157,800 more raw votes than he did in 2016.
When Trump and his campaign later claimed, baselessly, that the election had been stolen in key battleground states, including Nevada, Nevada's state Republican Party backed the president's claims.
That included McDonald, who was among a group of Nevada Republicans who attempted to file a false slate of presidential electors supporting Trump instead of Biden. McDonald has since been among a pair of Nevada Republicans who faced subpoenas from the House January 6 committee. In June, he also testified before a grand jury in Washington, D.C. as part of a federal probe from special counsel Jack Smith into efforts to subvert the 2020 election results.
McDonald said that the best thing about the meeting on Saturday is the "unity of support" that came once everyone was together.
"Once the vote was over, everybody started coming together. We're going to work together," McDonald said. "People that were critical and sent out letters and stuff, they want to come back and let's get a Republican elected."
The Nevada Independent is raising $200,000 by Dec. 31 to support coverage of the 2024 election.
Tax-deductible donations from readers like you fund this critical work.
If you give today,your donation will be matched dollar-for-dollar.
Give + Get Matched
Featured Videos