Despite losses in Iowa, New Hampshire, voters in Nevada aren't ruling out Biden yet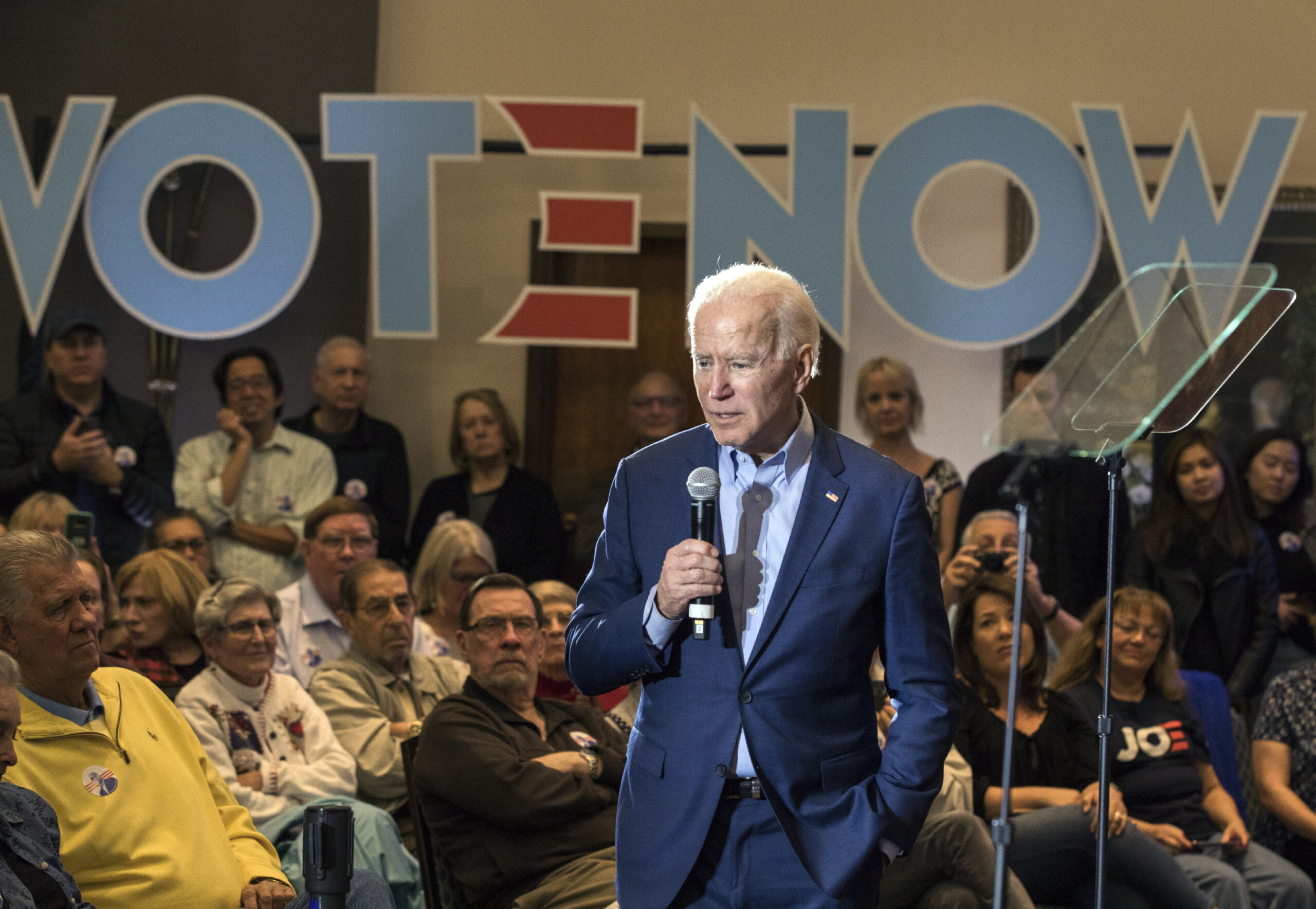 Former Vice President Joe Biden, sandwiched between two teleprompters in the auditorium of a retirement community in Henderson Friday evening, began the way he has begun so many of his pitches to Nevadans over the last several months.
The country is, he said, in a battle for the soul of the nation. He talked about white supremacists, "racist, murderous thugs around the world," and President Donald Trump sending "love letters" to North Korean leader Kim Jong-un. He had just started to launch into talking about the expectations for Trump's presidency when he got elected — "we didn't think things were going to be good, but we had no idea" — when he changed his mind.
"By the way why don't you take this teleprompter down," Biden said, waving his hand vaguely at his campaign staffers. "I don't want to use a teleprompter."
Microphone in hand, Biden began roaming the room, at times lowering his voice before rising to a crescendo, talking about health care, gun safety and the economy. The crowd was mostly quiet, listening earnestly to the former vice president make the beginning of the end of his closing argument to Nevadans, who in a week's time could be responsible for either revitalizing Biden's campaign after defeats in Iowa and New Hampshire or sealing his fate.
But it has been, by all accounts, a good 24 hours or so for Biden in the Silver State. He was endorsed by two top African American elected officials — Democratic Rep. Steven Horsford on Friday and Las Vegas City Councilman Cedric Crear Saturday morning. His campaign announced that he will have more than 130 staffers on the ground this week, making his the second-largest team after Sanders'. Biden also dropped by the Bellagio to say hello to members of the Culinary Union, who declined to endorse in the race this week.
"We were walking back of house at the Bellagio today. People were so excited about seeing him. You saw Steven Horsford came out for him. That's going to be a strong voice in the African American community," Rep. Dina Titus, the first member of Congress to Nevada to step out in support of Biden in November, told The Nevada Independent on Friday. "I think he's well represented across the board."
Nevada — with a diverse population that is roughly 30 percent Latino, 10 percent Asian American and Pacific Islander and 10 percent black — is likely a make or break state for Biden, who largely chalked up his failures in Iowa and New Hampshire to the lack of diversity in those states. Biden came in fourth in Iowa — behind former South Bend Mayor Pete Buttigieg, Vermont Sen. Bernie Sanders, and Massachusetts Sen. Elizabeth Warren — and fifth in New Hampshire after Minnesota Sen. Amy Klobuchar's surprise third-place finish in the race.
"We're so different from either one of those two states. We're much more diverse. We have a much stronger labor movement," Titus said. "We've got Hispanic and Asian populations but we've also got early voting and seniors love to vote early and those are his voters, so I think that's going to make a big difference too."
But his supporters are a little less sunny, though not deterred, by his performance in the first two early nominating states. Joy Nacarato, 76, acknowledged that she was concerned about the Iowa and New Hampshire results and is worried that it may influence those less firm in their support for the former vice president.
"I hope he does good," Nacarato said.
Patricia Powell, a retired high school teacher from Henderson, brushed off Biden's performance in the first two states by saying that those states weren't his "region," suggesting that Buttigieg won Iowa because of his midwestern roots and Sanders won New Hampshire with a neighbor-state advantage.
"I feel that was to be expected," Powell, 78, said. "I think that many people in those regions would show greater loyalty to candidates that are from that region."
Throughout the race, Biden leaned on his moderate appeal as he has positioned himself as the candidate best situated to defeat Trump, even as Buttigieg has sought to creep into that lane with talk of all the "future former Republicans" he says are going to vote for him. Adrienne Miller, a registered nonpartisan who attended the Biden event Friday evening, said that Biden would be a "maybe" for her in the general election, where Sanders was a definite "no."
"I wouldn't say no," Miller, 66, said.
Her husband, Ira Miller,, a registered Republican, said that he likes what Trump has done as president, but not the way he's done it. The one candidate he said that could persuade him to possibly vote Democratic in the general election is California billionaire Tom Steyer, for his support for establishing term limits on members of Congress.
But with early voting beginning on Saturday and only a week until Caucus Day, some voters are still just beginning to make up their minds. Jan Wilson, a retired administrative assistant, said she was hoping to catch as many candidates as possible as they come through town this week, but that she's leaning toward Buttigieg though she's not ruling out Biden yet.
"I like him a lot. I think he's getting an unfair rap because he's lost the last two caucuses," Wilson said. "But there's a long way to go yet, and I think he can build up his momentum."
The Nevada Independent is raising $200,000 by Dec. 31 to support coverage of the 2024 election.
Tax-deductible donations from readers like you fund this critical work.
If you give today,your donation will be matched dollar-for-dollar.
Give + Get Matched
Featured Videos