Second Judicial District Court in Reno on Nov. 22, 2019. Photo by Mark Hernandez
Judge calls for more investigation on unemployment claim backlog, but does not order mass, immediate PUA payments
12:03 p.m. update: A Washoe County judge declined to issue a court order calling on the state to immediately start paying unemployment claimants who are awaiting benefits, but appointed a Reno lawyer as a special master to investigate the issue of delayed claims further, and may issue an order on the matter next week.
Judge Barry Breslow indicated on Tuesday that the plaintiffs — people who have applied to varied levels of success for federal Pandemic Unemployment Assistance (PUA) benefits — had not met the burden of proving the Nevada Department of Employment, Training and Rehabilitation (DETR) was acting in an arbitrary or capricious manner or abusing its discretion. Plaintiffs said the state was doing too much cross-checking that slowed urgently needed benefits.
Breslow said he was convinced that DETR staff was "working their level best to get through the crushing backlog of claims in these extraordinary circumstances. But I don't want good. I don't want great. I want heroic." He added that "the status quo right now is unacceptable."
Breslow appointed Reno lawyer Jason Guinasso to work with the parties to research the flow of claims from start to finish, as well as issues of how user-friendly the website is and what kinds of communication claimants are receiving.
He called a brief hearing on Wednesday at 2 p.m. and asked Guinasso to produce a report on his findings in the next week. At a hearing at 9 a.m. on July 16, Breslow said he would decide whether it's appropriate to issue a writ of mandamus compelling DETR to change course in some way.
***
Original story: Nevada officials say that if they paid unemployment claimants before fully vetting applications for eligibility, they would be violating federal rules and could be kicked out of the program, jeopardizing benefits for everyone participating.
The Department of Employment, Training and Rehabilitation made the statements in a filing last week urging a Washoe County judge not to grant a request in a class action lawsuit filed by people who have applied, with varied success, to the Pandemic Unemployment Assistance (PUA) program in Nevada. Judge Barry Breslow is expected to hear arguments Tuesday morning about whether he should issue a writ of mandamus forcing the state to pay tens of thousands of claimants immediately.
"Doing as Petitioners suggest threatens termination of the entire program, stopping ongoing payments to Nevadan families and potentially subjecting Nevada to potentially repay all wrongfully spent federal funds at a time of great governmental fiscal distress," Attorney General Aaron Ford's office wrote in a response July 1. "Nevada is required to do these eligibility determinations to ensure it can pay all program recipients through this continuing public health emergency."
Many PUA applicants say they have gone more than three months without income because their unemployment claims are in limbo and they struggle to reach an operator at state hotlines to resolve the sticking points. Plaintiffs filed an amended complaint last month arguing that DETR was wasting time by trying to determine whether applicants were eligible for traditional, state-paid unemployment benefits or the new, federally funded PUA program for gig workers and the self employed, and in the process denying people at least the $600 a week they should be getting through the Federal Pandemic Unemployment Compensation program.
As of last Thursday, 272,400 initial claims for PUA had been filed in Nevada, with fresh surges in the last few weeks (a trend DETR attributes in part to publicity about the legal attempt to remove hurdles to payments). That's on top of the more than 528,000 initial claims for standard unemployment benefits filed just during the pandemic period, for a total of about 800,000 claims — a figure that is more than half the number of people in the entire Nevada labor force when pandemic-related business shutdowns began in mid-March.
DETR argues that the "unprecedented volume of claims for different kinds of benefits impacts the processing of PUA benefits, and means that not all claimants are going to be paid as quickly as anyone would hope."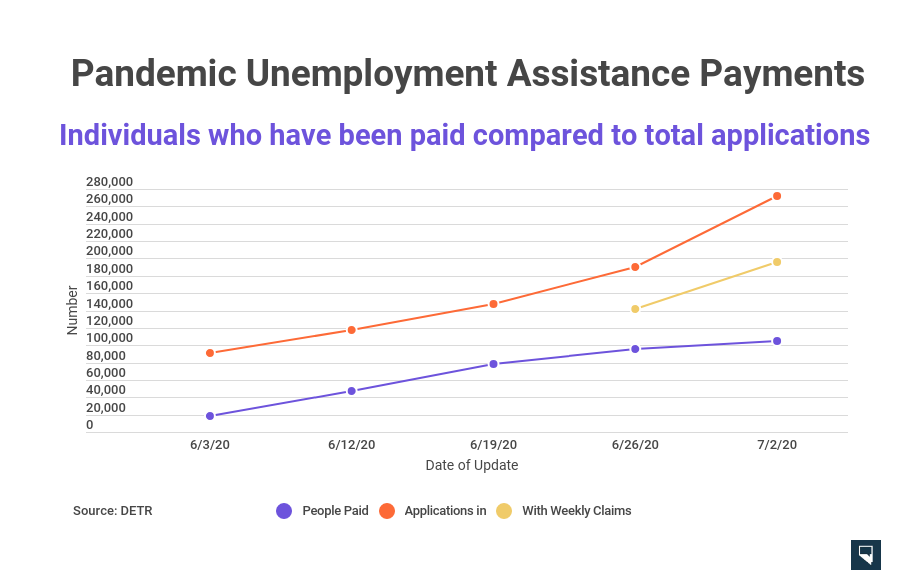 There are also concerns that fraudsters are trying to take advantage of the program, which is disbursing more than $1,000 a week to many claimants. Employment Security Division Administrator Kimberly Gaa said her division believes there are more than 100,000 suspected fraudulent filings in the PUA system to date.
If statistics from the Great Recession are a guide, DETR said, a court order could force the payment of $8.5 million in improper payments a week, including $2.4 million that are intentional fraud.
But the plaintiffs say that DETR's statements that it cannot go faster than it is going are "unacceptable and legally untenable."
"DETR's response to the people of the State of Nevada's request to be paid money promised to them by the federal government 'when due' rather than two years later, is no better than that of Marie-Antoinette (bride of France's King Louis XVI) who, when in 1789 was told that the people of Paris had no bread, stated 'Qu'ils mangent de la brioche' — 'Let them eat cake.'"
Plaintiffs, in a response on July 2, say DETR should immediately pay at least three subgroups of PUA applicants, including those who have had more than sixteen weeks of revenue from self-employment immediately prior to applying for PUA. They argue that DETR is spending too much time cross-checking databases to see if someone has disqualifying issues with their claim and should instead rely on applicants affirming under oath that they do not have disqualifying conditions on their application.
They also want the $600 weekly payments made to plaintiffs in the class-action suit, including those who are denied PUA on grounds that they may be eligible for regular unemployment, regardless of what program ultimately pays. The suit argues some people are being denied on the technicality that they had a more traditional employment arrangement in years past.
But DETR points to Department of Labor guidance that says the state must first determine the PUA claimant has no eligibility through the state-paid program. It also says paying the $600 weekly federal bonus payment without resolving the underlying eligibility questions would be inappropriate because some people — including those who were unemployed before the pandemic — don't meet the eligibility for either program.
"Simply put, DOL's guidance prohibits DETR from simply paying people on the front end, as Petitioners request, and then recovering any payments made that should not have been made," the response says.
DETR officials said that the PUA program is particularly vulnerable to fraud because it relies heavily on a claimant's personal declarations about their income, while the traditional program generally involves checking with the person's prior employer to determine whether the employee left through no fault of their own.
The lawsuit argues that DETR should have paid claimants through the program, which was authorized by the congressionally approved CARES Act in late March, by April 11.
"Looking for bogeyman/bogeywoman committing fraud can't be the cause of DETR's failure to perform its duty to pay benefits when due" because other states have had paid out more of their claims within two weeks of a claimant applying, the lawsuit said.
DETR said it's unclear why plaintiffs cite April 11 as the due date, and say 39 of 50 states weren't accepting PUA applications by that date and that Nevada never promised to launch PUA before mid-May.
Comment Policy (updated 4/20/2021): Please keep your comments civil. We reserve the right to delete comments or ban users who engage in personal attacks, use an excess of profanity, make verifiably false statements or are otherwise nasty. Comments that contain links must be approved by admin.