DETR says no known internal data breach driving fraudulent unemployment claims, warns of $600 payments expiring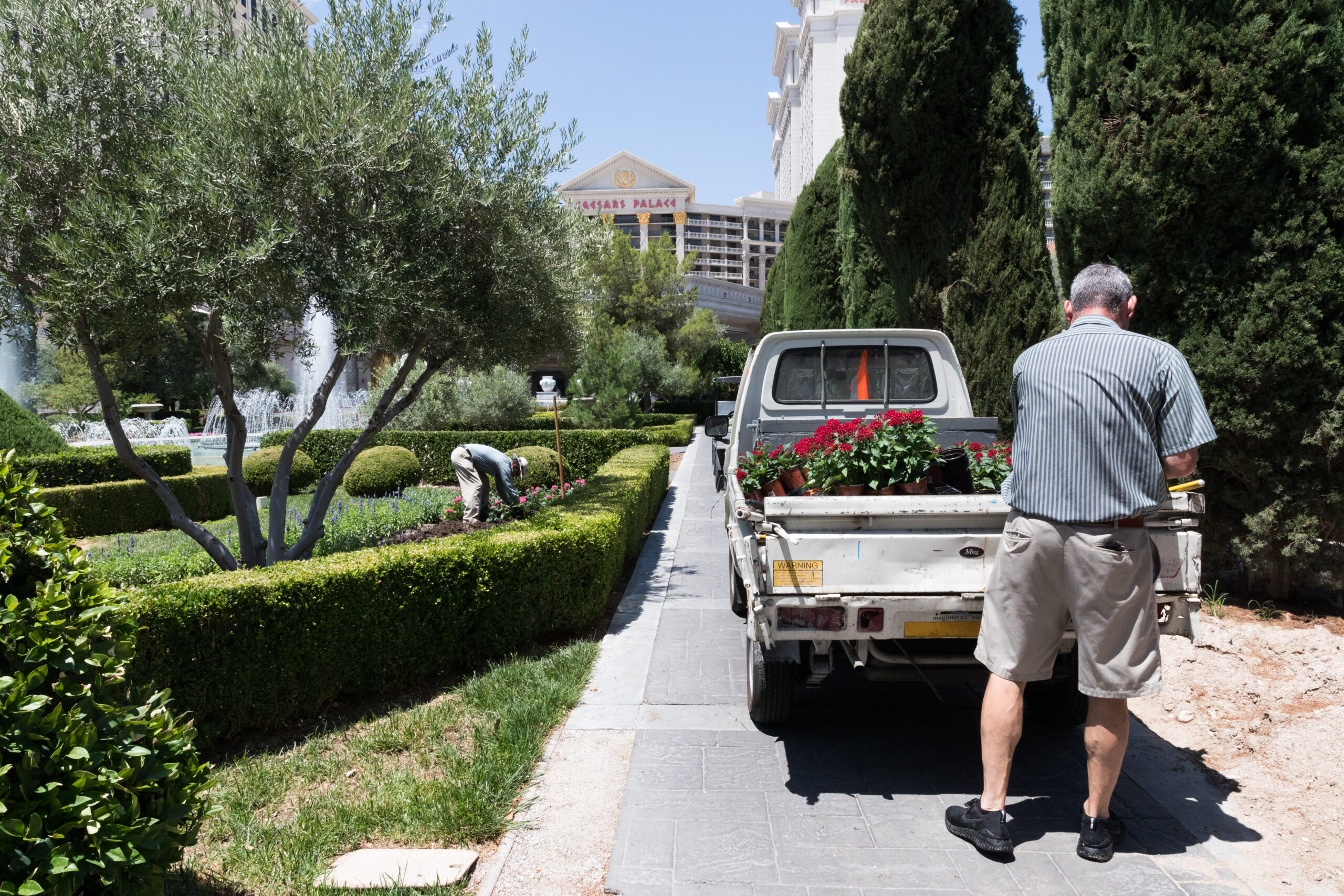 State officials say fraudulent unemployment filings are not stemming from any known data breach within DETR, and that the agency doesn't have any concrete information about the future of an expiring $600 weekly federal bonus payment which is subject of continued discussions in Congress.
The Nevada Department of Employment, Training and Rehabilitation offered the updates as part of a videoconference press briefing on Friday. It comes on the heels of debate in court about the role fraud — and the state's efforts to fight it — have in slowing down the processing of legitimate claims.
"DETR actively monitors its systems and works with reputable companies and its vendors to ensure that all data is maintained securely," said Kimberly Gaa, head of the Employment Security Division. "We will be limiting further information related to any investigations and will not be sharing details to protect the case integrity."
While Gov. Steve Sisolak, Attorney General Aaron Ford and U.S. Attorney Nick Trutanich all put out public statements this week acknowledging the issue of fraud, little information has been publicly released about the extent of the problem in Nevada. The Washoe County Sheriff's Office said earlier this month that it was investigating 37 instances of fraud; the Reno Gazette-Journal reported more than 500 instances in which claims were filed on behalf of public employees in Northern Nevada who are still at their jobs.
Attorney Mark Thierman, who represents claimants who were delayed in receiving Pandemic Unemployment Assistance (PUA) benefits due to gig workers and people who are self employed, said in court this week that the quest to root out fraud has gone too far and is exacerbating the struggles of PUA claimants who have gone months without income.
The gap between the number of applications filed for PUA and the number actually paid continues to widen. Officials said there have been 343,149 initial claims filed to date, and 121,980 people have been paid so far; the number of people paid has increased by less than 8,000 from the prior week.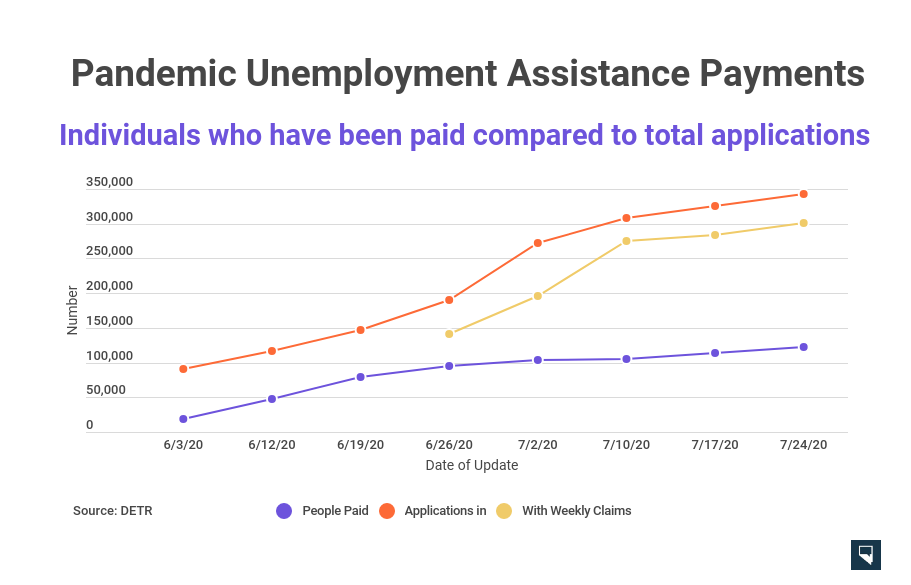 Nevada does not have a solid grasp on how many independent contractors and self employed people are in the state (estimates have ranged from about 70,000 to 200,000). But Chief Economist David Schmidt said that using one estimate from the U.S. Census Bureau — that there were 82,115 self-employed people in the state in 2018 — Nevada ranks eighth in the country for the amount of PUA benefits paid per self-employed person.
The agency did not answer a question submitted by The Nevada Independent about how many of the PUA claims have been denied outright. Court-appointed Special Master Jason Guinasso had recommended that the state more quickly deny applications if they appear suspicious, so legitimate claimants can begin an appeals process instead of being stuck in limbo.
Officials also addressed frustrations reported by claimants that the payment dates provided in their online portal keep moving around.
"This is due to process steps required to review payments to ensure accurate disbursement of funds," Gaa said. "We are aware that this is frustrating for filers as you wait for these funds to become available. We continue to work with our vendor to automate this process and make it more efficient."
Gaa also addressed the imminent end of $600-per-week Federal Pandemic Unemployment Compensation payments that layer on top of state or federal benefits. The program will no longer be available starting the week of July 26, and benefit amounts will revert to levels that max out at $469 per week.
But she said people who were eligible for it in past weeks and have not received it will still be paid the benefit. An extension of some level of bonus payment is under active discussion in Congress, with some members of the Nevada delegation tweeting their support for continuing the payments and arguing the higher level of pay has made a "world of difference" for Nevada claimants.
"DETR has been in communications with the Department of Labor, governor's office and federal delegates and we currently have no updated information on any extensions at this time," Gaa said, urging claimants to check the DETR website for information about how federal legislation might change the situation.
Quarter change
Because eligibility for unemployment is based on how much a claimant made in recent quarters, the switch from June to July made some PUA recipients newly eligible for the standard program. Gaa said PUA claimants should see messages in their portal if they need to try to now file in the standard program; the two programs operate out of two different websites.
The amount of payments flowing from PUA dipped sharply at the beginning of the month after that transition point. The change has proved confusing for claimants including Las Vegas resident Will Cannon, a personal trainer who was laid off from his job at 24 Hour Fitness in Las Vegas in March. He tried to apply for the regular program early this spring, but was denied because he didn't have sufficient earnings in 2019.
He later applied to PUA, but has yet to be paid and has seen messages in his portal indicating "unresolved issue - PUA - other eligibility," then "needs to be reviewed by PUA staff." Then, earlier this month, he was told he had an "important action to take": he needed to apply to the regular unemployment program again.
Cannon did that, sending in a variety of documents, but now the regular claim indicates it's incomplete and Cannon should call DETR. He can't get through when he tries, and he worries that the fact he has cases open in both systems will work against him.
"Now I have two cases open, and they're fighting over who's going to pay," he said.
Cannon, 49, said his family is scraping by while he is in unemployment limbo because his wife is an essential worker. They've maxed out credit cards, and he doesn't want to have to ask for help making rent.
Gyms are struggling as they try to keep occupancy down to maintain social distancing, so there's little work available in the field. For now, he goes to the park three evenings a week and helps train his 9-year-old son and other teenagers in agility drills as a way to keep them in shape and out of mischief.
He does it all for free, because he knows many parents are struggling right now.
"I can't try to push money from people that don't have money," he said.
Other metrics
Initial claims for standard, state-paid unemployment ticked up again last week, with 15,548 initial claims filed in the week ending July 18. So far this calendar year, there have been 592,700 initial claims, which also include people who are filing for unemployment again after having a job for a period of time.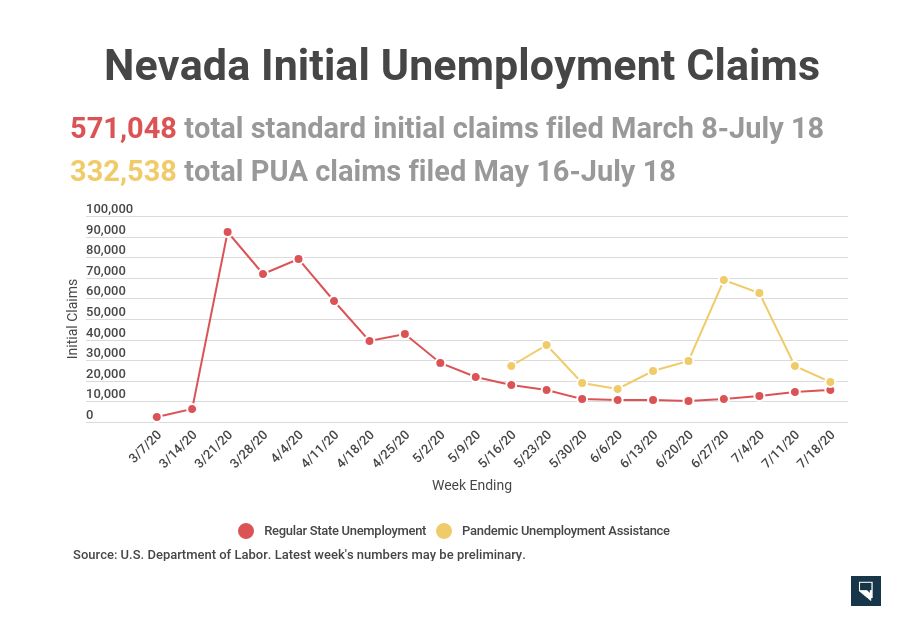 The number of continued claims, or people filing week after week for benefits, is up again for the third straight week and reached 306,077 last week. The statistic covers the week immediately after Sisolak ordered bars in certain counties to close in an effort to slow the accelerating spread of COVID-19.
Continued claims for PUA dropped to 132,595 last week.
Programs serving people who have been unemployed for extended periods of time are also getting more use. The number of claims to the Pandemic Emergency Unemployment Compensation (PEUC) program, which provides 13 weeks of benefits to those who exhausted their regular benefits, rose to 11,963 last week.
And the number of people who applied to the extended benefits program, which offers another 13 weeks of benefits to those who have exhausted regular and PEUC benefits, rose to 308.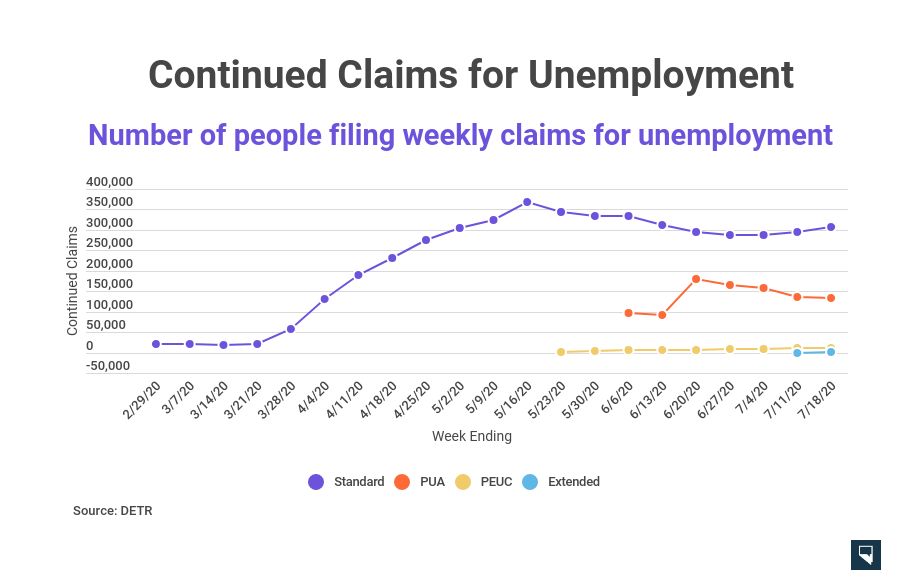 The state's unemployment trust fund stands at $656.7 million, which is enough to pay 5.8 weeks of regular state benefits at the current pace. Should the account run dry, Nevada expects to borrow from the federal government to keep payments flowing, as it did in the Great Recession.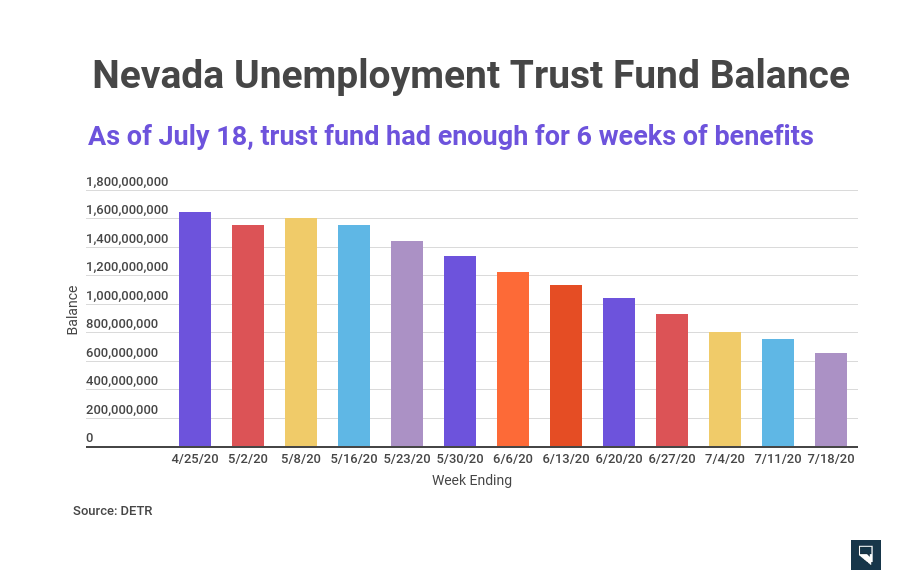 This story was updated at 4:15 p.m. on Friday, July 24, to add information about Will Cannon and the quarter change.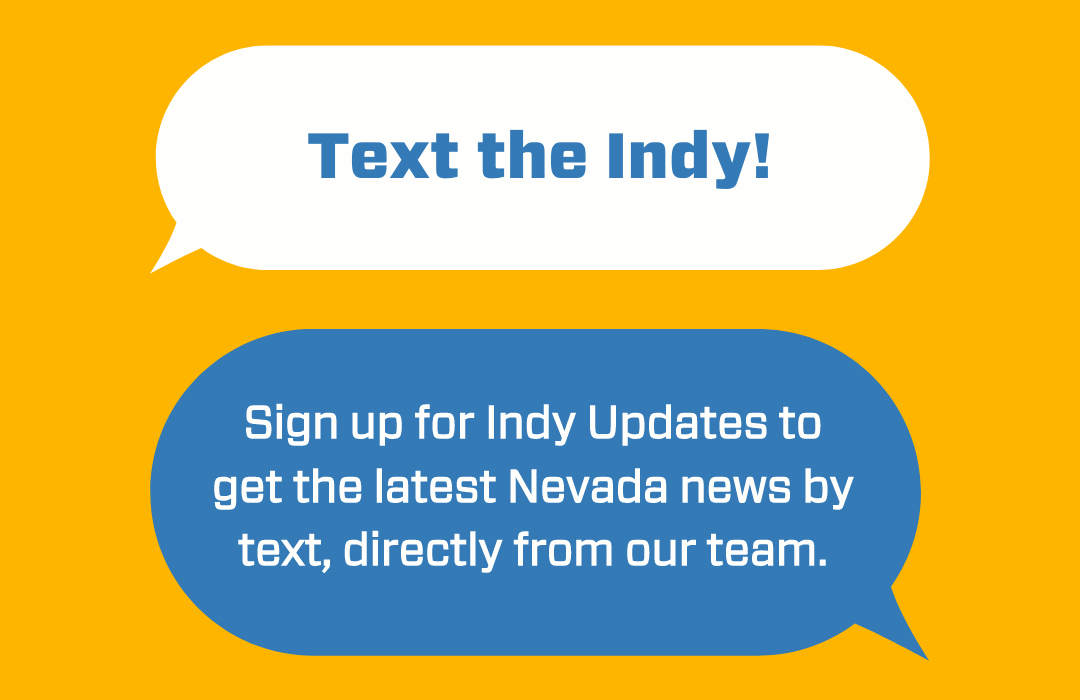 Featured Videos