Dispensary count could nearly double after state issues 61 conditional licenses, but details on winners remains secret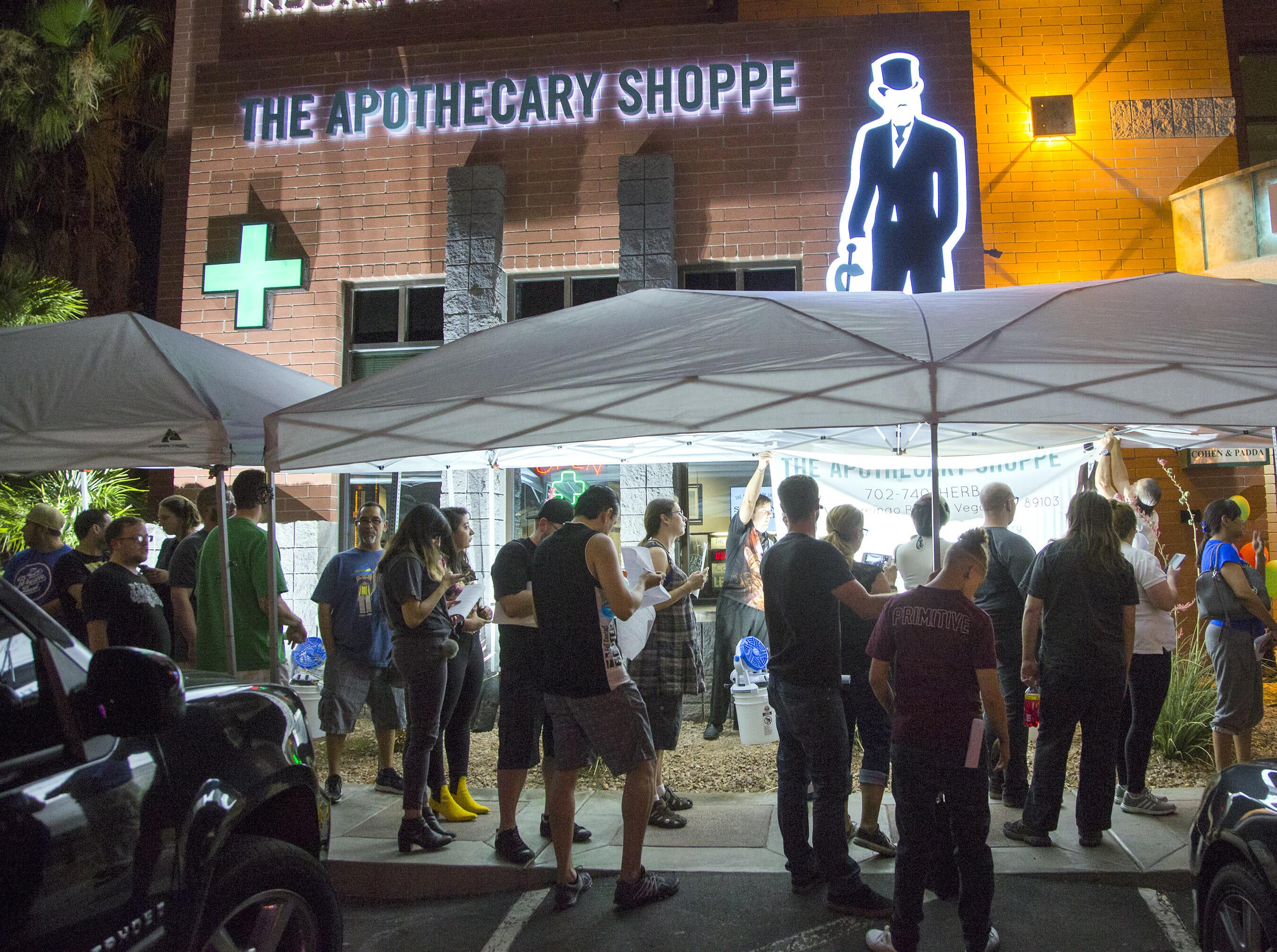 Nevada could soon have almost twice as many marijuana dispensaries as it does now after the state issued 61 conditional licenses, although it's not releasing details about who the winners of the potentially lucrative permits are.
Some of the 61 licenses were awarded to applicants for the 12 counties that currently do not have dispensaries, including White Pine, Pershing, Storey, Mineral, Lyon, Lincoln, Lander, Humboldt, Eureka, Esmeralda, Elko and Douglas Counties.
"We issued a number of state-level licenses in counties that have thus far declined to allow marijuana establishments," said spokeswoman Stephanie Klapstein of the Nevada Department of Taxation, which regulates marijuana. "There's a chance some of those licenses will not ultimately result in operational retail marijuana stores."
License winners have one year to obtain local approvals and pass a final inspection from the tax agency before they are issued a final state license. At that point, the name of the dispensary will be published on the state list of open retail stores, which currently includes 65 dispensaries in five counties.
But some are irked that information about the winning applicants is shrouded in secrecy. Taxation officials declined to release further data about the winners, citing a marijuana regulation that states "the Department will and any designee of the Department shall maintain the confidentiality of and shall not disclose the name or any other identifying information of any person who facilitates or delivers services pursuant to this chapter."
Concerns about favoritism in the application process came up when lawmakers approved regulations earlier this year, and transparency advocates believe the state has gone too far in applying an older law meant to keep health issues confidential to recreational marijuana businesses.
"The statute has been misinterpreted from the beginning. It was intended to protect doctors and patients as a privacy issue when medical marijuana was introduced, and there's no good reason it continues as the state's policy today," Barry Smith, former head of the Nevada Press Association, told The Nevada Independent. "In effect, it denies the public the opportunity to scrutinize the process and make sure it's being conducted fairly and openly."
The issue of transparency about marijuana business ownership was subject to a lawsuit filed by the Reno Gazette-Journal; the Nevada Supreme Court last year ruled against the newspaper, saying marijuana business licenses were not a public record. The defendants, with the City of Sparks, argued that the names of marijuana business license holders should be private because marijuana involves all-cash businesses that are uniquely susceptible to crime.
Still, Democratic Sen. Tick Segerblom said he thought the Legislature did not intend to allow such sweeping confidentiality for dispensaries.
"You can't have a situation where the state licenses somebody but we don't know who we are-- there could be a conflict of interest," he told the newspaper last year. "We need to address it immediately. It was the Legislature's mistake and it needs to be resolved."
The Department of Taxation issued conditional licenses in the following jurisdictions in the latest round this week:
Henderson - 6
Las Vegas - 10
Mesquite - 0
North Las Vegas - 5
Unincorporated Clark County - 10
Reno - 6
Unincorporated Washoe County - 0
Carson City - 2
Churchill County - 0
Douglas County - 2
Elko County - 1
Esmeralda County - 2
Eureka County - 2
Humboldt County - 2
Lander County - 2
Lincoln County - 1
Lyon County - 1
Mineral County - 2
Nye County - 1
Pershing County - 1
Storey County - 2
White Pine County - 2
The Nevada Independent is raising $200,000 by Dec. 31 to support coverage of the 2024 election.
Tax-deductible donations from readers like you fund this critical work.
If you give today,your donation will be matched dollar-for-dollar.
Give + Get Matched
Featured Videos