Customers line up outside the East Sahara DMV Office in Las Vegas on March 8, 2018. Photo by Michelle Rindels.
DMV's new policy is major roadblock, say businesses that prepare documents for largely immigrant clientele
March 25th, 2018 - 2:15am
On a recent sunny afternoon outside the East Sahara DMV office in Las Vegas, a line of about 50 people snaked out the building's front door, some standing against the wall and scrolling through their cellphones while others navigated the sprawling, nearly full parking lot.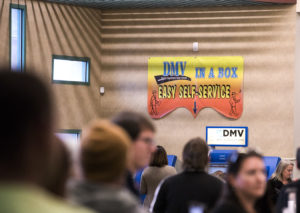 In spite of the agency's efforts in recent years to put more DMV services online, divert patrons to off-site kiosks or have them set up appointments a few days out, field offices continue to struggle with chronically long lines. And the DMV's latest effort to open up more windows to the general public by curtailing offerings to third-party document preparation businesses is causing significant backlash in Las Vegas and raising concerns that it will worsen, not improve, the problem.
Earlier this month, DMV offices in Las Vegas eliminated the so-called "standby window" that is used heavily by businesses that go to the DMV on behalf of clients who don't have time to come in themselves. The businesses will renew a person's registration for $25, for example, or obtain a new title for $60, and bring in large numbers of transactions to the standby window each day.
"For example, if there are doctors that go to the hospital to work, they have to leave to go to the DMV and lose two, three hours there," said Jose Rosas, who's run Amigos DMV Services in East Las Vegas since 2002. "We have many clients in the military, lawyers, all kinds of professionals. Making an appointment in the DMV doesn't work well for them because they end up losing hours."
There are an estimated 38 of these businesses in the Las Vegas area, and they're often used by clients who don't speak English well or are hesitant to interact with the DMV in person.
"Many people in our immigrant communities are intimidated by any government entity because they think they can't enter because they're going to have problems with immigration. There are a thousand motivations," said Democratic Assemblyman Edgar Flores.
At a recent public comment period before lawmakers, DMV services businesses made the case that they help the agency by ensuring all of a person's paperwork is filled out properly the first time and all documents are submitted — avoiding complications at the DMV window itself, speeding up the process and preventing situations where a customer forgets a document and must return a second time to the DMV.
But not everyone thinks the document preparation services are helping the situation. DMV spokeswoman Alex Smith said some of the services present themselves to clients as if they were actually the DMV, and make a significant margin if they don't communicate that many of the transactions they help with can be done for free online.
Smith said that while the DMV's online appointment system is becoming more popular, it's reducing the number of open slots available for walk-ins. In an effort to serve more walk-ins, the DMV has converted the standby windows into regular windows and is asking DMV services businesses to drop off their completed paperwork to be processed in a back office within a few days.
The businesses say the new setup isn't working, and they met with state officials on Wednesday to air their concerns face to face.
No more same-day service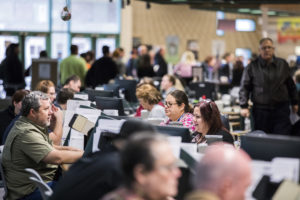 Rosas said that the DMV notified him of the change about a month before it happened and since then hasn't given him a chance to be heard. While his company advertises same-day service, he said the DMV now has up to five days to complete the transactions.
"Your permit expires tomorrow, you come … to do your license plates. They're going to return them next week?" Rosas said. "They're going to be driving without plates, with expired registration. They can get tickets, they can impound your car. Who is going to pay all of this, the tow company, the police? The DMV isn't going to take responsibility."
Smith said the DMV stamps the paperwork on the day it was received and gives people credit for the day it was turned in, not the day the DMV gets to it.
The DMV says that its Reno offices have had success eliminating the standby window for same-day transactions since they first did it in January, but Rosas said that he hasn't experienced firsthand how things have gone in the less-populous north and that businesses like his are focused on how the change is playing out in Las Vegas.
It's been stressful since the change, with the workload tripling, he said, and even if he had the money to hire more workers, there wouldn't be time to train them. He has four employees who, since the DMV made the change, have been starting work at 8 a.m. and have been getting home at 10 p.m.
Rosas wants the DMV to restore the standby window, and if that doesn't work, then at least he'd like them to hire more people to speed up the transactions.
"The same person that was in the standby window now is just sitting in the back doing the same work," he said. "I don't see any benefit to the DMV, to us or to the public."
Although the businesses are allowed make short appointments at regular windows like the general public, the bulk document drop-off model reduces opportunities to bring up concerns face-to-face.
"Now you can't talk with anybody," he said. "You leave your packet of documents and you go. If they want, they'll call you another day. If not, they have five days to call you."
A more personalized option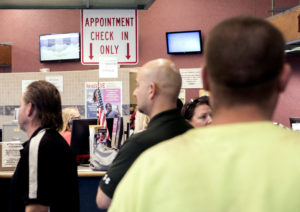 Rosas said that long before the DMV eliminated the standby window, he's had concerns with the agency on everything from slow customer service to favoritism and racism.
"There are some DMVs that are just very bitter … they try to make life difficult. They've always done it, and now with this, it's worse," Rosas said.
Rosas said the vast majority of his clients use his office because their work schedules don't coincide with the DMV's hours of operation or they don't want to spend their day off waiting their turn to process documents.
One of these customers who was waiting his turn at the Sahara DMV but preferred not to give his name told The Nevada Independent in an interview that he'd never heard of DMV document preparation businesses, but that he would be inclined to use them so he wouldn't have to ask permission to leave work or use his free time processing paperwork.
The man, who had checked in via the DMV's automated queuing system and said 32 people were in the line ahead of him, said that it took him about 40 minutes just to get inside the DMV to check in and that while the DMV offers customers the opportunity to schedule an appointment online, he preferred to do his business in person because it was faster.
"I asked them 'If I make an appointment, can I get it tomorrow?' and they said 'no, it's already booked for the next week and a half,' so even if I make an appointment, it would be late next week," he said. "So I'd rather come over, get in line and get it over with."
Anthony Diaz, a 26-year-old cook who had come to the DMV to renew his registration and learner's permit, said he'd tried to book an appointment online but it didn't work with his schedule. He had a slot the following day, but it was at 12:15 p.m. and his shift started at 1 p.m., so he decided to risk an hours-long wait by showing up in person.
Asked about DMV document preparation services, Diaz said he hadn't heard of them but might consider using them next time he had a need.
Aside from a time crunch, Rosas said there are also customer service considerations that drive people to a third party document preparation service.
Rosas estimates that although about half of his clientele only speak Spanish and the other half only speak English, he treats them all like family, calling them by their names, something that you don't find at the DMV.
"All races come, in reality. I would like to meet someone who tells me 'I love to go to the DMV,'" Rosas said. "It's well-known throughout the country — nobody likes to be at the DMV."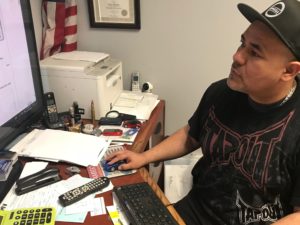 Asked about the argument that DMV services businesses don't explain to the customers that they can do their transactions directly on the DMV's website for free, Rosas said that, at his business, about 70 percent of his customers aren't comfortable using computers and prefer a more personalized experience.
Another reason his clients end up at his business, Rosas said, is because their documents have errors and aren't accepted through the online portal or get lost in the mail.
Drawing on the years he's been in the DMV services business, Rosas says that although there are some DMV employees who speak languages other than English, it still isn't enough.
He said he's seen employees losing their cool with people who don't speak English and asking them to bring a translator along.
"They tell them that, and in a humiliating way and in front of other people," Rosas said. "The people are better off leaving. It's ugly."
Concerns about fraud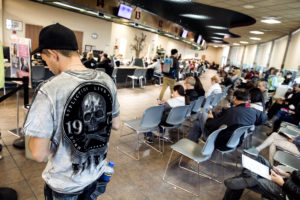 In spite of what third parties have to offer, DMV customer Veronica Serrano and her son Sergio, who were at the Sahara DMV, said they were perfectly happy with the DMV's online services. They said they didn't have to wait much because they had used the DMV's site to make an appointment to register their vehicle.
Interviewed outside the office, they added that, for security reasons, they preferred to process their documents in person and that it wasn't worth it to them to pay a third party for the services.
"You're giving the person all your information, and these days, I can't trust nobody with my information," Sergio Serrano said. "I'd rather just come and do it myself."
Flores, a lawmaker who has worked on legislation to prevent fraud in the document preparation industry, acknowledged that the companies fill a niche for clients who want to pay for the flexibility of not having to show up at the DMV because of their work obligations. But he's concerned that some businesses charge high fees for help with forms that are public and free, or that take advantage of Latino and immigrant communities that typically use the services.
Flores said that even though DMV services companies register with the secretary of state and there are laws that protect the consumer in cases of fraud or errors on the part of the document preparers, the state doesn't have enough people to police the industry and ensure that all are complying with the law.
He said it's important that "we as legislators take it upon ourselves in the next few years to fund a team specifically to monitor these businesses," he said, "to ensure that they're doing things properly, and if there's a complaint, trying to resolve it in the most quick and proper way."
"The plan here is that we come to a solution for the businesses that are legitimate, that we explain the position of the DMV, and that we assure that we're protecting the consumer," Flores said.
When asked about whether companies like his are susceptible to fraud, Rosas said that it's a valid concern, but said his business commits to its clients to file away documents that it receives for three years and destroy them when that period of time is over.
Rosas added that they don't save sensitive client data and that in their contracts, they only use data such as name, address and telephone number.
"Of course they have a point. I, of course, if I'm going to do a transaction with whatever company, I think that giving my Social Security number, my licenses even in a bank they can lose your papers," Rosas said. "I've seen that even in the DMV information has been stolen. Everyone has the right to doubt an office like this."
Going forward
Democratic Sen. Tick Segerblom called on the DMV on Feb. 26 to keep the standby windows open, writing a letter to Gov. Brian Sandoval and asking him to tell DMV Director Terri Albertson to delay the implementation of the change at least until all parties can meet.
The parties did meet on Wednesday evening, with DMV document preparation services in Las Vegas consulting by videoconference with DMV officials in Northern Nevada.
"The meeting was really a listening opportunity and a discussion opportunity," Smith said Thursday. "An opportunity to provide explanation and answer their questions in person."
While the closure of the standby windows is considered a monthlong pilot program, it's not clear that it will go away after that month elapses.
From the DMV's perspective, the new arrangement is working, and customers aren't being docked for missing deadlines if it takes the DMV a few days to process the paperwork. DMV services can also still talk with agents in person at a window if they make an appointment, although those appointments are limited to 30 minutes.
"Our priority is making improvements," Smith said. "We're trying to make things more effective and the fact of the matter is we have people sitting there waiting and we need to serve them."
Stories
Candidate Trackers
Endorsements, Ads, Policies, Visits
& More
visit now
Comment Policy (updated 10/4/19): Please keep your comments civil. We reserve the right to delete comments or ban users who engage in personal attacks, use an excess of profanity, make verifiably false statements or are otherwise nasty.