Mykel Broady, a senior at Sierra Vista High School, speaks during the education town hall on Saturday, April 13, 2019. (Daniel Clark/Nevada Independent)
Education town hall shines light on daily struggles facing educators, students and parents
April 16th, 2019 - 2:30am
Large class sizes, not enough mental health workers, transportation headaches and inadequate funding emerged as some of the primary concerns among educators, students and parents who participated in a town hall-style discussion about Nevada's K-12 education system on Saturday.
The topics aren't out of the blue. They're perennial frustrations as Nevada — long known for a struggling public education system — tries to climb from the bottom of national rankings. But the participants of the town hall, sponsored by The Nevada Independent, provided a ground-level perspective about how those issues play out every day inside Las Vegas-area schools.
The wide-ranging conversation came as lawmakers mull a variety of education measures in Carson City. For years, school officials and education advocates have been sounding a rallying cry for more K-12 funding, but so far, a significant injection of money seems unlikely. Instead, Democratic Sen. Mo Denis, who chairs the Education Committee, has said legislators want to overhaul the state's education funding formula and create a more equitable distribution method.
More than halfway through the legislative session, though, that bill has not been introduced.
Jordana McCudden, an instructional coach for first-year teachers in the Clark County School District, said there's an apparent disconnect between the Legislature and the community regarding education needs and desires.
"Somehow in the mix what the people are saying loud and clear they want is not what ends up passing as law, and so then year after year after year, we continue this cycle of complaining that education isn't going the way we want it to go, identifying where we think it needs to go and the levers to make that happen," she said. "And then the laws still don't get changed in a way that's making an effect. It's very frustrating."
The cycle leaves educators such as Richard Knoeppel feeling as if their voice doesn't matter.
"Many times we're asked to come to the table — or sometimes we have to drag a chair to the table — and regardless as to what we do and what we say, a lot of times we're not really listened to," said Knoeppel, who is the 2019 Nevada Teacher of the Year. "We state what needs to happen to make our schools successful."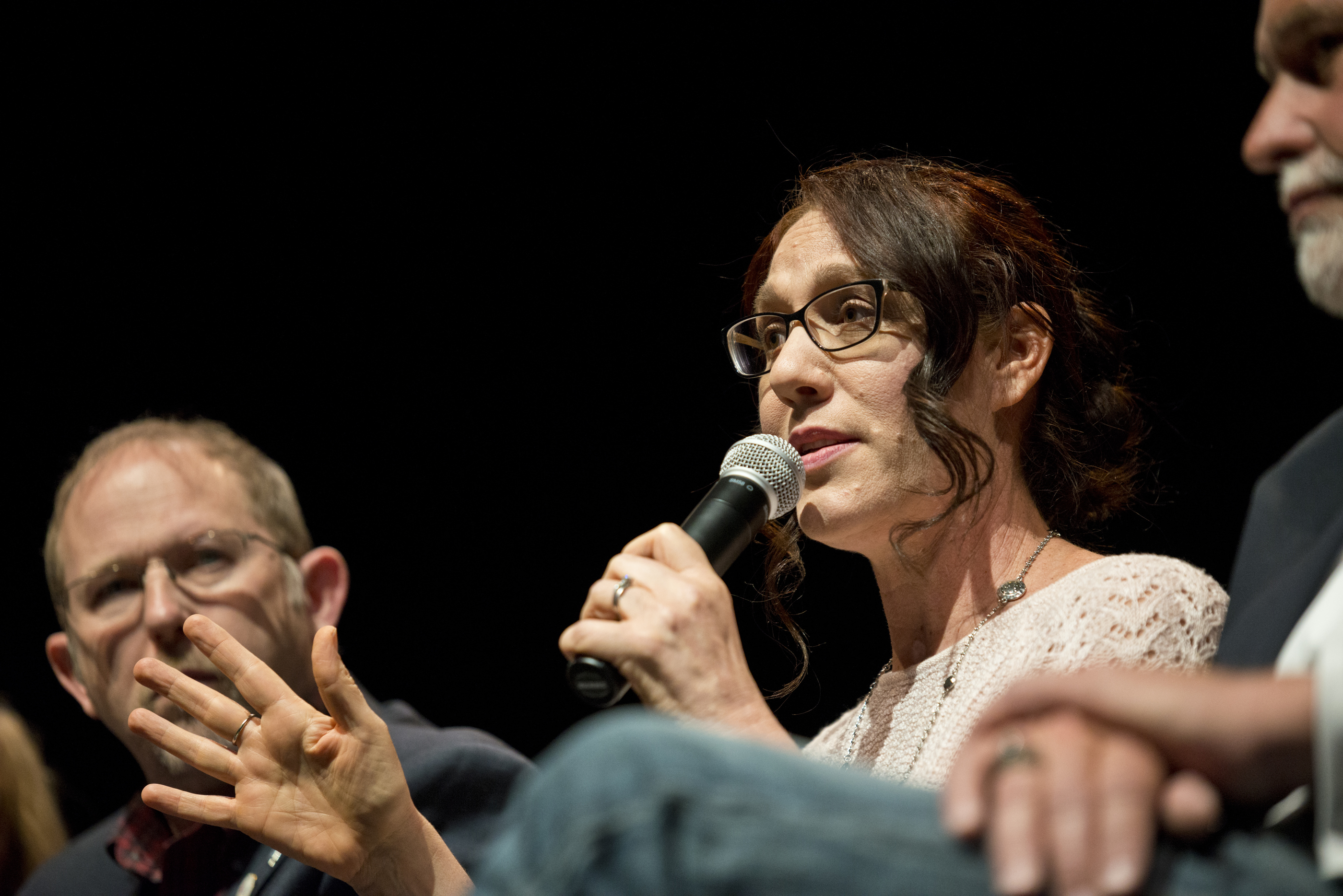 Less money, more problems
At the root of most issues at hand was the funding, or lack thereof, of the state's school system. Be it oversized classes, understaffed schools, failing infrastructure or even a lack of buses, Jordana McCudden said long-running money issues have created a culture in Nevada that has ultimately devalued schools as an institution.
"We are giving teachers and educators and all the different support staff, everybody who works at schools — including our students who are there — the indication that school is not important because we're so poorly funded," she said. "So when our children, they pay attention to the news, they know schools aren't funded right, how are they supposed to buy into the education system?"
The lack of basic funding has exacerbated problems across the state, especially in Clark County, which remains the fifth-largest school district in the nation. With classrooms that swell past 45 students, schools routinely lack basic necessities such as enough desks and chairs, said Steve Gaskill, who teaches science at Knudson Middle School.
"You can't manage a class of 40 or 50 kids, you can't help the kids," Gaskill said. "We're there to help kids, and what can I do, sit down and help a group of three when 40 kids are off doing something else? We want to teach kids, but with class sizes that big, you're just lecturing at them most of the time, and that's not what teachers are in it for."
Jhone Ebert, who started earlier this month as the state superintendent for public instruction, has said she would like to see class sizes lowered to 30. McCudden agreed with that target, saying anything more and students would begin falling through the cracks.
"There were kids who were really quiet, not causing a disruption, but maybe they weren't getting good grades, they just knew how to stay quiet and not get noticed," McCudden said. "Those were the kid's names I didn't know until November."
But Knoeppel, who teaches architectural design at Advanced Technologies Academy, doesn't see a dramatic turnaround without more tax revenue put toward education.
"We are at a situation now where property taxes, the way that they are slated to increase, are never going to catch up with the deficit," Knoeppel said. "And it's something that we all knew when taxes were cut when we hit the recession."
A teacher in Clark County since 1994, Knoeppel said he remembers a time when money wasn't an issue, a time when classes were more reasonable and he had — if not all the funding he wanted — at least the money he needed to do his job.
Today, he said, "that funding has disappeared."
The Legislature has long promised to increase appropriations for public schools, but a number of tax proposals meant to fully fund the education system have since fallen by the wayside. Instead, those funds are often diverted elsewhere, such as when revenues from an excise tax on recreational marijuana — widely believed by the public to be explicit education funding — flowed to the state's rainy day fund because of a last-minute maneuver in Carson City. 
Over time, it's fueled mistrust among the school district employees on the ground level, who say they continue to make due with a fraction of what they say they need.
"There are mandates that come down from the higher ups that are unfunded," Knoeppel said. "More and more things are put on our plates as educators, and we continue to say that we need help. And sometimes, unfortunately, that help comes at a cost."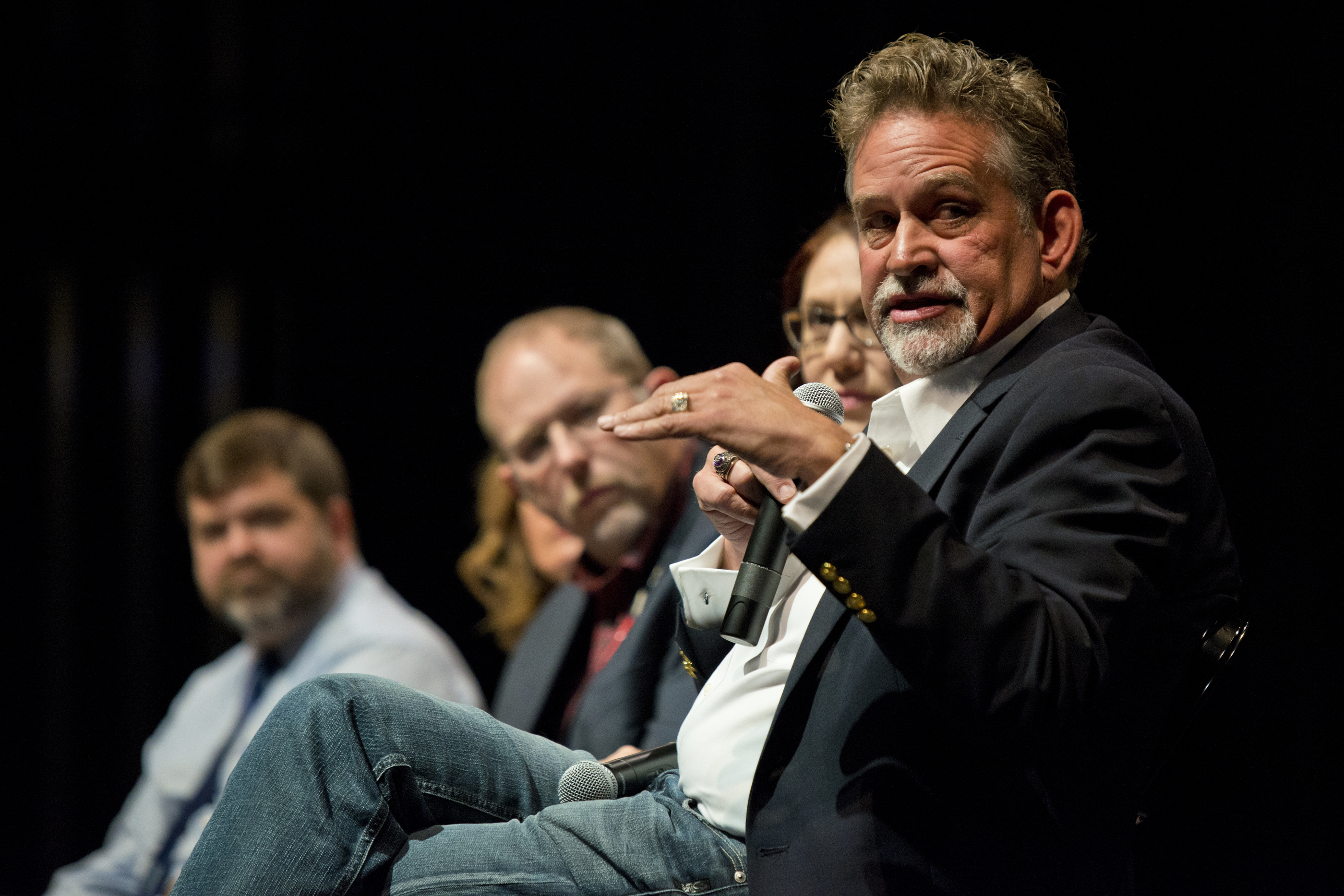 Mental health in the classroom
As safety needs have taken center stage over the last year, educators, parents and students agreed on at least one way to combat the problem — more mental health workers in schools.
David Wilson, principal of Eldorado High School in northeast Las Vegas, said his staff deals with suicidal students on a daily basis. His school has five counselors and two contracted social workers, although counselors largely deal with class scheduling issues.
"Very simply, every school needs a social worker," he said. "A social worker needs to come with a flagpole — no ifs, ands or buts. And it doesn't matter if you're a wealthy school or it doesn't matter if you're at a school that has economic challenges, every single school needs a social worker."
Sandy Kordi, a senior at Del Sol High School, said mental health winds up being a determining factor for some students who wake up thinking, "Do I go to school or not?"
If schools had more professionals specifically trained to help students, it would solve a lot of issues, she said. Kordi said it can be overwhelming as a student trying to help yourself and friends dealing with anxiety, depression or other mental health issues.
"A lot of people would come to school with a smile on their face, want to interact with students, instead of isolating themselves and letting their minds consume them and their education," she said.
Former Gov. Brian Sandoval launched a program in 2015 to place social workers in schools. The program has received positive feedback, according to an audit released earlier this year, but the reach — about 200,000 students statewide by the end of the 2017-2018 academic year— isn't as wide as educators and students would like to see.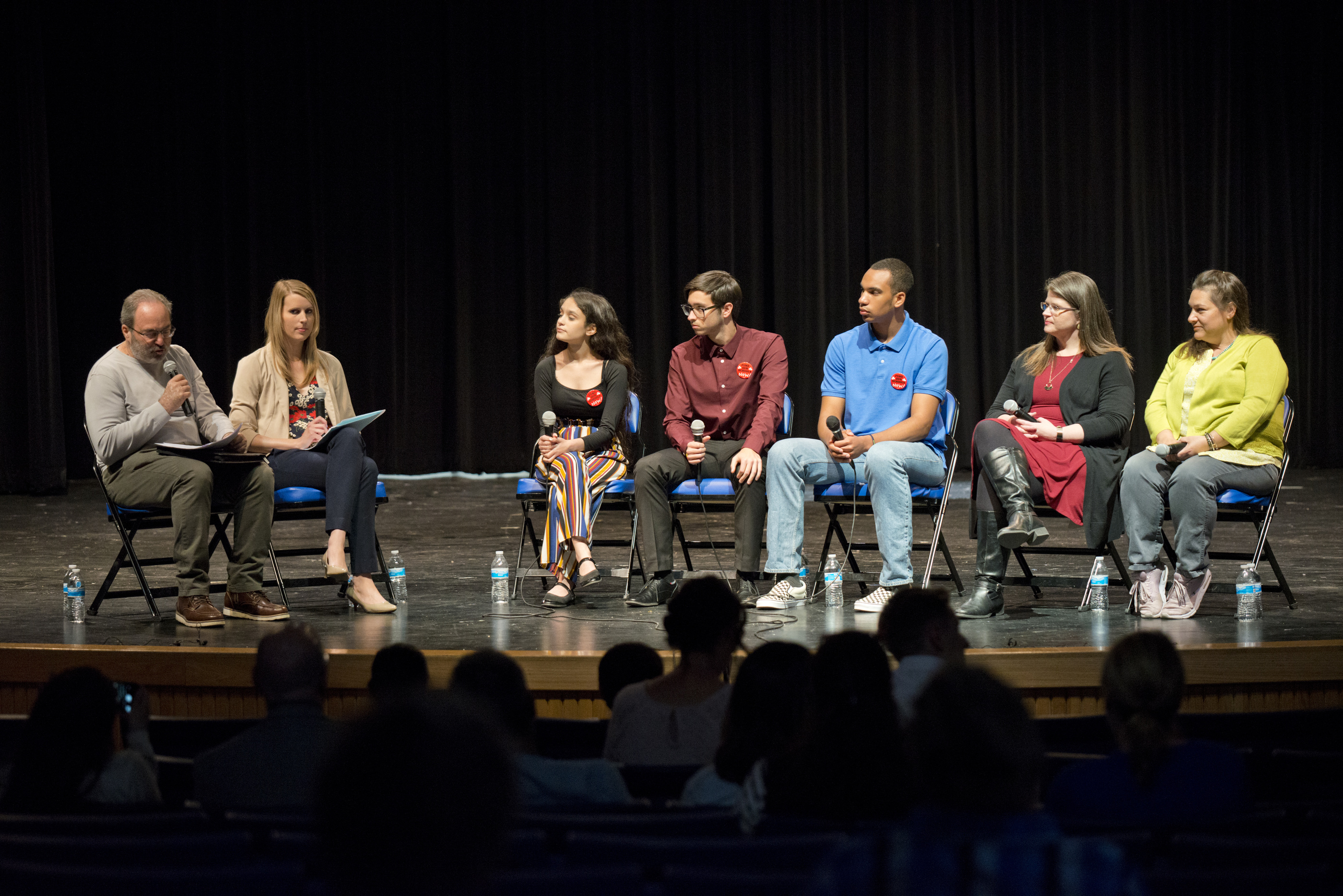 Widening transportation issues
While teacher shortages have long been a staple in Nevada education, school districts across the state are dealing with another personnel headache — too few bus drivers. For some students in Clark County, where tens of thousands rely on busing to get to school every day, late buses have become part of the routine.
"My first hour class, there's at least three or four kids who come in every single day with a late bus pass. They're late every single day," Mykel Broady, a senior at Sierra Vista High School, said. "It could be 20 minutes, 30 minutes, and there's always kids that are like, 'Oh, I just didn't go to school because my bus was 30 minutes past time, I just went home.'"
On rare occasions, students said those late buses never even arrived.
"There have been times where my bus driver has forgotten to pick us up," Kordi said. "And all but three or four students will walk home and assume they're excused for the day. Of course, we are not, and we're just waiting out there, in the cold, for our bus driver with no warning."
Once students on a late bus finally get to school, the burden falls on them to catch up with the rest of the class — a process made even more difficult by overcrowded classrooms and overburdened teachers. Alexander Bagrensky, a senior at Del Sol High School, said classrooms will fill up quickly after school as students clamor to catch up on assignments before a quarter ends.
"It's so hard to get the teacher attention that you need," he said. "It's hard to collaborate with your teacher when he has to collaborate with 150 other kids."
Teaching to the test
Parents Rebecca Garcia and Julie Vigil expressed concern about the amount of testing students endure, particularly during their elementary years.
Garcia said her 7-year-old experiences more testing, whether standardized or progress monitoring, on a regular basis than high school students. The constant testing, she said, can remove the joy of learning for elementary schoolchildren.
"The stress and the negative impact on their desire to be engaged in learning as a lifelong pursuit that impacts everything — not just a test score — to me is something that really needs to be looked at," Garcia said. "Do we want them to see it as a place they go take tests or as a place where they're excited because, 'Hey, I figured out that when I do this, this happens.'?"
Vigil, who has a son in high school and a daughter in middle school, said she doesn't disagree with needing benchmarks. Testing measures student progress, she said, and, more importantly, may highlight their problem areas, but too much of it can defeat the purpose.
"The stress and, for teachers, having to teach to the test is another big issue," Vigil said. "I think the early K-through-8 years don't need to be burdened with that kind of standardized testing."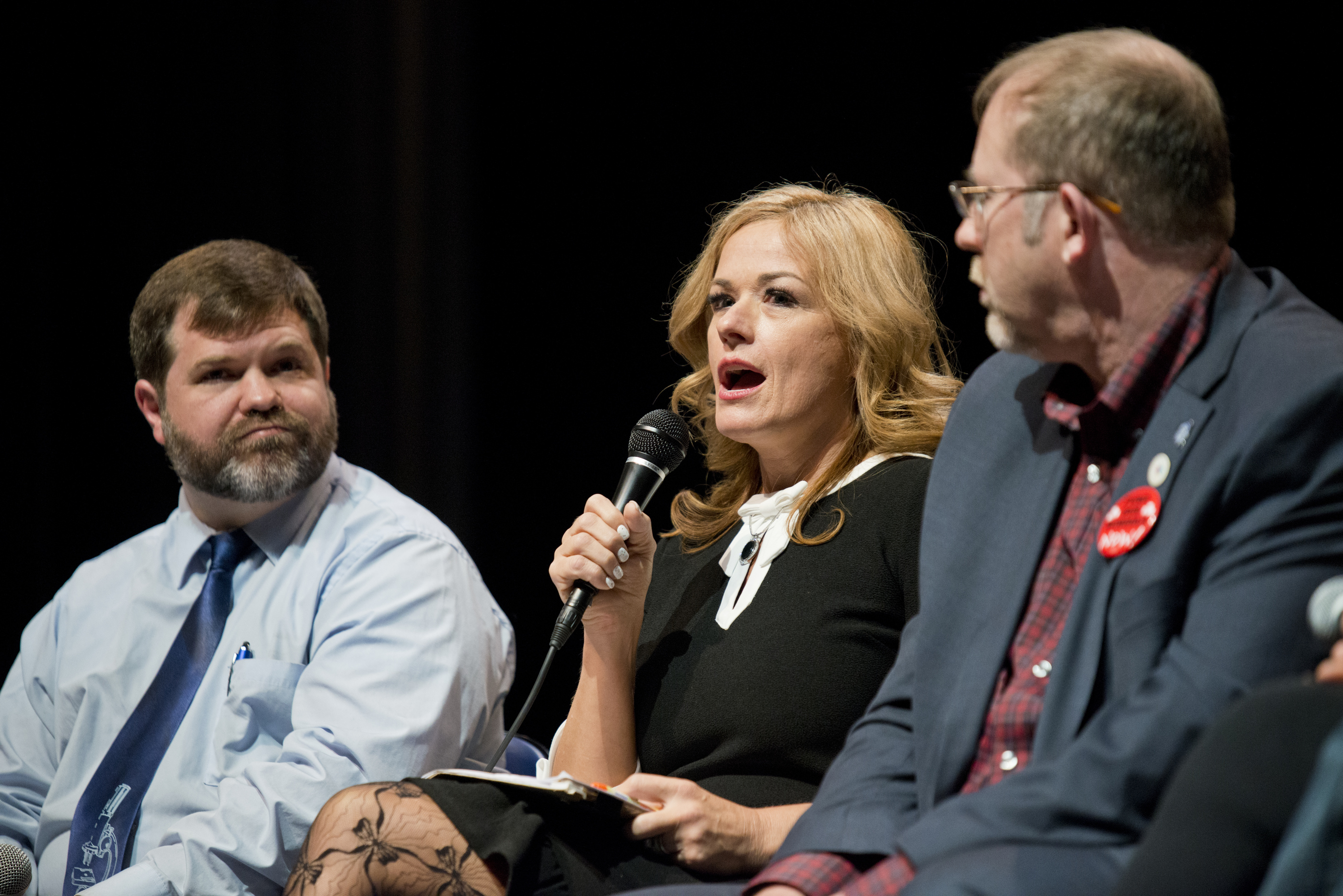 Achieving equity
Dr. Carrie Buck, who is president of the Pinecrest Foundation, a network of charter schools, called for a different way of allocating teacher talent. The highest-achieving teachers, she said, should be placed in classrooms where student need is the greatest.
She questioned the logic of placing the best teachers in Advanced Placement courses with small class sizes, while foundational subjects such as Algebra I have 40-plus students in them.
"We need to be brave enough as school leaders and network leaders and district leaders to flip that, so that our best teachers are with those students that need us the most, our best principals are in those schools that need us the most," Buck said.
But even beyond teachers, Buck said students require what she called a "rigorous, high-quality curriculum" to create equity at every grade level.
"Without that, it's like an architect trying to build without a foundation," she said.
Stories
Candidate Trackers
Endorsements, Ads, Policies, Visits
& More
visit now
Comment Policy (updated 10/4/19): Please keep your comments civil. We reserve the right to delete comments or ban users who engage in personal attacks, use an excess of profanity, make verifiably false statements or are otherwise nasty.